Utilize those extra Thanksgiving and turkey leftovers to make this low carb, keto friendly turkey Caesar salad recipe!
Recipe testing the last few weeks in preparation for Keto Thanksgiving, has resulted in a lot of turkey leftovers. Collectively, I feel like I've eaten 12 lbs of turkey myself over the last 14 days.
Surprisingly, I'm not hating it either.
I've gotten fairly creative with using the leftovers to create some pretty easy and delicious meals. My go to has been this Thanksgiving Turkey Caesar Salad. I threw this together in under 15 minutes (including the homemade garlic Cesar dressing too) and have been craving it since.
I guess it's a good thing  that there is still plenty of turkey still left in the fridge. I hope you make this for dinner or lunch and enjoy some slower paced, post holiday bliss (for me that means no cooking and cleaning dishes for at least a few days).
Find the full recipe for my Thanksgiving Turkey Caesar Salad  below and read through the post for helpful tips and tricks to making this salad more than satiating.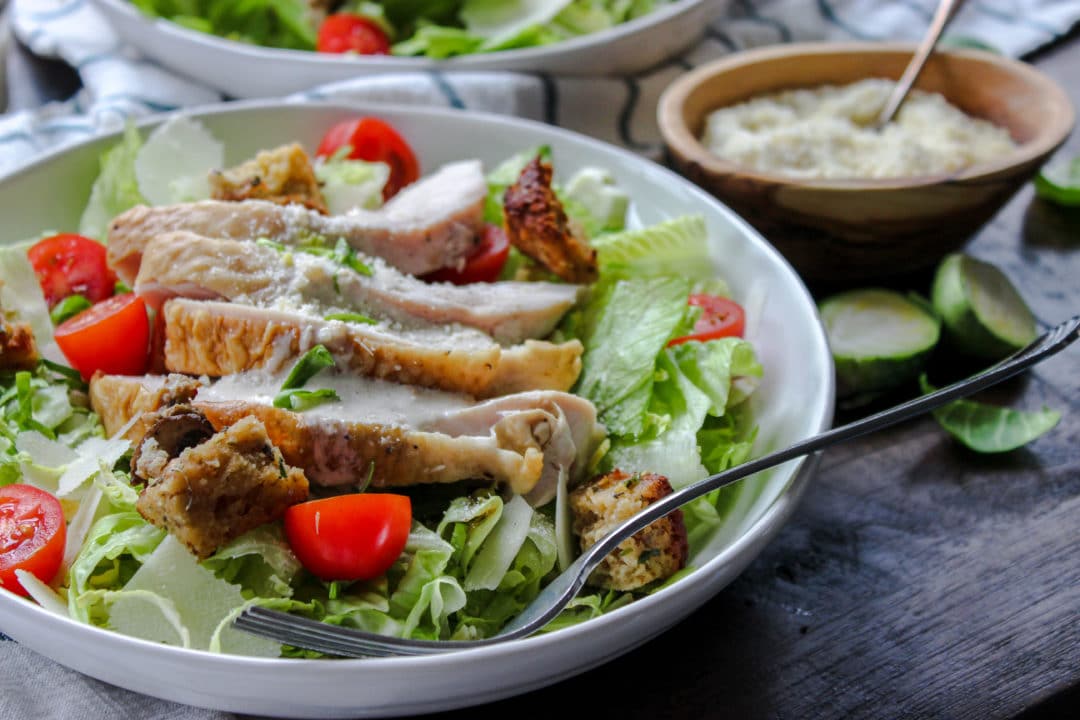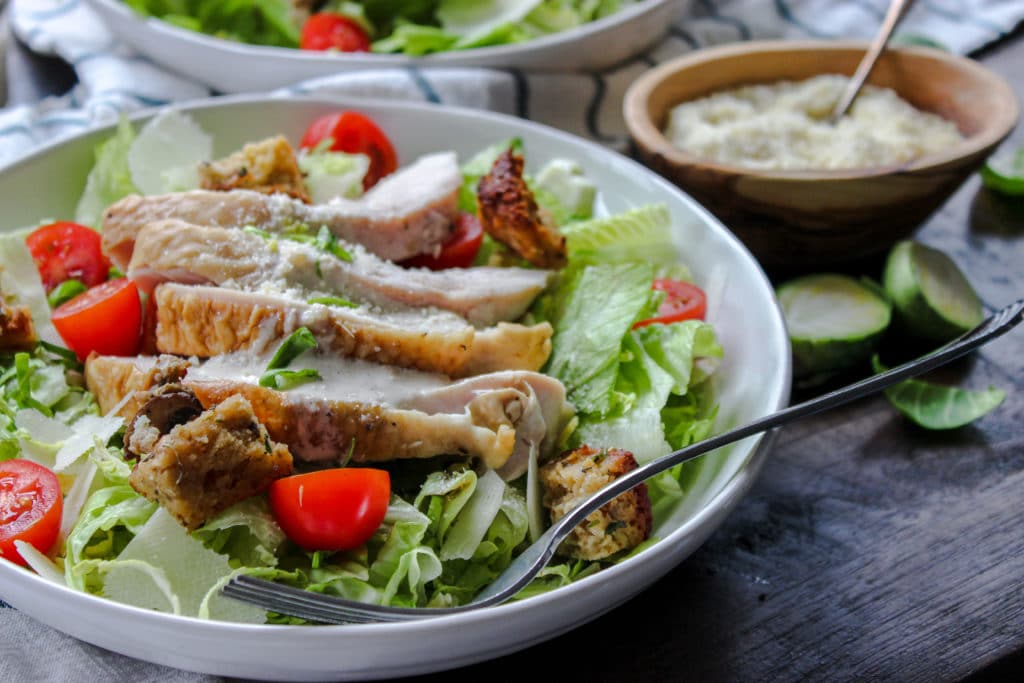 "School" Supplies:
Knife & Cutting Board
Whisk
Measuring Spoons
Small Mixing Bowl
"Class" Notes:
The base of the salad is fairly standard for a typical Caesar. I used some chopped romaine lettuce, a few diced tomatoes, and some freshly shaved Parmesan.
Looking in my fridge at all the Thanksgiving leftovers, I noticed I still had a bag of brussels sprouts that were going to go bad soon. I finely sliced these to add to the salad. It just adds a bit more of a crunch and they taste great raw when they are shaved thin.
I topped the salad with a few slices of my Smoked Spatchcock Turkey in Champagne Brine and created keto croutons out of my Keto Cornbread Stuffing leftovers too. I didn't have any Caesar dressing on hand, so I quickly whipped some up. I prefer to make my own dressings when possible so I can control what goes in!
In a bowl I combined lemon juice, minced garlic, Worcestershire sauce, avocado mayo, a bit of Dijon, salt, pepper and some grated Parmesan. Whisk till smooth and taste test. Dress the salad before serving and dig in!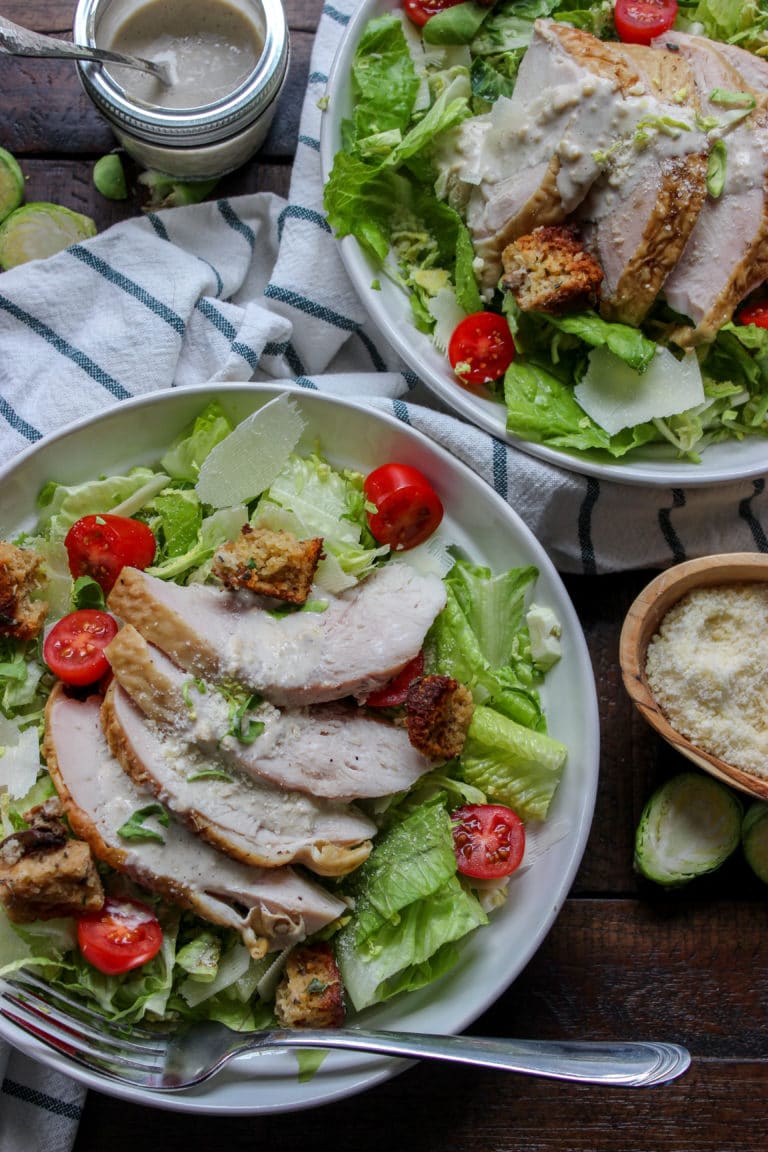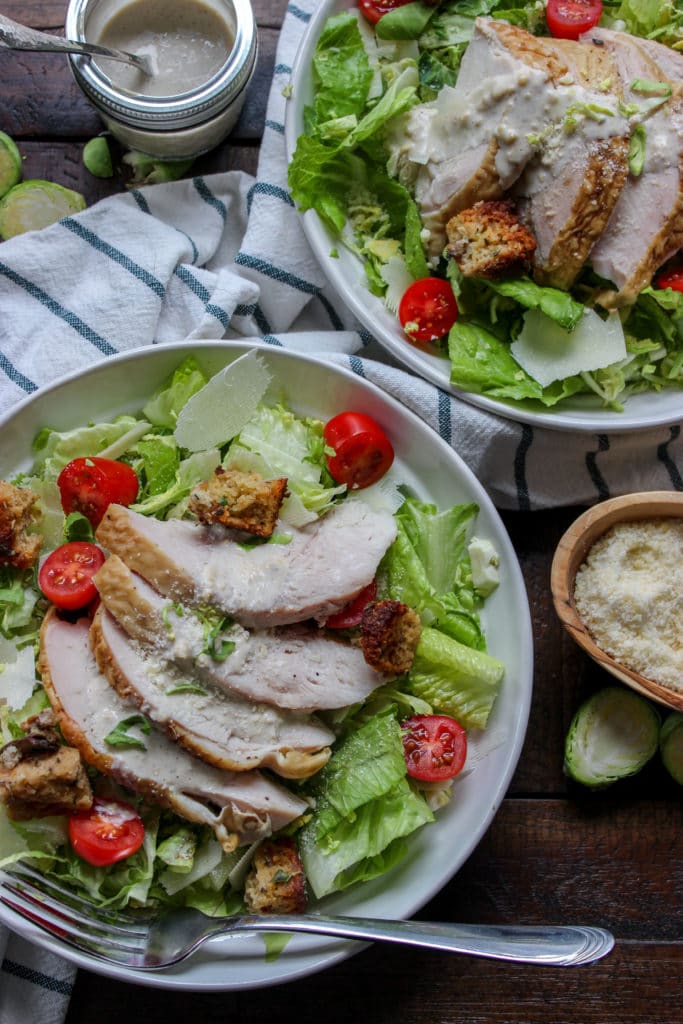 Bon Appeteach,
-L
Yield: 4
Thanksgiving Turkey Caesar Salad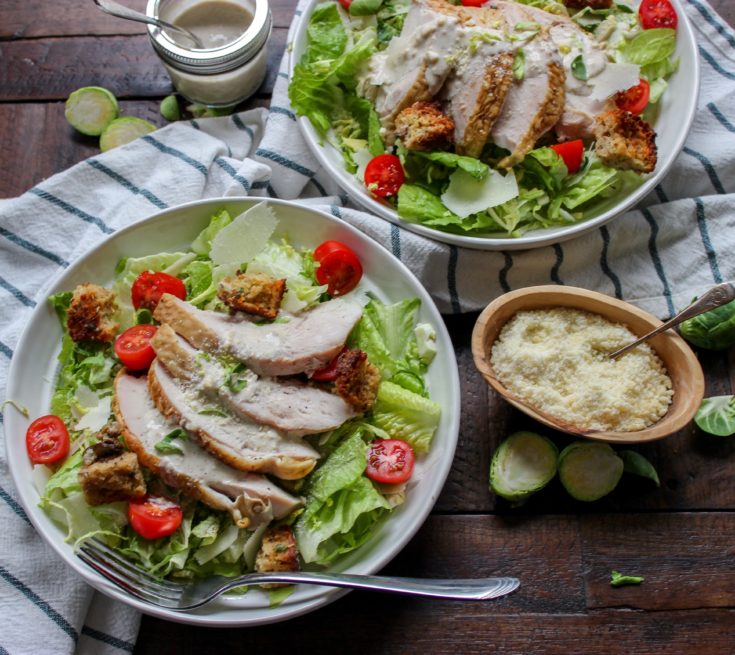 Utilize those extra Thanksgiving and turkey leftovers to make this low carb, keto friendly turkey Caesar salad recipe!
Ingredients
1 Head Romaine Lettuce
1/2 cup Shaved Brussels Sprouts
8 oz. Sliced Thanksgiving Turkey
12 Cherry Tomatoes, Halved
1/2 cup Parmesan Cheese
1 cup Avocado Mayo
1 Lemon, juiced
1 tbsp. Worcestershire Sauce
1 tsp. Dijon
2 Garlic Cloves, minced
2-3 tbsp. Grated Parmesan Cheese
Salt & Pepper
Instructions
1. Chop the lettuce and thinly slice the brussels sprouts. Half the tomatoes.

2. Divided the green and the tomatoes up between four bowls. Add the sliced turkey and 2 tbsp of Parmesan over the top of each.

3. In a bowl combine the avocado mayo, lemon juice, Worcestershire sauce, garlic, Dijon, and Parmesan cheese. Mix with a whisk and season to taste with salt and pepper.

4. Serve with dressing over the turkey and garnish (optional) with a few Keto Cornbread Stuffing croutons.
Nutrition Information:
Yield:
4
Serving Size:
1
Amount Per Serving:
Calories:

202
Total Fat:

8g
Saturated Fat:

3g
Trans Fat:

0g
Unsaturated Fat:

4g
Cholesterol:

73mg
Sodium:

303mg
Carbohydrates:

10g
Net Carbohydrates:

6g
Fiber:

4g
Sugar:

4g
Sugar Alcohols:

0g
Protein:

23g