Sriracha Salmon Zoodle Bowls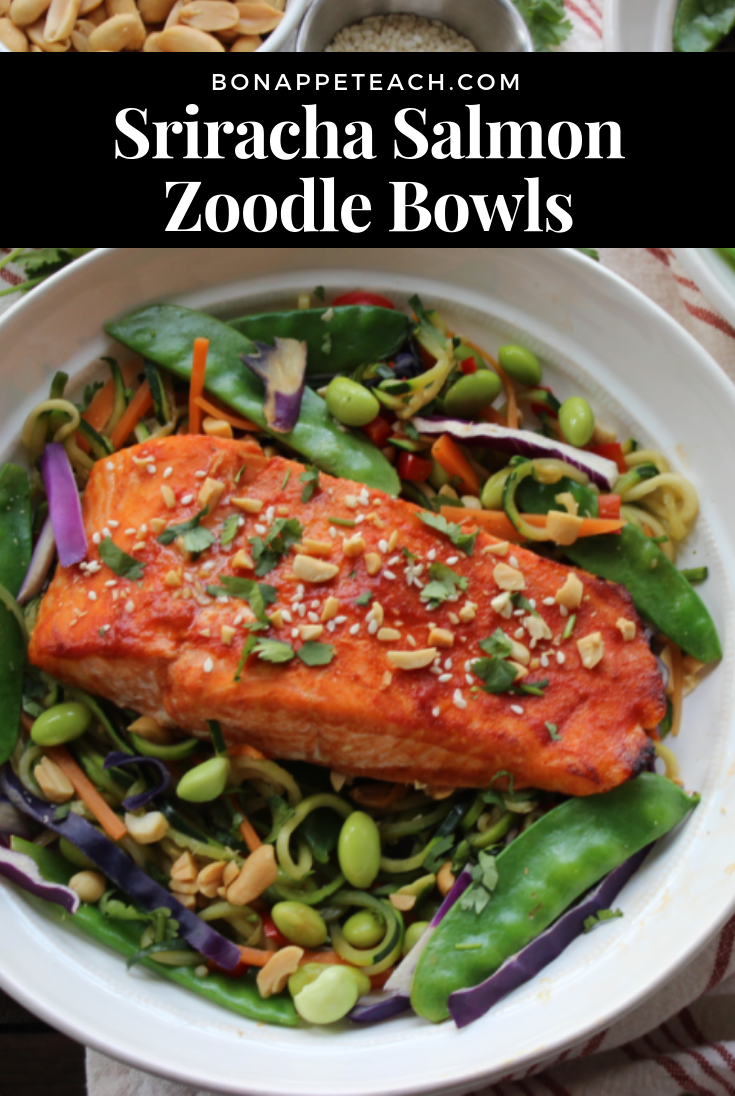 Sriracha Salmon Zoodle Bowls:
Salmon is a staple in my low carb diet. Its a great source of protein, rich in Omega 3 Fatty Acids, full of antioxidants and B vitamins too! Because I eat this delicious fishy a few times a week so I like to try different ways to prepare it. This Sriracha Salmon Zoodle Bowl is light, refreshing, and packed with flavors. So to all my fellow salmon and Sriracha lovers, you can find the full recipe at the bottom of the page!
The Salmon:
The Sriracha Salmon sauce is easy to throw together. In a bowl you can mix your Sriracha, coconut aminos (or soy sauce), lime juice, fresh ginger, and a splash of fish sauce. Whisk everything together and coat the salmon completely in the sauce. Wrap the salmon in foil and bake until cooked through. I like to finish the salmon off with another layer of sauce right over the top before serving.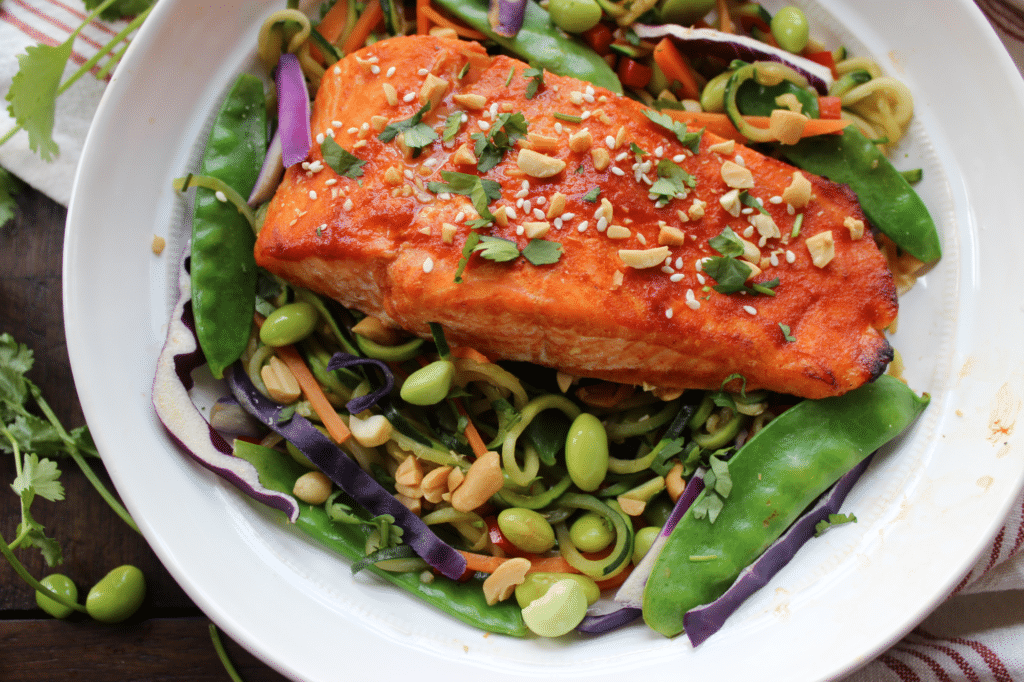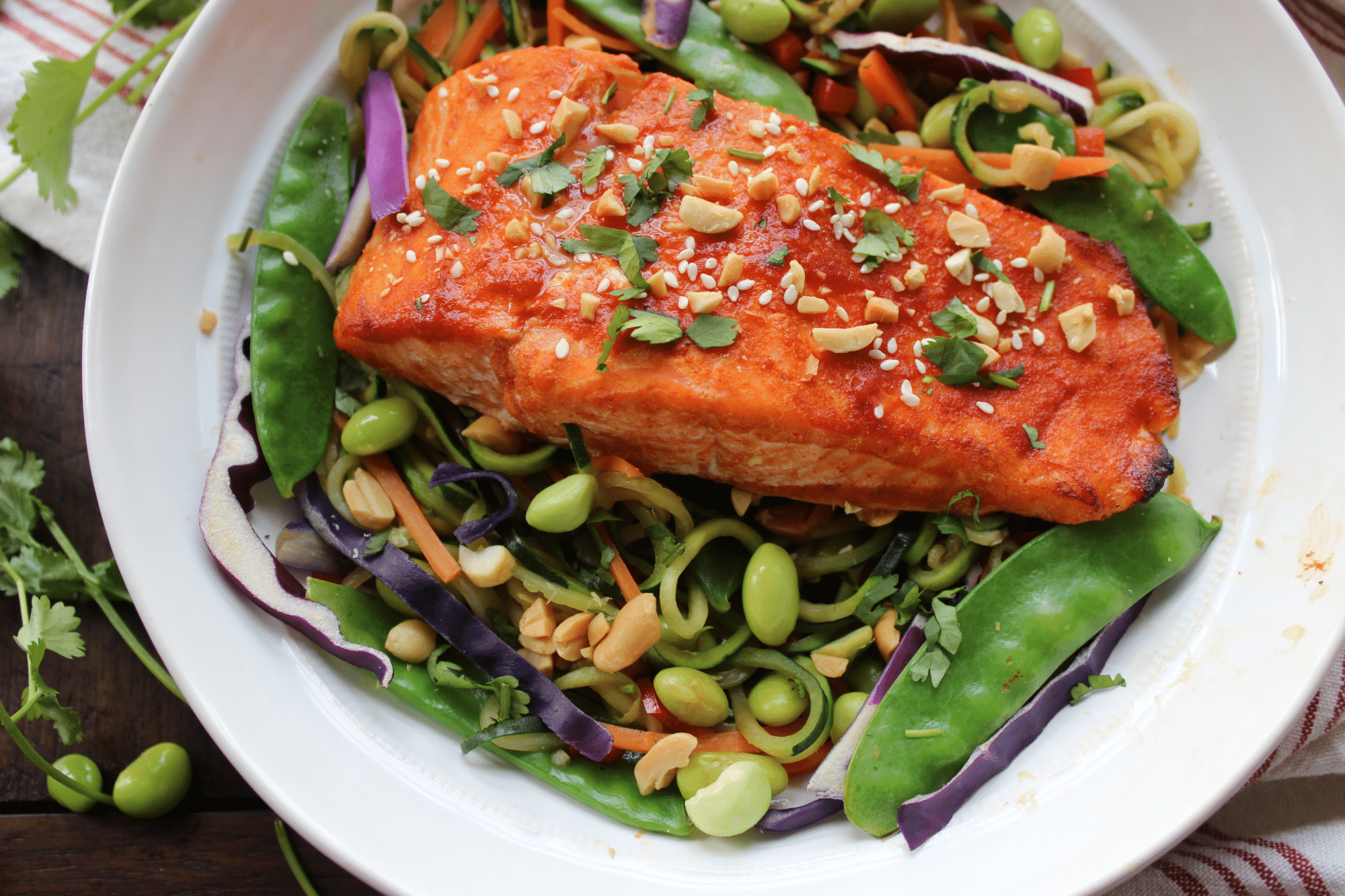 Zoodle Stir Fry:
Spring time means fresh vegetables like zucchini, snap peas, fresh carrots, and red cabbage. Spiralize your zucchini noodles, dice the red pepper and green onions, mince your garlic and fresh ginger, julienne your carrots and red cabbage, and set aside the peanuts and edamame. Begin by sauteing the zoodles, red peppers, and garlic together and then add in the carrots, cabbage, pea pods, and edamame. Cook all the vegetables until they are just tender. Top the zoodle mixture with your Sriracha salmon, garnish with a few crushed peanuts, and finish everything off with a bit of cilantro.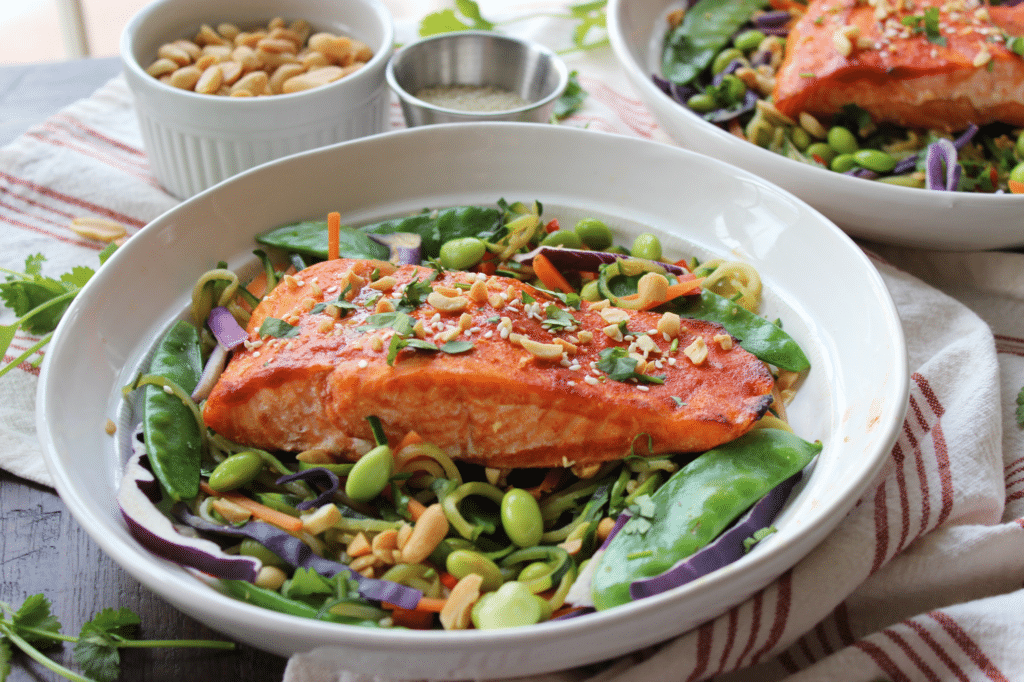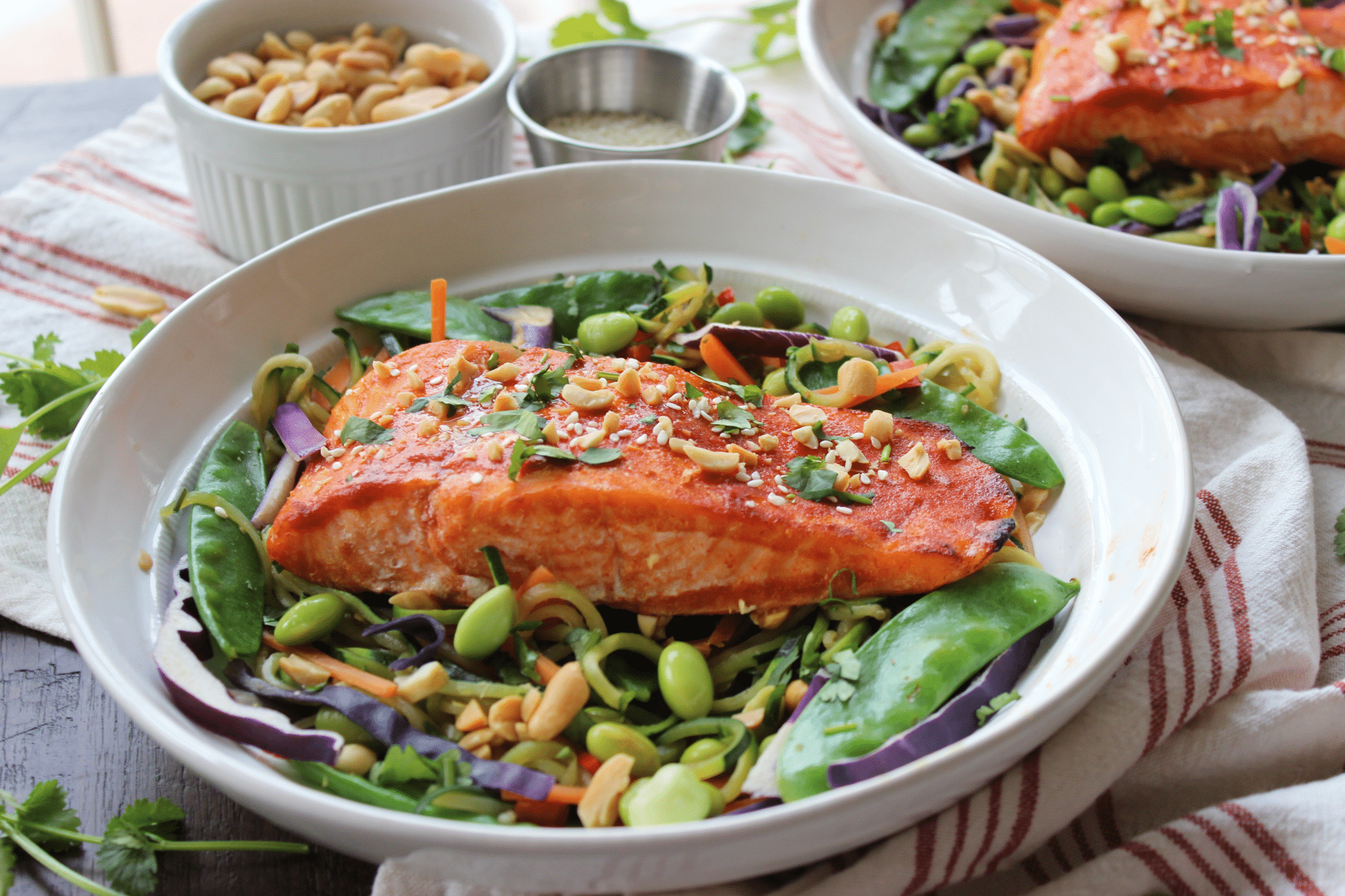 I hope you love this colorful and flavorful springtime low carb Sriracha Salmon Zoodle Bowl!
Bon Appeteach,
-L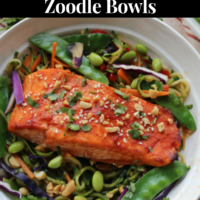 Ingredients
6

oz

of Salmon

Divided into two

1/4

cup

Sriracha

2

Tbsp.

Coconut Aminos

or soy sauce

1

tsp.

Fish Sauce

1/2

Lime

juiced

1/4

tsp.

Fresh Minced Ginger

1

Large Zucchini

spiralized (about 4 cups)

1/2

cup

Snap Peas, diced in half

1/2

cup

Red Pepper, diced small

3

Green Onions

diced

1/4

cup

Carrots, julienne cut

1/4

cup

Red Cabbage, julienne cut

1/4

cup

Edamame

2

Garlic cloves

minced

1/4

cup

Diced Peanuts or Almonds

1

tsp.

Sesame Oil
Instructions
1. Preheat your oven to 350 degrees F.

2. Place each piece of salmon over a sheet of foil.

3. In a bowl, combine the sriracha, coconut aminos, lime juice, fish sauce, and fresh ginger. Whisk everything together then brush the sauce over the fish completely.

4. Tightly wrap the foil over the salmon and bake in the oven for 15 minutes.

5. While the salmon is baking, spiralize your zucchini and prep all of your vegetables.

6. Saute the zoodles, garlic, onions, and red pepper in the sesame oil on medium heat for 3-4 minutes. Then add in the red cabbage, edamame, carrots, and pea pods. Cook until al dente and set aside into two bowls.

7. Remove the salmon from the foil packet and brush with another layer of the Sriracha Sauce. Place each piece of salmon over the sauted vegetables, sprinkle with some peanuts or almonds and enjoy!