Roasted Balsamic Cranberries with Brie Crostini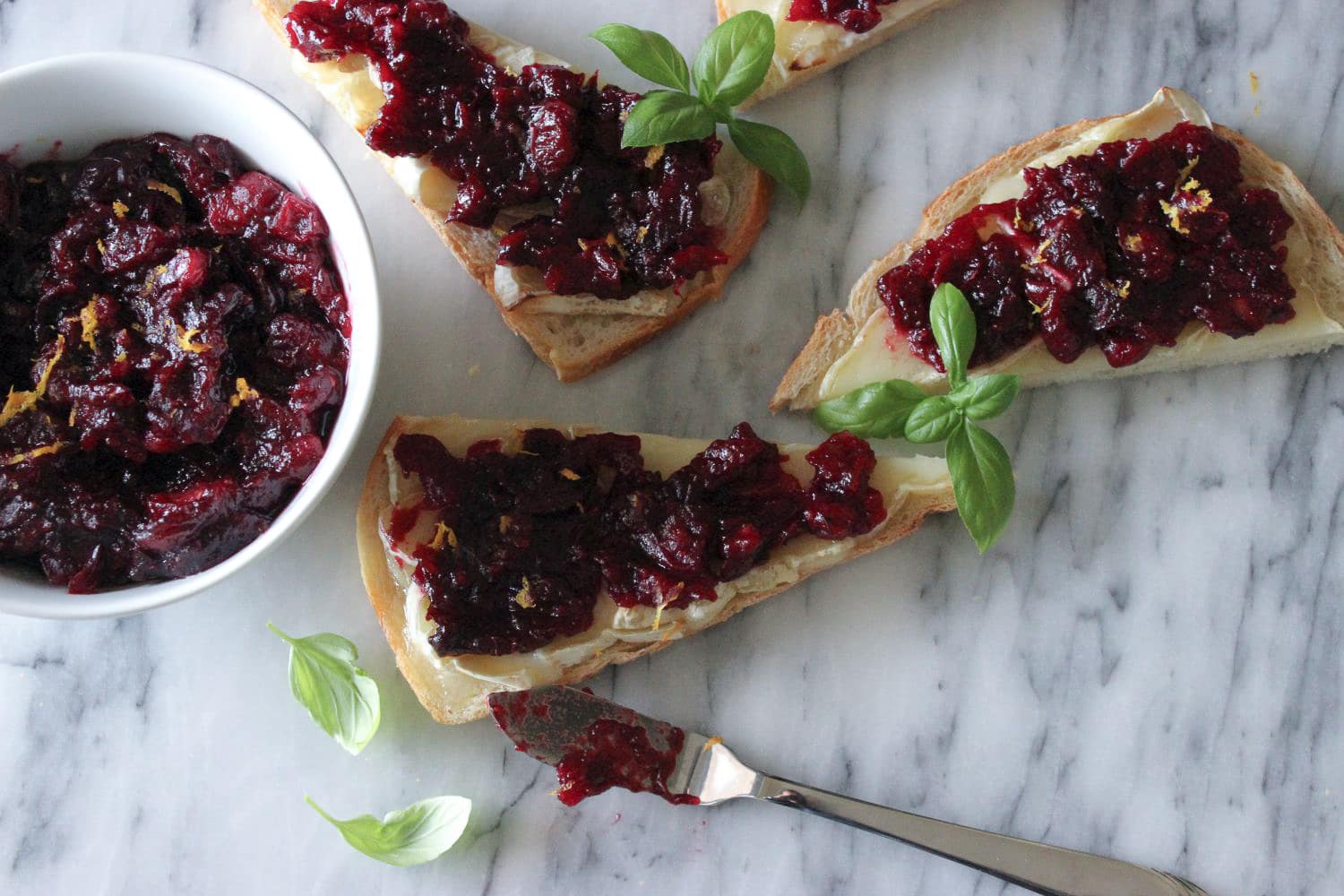 Today I will be sharing my latest recipe obsession with you; roasted balsamic cranberries with brie crostini. I find the word "crostini" to be a funny thing. Why, you ask? It's just a fancy and pretentious name for toast. But damn, its delicious. Especially when it is smothered in melted brie and topped with tangy and savory roasted balsamic cranberries. Make this for your next holiday party and it is sure to be a standout at your table.
Roasted & Toasted:
Find a good heavy bottom roasting pan or dutch oven. Combine the fresh cranberries, honey, balsamic, orange juice, orange zest, salt and pepper into the roasting dish (I used my Le Creuset). Stir till it is all mixed and pop in the oven to roast. So SIMPLE! The only important part of making this recipe is that you do have to watch the berries frequently. I set a timer for 5 minutes and stir each time. This helps break up the berries and reduces the juices. I only had to do this three times for a total roasting time of 15 minutes or so. While your waiting for the berries, you can easily prep you crostini. Toast any bread or even brown or grill baguette slices on a burner with some butter (my favorite tasting method but one I did not use for this specific dish). The berries should have all burst open and be fairly thick by the time they are done baking. Transfer to a bowl or dish for them to cool.
Bread, Cheese, Bread with Cheese:
Place your lightly toasted bread pieces on a baking sheet. Add sliced brie and place it on the top of each crostini. Bake for a few minutes until melted. I used a spoon to spread the melted cheese a bit more on my toast after removing from the oven. Top with the roasted cranberries and garnish with additional orange zest if desired. This is so east and can be made in under 20 minutes!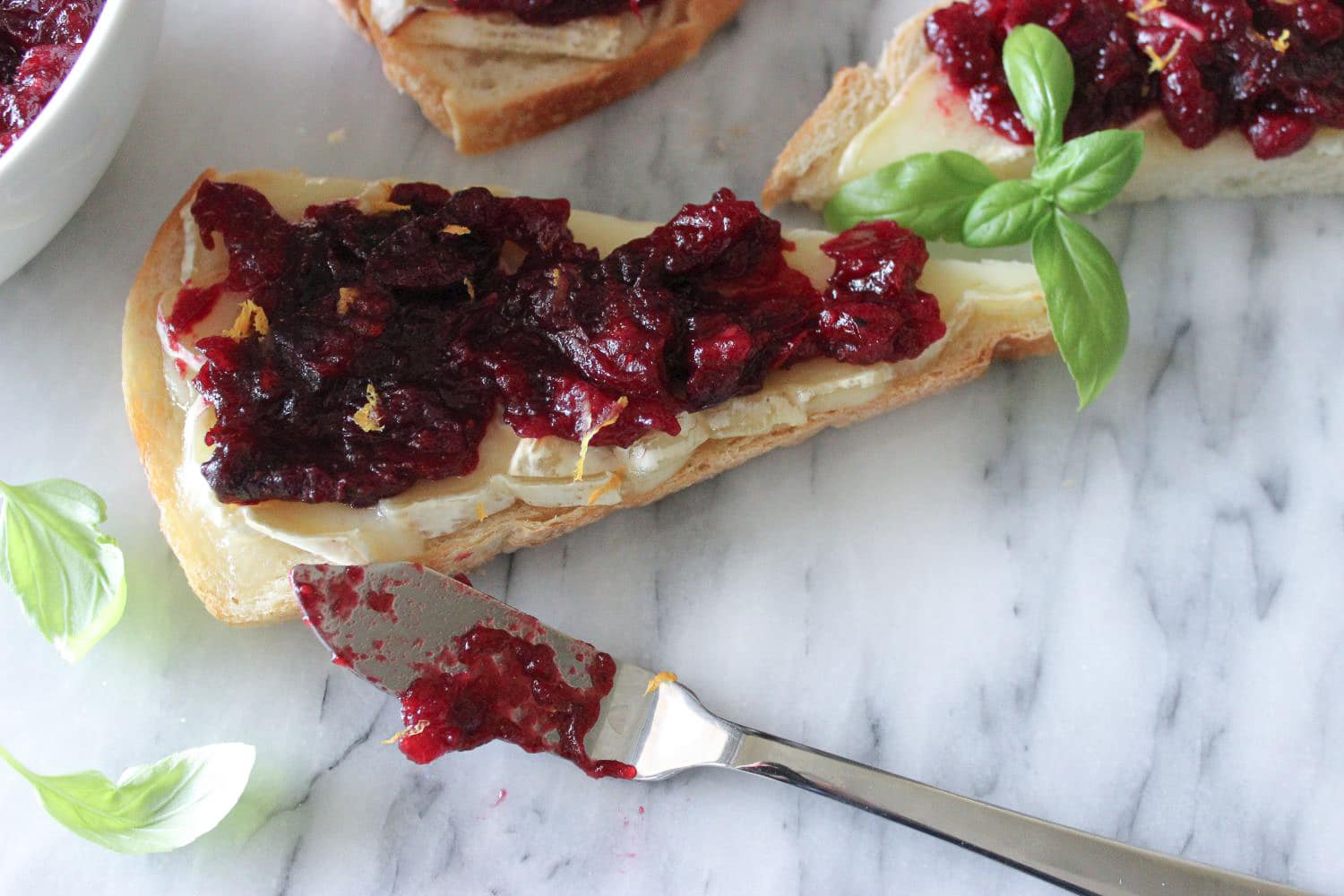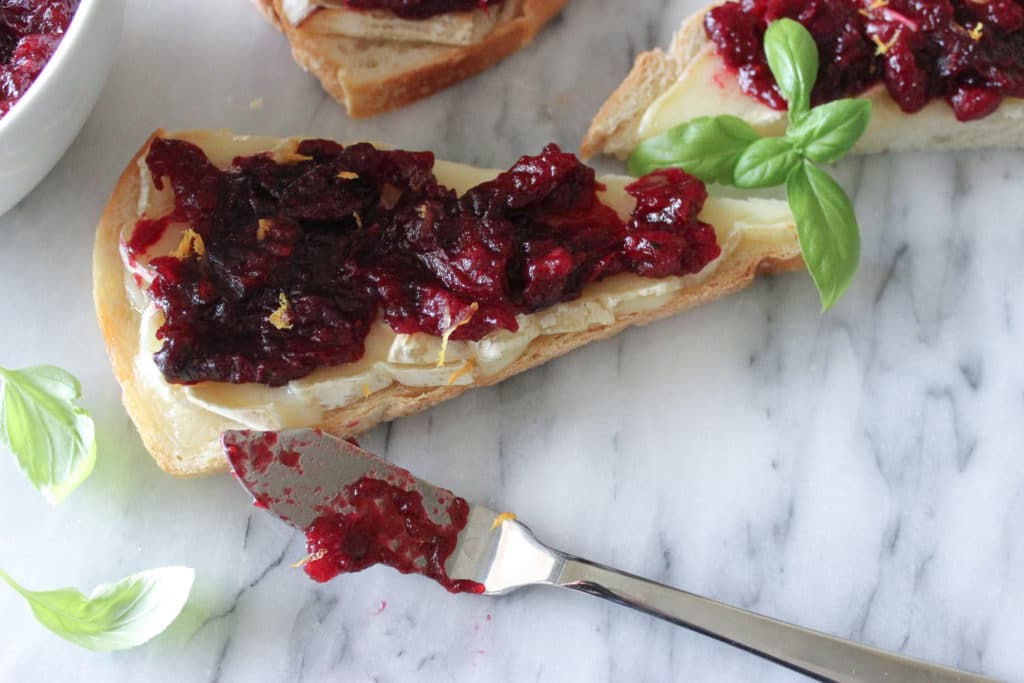 Bon Appeteach,
-L
Ingredients
6 Larger pieces of bread ( I used an Italian Loaf) or 1/2 a baguette sliced into rounds 1/4" thick

8 oz. Brie

12 oz. bag, Fresh Cranberries

1 Orange, zested

1 Orange, juiced

1/4 cup Honey

3 Tbsp. Balsamic Vinegar (use a high quality one)

1/2 tsp salt and fresh ground pepper
Instructions
1
Preheat the oven to 400 degrees F.
2
In a roasting pan or dutch oven, combine the cranberries, orange zest, orange juice, honey, balsamic, and salt and pepper.
3
Place in the oven for 5 minutes, stir. This helps the berries burst and the juices reduce.
4
Repeat that step for up to a total cooking time of 15-20 minutes. The berries should all have broken open and should look thicker like a jam.
5
While the berries are roasting, toast or grill your bread pieces. Set on a cookie sheet.
6
Slice the brie into thin strips and lay across each piece of toast so that it covers the top completely.
7
Once the berries are done, remove them from the oven and transfer to a bowl or dish that they can set up in.
8
Put the bread back in the oven and allow the cheese to melt. Maybe 5-6 minutes or so.
9
Spread the cheese a bit onto the bread so the shape of the cut up brie is not distinguishable once it has fully melted.
10
Place a heaping spoonful of the roasted balsamic cranberries on to the top. Garnish with additional orange zest.
11
Serve warm or at room temperature.