Quesabirria Beef Tacos (Smoked Taco Ring)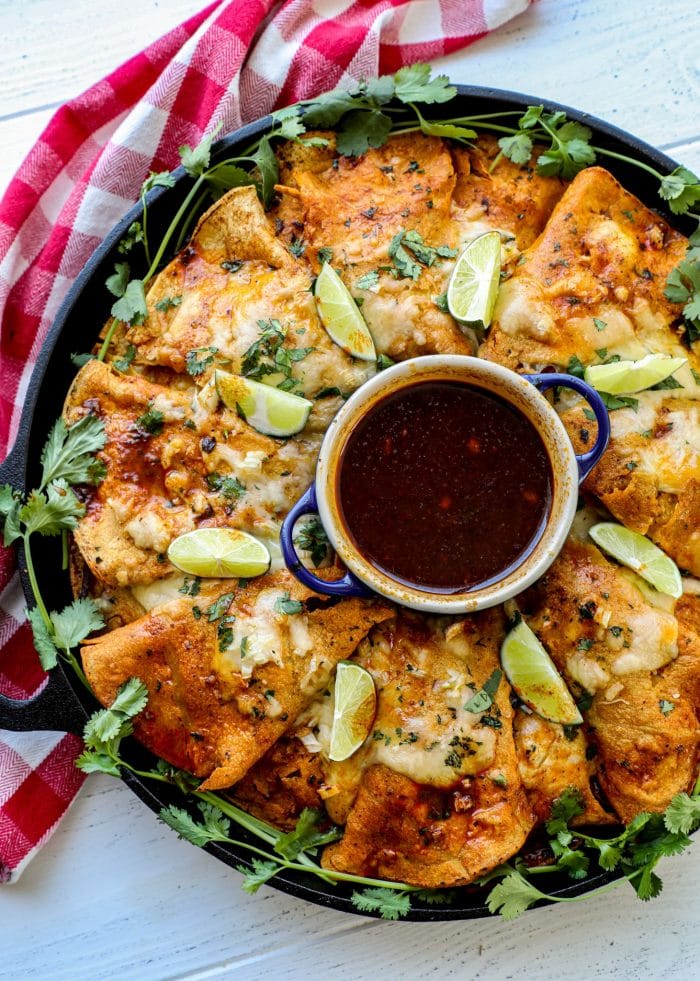 This quesabirria beef tacos (smoked taco ring) recipe made with slow-smoked and simmered beef, braised in chili peppers and tomato consommé, fried up with shredded queso is an incredible culinary experience you will want to recreate at home.
Do you love tacos? Do you love quesadillas? I know I do.
If you're looking for a delicious, new taco recipe to try (that also has quesadilla vibes), then you have to check out these birria beef tacos.
They're absolutely amazing!
The combination of flavors is perfect, and they're a hit with my family and friends. Give them a try—you won't be disappointed!
While the base recipe for this is time-consuming (see my Smoked Beef Birria for more info), whipping up these tacos is much easier!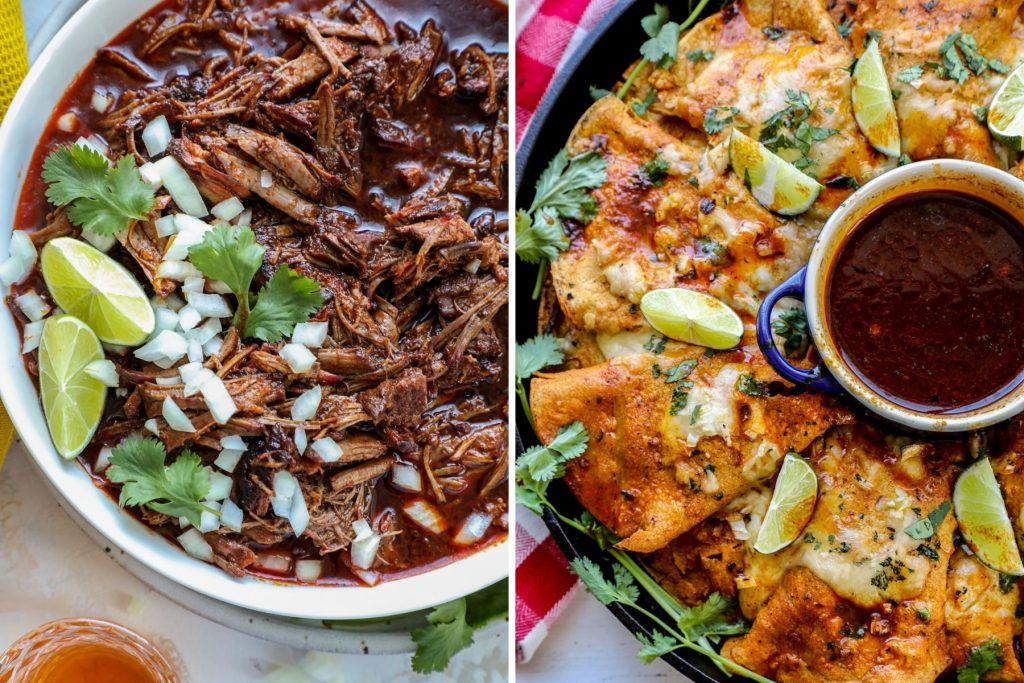 While you can just follow the steps I show below and fry up a standard taco for friends and family, I encourage you instead to make this epic smoked quesabirria taco ring.
Both methods will steer you in the right direction- enjoying delicious tacos.
Grab all the details below about this recipe, tips for preparing it, and more below. Let's dive in!
"School" Supplies:
Large Frying Pan or Cast Iron Pizza Pan (for making the taco ring)
Spatula or Tongs
1 Shallow Bowl (for dipping sauce)
3-4 Small Bowls
"Class" Notes:
Want more details about how to make quesabirria tacos or to make this epic taco ring?
See how I break it all down below and help answer commonly asked questions, provide ingredients substitutions, and more.
What are quesabirria tacos?
Birria tacos with consommé are a popular Mexican-style taco recipe that has blown up across social media in the last few years.
While birria can be made in a lot of different ways, these tacos are made with my smoked beef birria (a combination of smoked chuck roast and smoked beef short ribs).
It traditionally is made with goat meat or other forms of protein, but beef is an easy and affordable substitute.
You need to make the meat base for this recipe first, before making your tacos (and it is a bit time consuming, so plan ahead).
The recipe that I'm sharing today is for beef-based quesabirria tacos, which are made with cheese and the rich red consommé broth.
Do I have to use smoked shredded beef birria?
While I highly recommend making the beef birria recipe for this dish specifically, you can use other prepared meat for this instead.
Here are some great substitutes: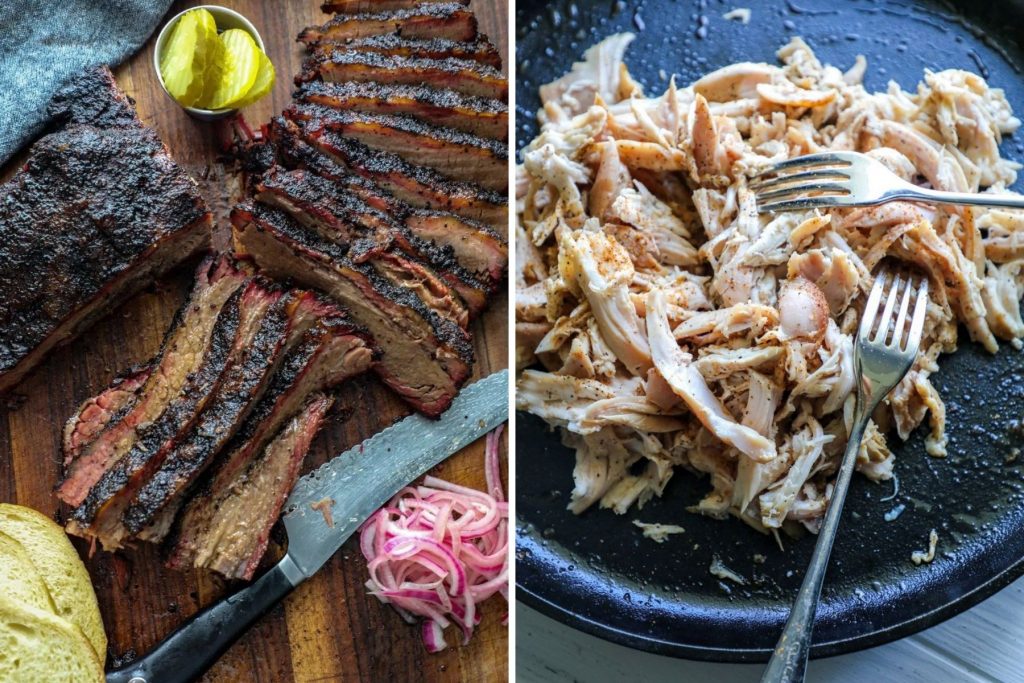 You can simply make the consommé and then simmer and heat the leftover meat in the broth.
This is by no means the "authentic" way to go, but it is an option!
Quesabirria Beef Taco Ingredients:
Here is what you need to make your birria tacos recipe-
Corn Tortillas: Corn tortillas are the only way to go for this recipe, do not use flour.
Beef Birria: I reheat my previously smoked birria in a Dutch oven over medium heat. You can also leave it to simmer on warm or low in a slow cooker to use as needed (this is great for parties and larger events).
Consommé: This rich broth is the base for braising the beef. It's made up of beef stock, rehydrated chili peppers, onion, garlic, bay leaves, and other spices. You need this for dipping the tortillas, so keep it readily available.
Shredded Queso: Use your favorite queso blend (Oaxaca cheese, queso fresco, etc.)
Onions and Cilantro: Add these to your quesabirria tacos, it's a must so don't skip out!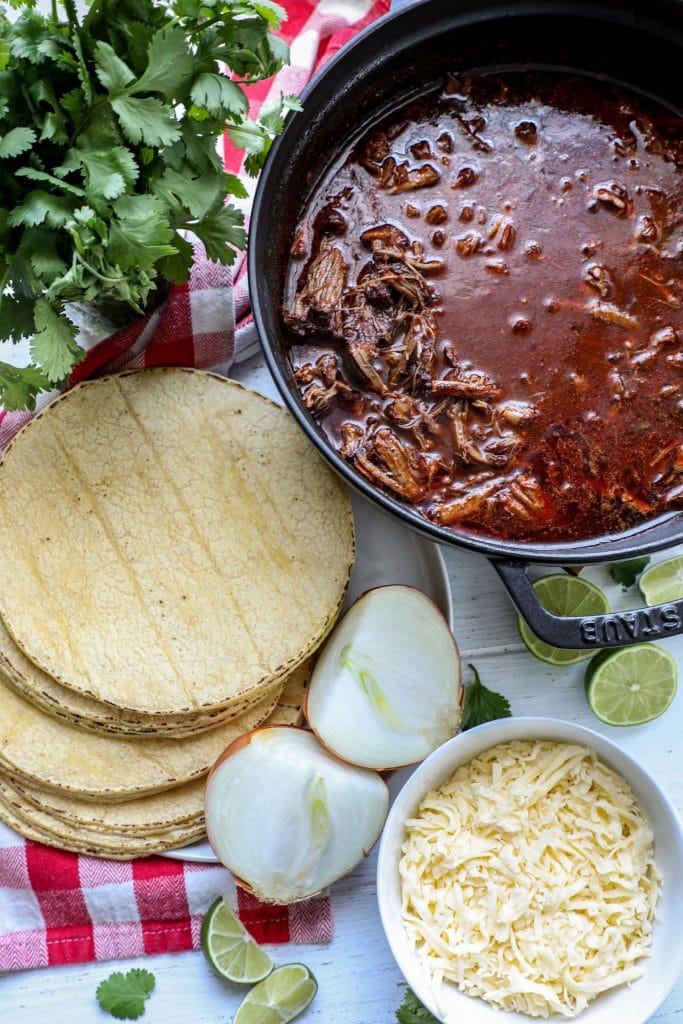 How To Assemble A Quesabirria Taco Ring:
The version I am recreating is not traditional, but a popular method amongst food trucks in LA and across social media (and I am here for this trend).
Let me break down the process of making a proper quesabirria taco and more specifically, how I made a quesabirria taco ring and smoked it on my grill.
Pro Tip: Mise en place is key here (aka prepping all your ingredients in separate bowls for an assembly line). Have your tortillas, your shredded beef, consommé, shredded queso, onions, and cilantro ready to go.
Assembly steps:
Step 1: Warm your tortillas. If you do not do this, they will likely bend and break.
You can warm them in the microwave for 30 seconds (wrapped in a towel to help steam slightly) or lightly over the flame on your burner with a gas stove.
If you plan on making a taco ring (pictured throughout), then you will slice off about 1/4 of the tortilla on one edge to make it easier to wrap into a cone shape.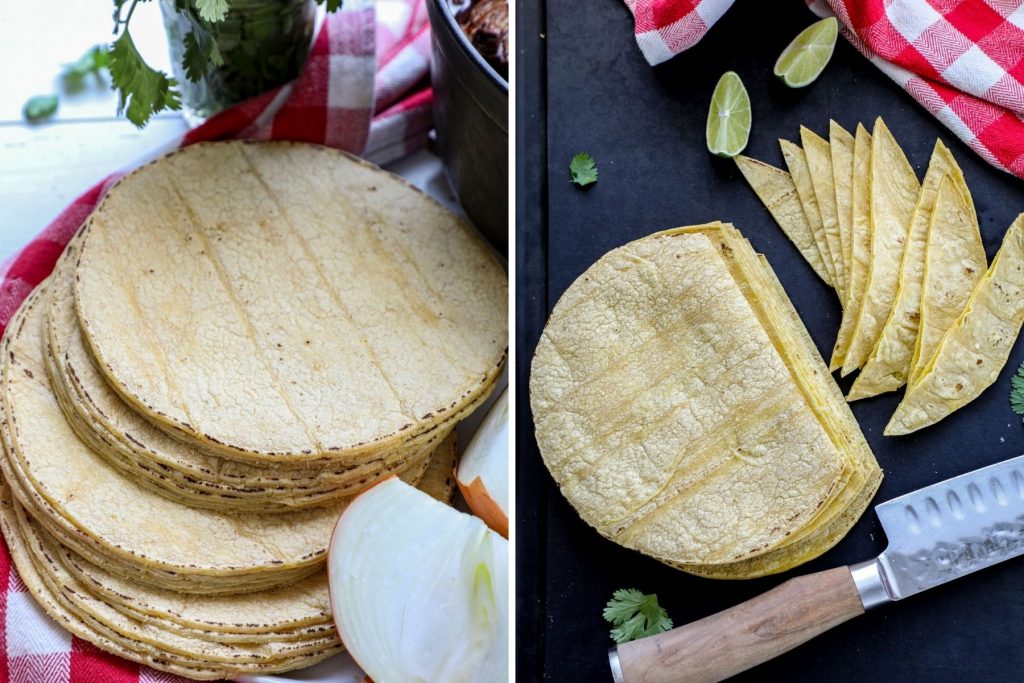 Step 2: Reheat your beef birria and consommé. I place mine in a pot over medium-high heat and bring it to a simmer.
Once heated through, add some of the consommé to a shallow dish and the shredded beef birria to another.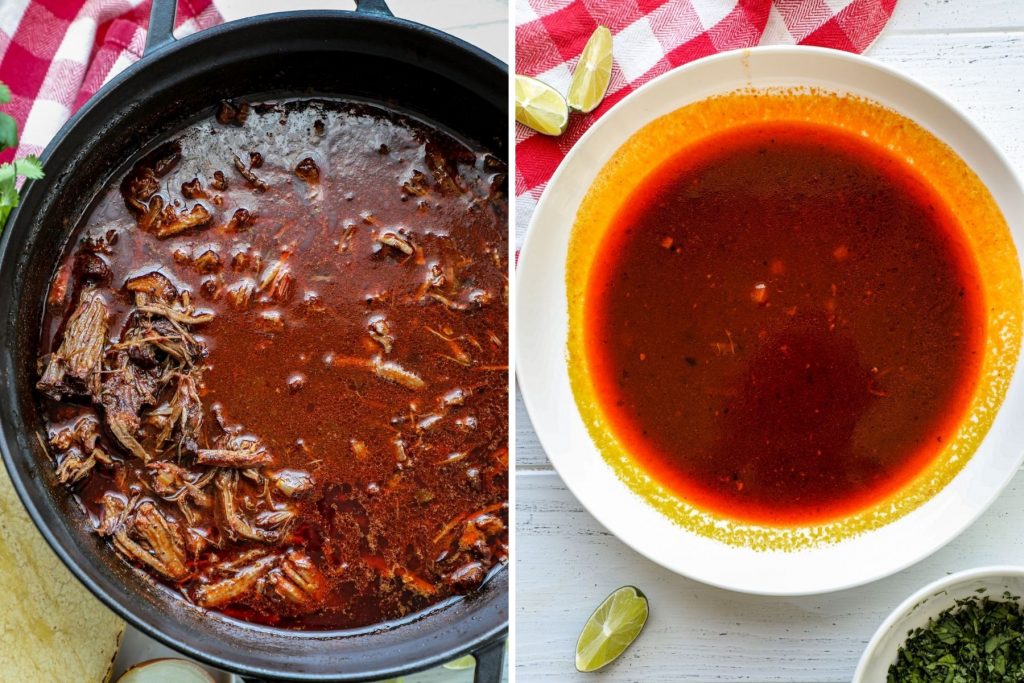 Step 3: Submerge your tortilla into the consommé. This isn't traditional, but it is the way everyone has been enjoying this quesabirria taco. It's a must-do!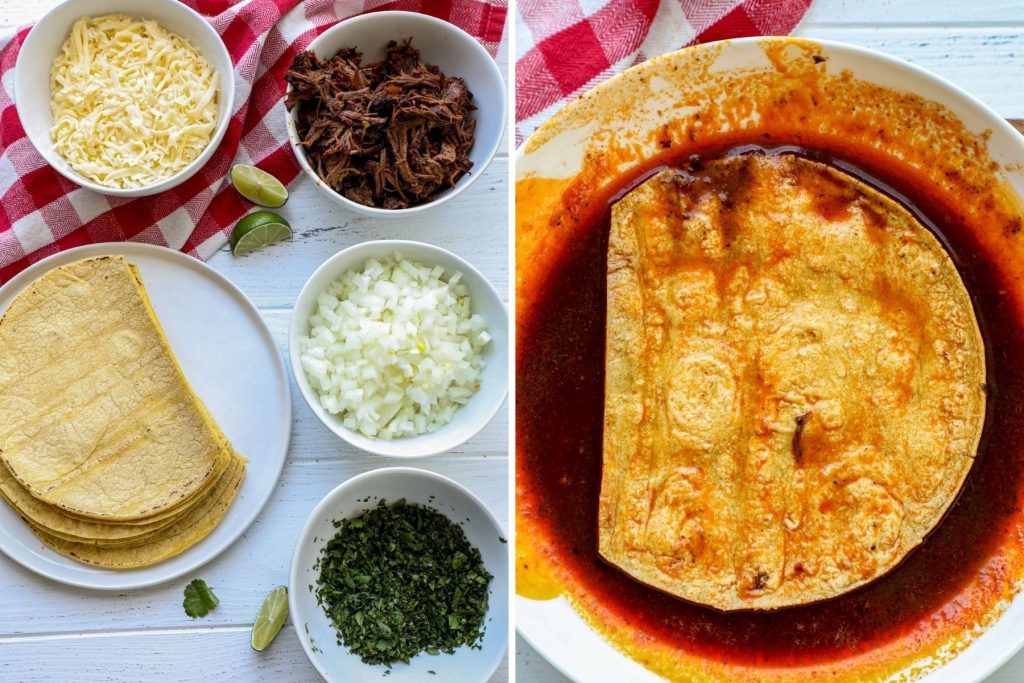 Step 4: Add your filling. I start with a few tablespoons of my favorite shredded queso fresco, then a few tablespoons of beef. Followed by the onion and cilantro.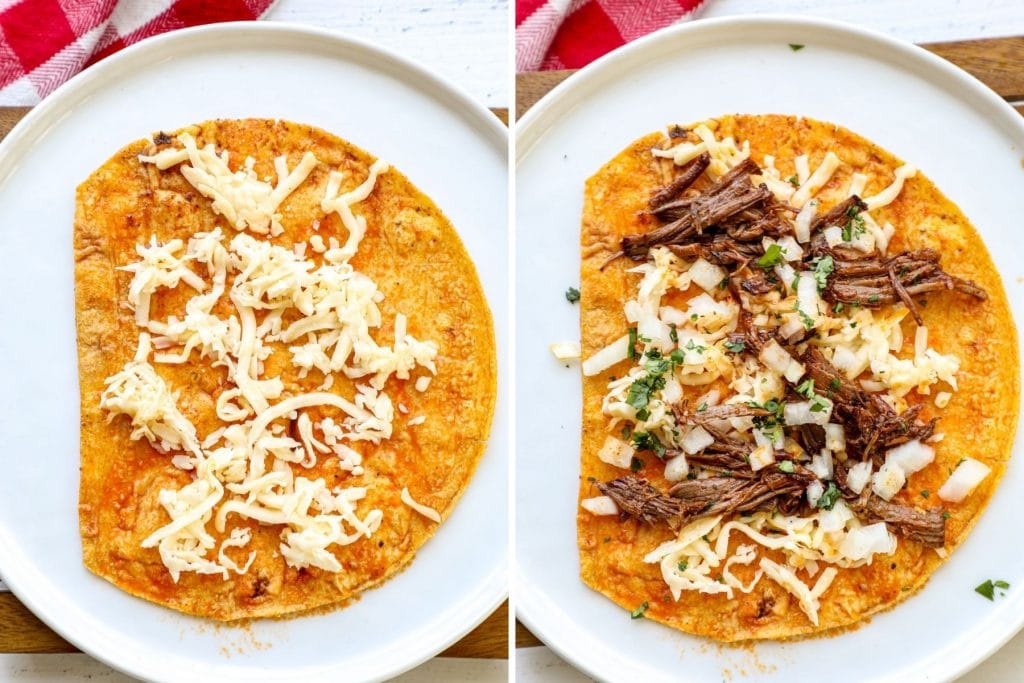 Step 5: Rolling into a cone. Start with one corner, and slowly roll into a cone shape (see video and photos for reference).
Place it onto a skillet or large round pan (like a pizza pan) with the seam side down.
Repeat this step until you have all of your quesabirria tacos made. I made about 16 and layered them.
I think it would it's best to only do one single layer (or they stick a little too much). Add some additional shredded cheese, onion, and cilantro.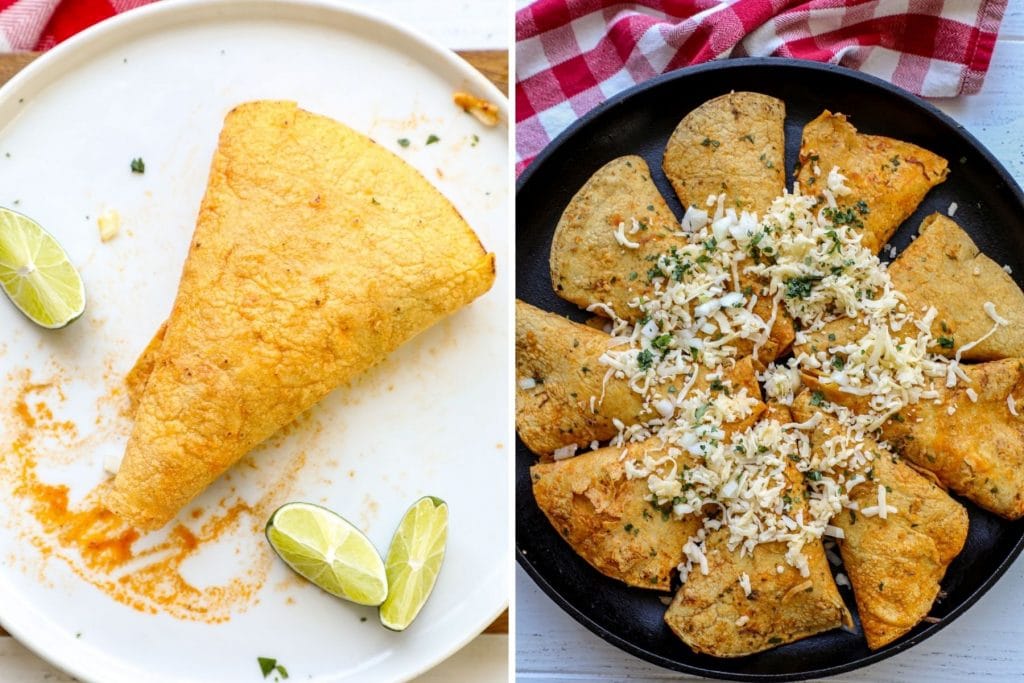 Cooking Instructions:
You can cook your tacos using a few different methods. Here is what you need to know-
Smoking:
Preheat your grill or smoker to 375 F. and set it for indirect heat. You can do this on a charcoal grill, pellet grill, or even a gas grill.
Place the pan onto the grill grates and smoke it for about 25-30 minutes. The cook time may vary slightly, but it should be slightly crispy and the cheese should be melted through.
Remove from the grill and let it cool for 5-10 minutes.
Warm the extra consommé and place it in a small dish in the center of the pan and serve it with your taco ring as a dipping sauce.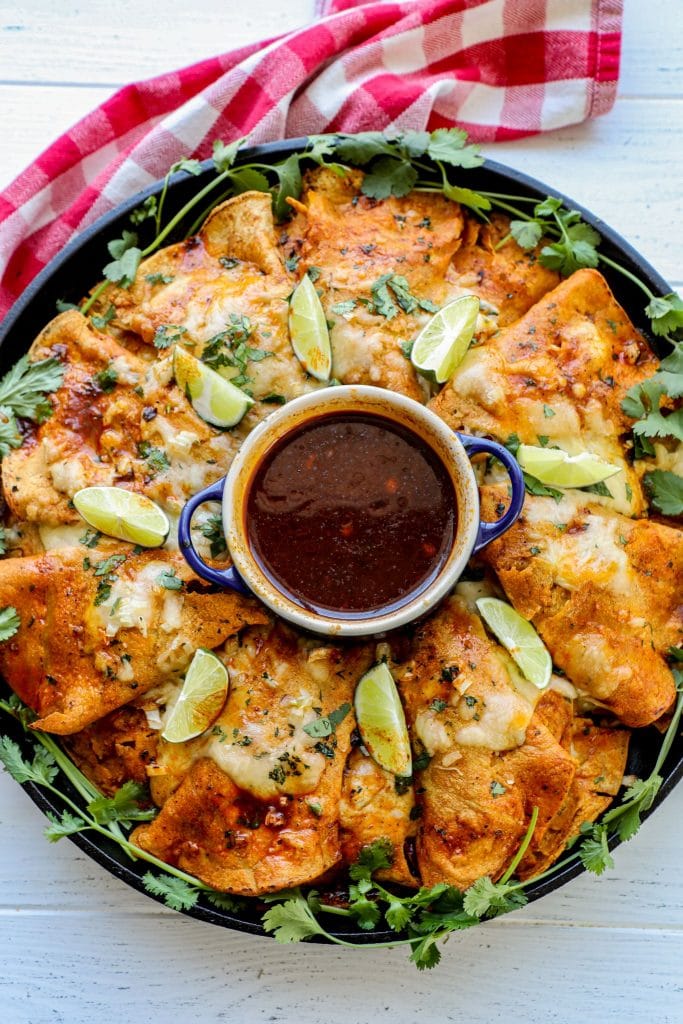 Baking:
Preheat the oven to 375 F.
Place your taco ring pan into the oven and bake for 25-30 minutes or until the tacos shells are slightly crispy and the cheese is melted.
Remove from the oven and let it cool 5-10 minutes.
Serve with the warmed consommé for dipping.
Traditional Pan Frying:
If you want to make a traditional quesabirria taco and not a taco ring, follow these instructions.
Follow steps 1-3 (warming the tortillas and dipping in the consommé) listed above under the assembly instructions.
Preheat a large frying pan to medium-high and add any extra beef fat you can spoon off from the consommé. If you need a little oil here you can use that too.
Place the dipped tortilla straight into the preheated pan. Add the cheese and beef and let the cheese melt.
Fold the tortilla in half and cook a few more minutes on each side to brown and crisp the taco shell.
Remove from the pan and add onions and cilantro. Serve with the extra consommé for dipping.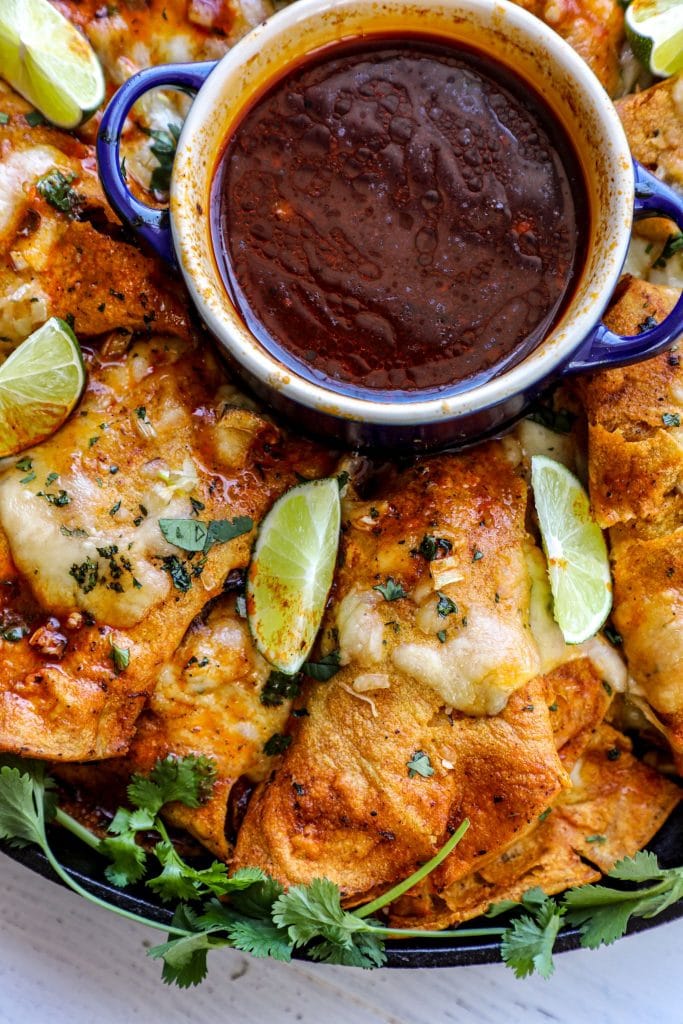 Quesabirria beef tacos are a delicious, easy-to-make dish that will leave your taste buds happy.
Birria is a time-consuming meal to make, but the result is worth it.
If you're looking for an easy weeknight meal or want to bring something special to your next party, these tacos should be at the top of your list.
Have you made them yet? Share in the comments below and leave a rating.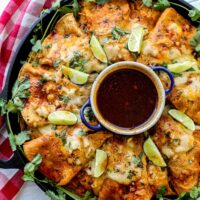 Quesabirria Beef Tacos (Smoked Taco Ring)
This quesabirria tacos recipe made with slow-smoked and simmered beef, braised in chili pepper and tomato consommé, fried up with shredded queso is an incredible culinary experience you will want to recreate at home.
Print
Pin
Rate
Ingredients
12

Corn Tortillas

1.5

cups

Smoked Beef Birria

3

cups

Consommé

2

cups

Shredded Queso Fresco

1/2

cup

Onion

diced small

1/2

cup

Cilantro

minced
Instructions
Preheat your smoker or grill to 375 F. and set it for indirect heat. If you do not have a smoker, you can use your oven at the same temperature.
Preparation
You will need to pre-make the smoked beef birria before making the tacos. You can do this ahead of time or the day of.

Remove 3 cups of the consommé and set it aside in a shallow dish.

Add 2 cups of shredded beef birria aside in a small bowl.

Warm your corn tortillas in the microwave for 30 seconds or over a gas stove burner (10 seconds per side). This helps prevent them from cracking and tearing.

Dice your onion and cilantro. Have your cheese shredded and in a bowl.
Assembly
To make the taco ring tortillas in a cone shape, trim off about an inch of the tortilla on one side (pictures shown above).

Dip one tortilla at a time into the consommé broth and fully submerge it.

Remove it and add 2 tablespoons of shredded queso across the tortilla.

Next, add 2-3 tbsp of shredded beef across the tortilla and add a little onion and cilantro.

Slowly roll each tortilla into a cone and place it onto a large cast-iron pizza pan or skillet, seam side down. Build your taco ring in a circle with a small space in the middle to add the consommé for later.

Add about 1/2 cup of queso cheese over the tops of the tortillas.

Smoke your quesabirria beef taco ring for 25-30 minutes. You want the tortillas to get crispy and cooked through and the cheese over the top to be melted.
Serving
Let them rest 5-10 minutes.

You can garnish with more cilantro and some lime slices.

Place the remaining consommé into a small bowl and into the middle of the quesabirria taco ring, serve, and enjoy.
Notes
Don't want to make a taco ring? Pan-fry the tacos individual (see post above for instructions). 
Nutrition
Serving:
1
Taco
|
Calories:
209
kcal
|
Carbohydrates:
15
g
|
Protein:
12
g
|
Fat:
11
g
|
Saturated Fat:
5
g
|
Polyunsaturated Fat:
1
g
|
Monounsaturated Fat:
4
g
|
Trans Fat:
1
g
|
Cholesterol:
37
mg
|
Sodium:
234
mg
|
Potassium:
215
mg
|
Fiber:
2
g
|
Sugar:
2
g
|
Vitamin A:
174
IU
|
Vitamin C:
1
mg
|
Calcium:
124
mg
|
Iron:
1
mg