Mexican Inspired Shakshuka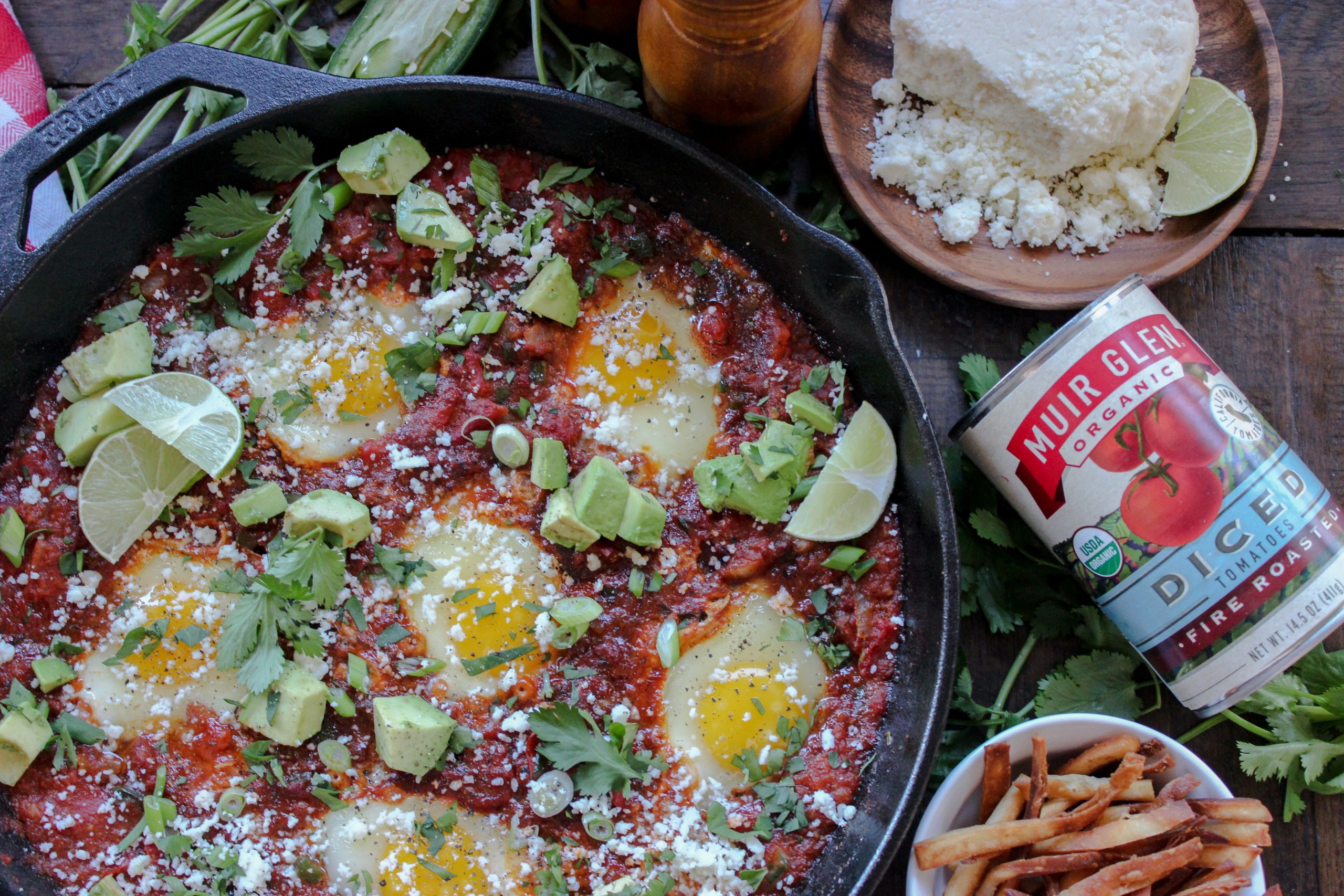 This recipe is in partnership with Muir Glen and TheFeedfeed. All opinions are my own.
If you've been joining me on my cooking adventures for a while now, then you know I am a fan of low carb, real food recipes that are still packed with a ton of flavor. You also know I hate washing dishes! That's just two reasons (of many) why I am absolutely in love with this Mexican Inspired Shakshuka dish.
I was so excited to team up with The Feed Feed and Muir Glen in conjunction with my local co-op, The Merc Co-op, to feature their organic fire roasted tomatoes. It's a perfect one pan dish, super easy to keep low carb, and works for any meal, any time of the day. What's not to love?
Find the full recipe for this Mexican Inspired Shakshuka dish below and read on for all the usual tips and tricks.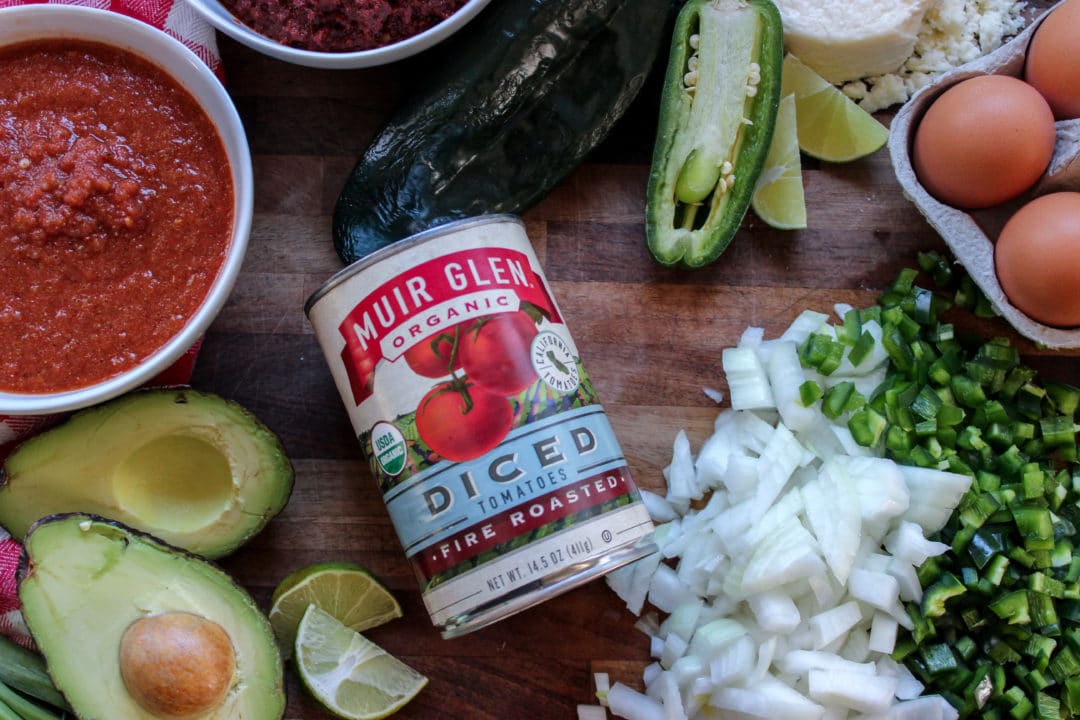 "School" Supplies:
12″ Skillet (I prefer a cast iron pan for this personally)
Knife & Cutting Board
Blender or Food Processor
Spatula
Measuring Spoons
"Class" Notes:
First, let's talk tomatoes! I was really excited when I was approached about this partnership for a few reasons. The first, is that I find many low carb eaters tend to be too nervous to incorporate tomatoes into their diet. Do tomatoes naturally have more carbs than other vegetables? Yes. Can you still eat them and incorporate them into a normal low carb diet? Absolutely.
Tomatoes are packed with antioxidants and vitamins, but also they are delicious and should not be counted out. As a teacher, a culinarian, and a foodie, I also really love what Muir Glen stands for as a company and know that this is a product I feel comfortable standing behind as a consumer. Specifically, I appreciate their focus on creating an organic product using natural pollination (aka bees) and their focus on being a zero-waste facility (composting and environmentally friendly practices).
Additionally, I purchased the tomatoes at The Merc Co-op out of Lawrence, KS. Have you ever shopped or heard of a Co-op grocery store? These are grocery stores owned by their customers. So cool, right? You can find your local co-op and read more about what they do by clicking the link here!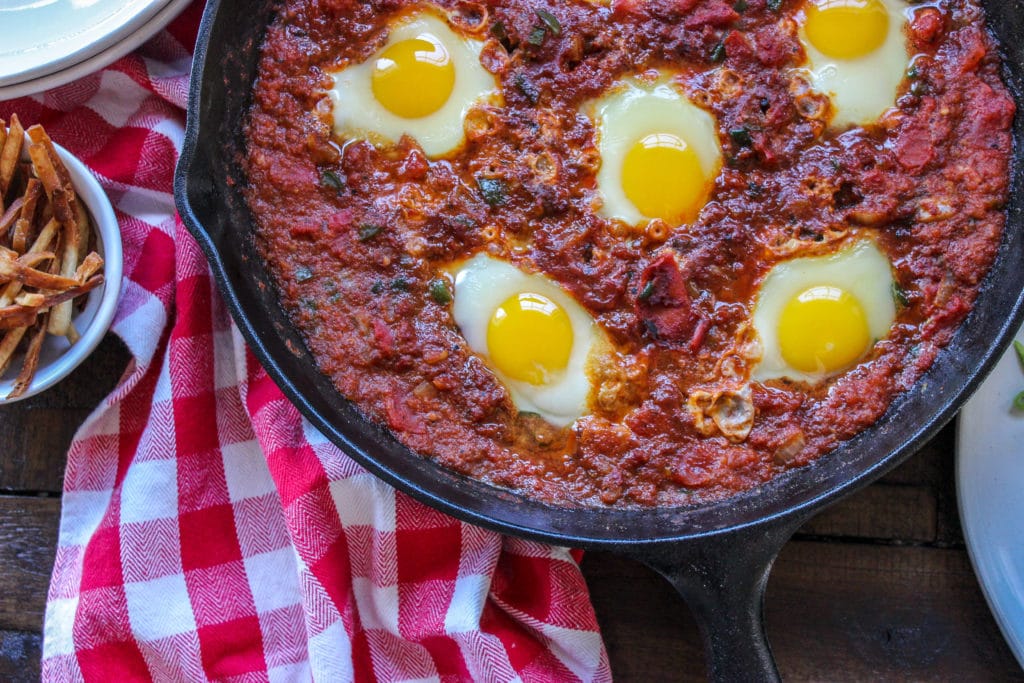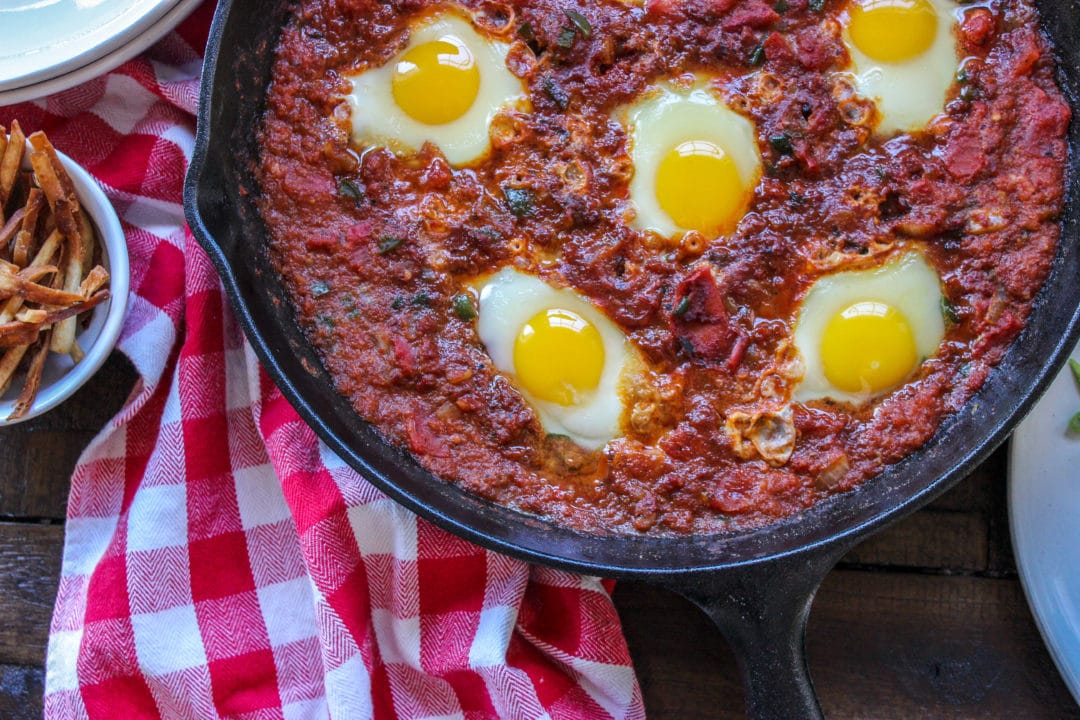 Alright, let's move on to the recipe and how I approached this dish. A Shakshuka is essentially eggs poached in tomatoes. Traditionally, it is seen in a lot of Middle Eastern and Mediterranean cuisine, but I wanted to incorporate some of my favorite Mexican peppers, spices, and meats, like chorizo.
I started by cooking the chorizo sausage on my cast iron. Once fully cooked and browned, be sure to drain the meat and grease onto a paper towel lined plate (chorizo tends to be very greasy so do not skip this step). Toss in your peppers and onions and sauté until they are tender.
I like poblanos and jalapenos, but any pepper you prefer works great! To the cooked peppers, add the meat back in, and add a can of the Muir Glen fire-roasted tomatoes (fire roasted have a lot of flavors but regular diced tomatoes would work just as well).
To step this up a little, I decided to take the second can of my Muir Glen fire-roasted tomatoes and actually blend it with some onion and spices to create a hybrid salsa/enchilada-style sauce to add to this dish.
This adds a ton of flavor, but also makes the perfect tomato bath to poach your eggs in.
To poach the eggs, I find by creating a little "nest" or hole for the egg to be dropped in works best. Simply use a spatula to move a small amount of the tomato mixture to create a well and crack an egg right in! I like to let it simmer away at this point and let the eggs cook until the whites are set.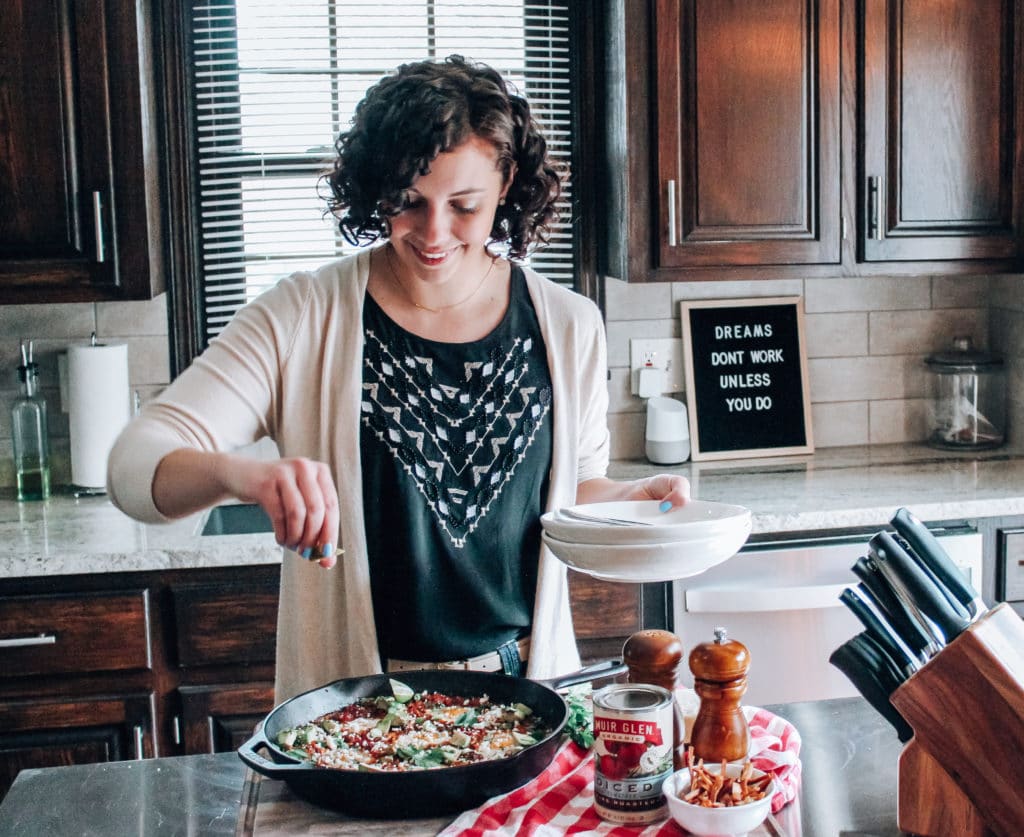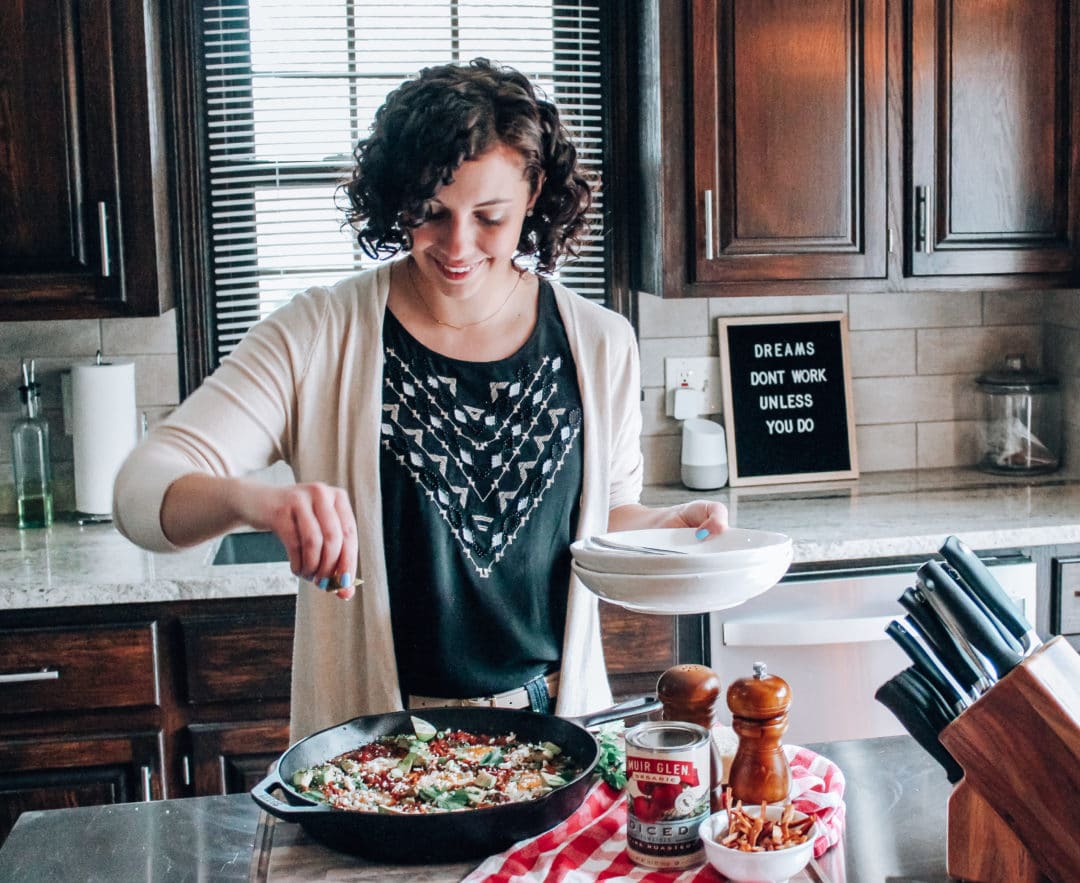 Finish the dish off with a beautiful sprinkle of fresh cilantro and a little cotija cheese. If you aren't a low carb or gluten free eater, Shakshuka is always great with a hearty piece of crusty bread to help dip into all that lovely tomato goodness. I bet this Mexican inspired version would be perfect with a tortilla (flour, corn, or low carb would all work well). I hope you love this dish as much as I did! Want to follow the recipe in action? Check out my cooking tutorial over on my Instagram page to follow along in all the fun!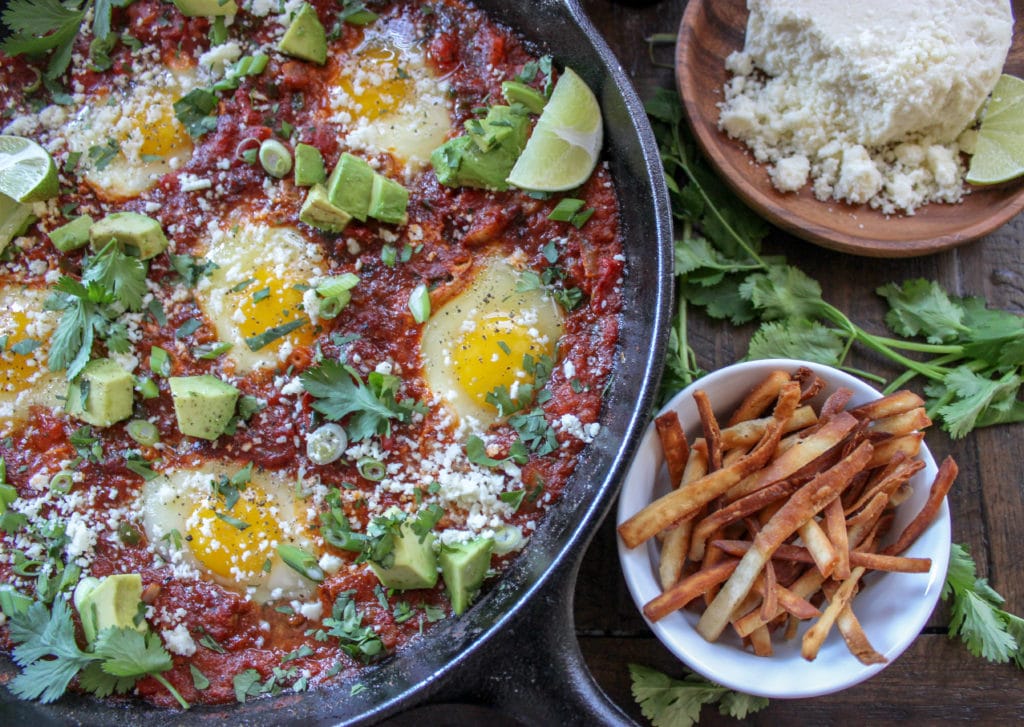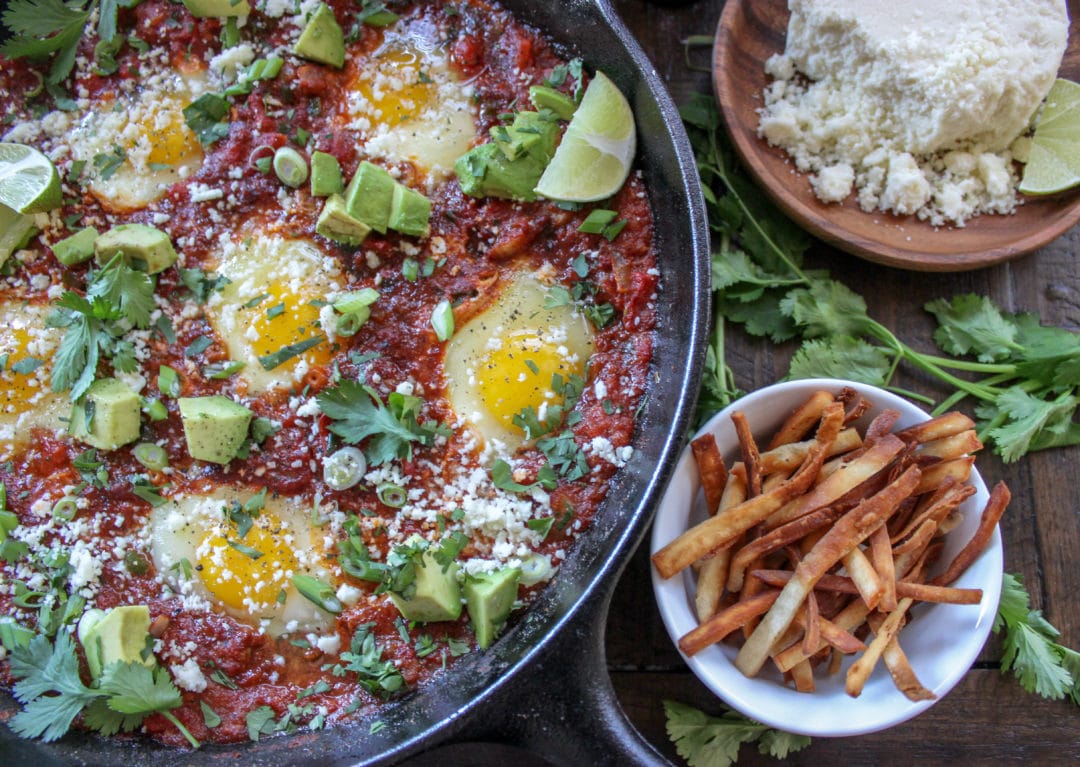 Ingredients
2, 14.5 Muir Glen Fire Roasted Tomatoes

1 lb Chorizo Sausage (ground)

1 Poblano Pepper, diced small

1 Jalapeno, minced (seeds removed if desired)

1/2 Onion, diced small

6 Eggs

1 tsp. Chili Powder

1 tsp Cumin

1/2 tsp Garlic Powder

1/4 tsp Cayenne Powder

1 tsp Salt

1 tsp Black Pepper

Optional Toppings- Cilantro, Avocado, Cotija Cheese, Fresh Lime
Instructions
1
In a large skillet (I prefer cast iron), cook the chorizo sausage until browned. Be sure to drain the grease (I use a paper towel lined plate and let the cooked meat sit for a bit).
2
Once the meat is set aside, use the same pan to now cook the peppers and the onion. Saute for about 5-6 minutes or until the onion is translucent and they are tender. Add in one can of the fire roasted tomatoes and the cooked chorizo sausage. Allow it to cook on low.
3
In a blender or food processor, blend together the other can of fire roasted tomatoes and all the spices (chili powder, cumin, garlic powder, cayenne, salt, and pepper). Once this is combined, pour it over the cooking chorizo/tomato mixture and cook for 2-3 minutes on lower heat.
4
To poach the eggs, make six small "nests" in the tomato mixture by moving some aside with a spatula. Allow enough room so that the tomato mixture encases the sides of the eggs. Allow the eggs to cook and simmer on medium-low heat, until the whites are cooked.
5
Remove from the heat and garnish with the optional cilantro, diced avocado, and cotija cheese. Eat as is or serve with your favorite tortilla (flour, corn, or low carb if preferred).