Low Carb Chicken & Eggplant Roll Up's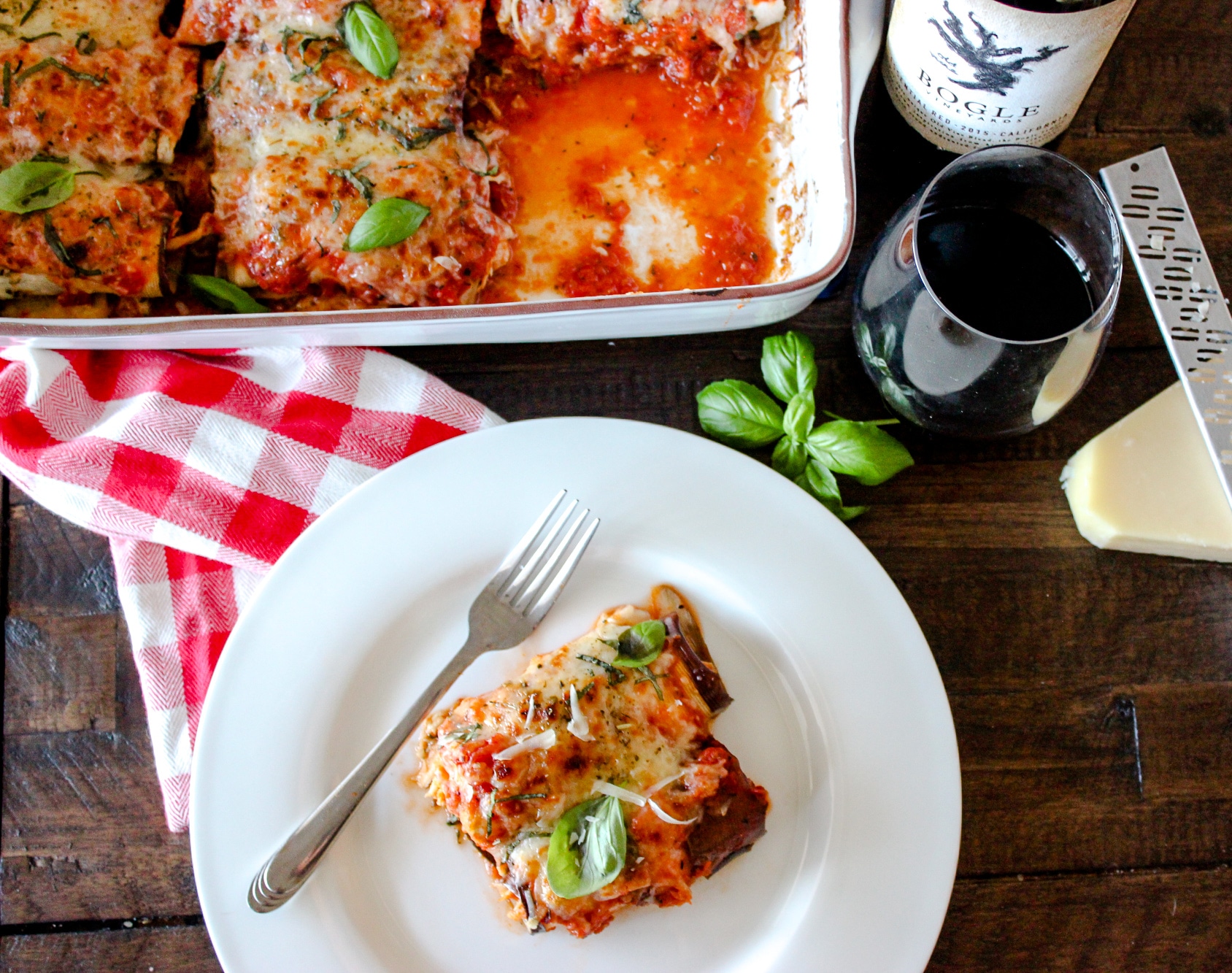 I am always searching for ways to make classic foods a little more low carb. I love the comfort of lasagna or the different textures and flavors of a chicken Parmesan. These low carb chicken & eggplant roll up's were inspired by those two meals in and effort to create a healthier alternative. I strongly suggest you make your own sauce like I do. It really is simple, takes only a few ingredients, and leaves out a lot of the added sugars and preservatives found in most jarred sauces. The full recipe is at the bottom!
Make Your Sauce:
A simple red sauce isn't difficult to make. I typically keep several types of canned tomatoes in my pantry at all times as a back up in case  I need to whip something up quickly. You can make this sauce in under 20 minutes easily. Half the time is just for cooking! I start by shredding or grating a whole onion. I like to do this (though it is a bit time consuming) because the onion breaks down and releases a lot of its liquid into the sauce. This adds a great deal of flavor to your basic canned tomatoes. Saute the onions, throw in a crushed garlic (an absolute must), saute a bit more, add in stewed tomatoes and some canned tomato puree or sauce. If you use a puree you can thin the sauce out with 1/4-1/3 cup of water if necessary. Throw in your favorite spices. I typically add oregano, thyme, basil, parsley, salt, pepper, and a few red pepper flakes if I'm feeling extra wild and saucy that day. Let it cook, then use an immersion blender (or a regular blender) to smooth out the sauce.
Eggplant Preparations:
For these chicken & eggplant parmesan roll up's I used a similar technique when I made my Gluten Free Vegetarian Black Bean Enchiladas. Slicing the eggplant into thin layers allows you to stuff and roll them fairly easily. Eggplants however, release a lot of liquid when cooking and tend to be a little bitter at times. To avoid this, I sliced all my egg plant into strips and laid them out on a paper towel. Next, sprinkle with salt and cover with another paper towel. After 10 minutes or so, rinse and pat dry. This pulls out the excess water and allows them to cook nicely. If the eggplant browns a bit do not be alarmed…it gets covered in sauce and cheese!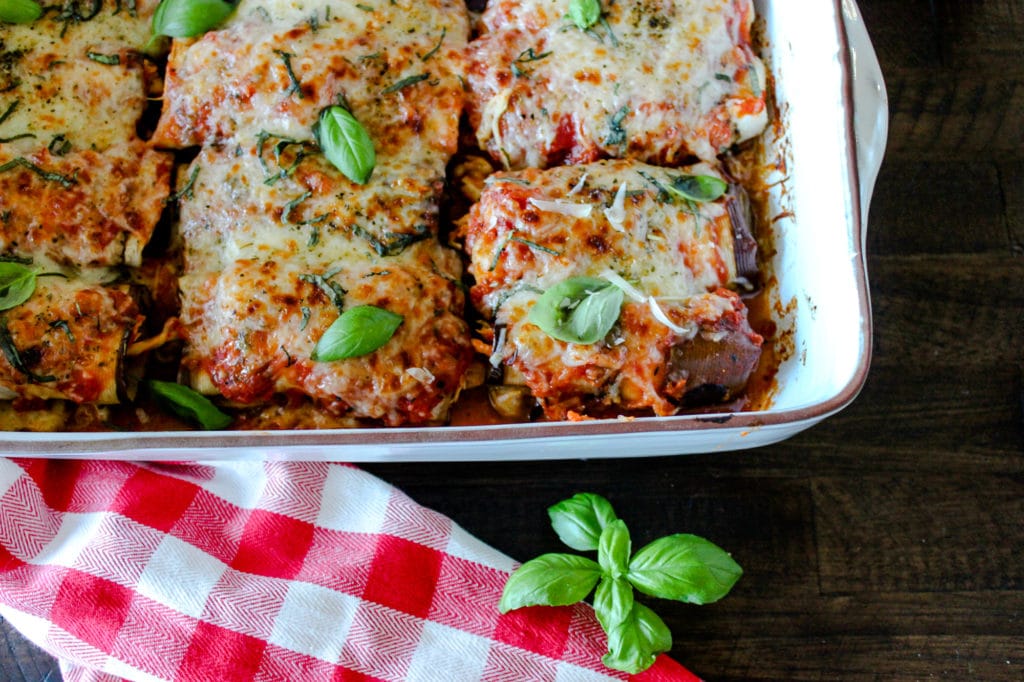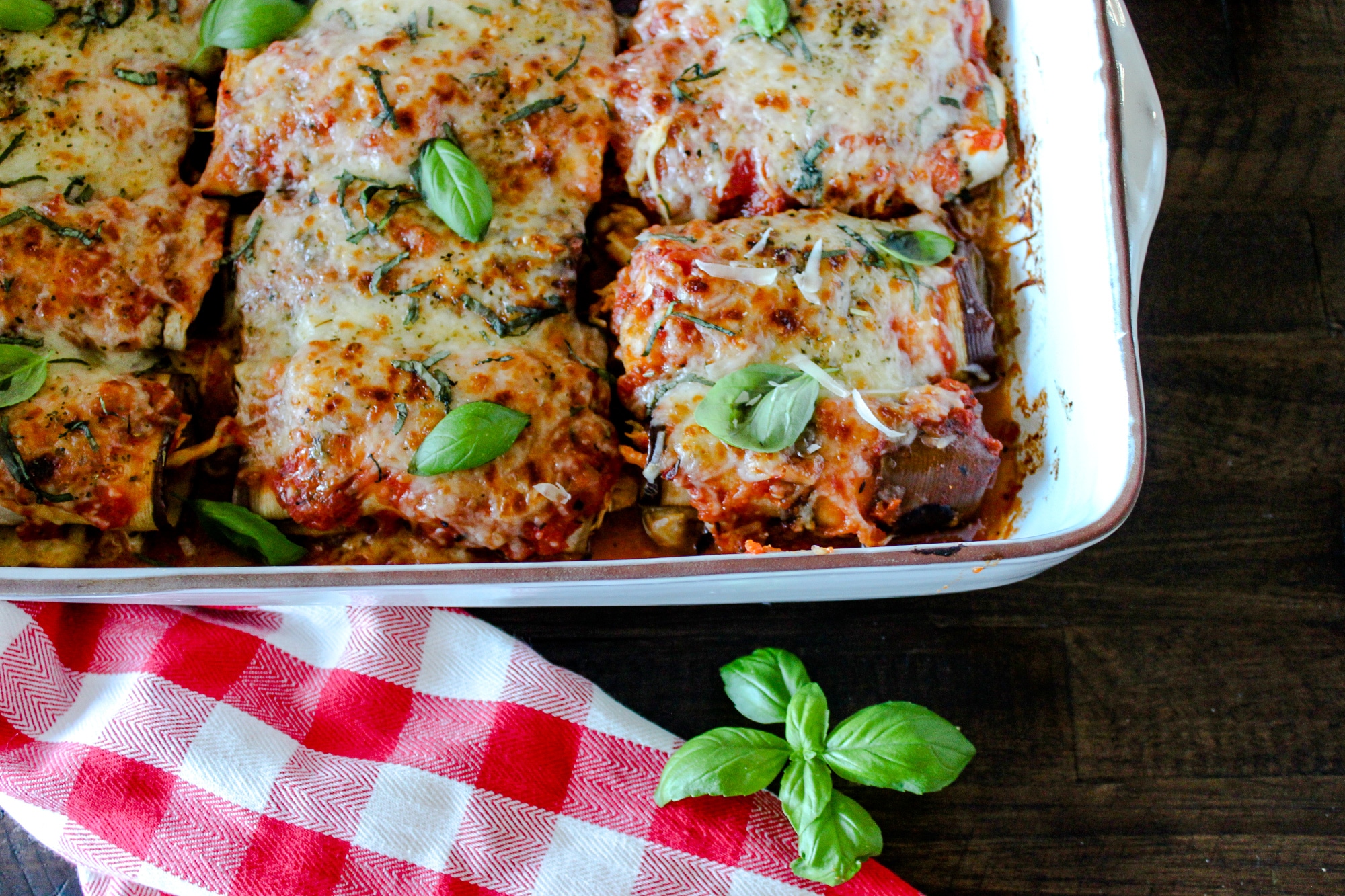 Roll Em' Up:
While the eggplant strips are being salted, poach the chicken in stock or water. Once cooked, shred it and place it in a bowl and mix in some of the sauce. Lay three thin strips of eggplant down on a cutting board so each one slightly overlaps the previous strip. Place a small scoop of shredded chicken onto the front edge and tightly roll the eggplant up. Place seam side down in a casserole dish and repeat. Once all the rolls are made, cover them in sauce, add some freshly grated mozzarella and Parmesan cheese. Bake for 30 minutes, garnish with fresh basil, and enjoy! I hope these low carb chicken & eggplant roll up's are a perfect addition to your low carb dinner rotation.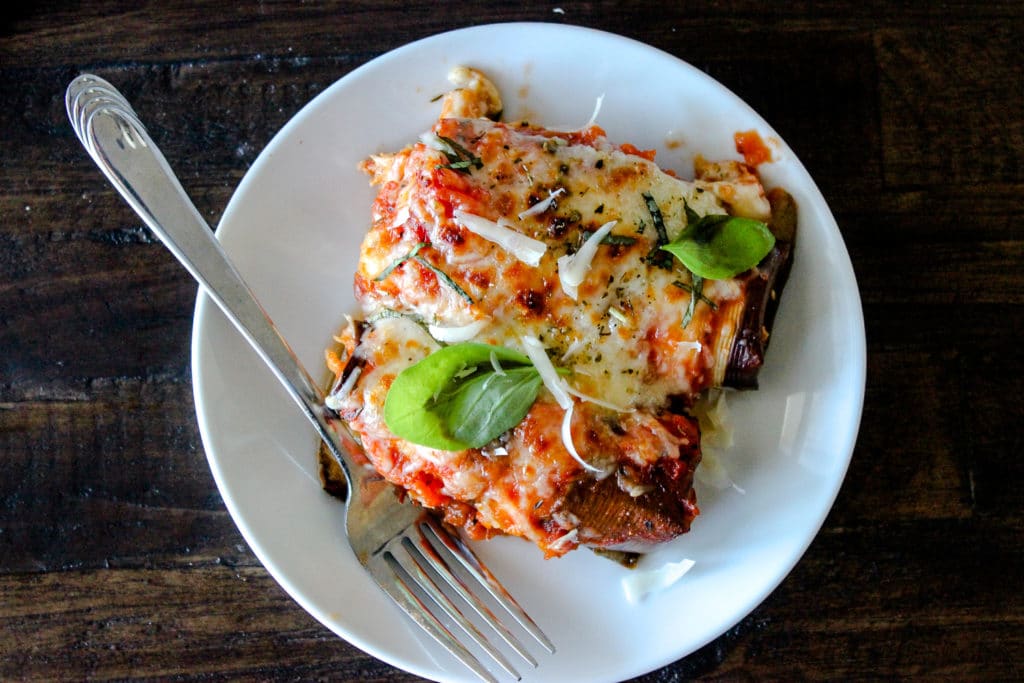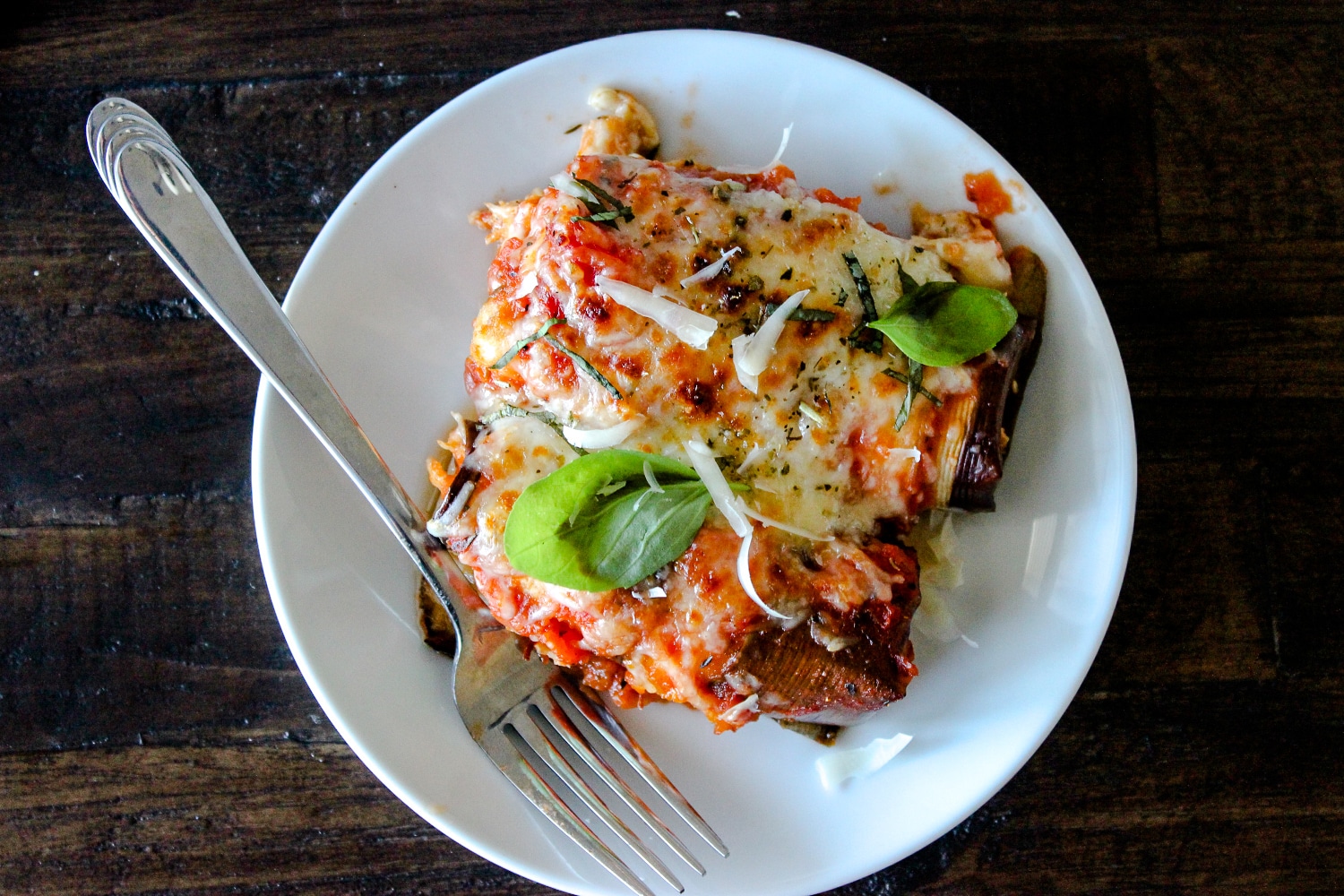 Bon Appeteach,
-L
Ingredients
1 large Eggplant, sliced into 36 thin strips

1 1/2-2 cups, Shredded Chicken

1 tsp. Olive Oil

1 Onion, grated or shredded

3 Garlic Cloves, minced

2, 14.5 oz cans Stewed Tomatoes

1, 8 oz. can Tomato Sauce

1 tsp. Salt, Oregano, Thyme, Parsley, and Basil

1/2 tsp. Red Pepper Flakes (optional)

1 cup Grated Mozzarella

1 cup Grated Parmesan

Extra salt for eggplant
Instructions
1
Preheat the oven to 350 degrees F.
2
Begin by slicing your eggplant into 36 1/8" pieces. I use a peeler for this but a mandolin slicer or a really sharp knife (cut carefully) will give you the desired cut.
3
Lay the eggplant strips onto paper towels and sprinkle with salt. Cover with additional paper towels and allow them to sit.
4
Place the chicken in a small pot with simmering water or stock and cook until no longer pink. Shred and place in a bowl.
5
Add olive oil to a large skillet or pot. Heat the pot to medium low.
6
Grate an onion and place in the skillet and cook for a few minutes. There will be a lot of liquid. That is good!
7
Add in the minced garlic and the red pepper flakes and cook 1 minute.
8
Add in the three cans of tomatoes and stir. Add in the remaining seasonings. If you do not like a tangy sauce you can add a pinch or two of sugar to cut it. I don't mind it so I leave this out.
9
Let the tomatoes all cook together for 10 minutes or so. Stir occasionally to help break down some of the larger tomato pieces.
10
Meanwhile, rinse and pat dry the salted eggplant.
11
Add about two ladles of sauce to your shredded chicken. It should just coat it but there should not be a lot of extra sauce.
12
Prepare a 9X13" casserole dish by adding a little sauce to the bottom and coat it. This prevents the eggplant from sticking.
13
Lay three thin eggplant strips down on a cutting board. Slightly overlap each one about a 1/4" or so. Place a spoonful of the chicken mixture right at the front edge.
14
Tightly roll the eggplant and place the seam side down in a casserole dish. Repeat this for all 12 roll up's.
15
Add the remaining sauce over the tops and be sure to completely coat them.
16
Sprinkle the mozzarella cheese and then the Parmesan over the sauce.
17
Cover with foil and bake for 20 minutes. Remove the foil and bake for an additional 10-15 minutes until the top is bubbly and the cheese browns slightly.
18
Serve with a sprinkle of fresh basil and extra Parmesan...because who doesn't love extra cheese!
Notes
You could also add ricotta cheese to the chicken/sauce mixture for additional flavor!