Colcannon Inspired Cauliflower Mash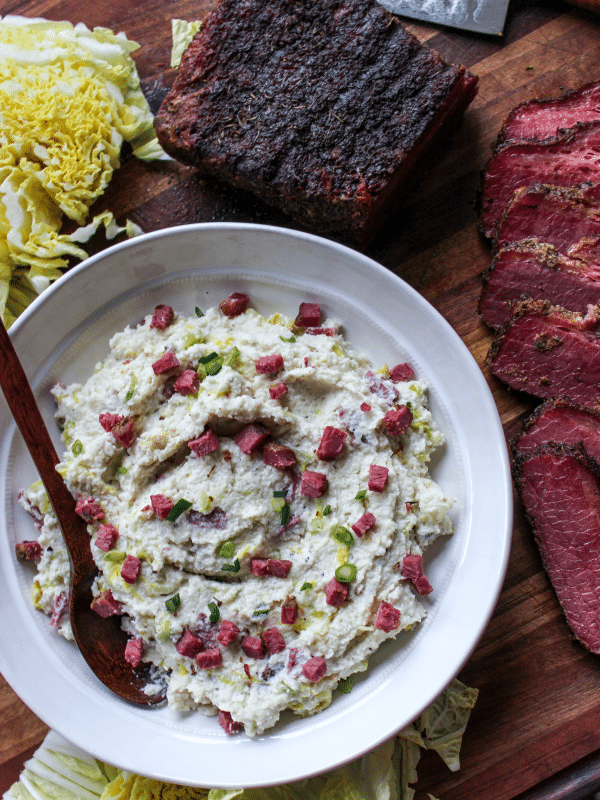 A fun, flavor packed way to switch up your basic keto low carb cauliflower mash into a delicious savory side that's perfect for more than just St. Patrick's day!
With St. Patrick's Day around the corner, I wanted a good keto side dish to go with my smoked corned beef. I truthfully am not the biggest fan of cauliflower, let alone as a mashed potato replacement. However, I have learned to master it over the last year (in my opinion) to make it not only edible, but delicious too.
I know, even I'm shocked kids.
This recipe focuses on the classic components of Irish colcannon mashed potatoes. My recipe features the addition of cabbage, cream cheese, and butter. It all gets tied together with the addition of diced corned beef (you can also sub a thick cut bacon too) to really amp up the flavor. 
Find the full recipe for the Smoked Colcannon Inspired Cauliflower Mash at the bottom of the page. I highly suggest reading through this post as well to learn some helpful tips and tricks for working with cauliflower (and making it not taste like farts).  #foodgoals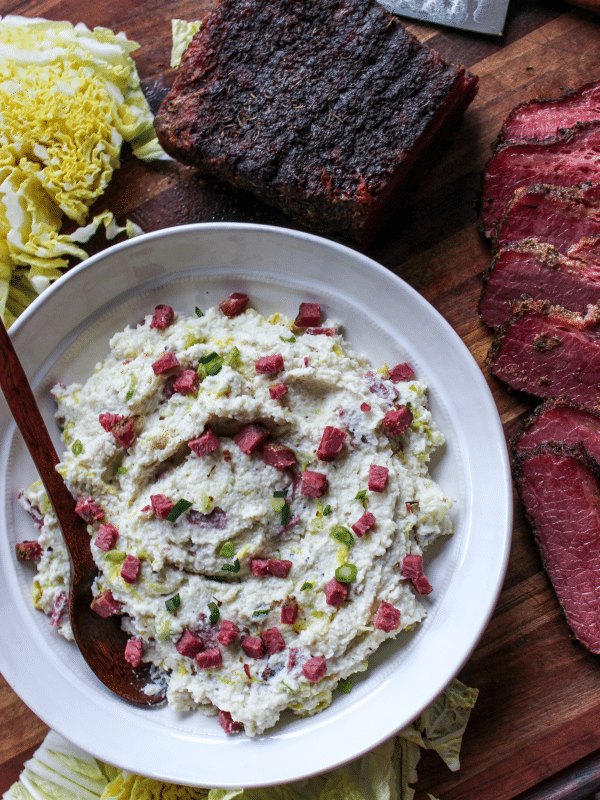 "School" Supplies:
Baking Sheet or Foil Pan
 Pot
Immersion Blender/ Standard Blender 
Knife & Cutting Board 
"Class" Notes:
The biggest downfall to any cauliflower based dish, is water. Cauliflower (especially frozen) is very watery and the only additional liquid I want added to my smoked colcannon mash is in the form of melted butter. Am I right? 
To start by reducing the moisture content of my cauliflower rice, I smoked it in a foil pan on my grill but you can also just bake it in the oven too Smoking really infuses some delicious flavor into the cauliflower rice and prevents your house  from smelling kinda funky.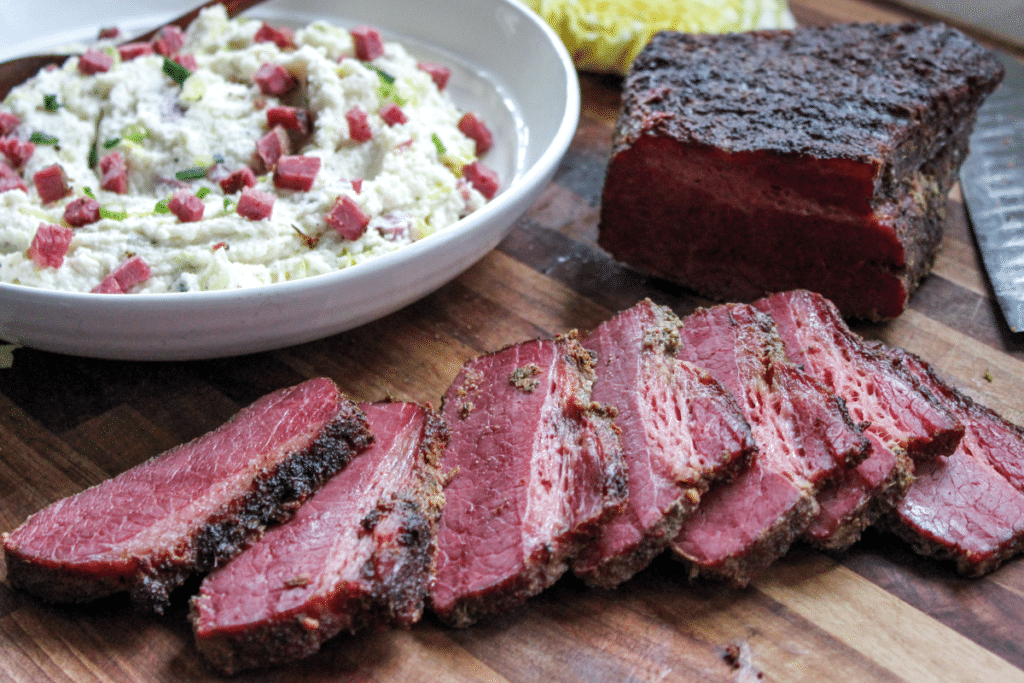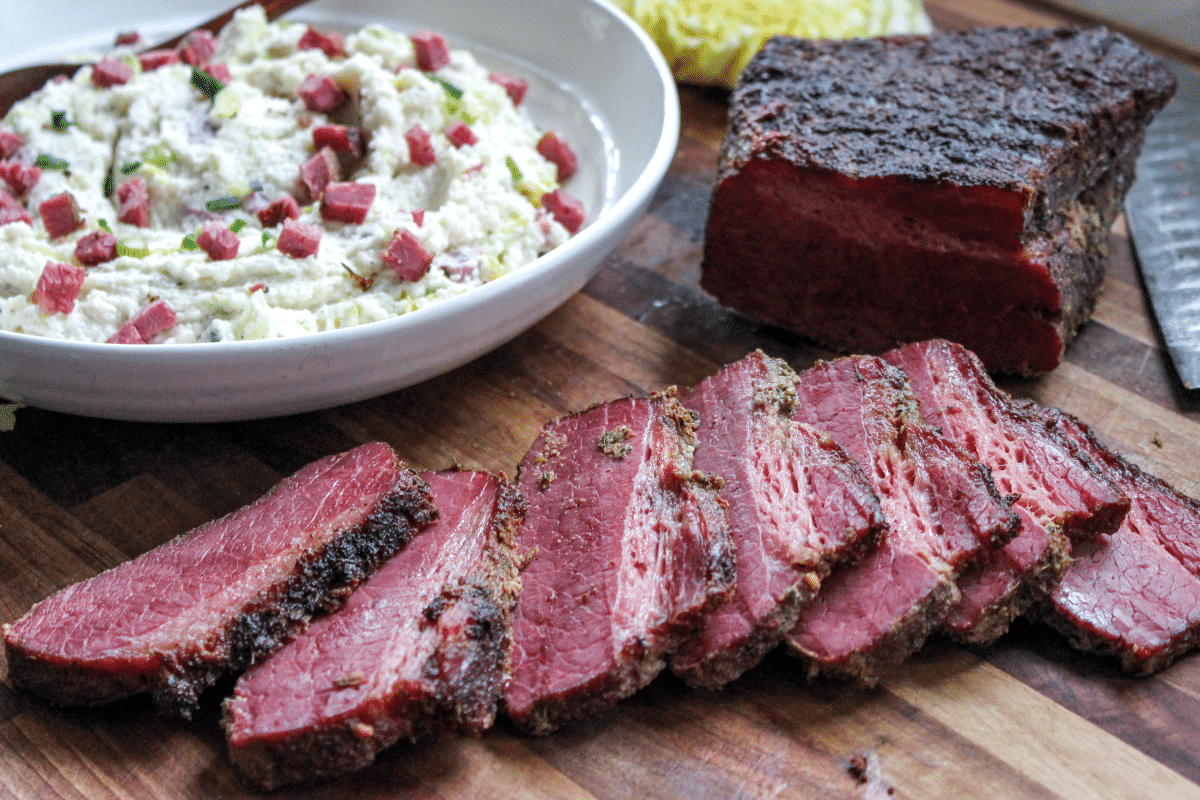 If you don't have time to grill or own one, you can make you can easily do this at home in the oven as well. Just simply, bake at 350F with a little olive oil and seasonings of choice (I like simple salt and pepper usually).
Both methods play a  crucial role in this recipe. First, it defrosts the cauliflower rice without overcooking it like the microwave would. Secondly, it reduces the moisture content by applying a dry heat and helping evaporate the water (as opposed to steaming it and making it really mushy and watery). 
While the rice is smoking (or baking), heat a pot with a little butter and add in the shredded cabbage. I'm not a huge boiled cabbage fan but you could do this too. I prefer to just saute mine until tender, remove it from the pot and set it aside to be added back later.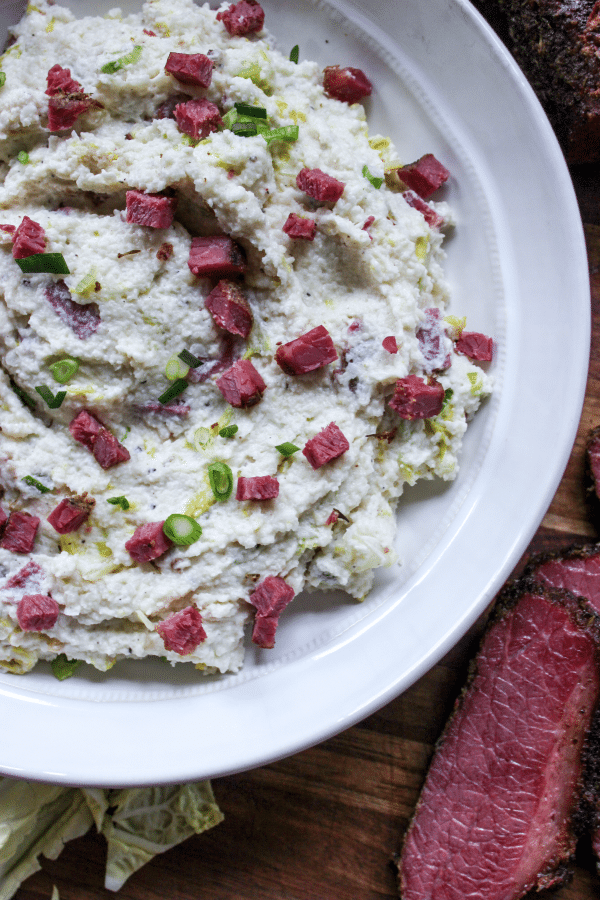 Once the cauliflower is defrosted and smoke infused, melt more butter into the pot. Add in the riced cauliflower and a little cream cheese. Cream cheese in place of cream helps add thickness and gives the cauliflower mash a little more volume like regular mashed potatoes to it in my opinion.
Once the melted butter and cream cheese is mixed in and melted, I prefer to blend it until creamy with an immersion blender. You can use a regular blender, but be cautious whenever blending hot foods!
Once creamy and smooth, taste test! Adjust salt and pepper if needed. Mix in the shredded and cooked cabbage, and finish it off with some diced brisket and green onion. Serve with your favorite corned beef recipe or other main dish!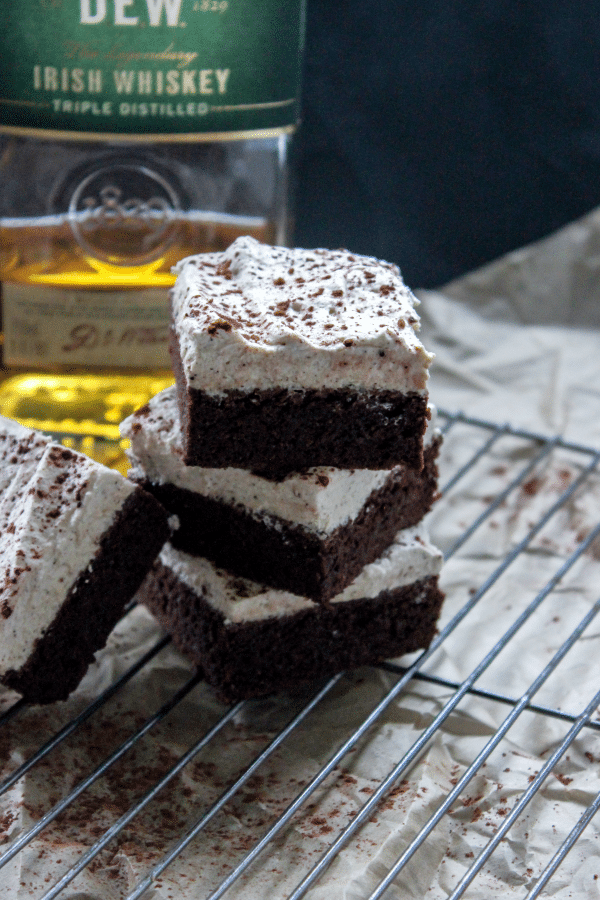 Don't forget to make these Keto Irish Cream Brownies for dessert too! 
Bon Appeteach,
-L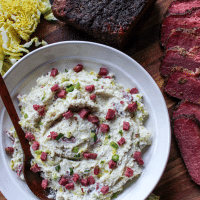 Smoked Colcannon Inspired Cauliflower Mash
This low carb and keto friendly smoked colcannon inspired cauliflower mash is a great side! It's a great way to use up leftover corned beef or to serve alongside it too!
Print
Pin
Rate
Ingredients
16

oz.

Frozen Cauliflower Rice

3

tbsp.

Butter

3

oz.

Cream Cheese

1

cup

Shredded Cabbage

1

Green Onion

thinly sliced

1/2

cup

Diced Cooked Corned Beef

or bacon
Instructions
Preheat your smoker to 325 F. or preheat your oven to 350 F. Place the frozen cauliflower rice into a foil pan (easier for the grill) or on a baking sheet and spread it out in a thin layer. Cook it for 10-15 minutes until it fully defrosts and some of the excess water has evaporated. Remove and set aside.

While the cauliflower is cooking, in a medium sized pot melt 1 tbsp. of butter. Add in the shredded cabbage and saute on medium heat for 2-3 minutes or until it just slightly starts to brown. Remove it from the pan and set it aside.

Place the pot back on the heat and add the remaining 2 tbsp. of butter. Add the cauliflower rice and the cream cheese (I like to dice the cream cheese into smaller pieces). Use a spatula to mix in the cream cheese. It should melt and mix fairly quickly because everything is pretty hot.

I prefer to use an immersion blender to mash the cauliflower mixture. If you do not have one use a blender or food processor but be careful. Hot foods create steam and can cause pressure to build up and splatter (ouch). Blend until creamy and place in a large bowl.

Mix in the cooked cabbage, the diced corned beef and the green onion. Season with salt and pepper to taste and serve.
Nutrition
Serving:
1
cup
|
Calories:
189
kcal
|
Carbohydrates:
7
g
|
Protein:
5
g
|
Fat:
17
g
|
Saturated Fat:
10
g
|
Cholesterol:
49
mg
|
Sodium:
205
mg
|
Fiber:
3
g
|
Sugar:
3
g