Chicken & Chorizo Stuffed Zucchini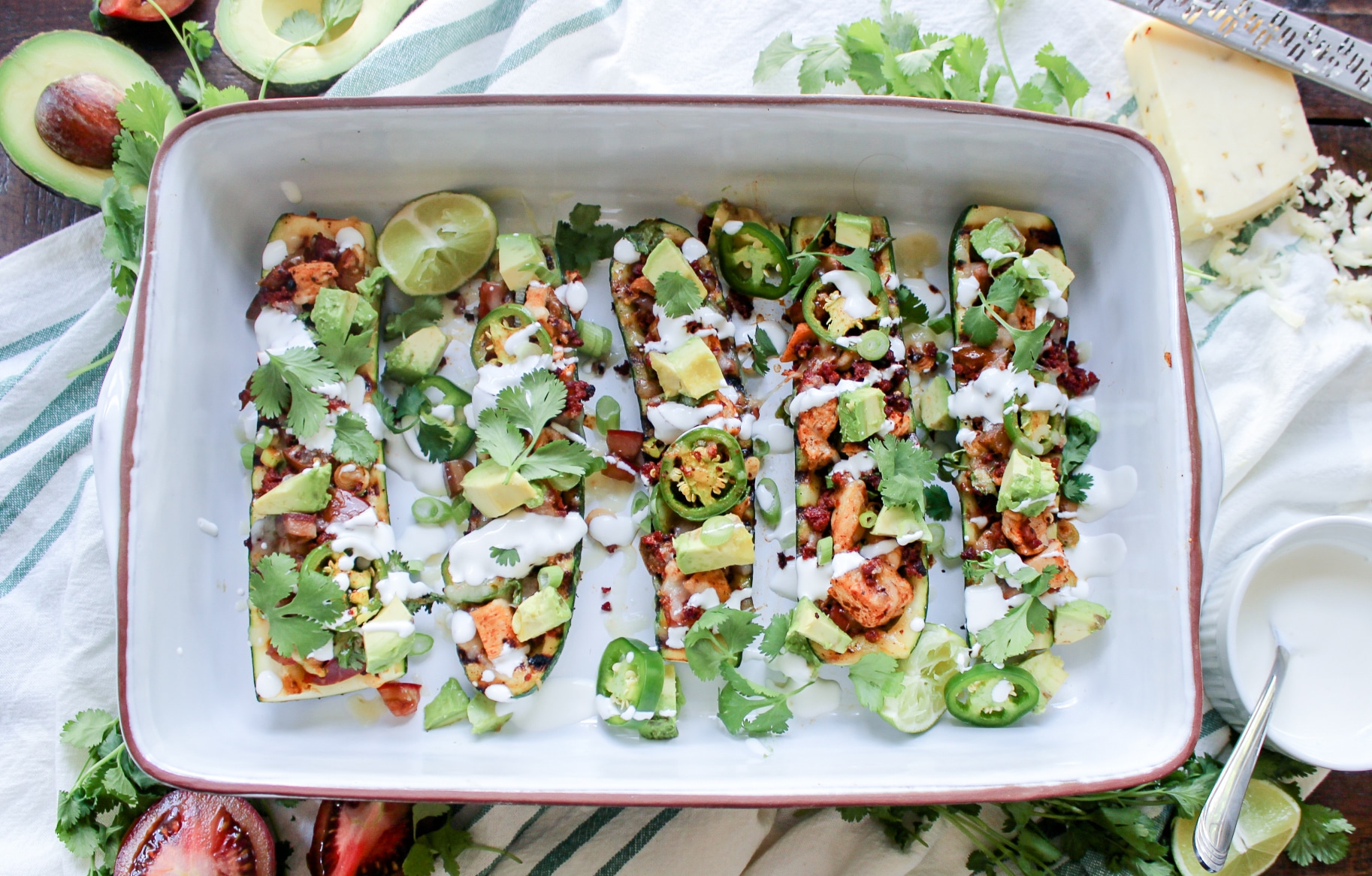 Chicken & Chorizo Stuffed Zucchini:
Growing up in the Chicago area, I was lucky enough to be exposed to a lot of different foods and cuisines. Believe it or not, Chicago has a large Mexican population and some of the best authentic Mexican food I have ever had. I blame this for my love and obsession with chorizo. Unfortunately, moving out of the Chicago area also meant leaving my favorite brand of chorizo behind.  Chorizo is everywhere you say? Other brands of ground chorizo are comparable you say? Well, you would be wrong dear friend. Most ground chorizos are a bit questionable in my opinion. Florida had a lot of dried chorizo and the ground sausage was very gristley and fatty (blehh). Living in South Eastern Georgia wasn't any better… well, in all honesty they probably didn't even know what chorizo was where I lived. That brings me to my current location, Kansas City. I was afraid I would continue to be disappointed in my quest to find a good chorizo yet again. But alas, I was not. No, no my friends. I have found (to my absolute shock) the brand I have forever loved and cherished. Be prepared for a large amount of chorizo based recipes because I may or may not have bought five packages….
With that said, check out the full recipe for these Chicken & Chorizo Stuffed Zucchinis that make a perfect dinner for Taco Tuesday.  Keep reading if you want more tips and tricks!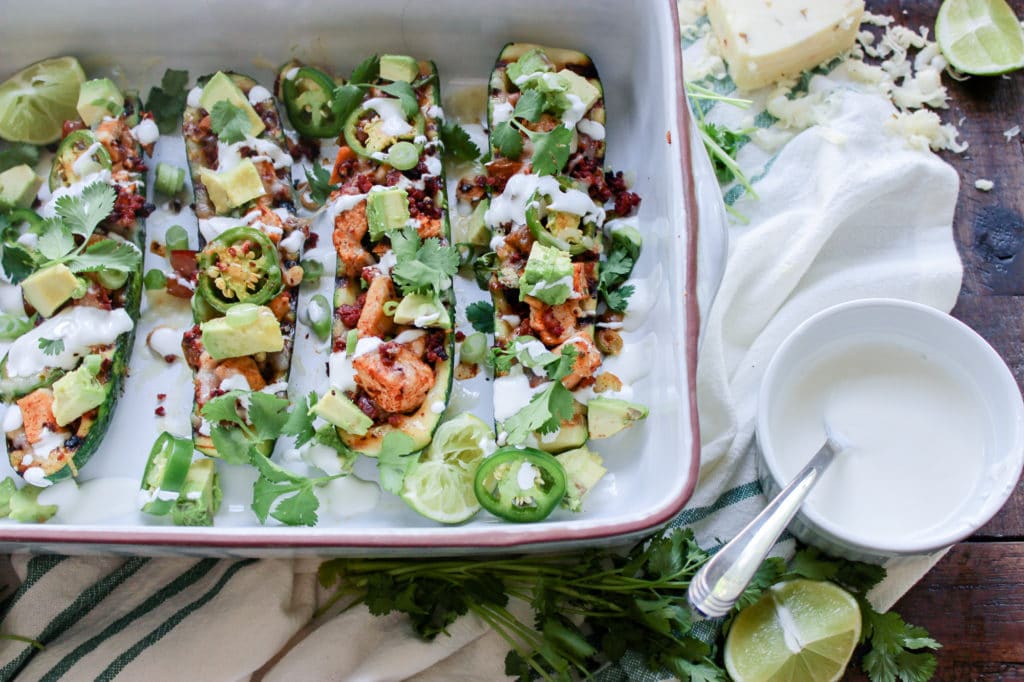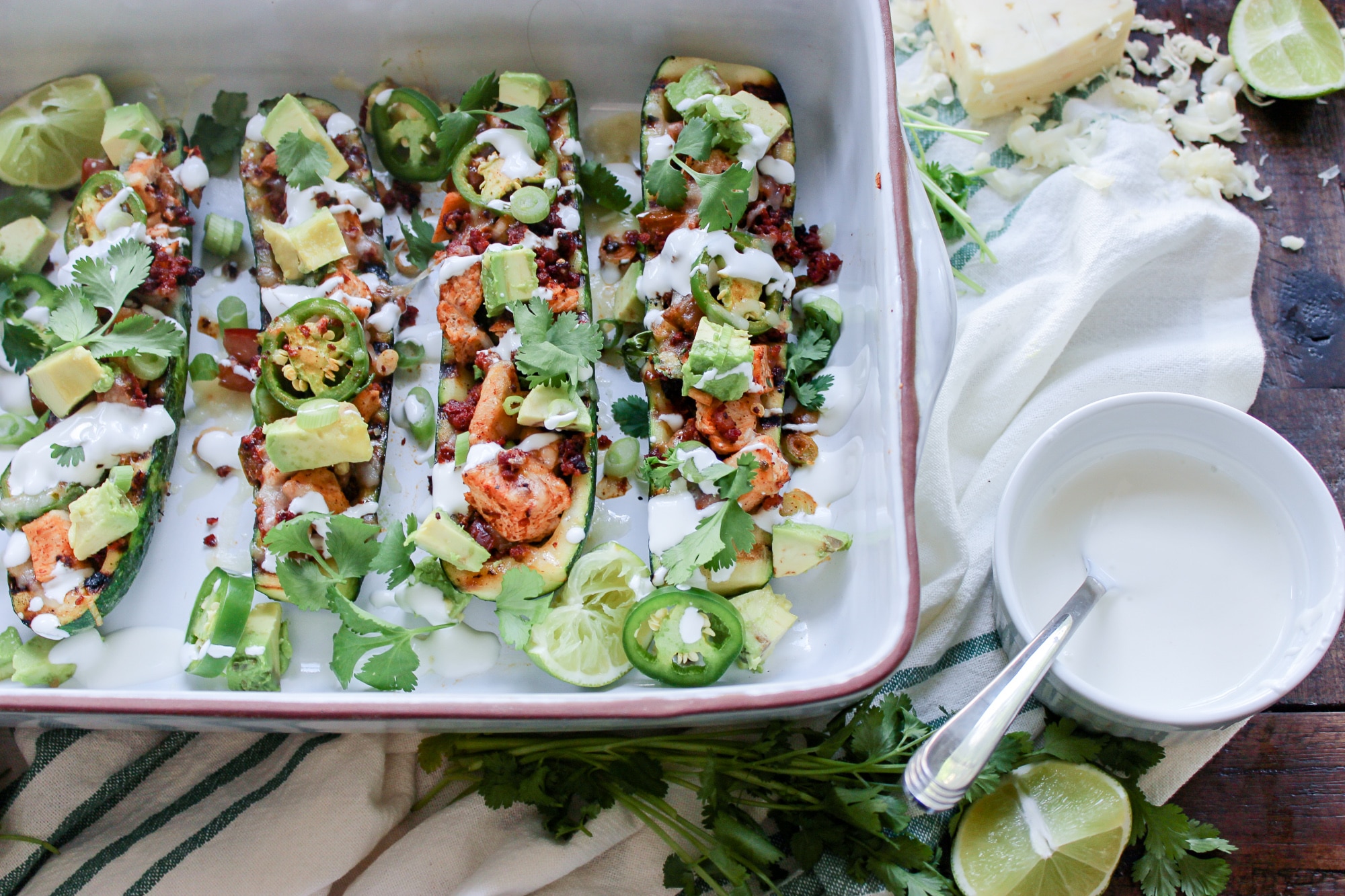 "School" Supplies:
Cast Iron Griddle Pan (this is my favorite)
Knife & Cutting Board
Casserole Dish/ Baking Dish (9×13 works best)
Spoon
Spatula
Mixing Bowl
"Class" Notes:
Preparation:
The zucchini is important for the sole reason that it is holding all the deliciousness that will be shortly hitting your taste buds. Zucchini's hold a lot of liquid, so the first thing I like to do is to prep them by slicing them in half and adding salt across the top. This helps draw the water out of them prior to cooking to help prevent the mushiness that often occurs with this lovely veggie!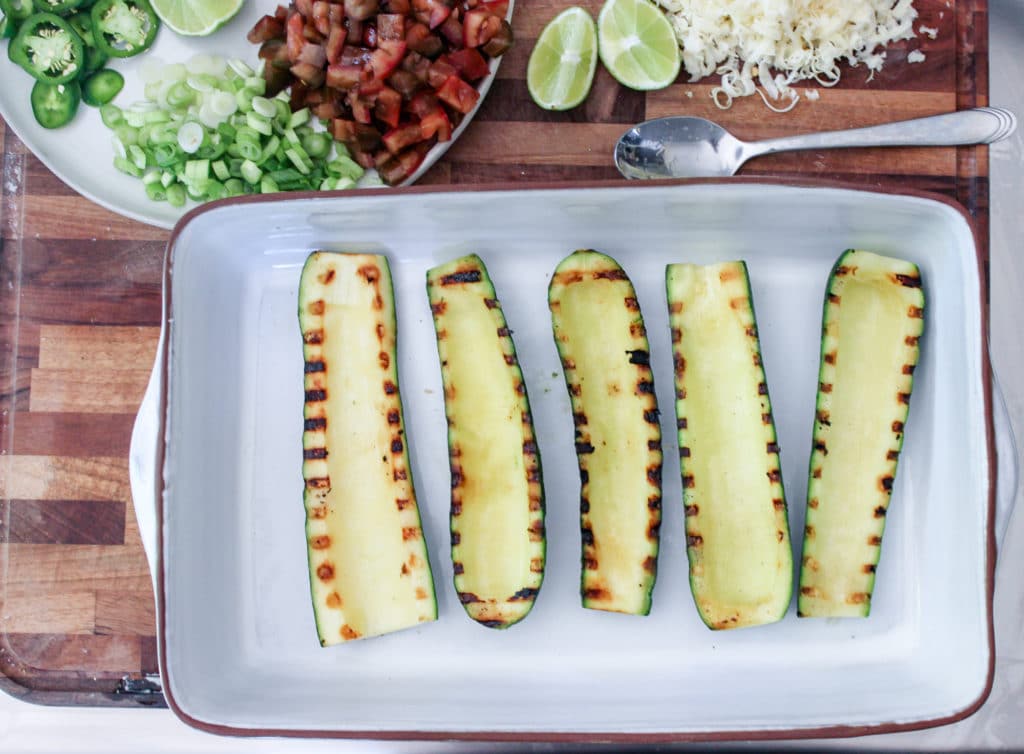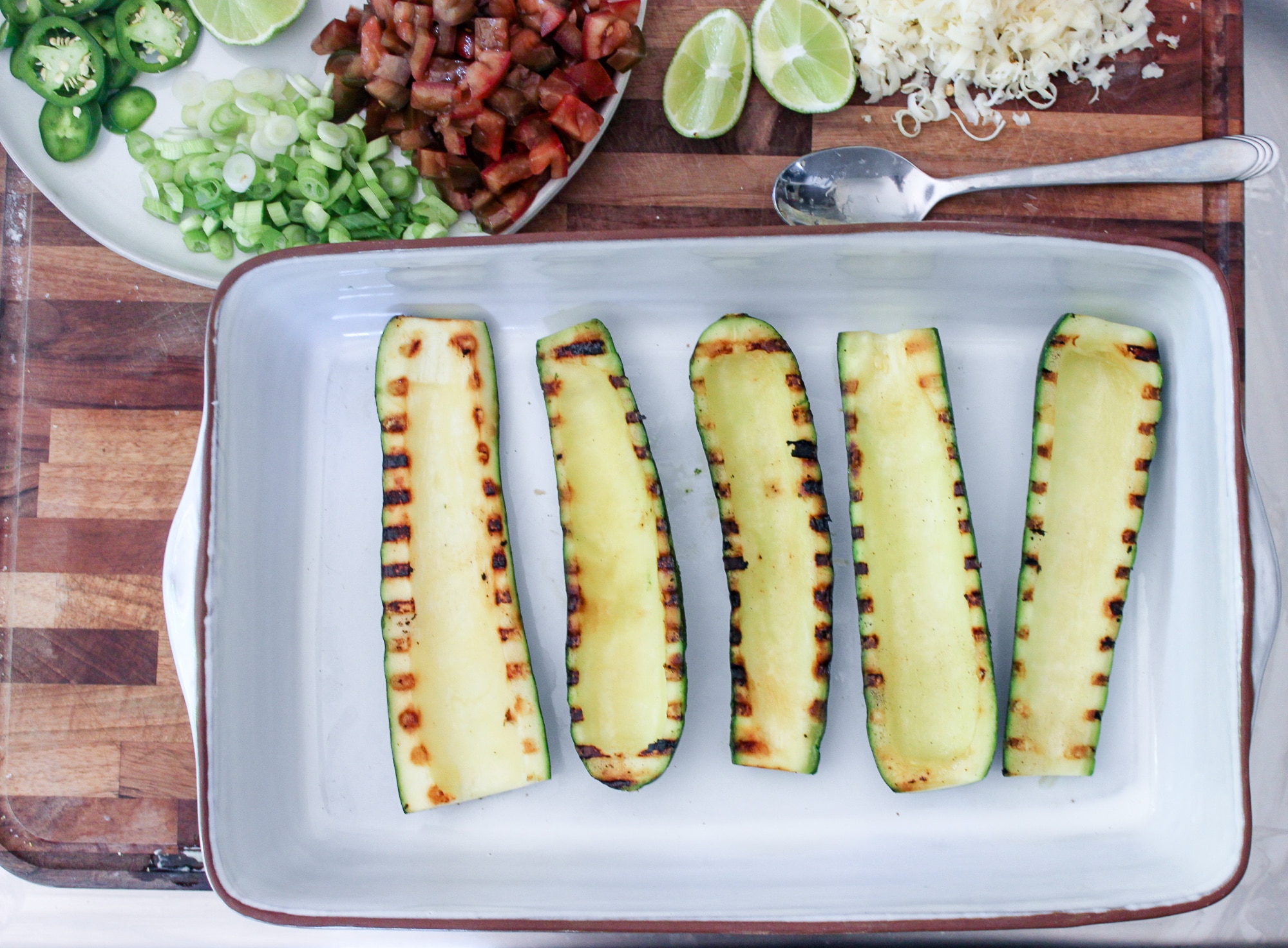 While the zucchini's are resting, cook the chorizo. Add the green onion and sliced jalapenos to the chorizo. Once everything is cooked, I added it to a mixing bowl. I prepped the chicken with some lovely spices. If you're not in the mood to fire up the oven or the grill, I love to get the same effect by using my cast iron griddle pan. Grill the chicken until it is cooked, remove it from the heat and allow it to rest before cutting (this is what helps retain some of the natural juices). Take a spoon and scoop out the insides of your zucchini's. Keep the grill pan hot and place the zucchini's flesh side down onto the pan. Allow it to cook for a few minutes to get those nice grill marks.  Dice the chicken and add it to the bowl. Toss in some cheese and diced tomatoes. Once everything is mixed you're ready to stuff the zucchini's.
Filling & Assembly:
I like to generously fill the zucchini's so they are actually stuffed (gotta live up to the name). After they are filled, place them in a baking dish or casserole dish. I like to add a little bit more cheese on top and bake them until they are heated through and the cheese is melty and bubbly inside. Once they come out of the oven, I like to go crazy with the toppings. Add some diced avocados, a little bit of fresh cilantro, and a lovely drizzle of sour cream. These make a delicious dinner and even better leftovers!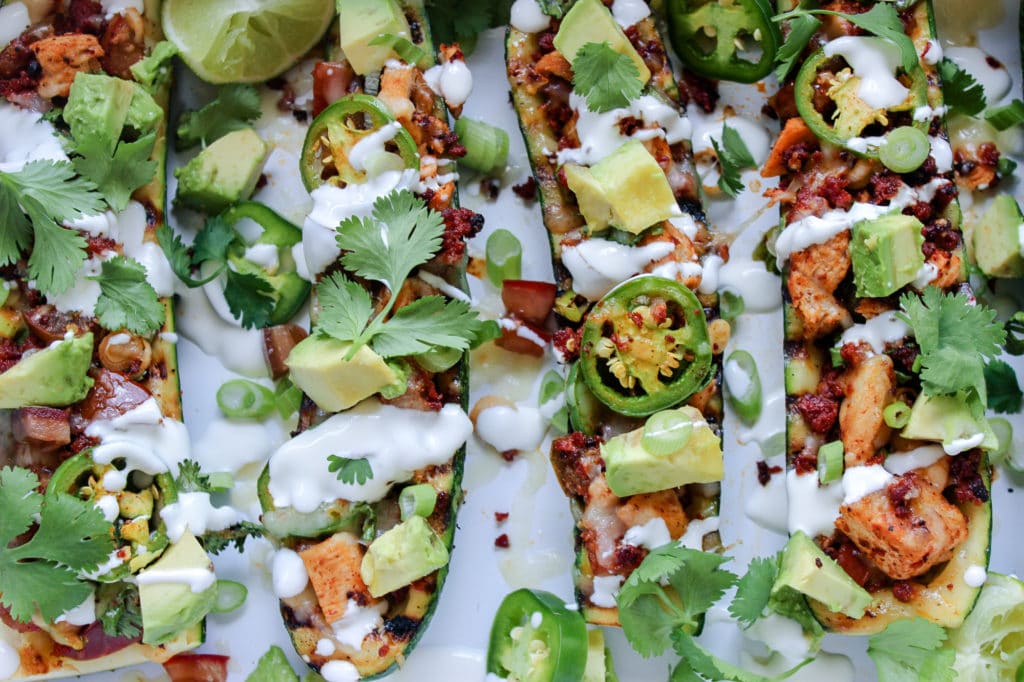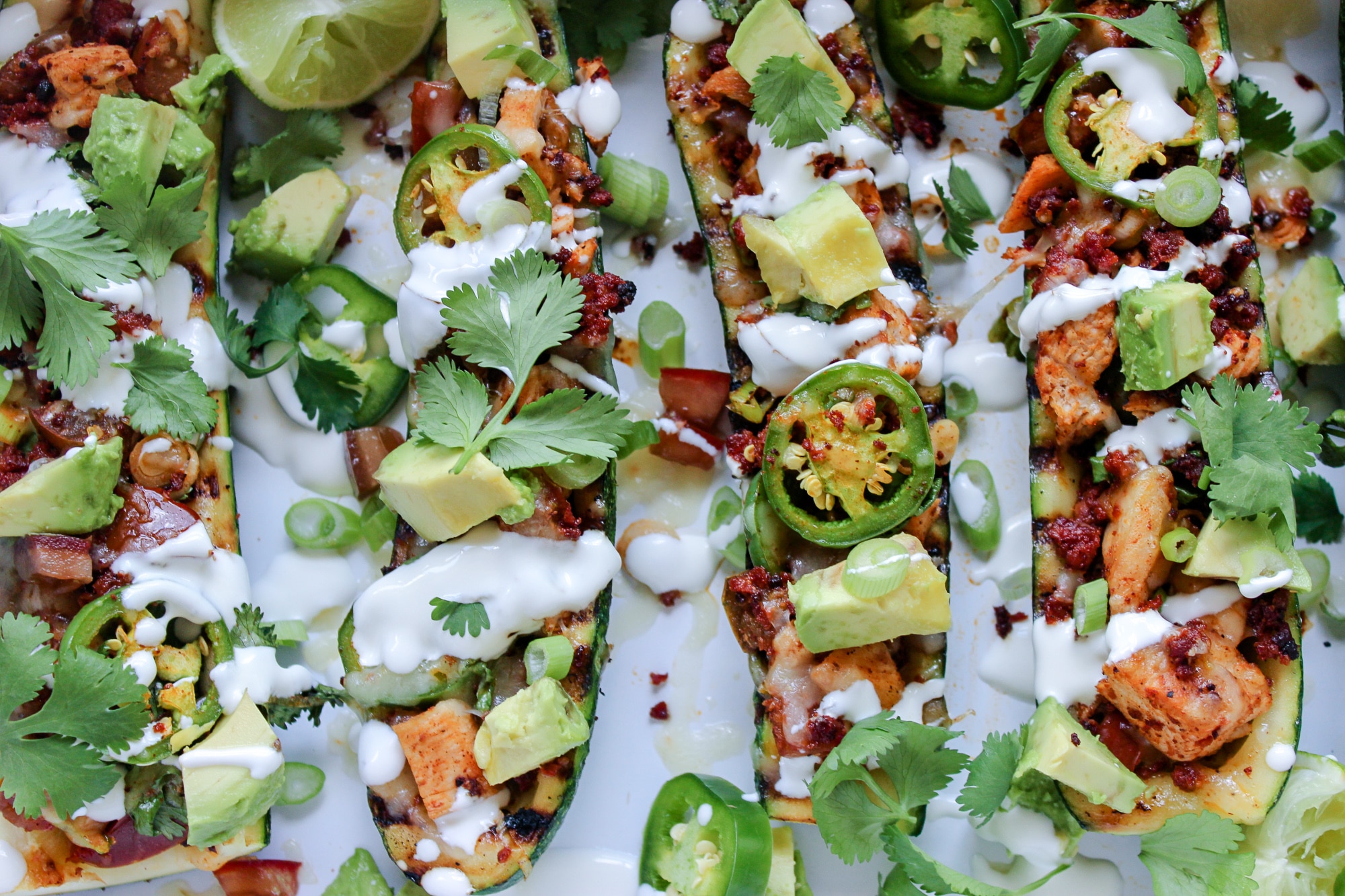 Bon Appeteach,
-L
Ingredients
1/2 lb Ground Chorizo

1/2 lb Chicken Breast

1 tsp. Salt & pepper

Extra Salt (for the zucchini)

2 Green Onions

1 Jalapeno

1 Small Tomato

1/2 cup Jalapeno Pepper Jack Cheese

3 Large Zucchini's

Optional Toppings: Cilantro, Sour Cream, and Avocado
Instructions
1
Preheat the oven to 350 degrees F.
2
Slice the zucchini's in half lengthwise. Sprinkle them with salt to help draw out the liquid.
3
In a pan, saute the chorizo until brown. Then add the green onions and jalapenos.
4
If the chorizo is very greasy, drain it onto a plate with a paper towel.
5
Prep the chicken with salt and pepper. Use the cast iron grill pan and cook the chicken. Allow it to rest before dicing.
6
Take a spoon and scoop out the seeds from the zucchini's. Use the same grill pan and sear the flesh side of the zucchini's for a minute or two until they brown.
7
In a mixing bowl, combine the cooked chorizo mixture, the diced chicken, 1/4 cup of the cheese, and the diced tomatoes.
8
Fill each zucchini shell with the meat mixture and sprinkle with the remaining amount of cheese. Bake until the cheese has melted and the zucchini are tender.
9
Serve with sour cream, avocado, and cilantro.