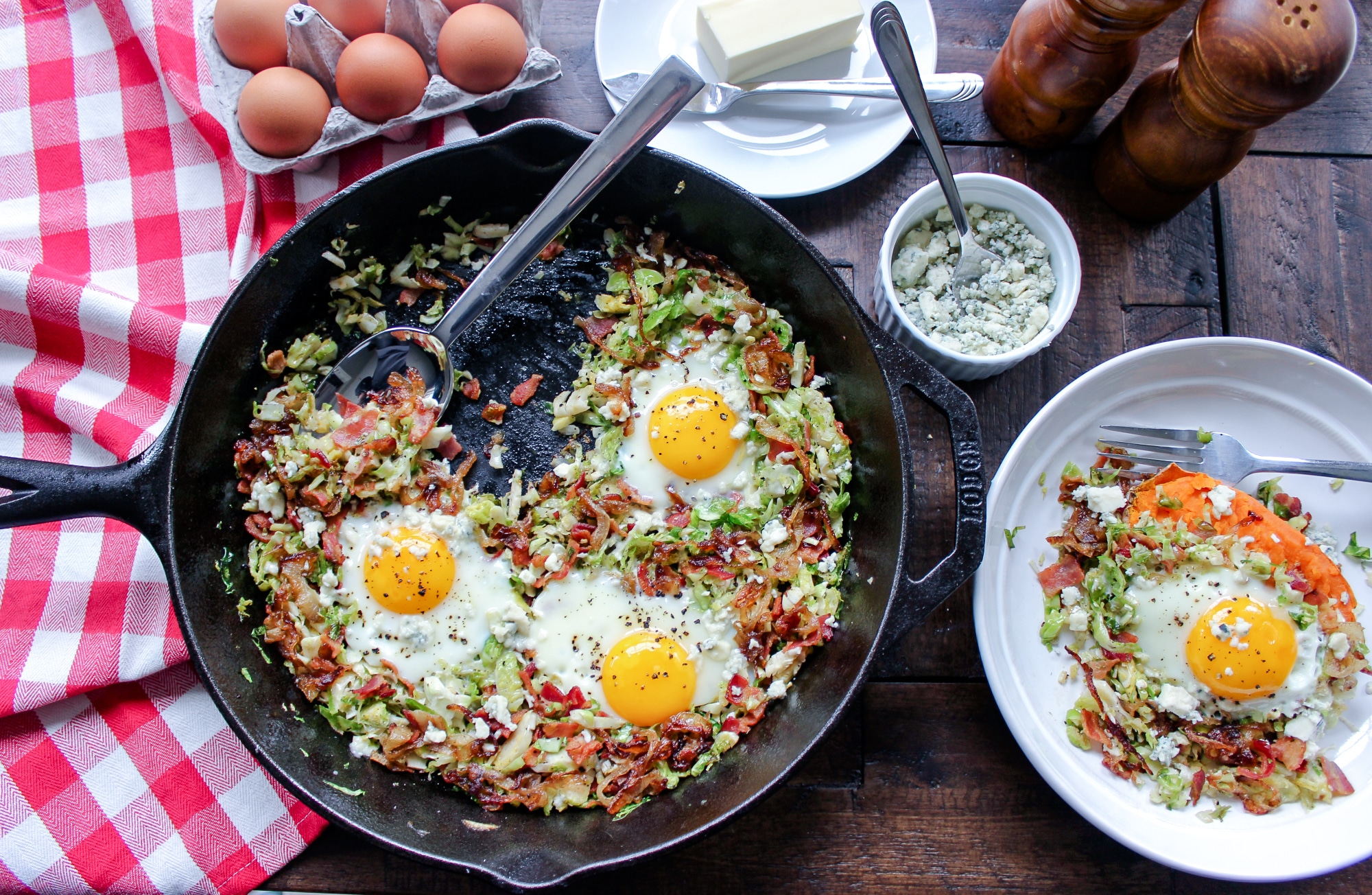 This shaved brussels sprout and bacon inspired breakfast hash is delicious, savory, and perfect for keeping life a little lower in carbs.
I love making scrambles or hashes for breakfast, brunch, or frankly any meal (you can never go wrong with breakfast for dinner). I find hashes are also my favorite way to use up all the leftover veggies in the fridge or a fun way to meal prep your breakfast for a busy week.
While you can never go wrong with the classic version of this recipe (which uses potatoes or hashbrowns as the base), I like the idea of getting an extra serving of veggies into my diet and kicking the morning off with some energy.
Grab all the details below for ingredients, how to prep your brussels sprouts, and the best tips for whipping up a tasty hash in no time. Let's dive in!
"School" Supplies:
Cast Iron Skillet
Cutting Board & Chef's Knife
Spatula
"Class" Notes:
Use the information below to help guide you through this recipe. Enjoy!
Ingredients:
Brussels Sprouts

Yellow onion
Bacon
Blue Cheese
Salt & Pepper to taste
Optional: Baked/ Microwaved Sweet Potato
How to prep your brussels sprouts for the base of your hash:
I love shaving brussels sprouts because it really does change the texture of the entire vegetable. In fact, I use shaved sprouts in this easy brussel sprout fish taco slaw recipe and in this festive fall salad that uses the shaved sprouts with roasted fall veggies.
Shaving can easily be done by slicing your sprouts into thin strips individually with a knife or by tossing them into a food processor with a shredding attachment. Prep your sprouts and set them aside.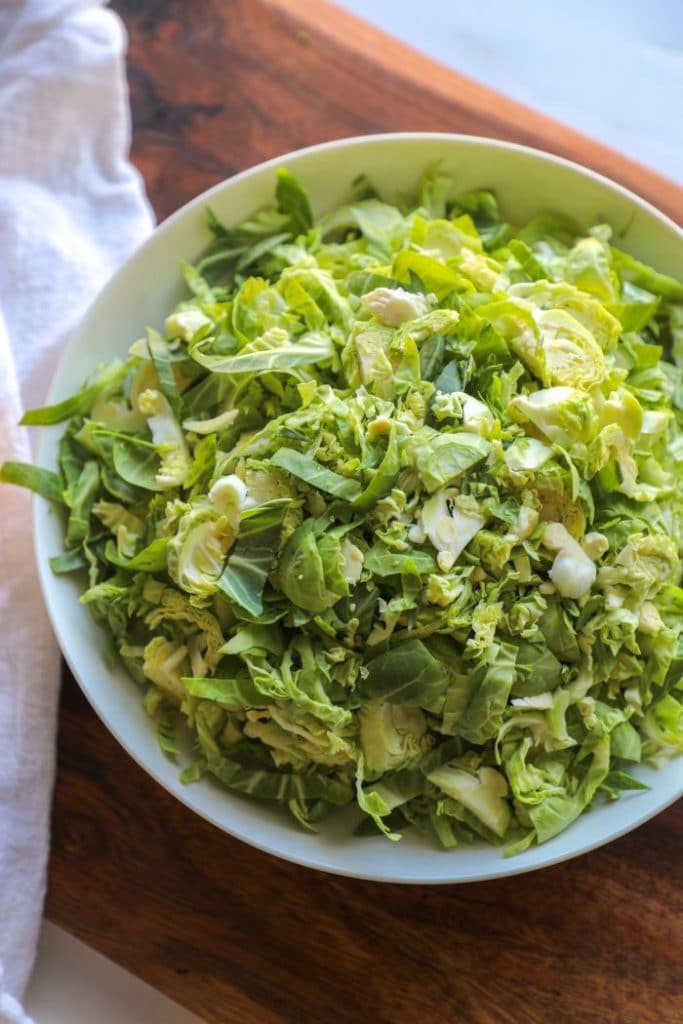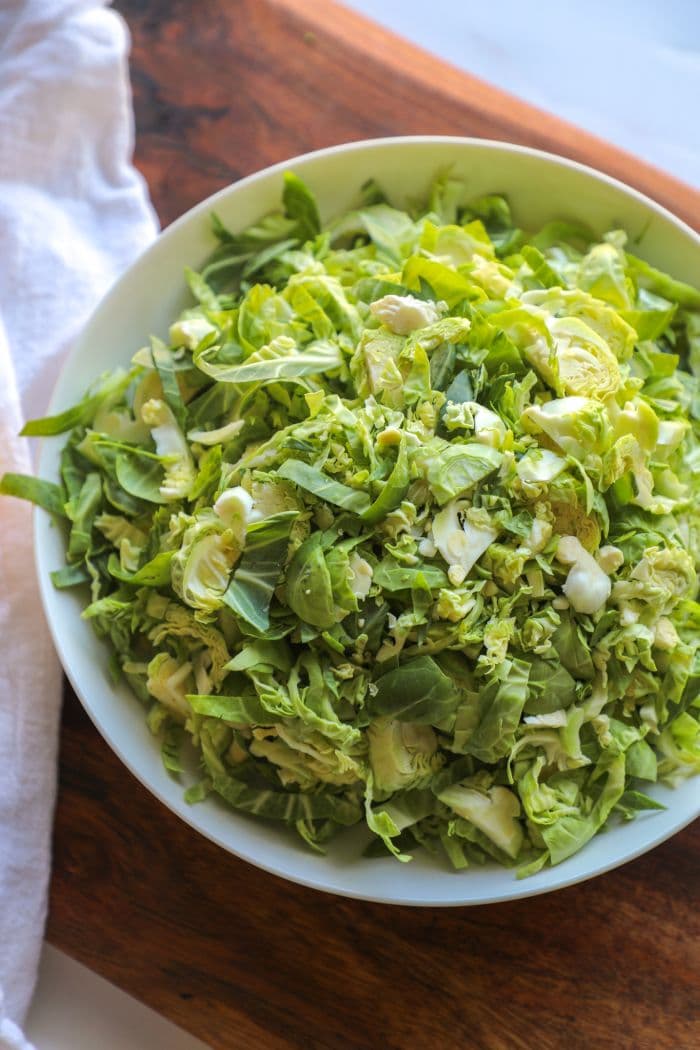 Cooking Method:
Once your sprouts are prepped, thinly slice your onions and dice the raw bacon into pieces. Set aside the blue cheese, eggs, and (optional) sweet potatoes for later use.
You will not need any additional fats (butter or oil) because you will be using the bacon fat to cook your food. Cook the bacon pieces until nice and crispy on medium heat.
Remove and place on a paper towel till they are needed. Add the sliced onions to the bacon fat. Allow the onions to cook on low heat for several minutes until they are caramelized.
If you are on a time crunch then sauté till tender or if you are watching the extra carbs avoid them all together (but I will advocate for the caramelized onions…they really make this dish). Once they caramelize, remove them and add them to the plate with the bacon.
Using the same pan, toss in the shredded Brussels sprouts and allow them to cook for a 4-5 minutes. Sauté until slightly tender. Add the bacon and onions and sauté another few minutes as needed.
To add the eggs, I make small "nests" in the brussels sprout mixture and create a place for the eggs to sit and not run all over the pan.
Drop each egg in and allow them to cook until the whites are set. Remove the pan from the heat and sprinkle on the blue cheese. Serve by itself or over a sweet potato (optional).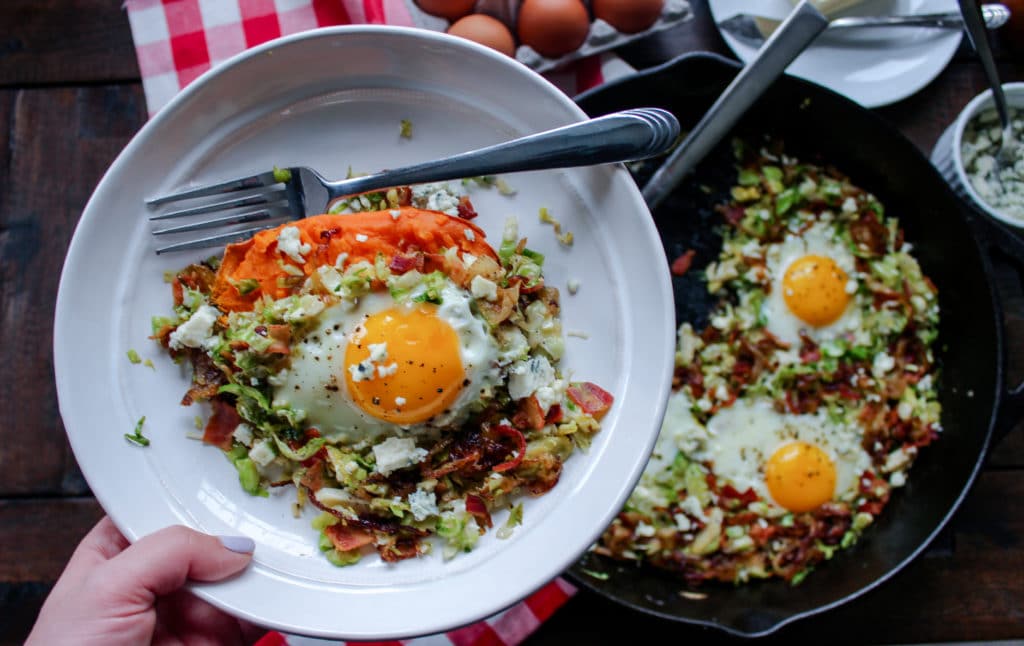 Yield: 4
Brussels Sprout Hash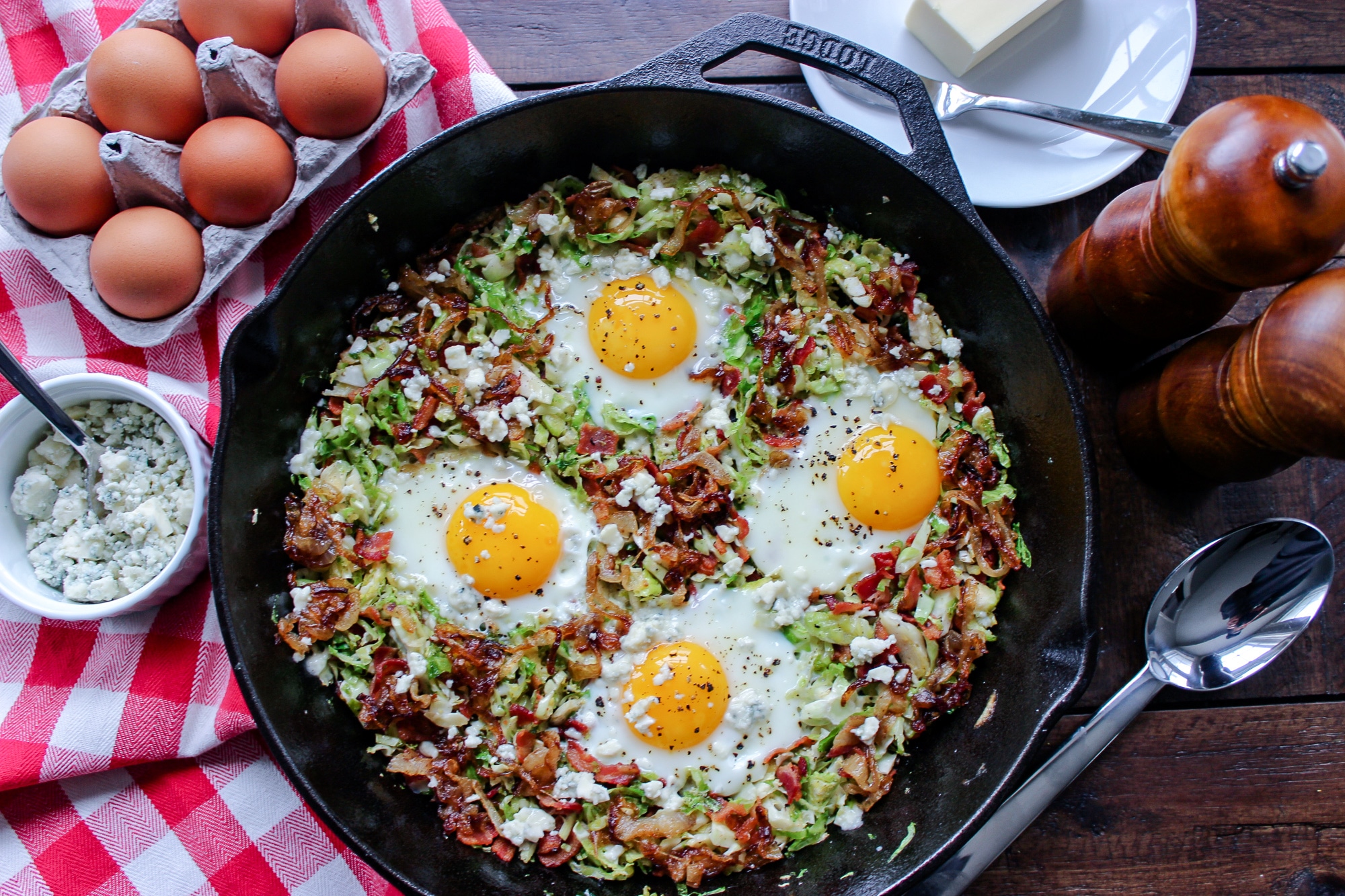 Ingredients
4 Eggs
2 cups Brussels Sprouts, sliced and shredded
1/2 Yellow onion, sliced
6 pieces Bacon, diced'
1/4 cup Blue Cheese
Salt & Pepper to taste
Optional: Cooked sweet potato
Instructions
Begin by dicing the raw bacon into small pieces and allow it to cook until crispy in a large skillet on medium heat. Remove to a paper towel lined plate and set aside.

Place the sliced onions in the bacon fat and cook on low heat until tender and translucent.

Add the sliced and shaved brussels sprouts to the pan and sauté for 4-5 minutes (do not over cook). Add the bacon back in at this point. Make 4 holes or "nests" by pushing the Brussels sprouts aside a bit in the pan. Crack an egg into each and allow them to sit and cook until the whites are set.

Remove from heat and sprinkle on the blue cheese. Add salt & pepper to taste. Serve over a sweet potato or by itself.
Notes
Want to shave your brussels sprouts fast? Toss them into the food processor with the correct attachment to keep things quick and easy.
Nutrition Information:
Yield:
4
Serving Size:
1
Amount Per Serving:
Calories:

215
Total Fat:

14g
Saturated Fat:

5g
Trans Fat:

0g
Unsaturated Fat:

7g
Cholesterol:

209mg
Sodium:

549mg
Carbohydrates:

8g
Net Carbohydrates:

6g
Fiber:

2g
Sugar:

2g
Protein:

16g