Steak Salad with Chimichurri Dressing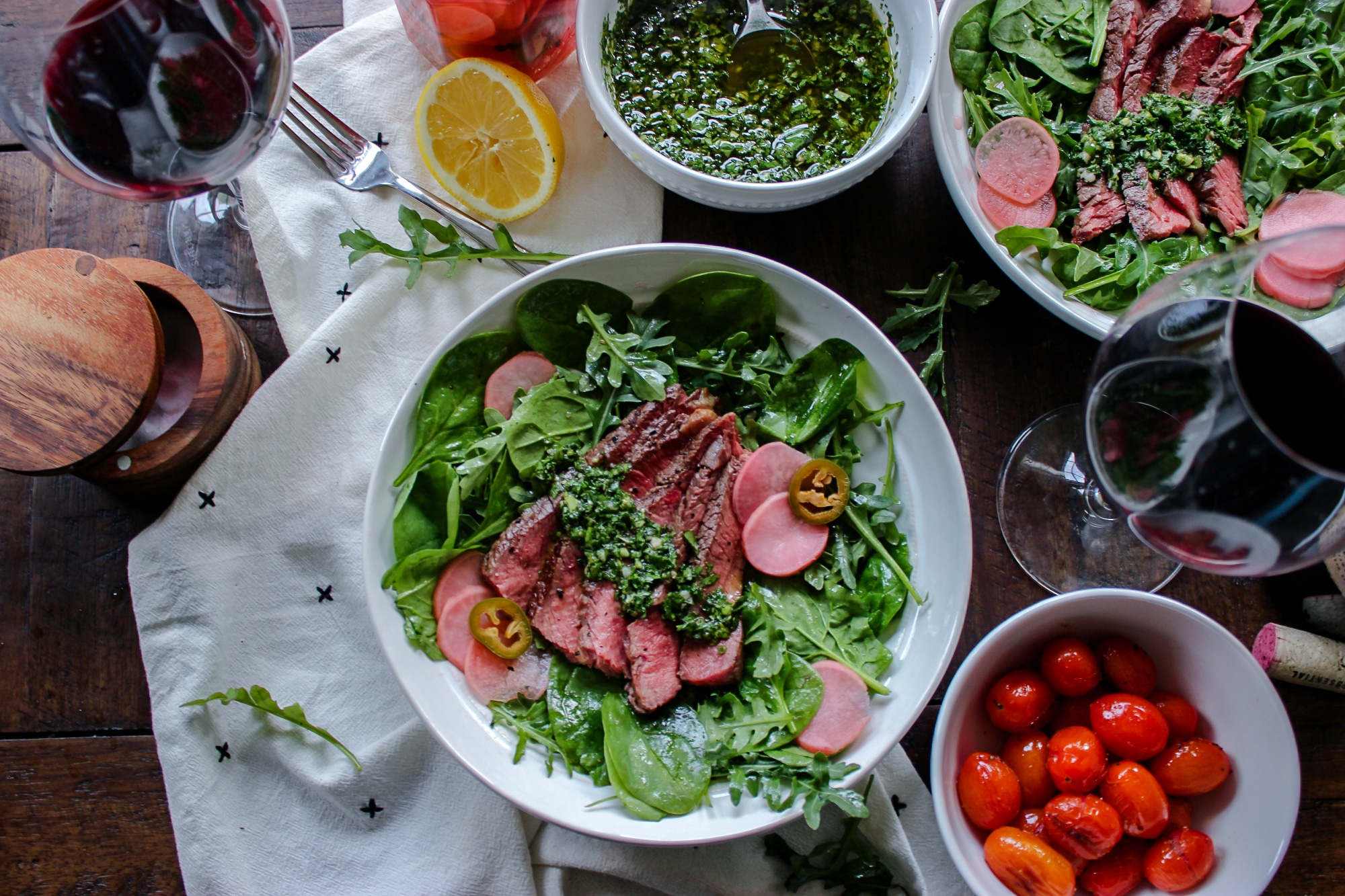 Steak Salad with Chimichurri Dressing:
Ever since the weather turned warmer, I have had grilling on my mind. I love being able to grill in the evenings when it cools of a little, a slight breeze in the air, and I can just enjoy cooking in the great wide open "Suburban Oasis" that is my backyard. In fact, my backyard is actually quite hideous if I am being truly honest (not much of an oasis yet). I am currently in the process of doing a massive remodel (find out more on my Instagram page in my story highlights), but I will share more news on that later! Back to grilling… There will be lots of grilling this summer on the blog so prepare yourself now. Cool. So, with all that being said, I made this delicious Steak Salad with Chimichurri Dressing. It had all the summer vibes going strong with the fresh salad feel, a nice rare grilled steak, and even these easy Sugar Free Spicy Pickled Radishes to top it all off. Find the full recipe for this Steak Salad with Chimichurri Dressing below and read on for a few tips and tricks.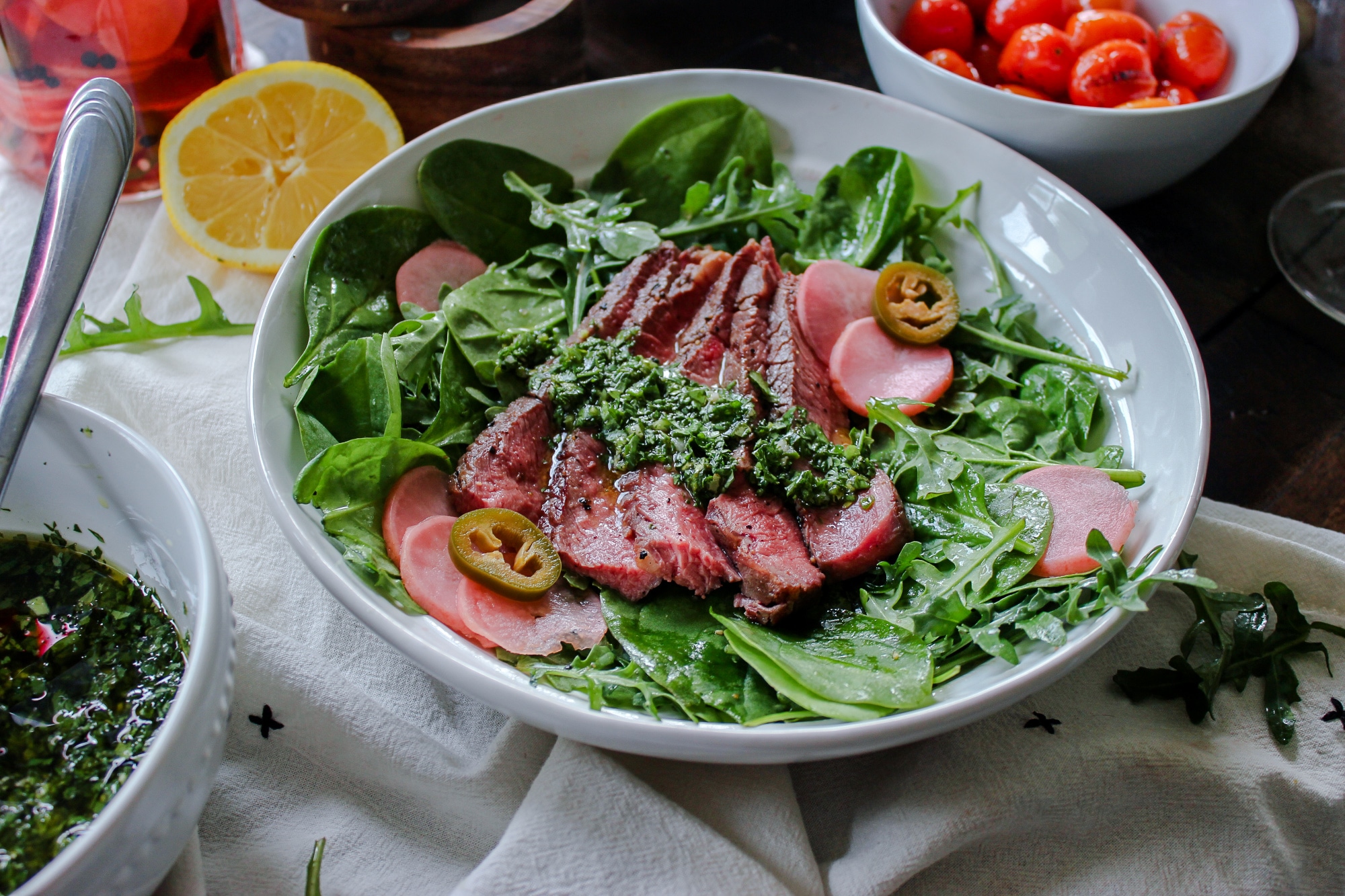 "School" Supplies
-Knife & Cutting Board
-Grill
-Tongs
-Measuring Cups/ Spoons
-Mixing Bowl
"Class" Notes:
Start With The Steak:
The biggest thing when it comes to grilling is the preparation. I like to keep my steaks simple with the basics- olive oil, sea salt, and coarse ground pepper. Like, a LOT of pepper. Most chef's will tell you to take your steaks out of the fridge a good 30 minutes prior to cooking. This is important because it allows for more even cooking (the center will be the coolest part of the steak). I like to prep mine and let it chill out for a bit while the grill preheats. Everyone has a different preference for how long they cook their steak. I am definitely a fan of the medium-rare variety. Cooking steaks to your desired likness can take a bit of time to figure out. Practice makes perfect…. and any excuse to eat more steak is fine with me! I grill mine for about 4-5 minutes to get a nice solid char on the outside (ya know, the good tasting stuff) and then flip it and continue to cook it for a few more minutes. My next big piece of advice is this- when the steak is done cooking let it rest. It just did some serious work and needs to take a 10-15 minute breather so give that cow some room to relax. In all seriousness, this is really to allow the juices to settle and makes for easier slicing for your salads.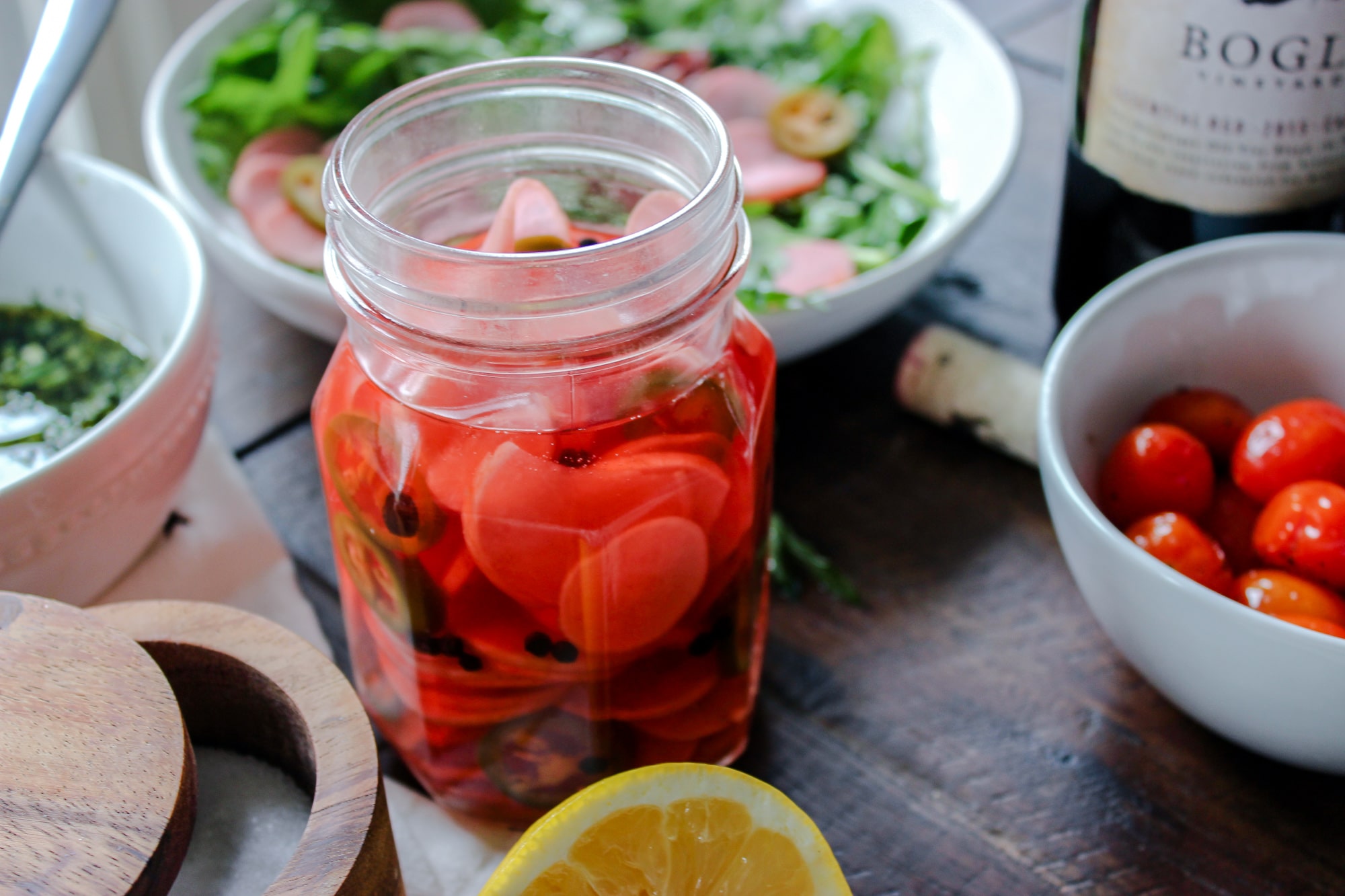 Assembling Your Steak Salad with Chimichurri Dressing:
For the salad base I keep this simple as well. This is the type of meal that doesn't need a lot to make it taste fantastic. I like to pick a spring mix blend with spinach and arugula. I toss it in a bowl with a tiny bit of olive oil and a little lemon juice. Add a pinch of salt and toss it all together. Next up, the chimichurri dressing. Chimichurri is an herb based oil dressing that is very fresh and flavorful. Typically you see it used frequently in a lot of South American style dishes. Living in the South Florida area for 3 years made me appreciate this easy and delectable dressing. The key here is time and attention to detail. Find good quality fresh herbs, dice and mince them finely with a sharp knife. DO NOT BLEND THIS! Add in fresh garlic, salt and pepper, some minced jalapeno, and I like to add a touch of cumin and aleppo pepper (or cayenne).  This should be made ahead of time and refrigerated for a few hours to marinade. I actually forgot to make mine ahead of time and served it within an hour and it still tasted delicious. Things always taste better with time however (so if you have it…let it sit and rest). Place the lettuce onto the plate, slice your steak against the grain and add it to your salad. Top with some chimichurri dressing and a few of these Sugar Free Spicy Pickled Radishes.  Not feeling the salad vibes today? Make my easy 1 Net Carb Keto  Tortillas and make a steak and chimichurri taco instead! The possibilities are endless!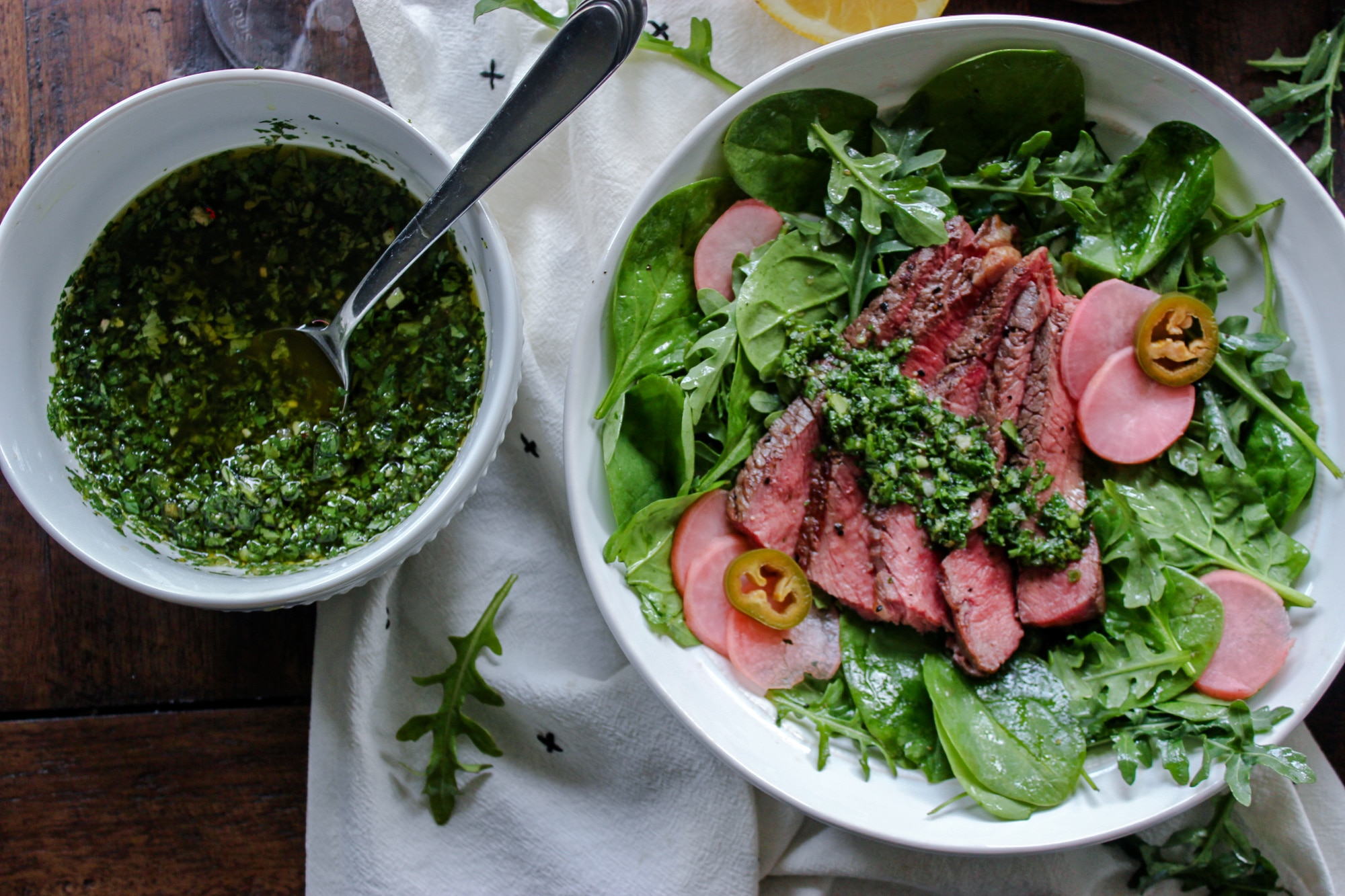 Find the full recipe for Steak Salad with Chimichurri Dressing below.
Bon Appeteach,
-L
P.S – This was my 100th recipe on Bon Appeteach! Thank you for being a part of this with me!
Ingredients
16 oz. Steak (Ribeye, New York , Filet Mignon, Sirloin)

Sea Salt

Fresh Ground Pepper

Olive Oil

1/2 Lemon, juiced

1/2 cup Olive Oil

1-2 cloves Garlic, minced

1 Jalapeno, minced

1/2 cup Parsley, minced

1/2 cup Cilantro, minced

1/2 tsp Cumin

1/4 tsp Cayenne or Aleppo Pepper (optional)

1/4 cup White Wine Vinegar

Salt & Pepper to taste
Instructions
1
In a bowl, add the minced parsley, cilantro, garlic, jalapeno, cumin, cayenne/Aleppo pepper, 1/2 cup of olive oil and the white wine vinegar together. Allow it to rest for a few hours and marinade before using.
2
Remove the steak from the fridge and allow it to warm up for about 30 minutes. Coat both sides of the steak with olive oil, sea salt, and coarse ground pepper.
3
Grill to your preference on a preheated grill. The outside should have a nice char to it and the internal temperature should reach a minimum of 145F.
4
Allow the steak to rest for 10 minutes or so before slicing. Slice about 4 oz. per salad and cut away from the grain so the meat is tender.
5
In a bowl, add the spring mix lettuce, a little bit of lemon juice and a pinch of salt. Toss with tongs and place on your serving plates.
6
Add the sliced steak, a few tablespoons of chimichurri dressing and garnish with the spicy pickled radishes.