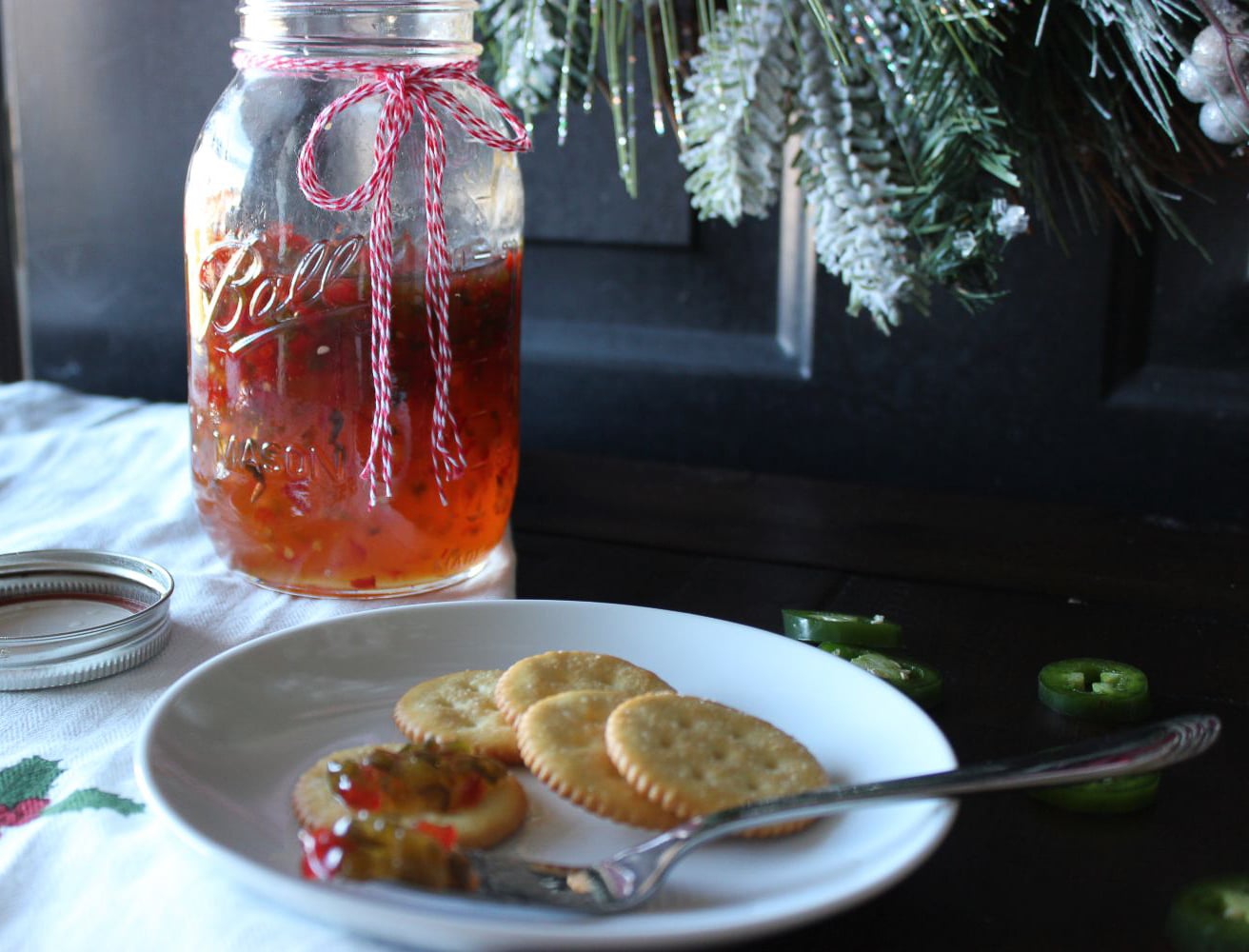 Spicy pepper jelly is a holiday appetizer game changer. Its a perfect way to spice up your holidays and even more fun to gift to your fellow foodie friends. Want to know another reason why I love it? It takes almost no time to prep and make and you can even avoid the canning process (like I did) if it's not your thing. I will be sharing some fun ways to enjoy this little festive treat next week so make sure you check back!
Prep Your Jars:
If you plan on canning these, start by sterilizing your jars and prepare your canning equipment according to your manufacturers directions.   I am not an expert canner and do not claim to be so if you plan on gifting and not refrigerating your jelly you do run the risk of spoilage. I have picked up a few tricks however that I have found work just as well for "faux" canning. I sanitize my sink and my jars. I then plug one side of the sink and pour boiling water over the jars and lids. I leave them like this till right before filling. I find that this actually does create a nice seal for my jars….but again I am NO EXPERT! So please use your own judgment.
Pick Your Peppers:
You can truly use any combination of peppers for this jelly. I like to mix bit of sweet with the spicy so I chose a red and green bell pepper, poblano, and jalapenos (seeds included).  It is important to finely dice all your peppers so that it spreads evenly in the jelly as it sets. I did keep the seeds of my jalapeno to really add that additional kick of spice. Because the jelly has a high sugar content the spice really works well here. It also is important to pair the jelly with the right foods to enjoy that balance of contradicting flavors. Once you dice the peppers, find a large skillet with higher sides (I use my Le Creuset) and saute till just softened slightly.
"Get Jelly With it":
The thickening agent for your spicy pepper jelly is fruit pectin. You can find this in any grocery store typically in the baking isle. I like to purchase mine in a larger container so I can measure out exact amounts and avoid the pre-measured packets. However, the packets will work fine too. After cooking the peppers you will add in apple cider vinegar and fruit pectin. Cook till it begins to boil and bubble. Then add all that white sugar stirring constantly. Once incorporated, dissolved, and boiling remove it from the heat and transfer to your jars. Seal, (boil if canning) and allow them to cool for a few hours on the counter. I always put mine in the fridge to be safe if I am going to be using it within the week!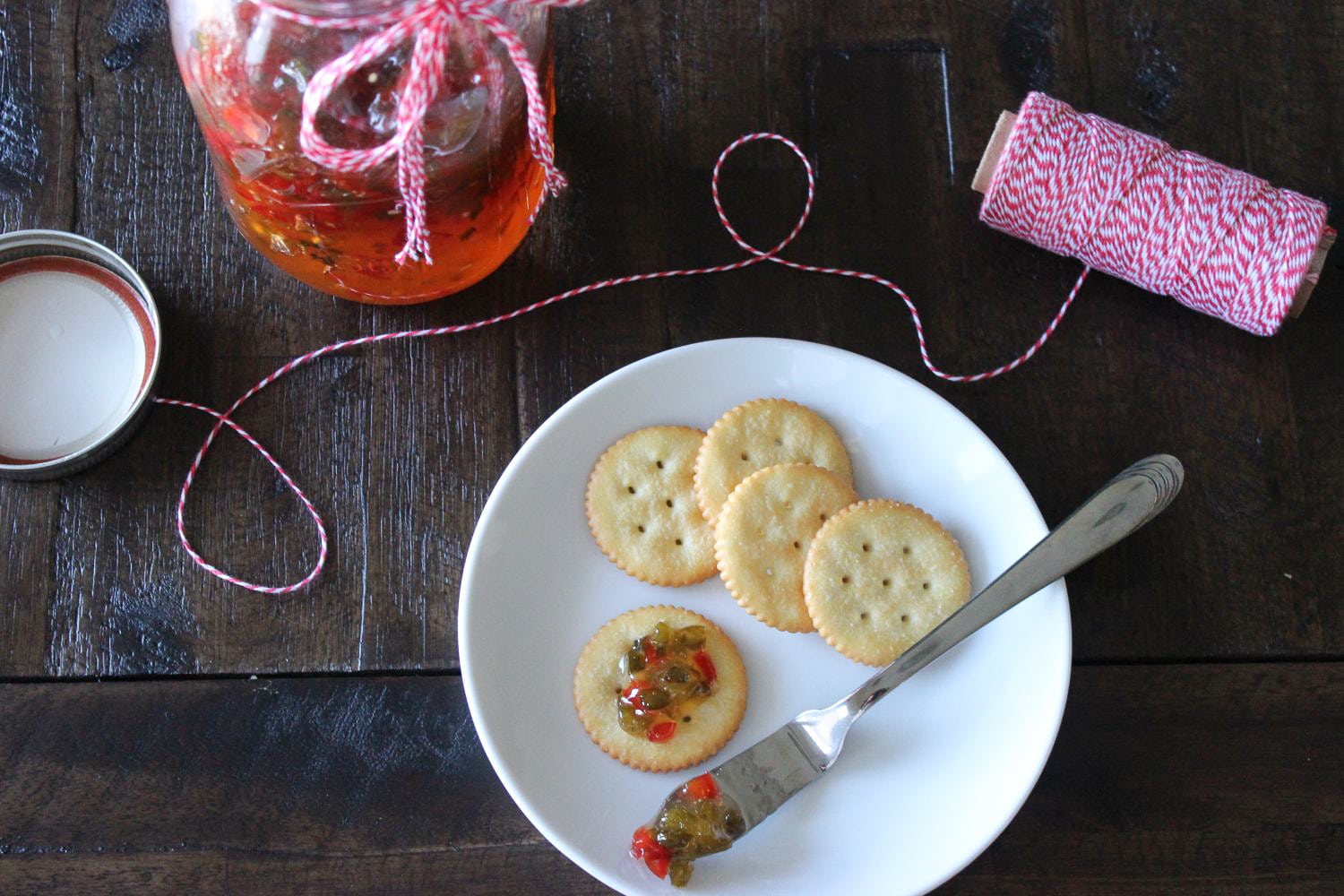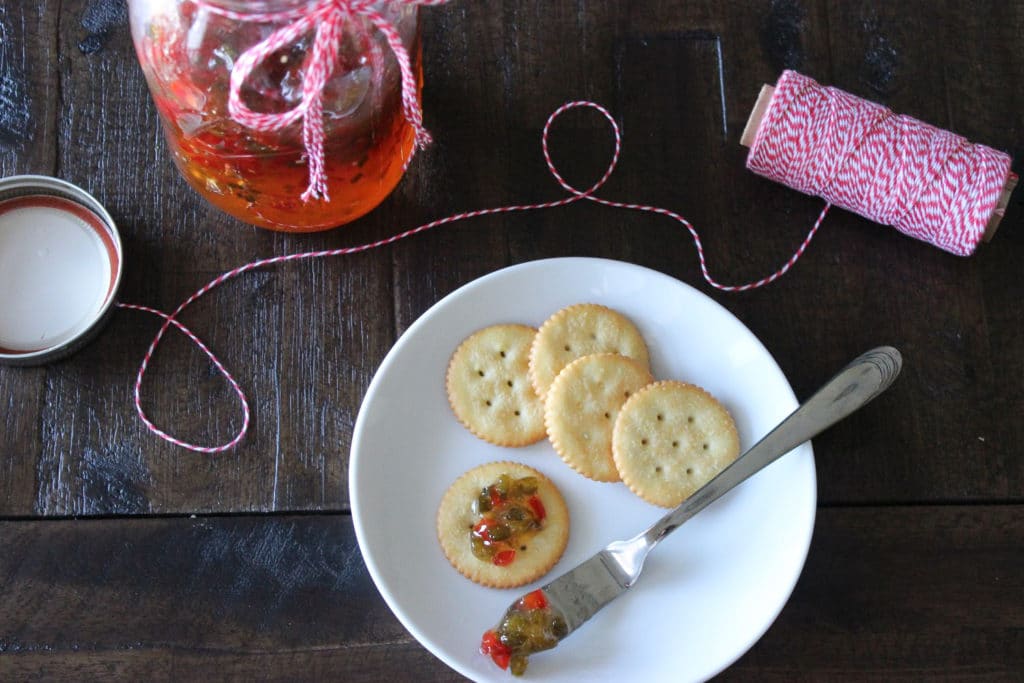 Bon Appeteach
-L
Ingredients
1 Red pepper, diced small

1 Green Pepper, diced small

1 Poblano, diced small

2 Jalapeno (with seeds), minced

4 Tbsp. Fruit Pectin

2 1/2 cups White Sugar

1/2 cup, Apple Cider Vinegar
Instructions
1
If you are canning your jelly, prepare your materials according to your manufacturers directions. Sanitize your jars completely with boiling water.
2
Dice all your peppers and saute in a large sauce pan or skillet with at least 2" high sides.
3
One the peppers are tender, add the pectin and the apple cider vinegar. Bring to a full boil and stir.
4
Add the sugar and allow it to continue to boil until all the sugar is dissolved.
5
Remove from heat and place into your jar. Boil your jar for at least 5 minutes if you are canning otherwise seal, and allow it to cool on the counter for a few hours.
6
Refrigerate any "non-canned" jelly. Serve on toast, biscuits, or with crackers.