When I first switched over to this Whole 30/ Paleo/ Keto type diet to manage my PCOS symptoms, I had to get really creative with some of my favorite meals. Friday night is usually my take out night. I love getting take out Thai food, especially a delicious and spicy coconut curry. The problem with take out is the extra additives, loads of rice, and if you're on a budget the costs of eating out can add up. This quick and easy Spicy Coconut Chicken Curry with Cauliflower Rice is a great way to feel guilt free and get your favorite take out fix all in one! Full recipe can be found at the bottom of the post.
Spicy Coconut Curry Sauce:
The curry base is the star of this dish. I like my curry to have a nice spicy kick but not to take hours and hours to develop the flavor. There are lots of recipes for homemade curry paste, however, if you're looking for an easy weeknight take out style dish, using store bought is a simpler way to go.  The spiciness comes from using chili paste or Sambal Oelek. You can find this in most grocery stores. By cooking the chili paste with fresh ginger and garlic first in a pan prior to adding any liquids helps develop a stronger more aromatic flavor. Finish the sauce with a rich and silky full fat coconut milk. The coconut milk helps balance out the spice and adds a great texture.
Cauliflower Rice:
I know, I know… more cauliflower! I am not a fan but it is better than the alternative (feeling sick and bloated from regular rice). I buy frozen cauliflower rice frequently. I have mentioned this before, but I feel it is important enough that I should say it again! No one wants mushy wet cauliflower rice. If you're not roasting your own but using the frozen stuff, the best way to prepare it is to bake it. I place the entire bag on a baking sheet, add some seasonings and olive oil, and bake it for about 15 minutes. This heats it, removes the excess moisture, and helps preserve the texture while infusing flavor (from the seasonings). Serve with the spicy coconut chicken curry and feel good about this easy at home version of a classic Thai takeout!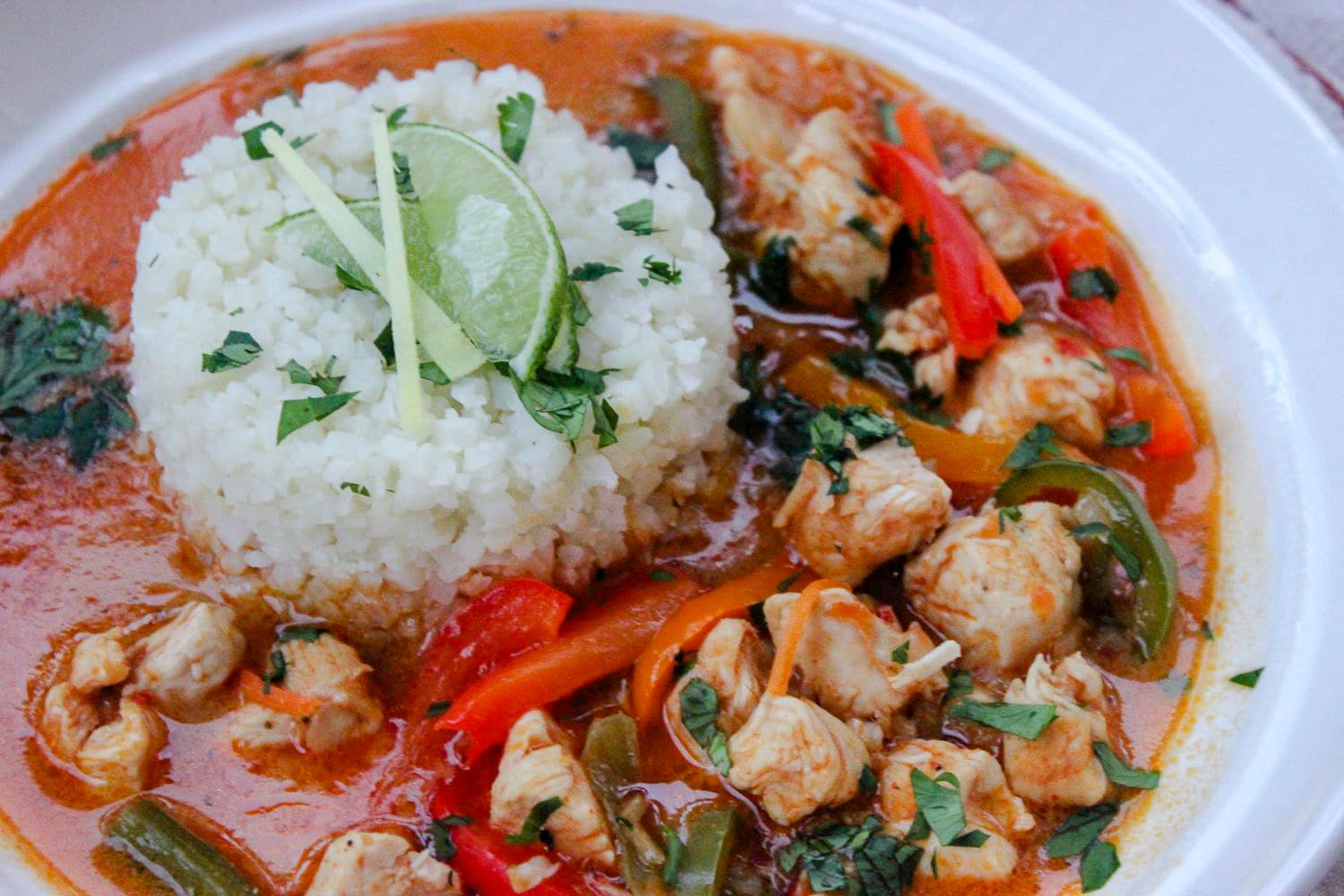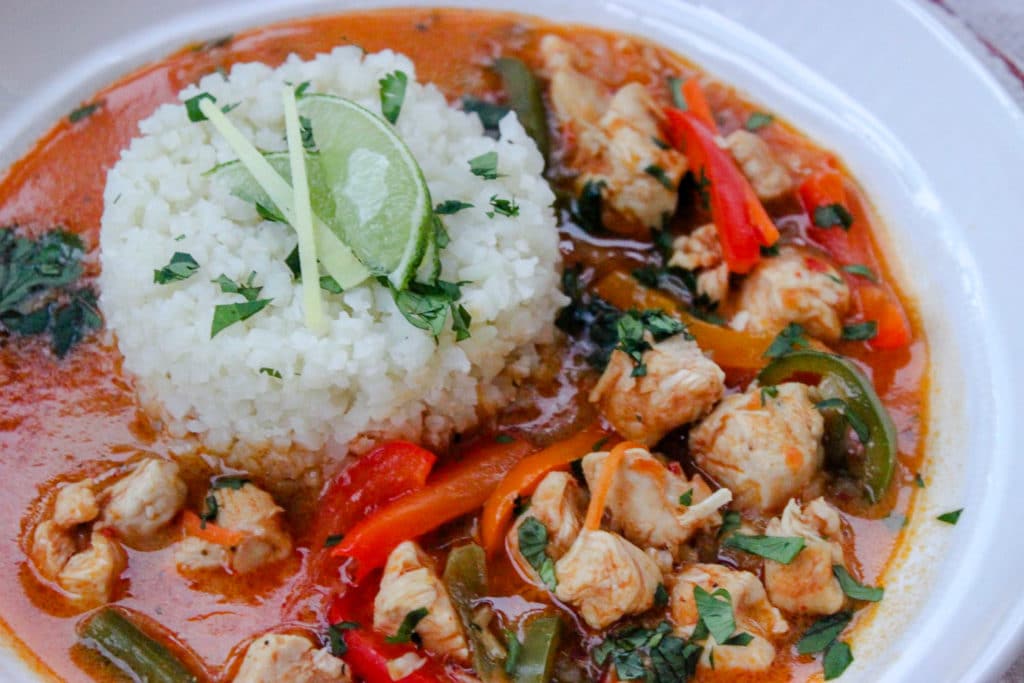 Bon Appeteach,
-L
Spicy Coconut Chicken Curry with Cauliflower Rice
Print Recipe
Ingredients
1 tbsp. Olive oil

3 cups, Diced Chicken

1/2 cup Onion, diced

1/2 cup, Carrots julienne cut (shredded)

1 jalapeno, julienne cut (shredded)

1 red pepper, sliced thin (allumette cut)

1 tbsp Fresh Ginger, minced

3 Garlic Cloves, minced

3 Tbsp. Sombal Oelek

4 oz. Red Curry Paste

1/2 Lime, juiced

2 cans Unsweetened Coconut Milk

1 tsp. Cayenne Pepper

Salt to taste

Garnish- cilantro and green onions (optional)

4 cups, Cauliflower Rice
Instructions
1
Preheat the oven to 350 degrees F. Add the frozen cauliflower rice to a baking sheet with salt and olive oil. Bake for 10-15 minutes.
2
In a large pan, heat olive oil to medium heat. Add the onion and saute for 4-5 minutes.
3
Add in the garlic and fresh ginger. Cook for 30 seconds. Then add in the chili paste (sombal oelek) and cook and additional 2 minutes.
4
Next, add in the diced raw chicken and cook till its not longer pink. Add in the cayenne pepper and salt.
5
Add in the the red pepper and jalapenos. Cook for 2-3 minutes. Then immediately add in the shredded carrots.
6
Pour in the two cans of coconut milk and the red curry paste. Stir until all is blended and the mixture is heated through. Add in the lime juice and the fish sauce.
7
Plate your "rice" and add a heaping scoop of coconut curry. Garnish with cilantro and green onions.