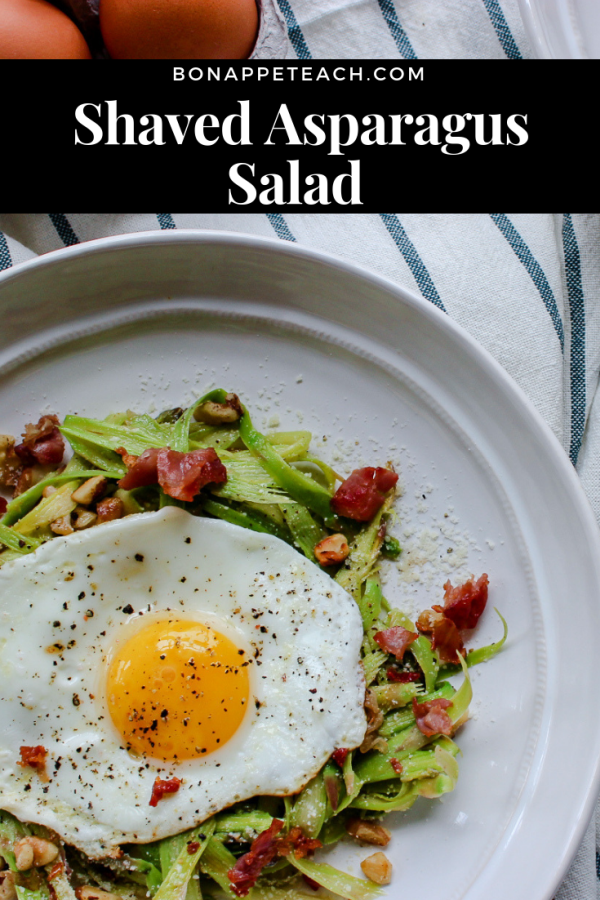 " A bright, refreshing, summer salad recipe that's perfect for any meal, anytime of the day."
Shaved Asparagus Salad:
The spring and summer months are my favorite time to capitalize on fresh, seasonal produce. Salads sometimes gets a bad rap, but it's a great way to switch things up and take your veggie eating game to the next level.
If you have never tried shaved asparagus you definitely need to! When shaved thin, it's light, crunchy, and can be served raw or blanched (less work in the kitchen is never a bad thing). Asparagus is fairly low in carbs as well, and if you're like me and you enjoy the crunch from a good crisp veggie then this is perfect for you.
Also, the bacon and delicious fried egg really makes it that much better. Just saying! Find the full recipe for this Shaved Asparagus Salad below and read on for a few helpful tips and tricks.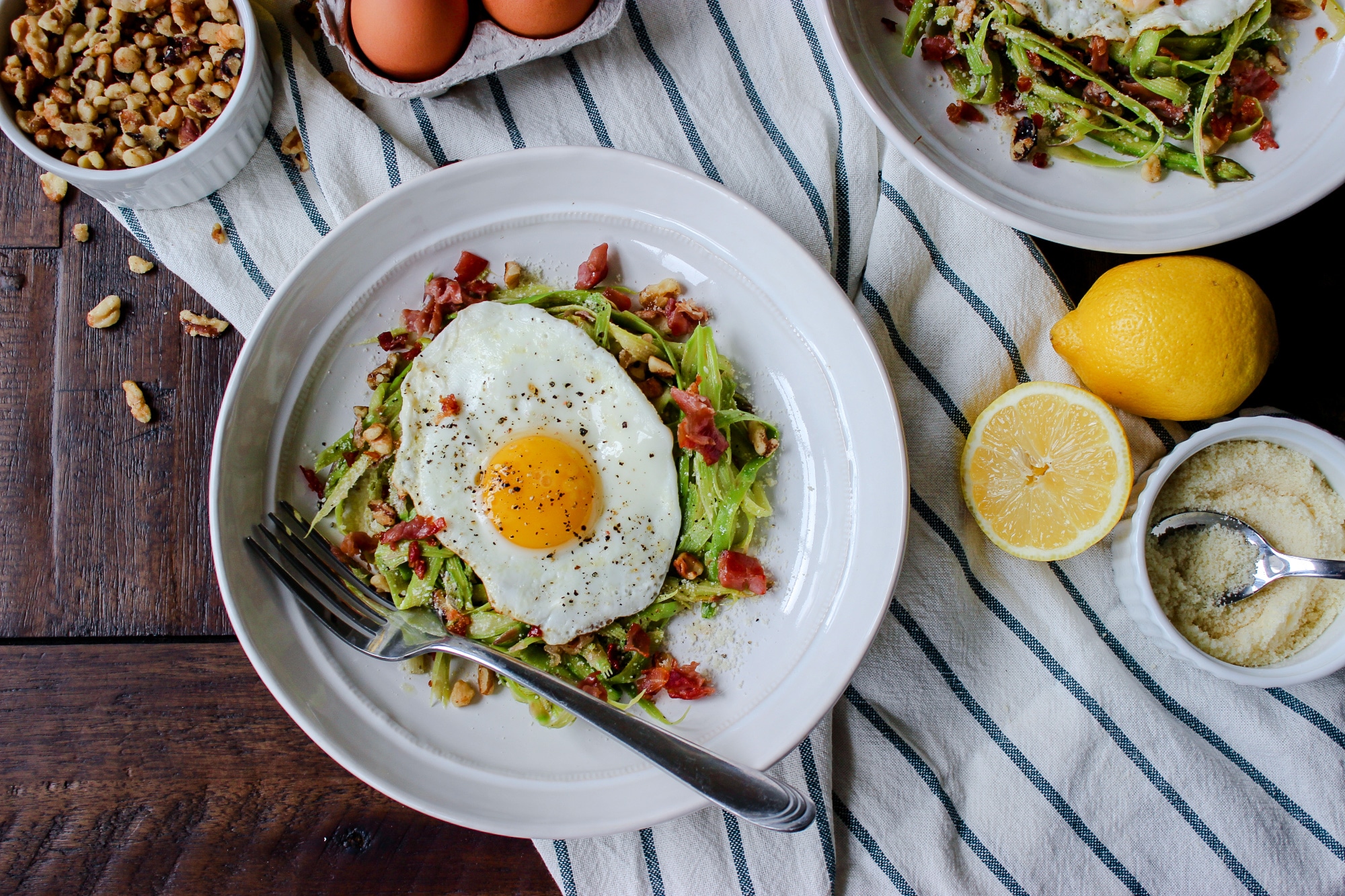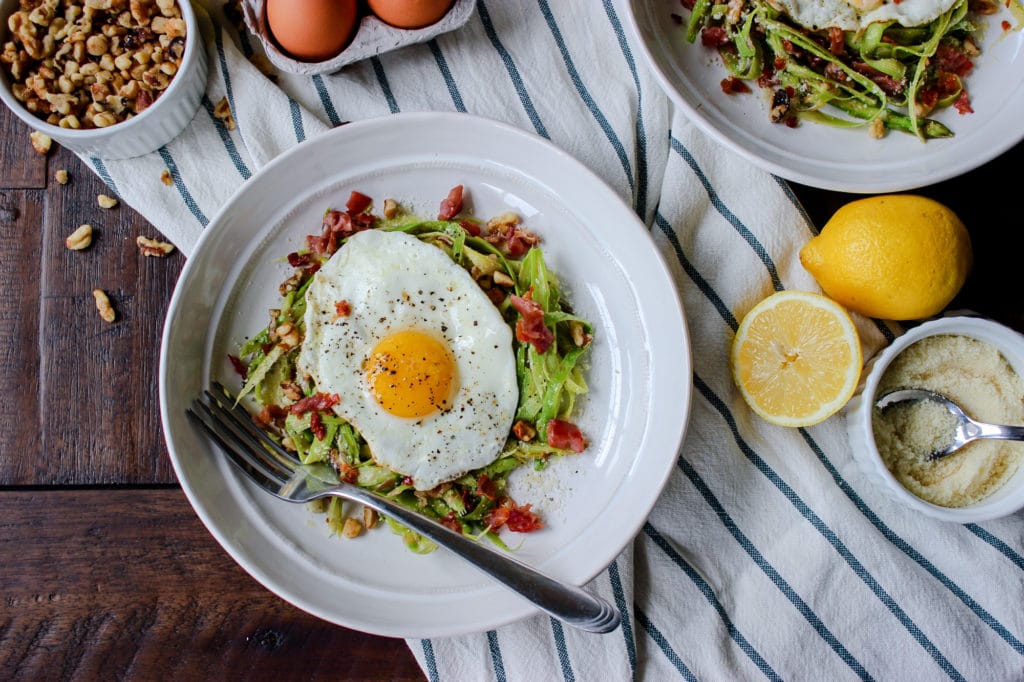 "School" Supplies:
"Y" Peeler
Frying Pan
Spatula
Knife & Cutting Board
"Class" Notes:
Shaved asparagus is honestly as simple as it sounds. However, it does work easiest with a "Y" shaped peeler. You want thin sliced ribbons for this salad because you're eating this in the raw. The thinner slices allow for a more refreshing bite and a better texture than just slicing and dicing.
Trim or snap off the stalk-like bottoms and from bottom to top peel away! I read a tip somewhere once that if you balance the asparagus stalk on a wooden spatula, it would lift it off the cutting board a bit and allow you to shave it easier.
I tried this, and it worked maybe half the time. Using thicker asparagus stalks actually does come in handy here, which is great because I find those to not be as delicious when eaten whole but more ideal for this scenario. Save the odds and ends for a morning omelette too!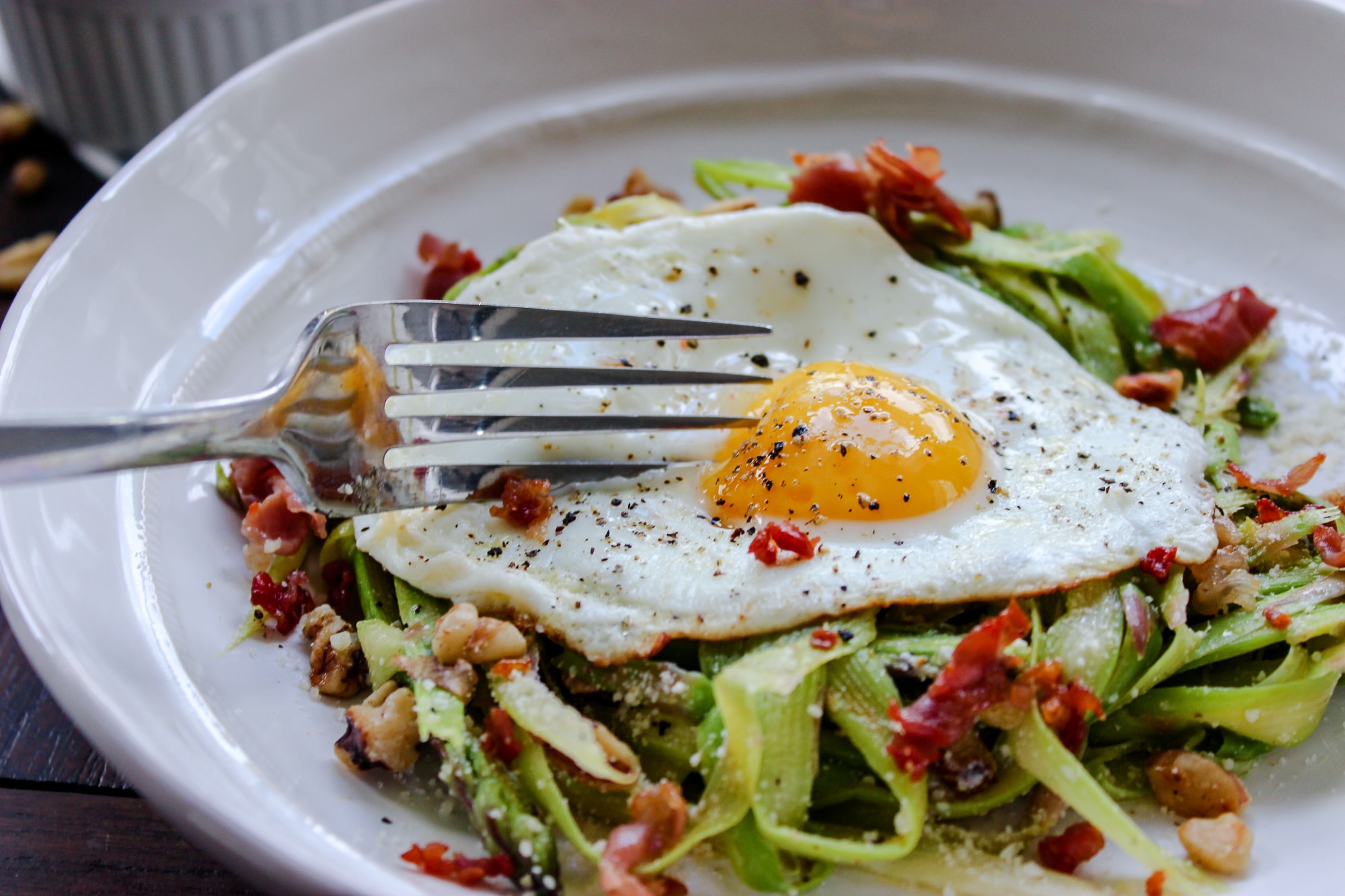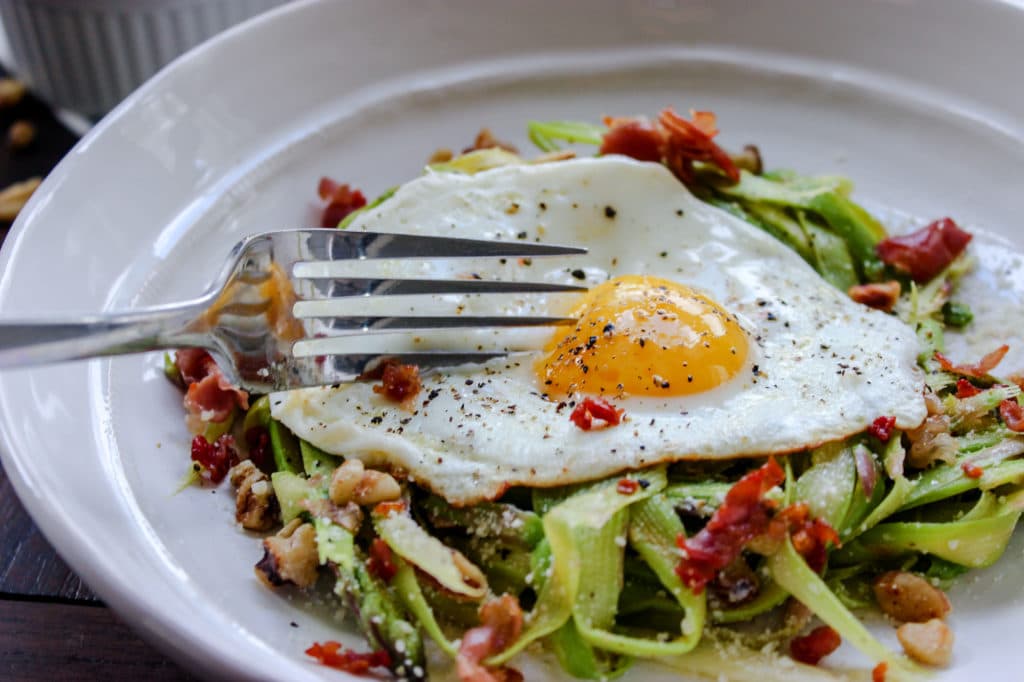 Once the asparagus is shaved into thin ribbons, I add it all to a colander and run hot water over it for 30 seconds or so. I like to do this just to take the chill off the asparagus so my fried eggs won't get too cold!
In a bowl, toss the asparagus, olive oil, lemon juice, crispy prosciutto, walnuts, and salt and pepper together. Place in a bowl and create a small "nest" in the middle for your egg.
You could easily fry, poach, or cook your eggs sunny side up. The choice is yours! Just be sure to really get that nice runny yolk mixed into every bite of this flavorful and refreshing summer salad.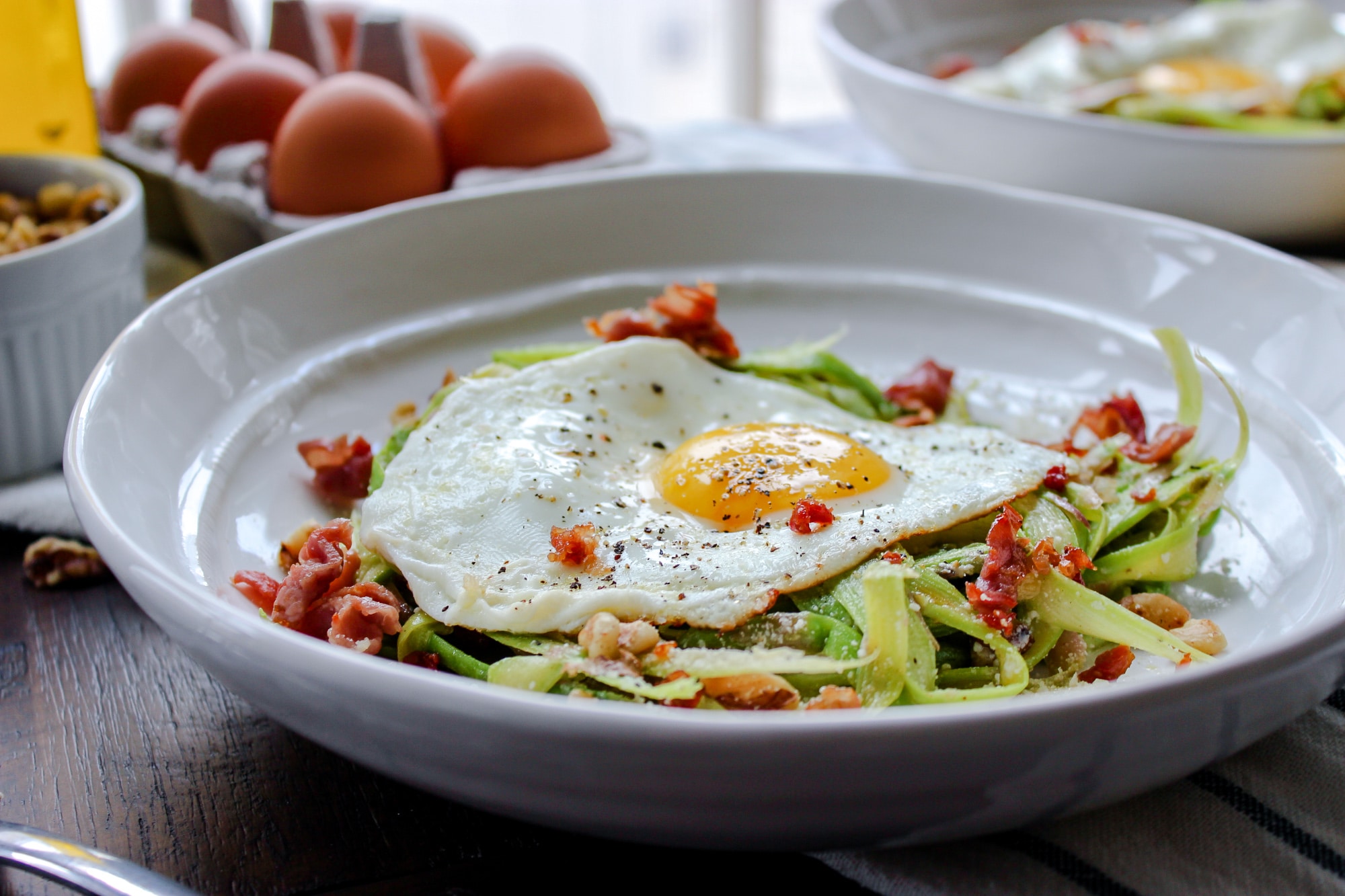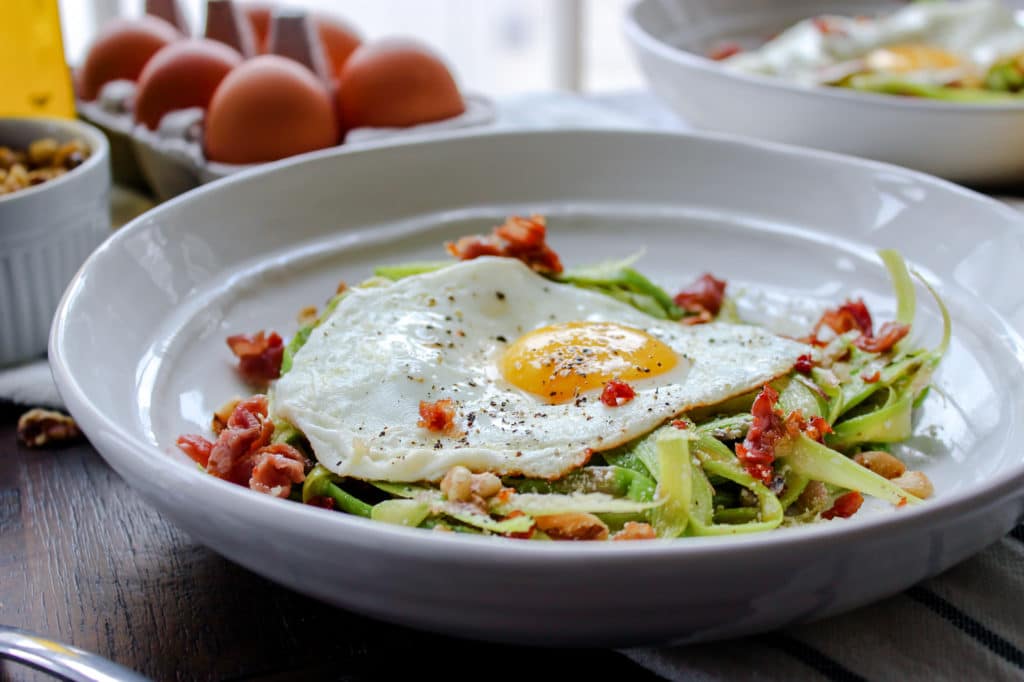 Bon Appeteach,
-L
Yield: 4
Shaved Asparagus Salad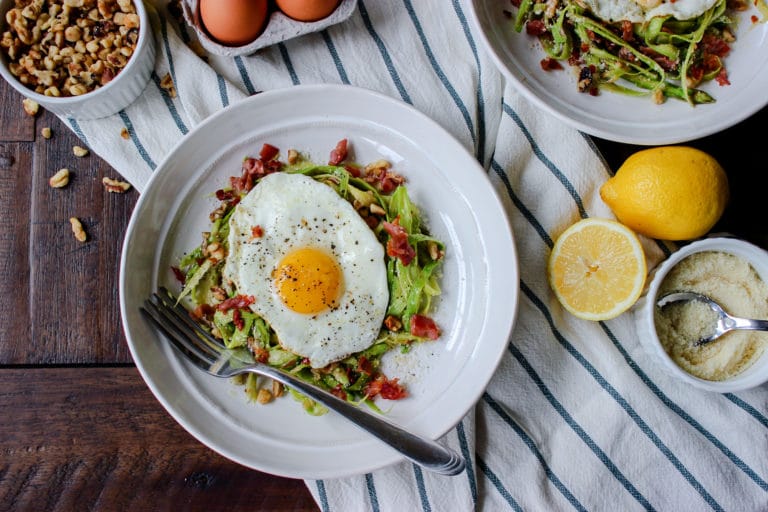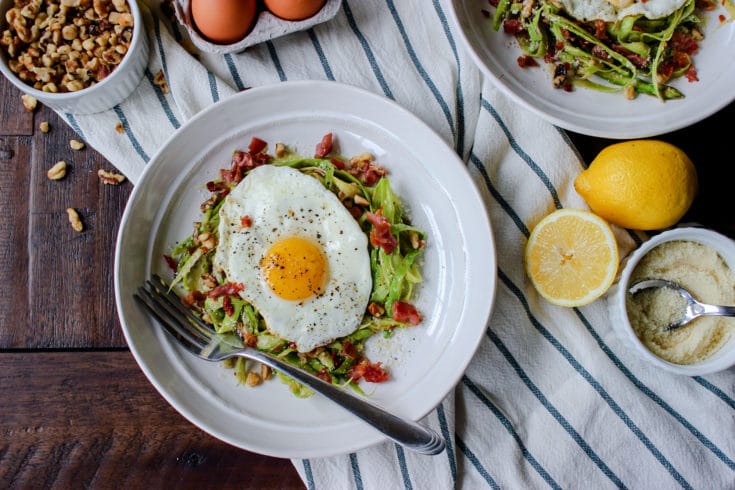 " A bright, refreshing, summer salad recipe that's perfect for any meal, anytime of the day."
Ingredients
1 Bunch of Asparagus (shaved about 4 cups) * Use thicker asparagus for this*
6 slices, Prosciutto
1/4 cup Walnuts (optional)
4 Eggs
1/4 cup Parmesan
1/2 Lemon, juiced
2 tbsp. Olive oil
Salt & pepper to taste
Instructions
Shave your asparagus using a "y" shaped peeler. Snap off the bottom end of the stalk and shave from the bottom to the top. Place the ribbons in a colander and run hot water over them to take off the chill from the fridge. Shake off excess water and place in a large bowl.
Slice up the prosciutto into small pieces and saute until it gets very crispy.
Add the lemon juice, olive oil, parmesan, and salt and pepper to the asparagus and toss until evenly coated. Add the crispy prosciutto and the walnuts. Plate the asparagus salad into bowls and create a small "nest" for the egg.
Fry, poach, or cook your egg sunny side up. Transfer the eggs on to the top of the asparagus salad and enjoy!
Notes
Nutritional information was calculated using My Fitness Pal and is provided as a general guideline. Please always calculate your own information for the most accurate information.
Nutrition Information:
Yield:
4
Serving Size:
1
Amount Per Serving:
Calories:

320
Total Fat:

25g
Saturated Fat:

5g
Trans Fat:

0g
Cholesterol:

224mg
Sodium:

928mg
Carbohydrates:

5g
Fiber:

2g
Sugar:

2g
Protein:

23g