Savory Pepper Jelly Thumbprint Cookies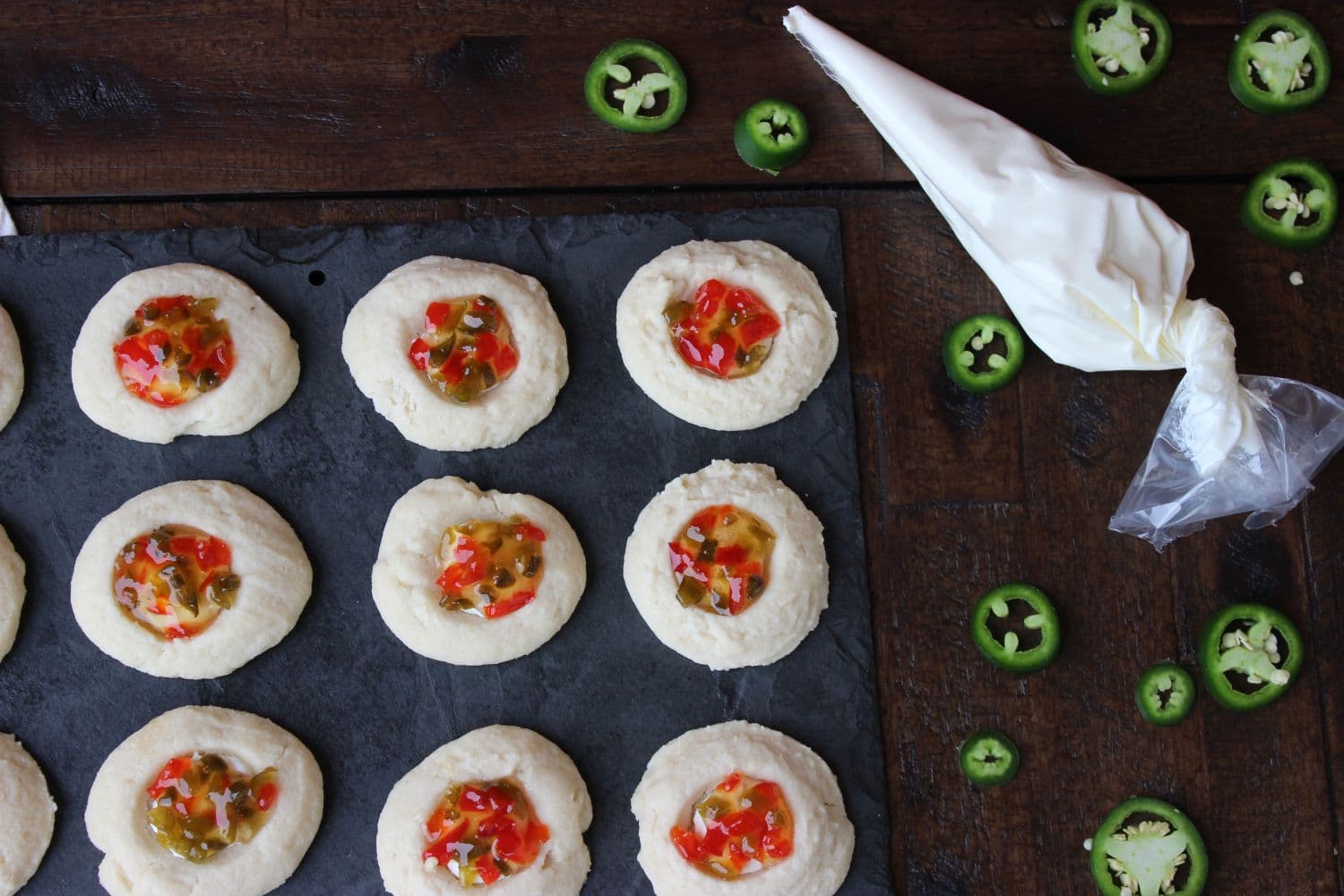 Savory thumbprint pepper jelly cookies take an old sweet classic and kick it up a notch! Literally! The pepper jelly is sweet, tangy, and oh so spicy that it is hard to pass up. Make sure you check out my recipe for Spicy Pepper Jelly so you can make these incredible little cookie creations for yourself!
Cookie Dough:
This is the easiest cookie dough recipe. Begin with softened butter and a little bit of sugar. Blend until smooth.  Then add in some softened cream cheese and a bit of salt.  Finally add in your flour and you have a nice smooth and creamy cookie dough. The dough is not intended to be sweet but tastes similar to a butter cookie or a short bread. Refrigerate the dough for 20-30 minutes so it makes rolling into balls more manageable.  Once dough is chilled, roll into 24 individual balls and then create an indentation with your thumb or the back of a small measuring spoon. Bake the cookies and allow them to cool before filling.
Make The Filling:
The filling is even more simple than the dough! All you need is the remaining 6 oz. of cream cheese (softened) and your homemade spicy pepper jelly. Grab a cookie and pipe in a bit of softened cream cheese so that you only fill it half way. Once you fill all your cookies with the cream cheese, use a spoon to top each cookie with the jelly. You can store these in the fridge until ready to serve. These savory thumbprint cookies taste truly divine and it makes it a fun and festive snack this holiday season.
Bon Appeteach,
-L
Ingredients
2 sticks, Butter (softened)

3 Tbsp. Sugar

2 cups, Flour

2 oz. Softened Cream Cheese

1/2 tsp. Salt

6 oz. softened Cream Cheese (filling)

1/3 cup, Spicy Pepper Jelly
Instructions
1
Preheat the oven to 350 F.
2
In a mixing bowl, combine the softened butter and sugar.
3
Next add the softened cream cheese.
4
Then the salt and flour. Mixture should be fairly smooth.
5
Refrigerate the dough for 20-30 minutes.
6
Using a tablespoon,scoop out the dough and roll into 24 individual balls.
7
Using your thumb or the bake of a teaspoon, create an indent into the ball of the cookie.
8
Bake for 8-10 minutes. Cool completely before filling.
9
Pipe the softened cream cheese halfway into each cooled cookies.
10
Then top with a spoonful of spicy pepper jelly.