Roasted Indian Style Cauliflower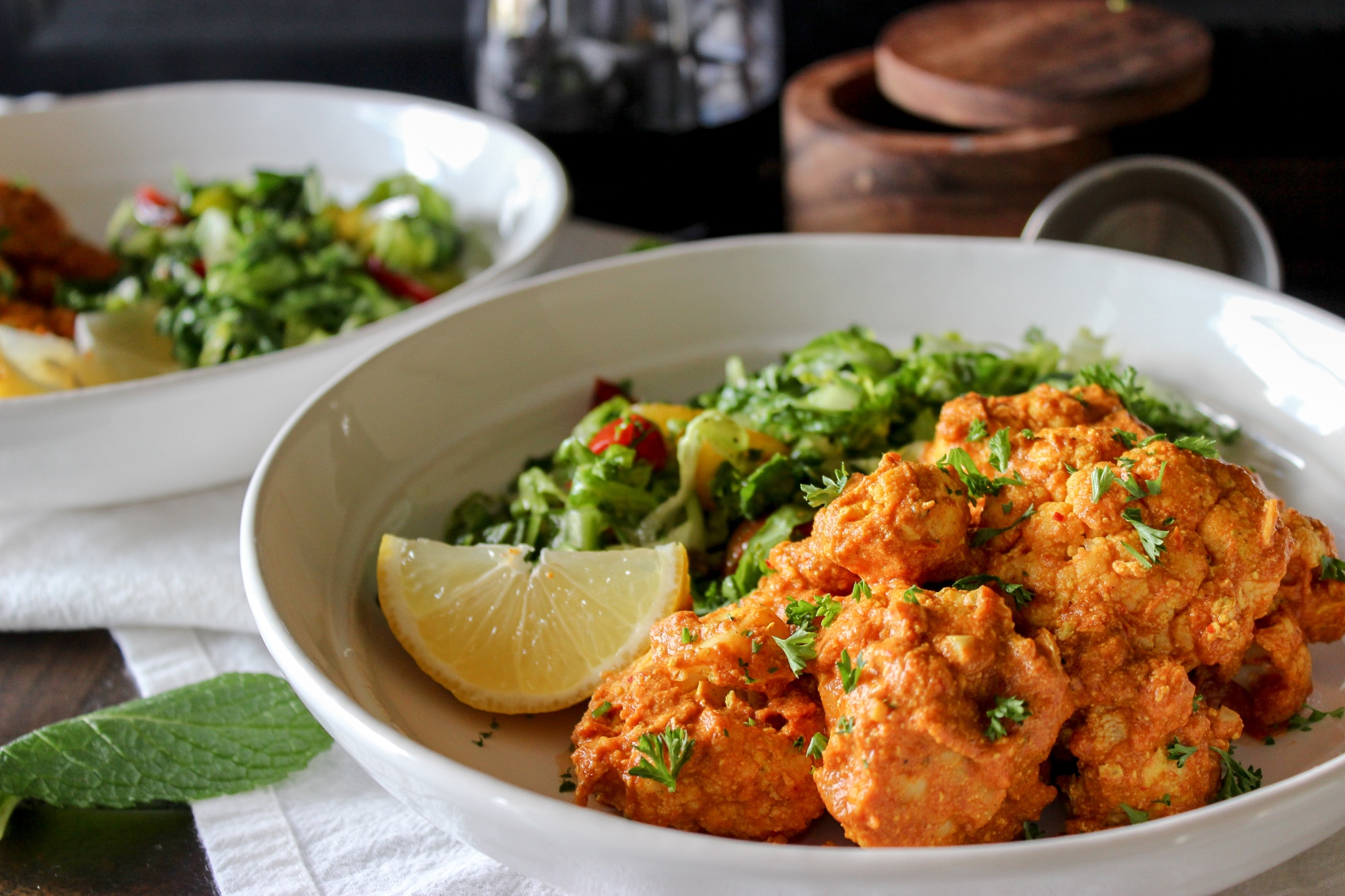 Cauliflower. What is there really to say about it? It's kind of bland and fairly boring, and just overall a very underwhelming vegetable (in my humble opinion). I am a girl that needs a packed punch of flavor in my meals. I also love to get in a serious amount of vegetables during the week as well. In the effort to be creative, I was inspired by one of my favorite Indian dishes (butter chicken by Gordon Ramsay) to make this beautiful Roasted Indian Style Cauliflower dish. The full recipe can be found at the bottom of this post. 
I Hate Cauliflower:
It has become a running joke among my Instagram followers and I about how much I dislike cauliflower. Yet somehow, I keep torturing myself and cook with it fairly frequently. If you are a low carb dieter or a keto dieter then you are probably very familiar with my friend…er foe cauliflower. I truly enjoy challenging myself to come up with recipes that take this fowl vegetable and transform it into something not only edible but incredibly delicious. This cauliflower dish is fully endorsed and approved  by me (a well know cauliflower hater)!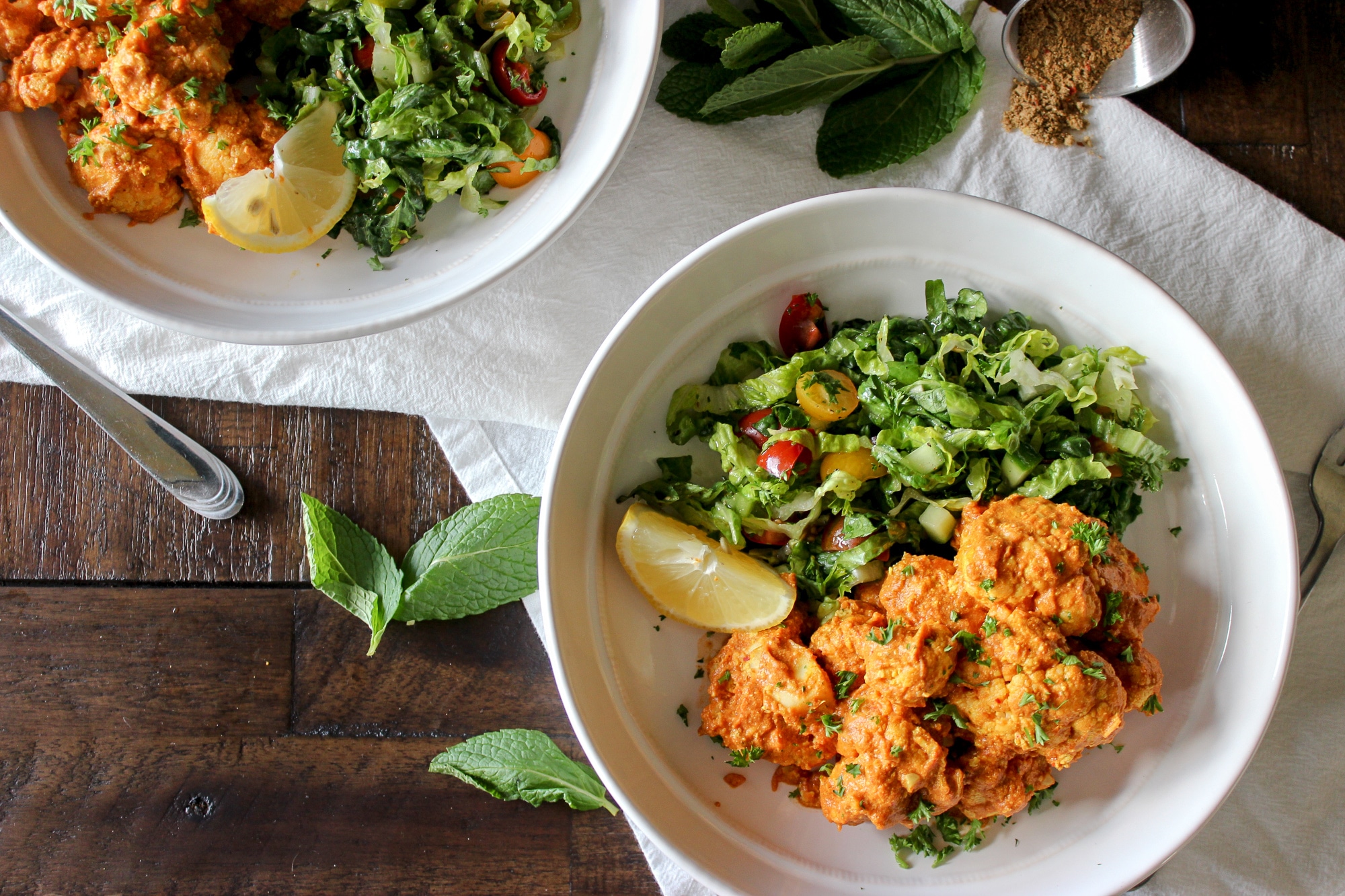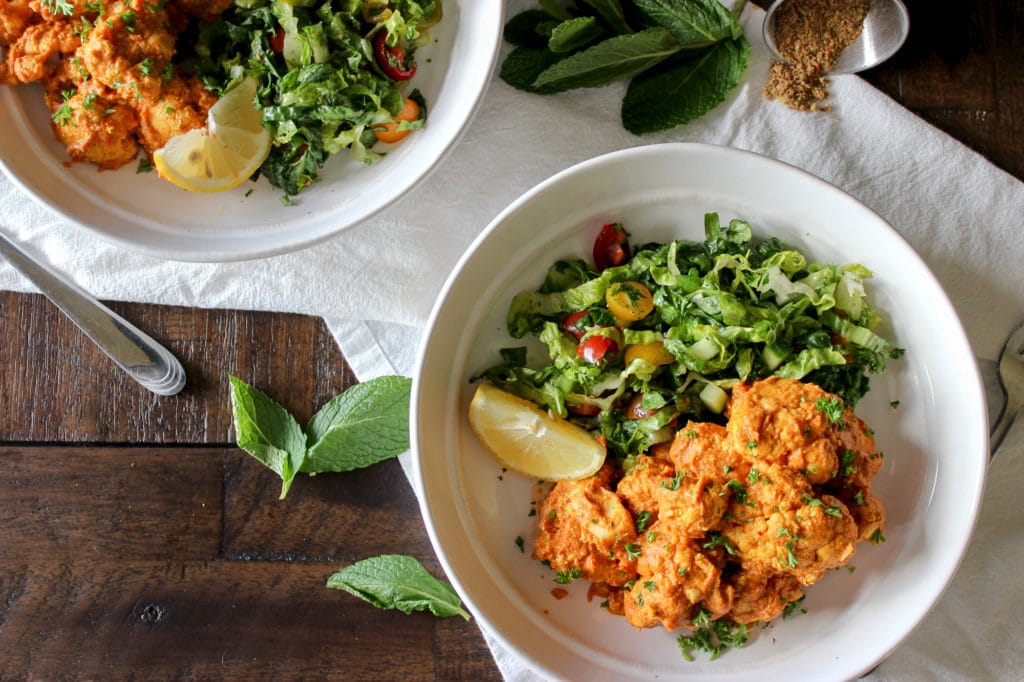 Meatless Monday's:
If you are a fan of Meatless Monday, have given up meat on Friday's for Lent, or just somehow actually love cauliflower, then this dish is perfect for you! I love to pair my Roasted Indian Style Cauliflower with a light refreshing tabbouleh salad. These salads compliment the fragrant spices in the cauliflower and make this dish feel complete and guilt free! See the full recipe for the Roasted Indian Style Cauliflower below. Happy cooking!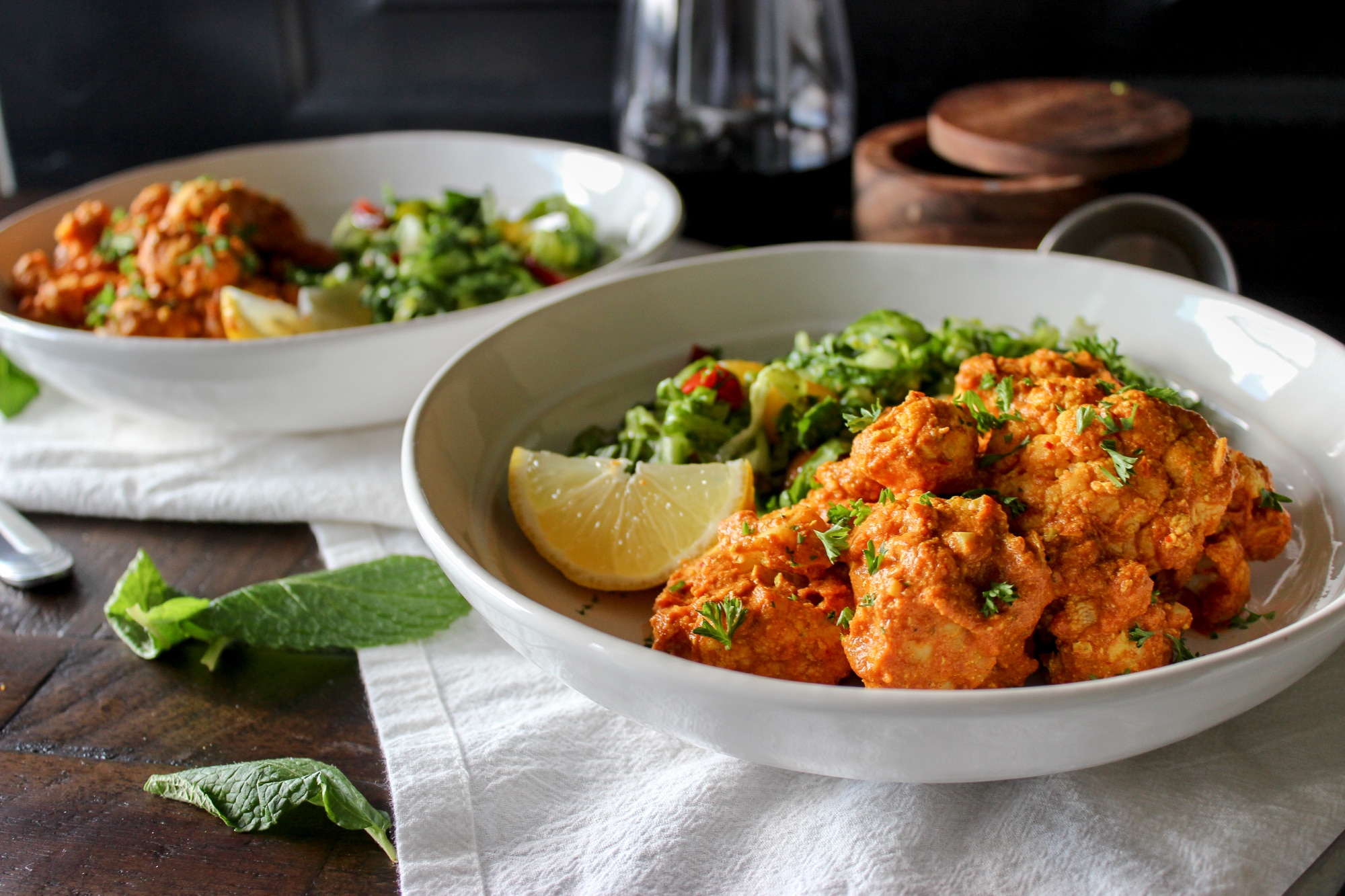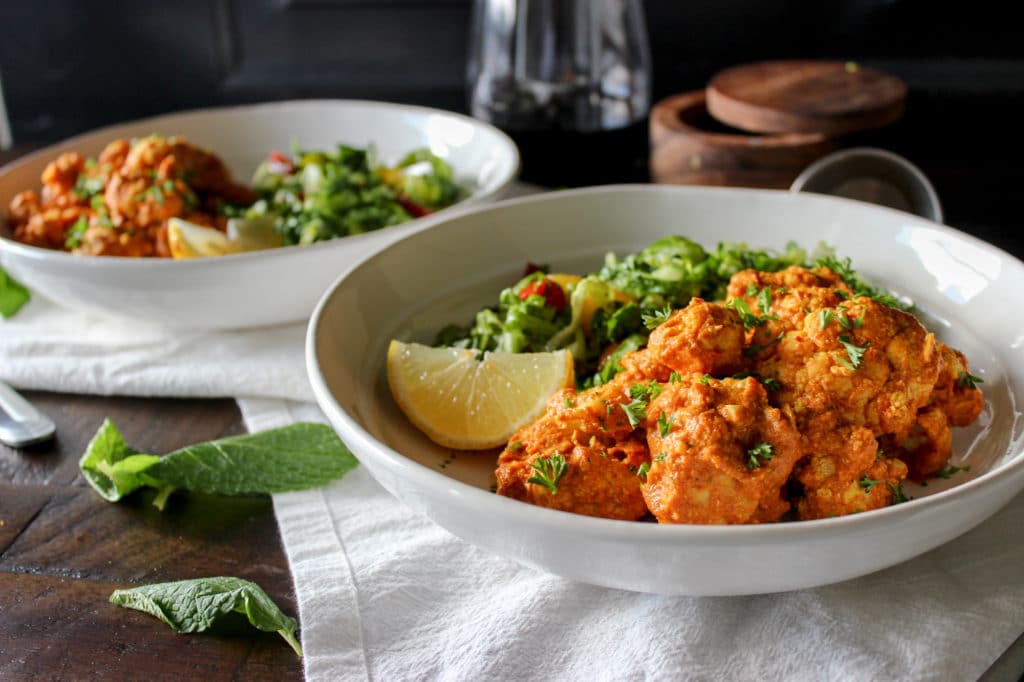 Bon Appeteach,
-L
Ingredients
1 Head of Cauliflower

Marinade Ingredients:

1 1/2 cups Greek Yogurt or Sour Cream

3 cloves Garlic, minced

2 tsp. Fresh Ginger, minced

1/2 Lemon, juiced

Spice Blend for Marinade: 1 tsp Salt, 1 tsp Garam Masala (you can make your own easily), 1/2 tsp Tumeric, 1 tsp Cumin

Sauce Ingredients:

2 tbsp Ghee or Butter

2 cloves Garlic, minced

2 tsp Fresh Ginger, minced

8 oz. Tomato Puree

1 cup Heavy Cream or Half & Half

Spices for Sauce: 1 tsp Coriander, 2 tsp Garam Masala, 1 tsp Tumeric, 2 tsp Hot chili powder, 1 tsp Cumin

Additional salt if needed

Sauce Spices:
Instructions
1
Begin by separating your cauliflower into bite side pieces. I tend to trim more of the stem off as a personal preference but it is not necessary.
2
In a bowl combine all the marinade ingredients. Whisk together to make sure the spices are well blended.
3
Fold the cauliflower into the marinade. Cover with plastic wrap and refrigerate for a minimum of 2 hours or until ready to bake.
4
Preheat your oven to 400 degrees F. Line a baking sheet with foil and then placing a roasting rack or cooling wrack over the foil. Spray the rack with non-stick spray.
5
Lay the cauliflower on the elevated rack on your pan.
6
Bake for 20-25 minutes and turn the cauliflower after 15 minutes so both sides roast evenly. The color will be a beautiful golden yellow and the cauliflower should be tender but not mushy.
7
While the cauliflower is baking, prepare your sauce.
8
In a saucepan, begin by lightly sauteing your garlic and ginger in the butter on low for a 1-2 minutes. Do not burn!
9
Add the spices to the butter mixture and let cook an additional 1-2 minutes on low. Add in the tomato puree and whisk well.
10
Slowly add in the cream or half and half.. If you feel like this is too thick or too tomato like for your taste you can add in a little more cream. Allow it simmer on low for a few minutes stirring frequently so the dairy doesn't scorch.
11
Fold the cauliflower into the sauce and serve hot!
Notes
Tabbouleh salad picture: 2 Heart of Romaine, 1 cup of diced Heirloom Cherry Tomatoes, a handful of fresh Mint and Parsley, drizzled with Lemon juice and Olive oil, sprinkle with salt. Mix and enjoy as a refreshing side!