Oven Fried Portobello Mushrooms with Bruschetta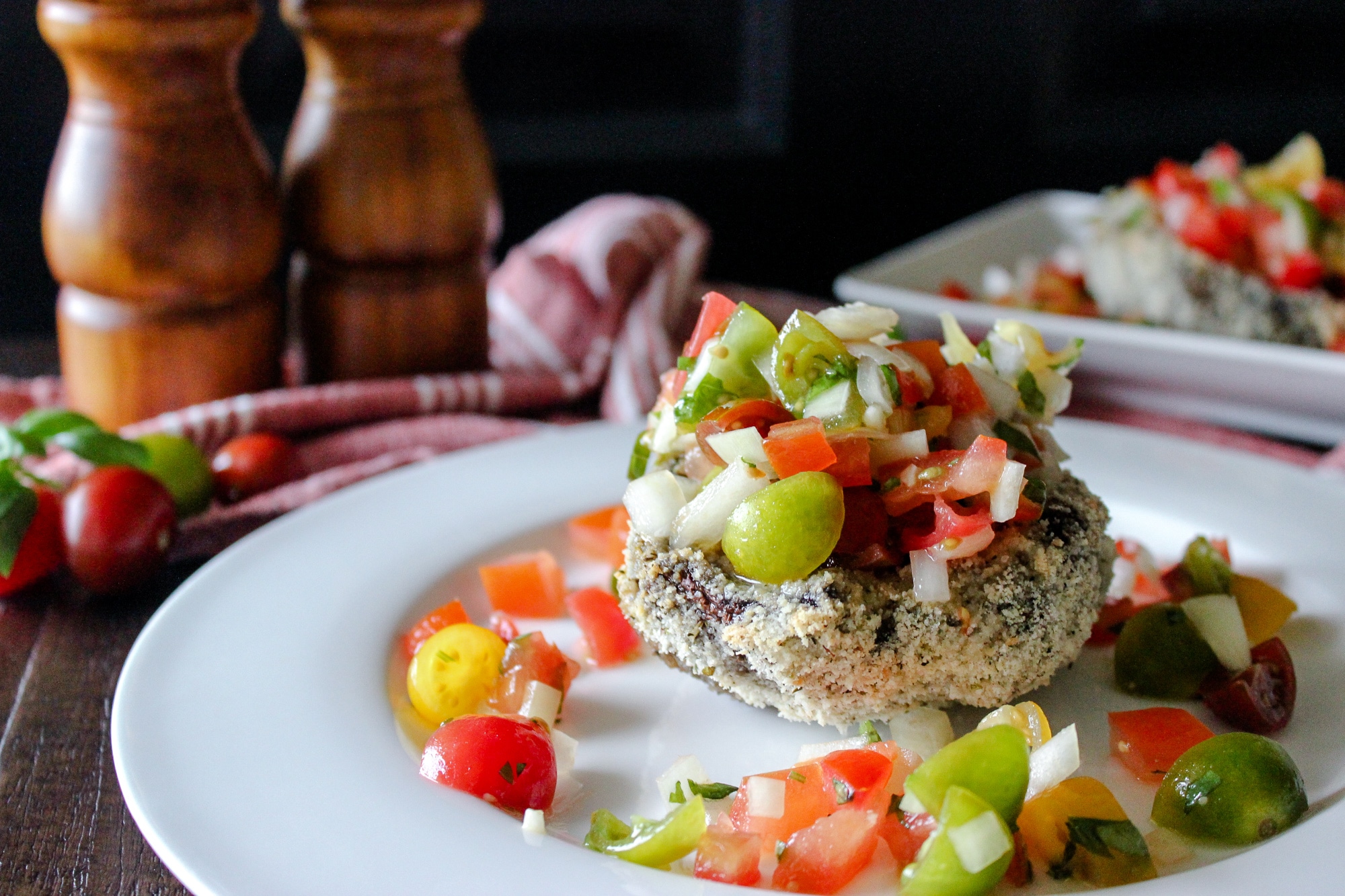 There is something so incredible about classic Italian foods and flavors. I am not going to lie, sometimes I just want a nice piece of crusty Italian bread dipped in rich olive oil, a huge hunk of fresh mozzarella, or a big bowl of fresh pasta with sauce. Eating a low carb and (mostly) dairy free diet has basically eliminated the majority of my Italian food favorites. These oven fried portobella mushrooms with bruschetta are a great way to get some of those delicious Italian flavors as a low carb (and meatless) meal option. Find the full recipe at the bottom of the page!
Fresh Bruschetta:
I love how refreshing bruschetta is. It's basically an Italian Pico De Gallo but instead of cilantro and lime juice you add fresh basil and olive oil. I crave fresh tomatoes and that strong garlic and onion flavor. Even though there is no meat in this meal, it feels filling, healthy, refreshing, and yet still has that comfort food feel. When making a good bruschetta, the true standout is using a good quality olive oil. I always keep two different olive oils in my house. One for cooking and one for eating! Trust me, a good investment in a delicious rich and pure olive oil can make a difference in your food.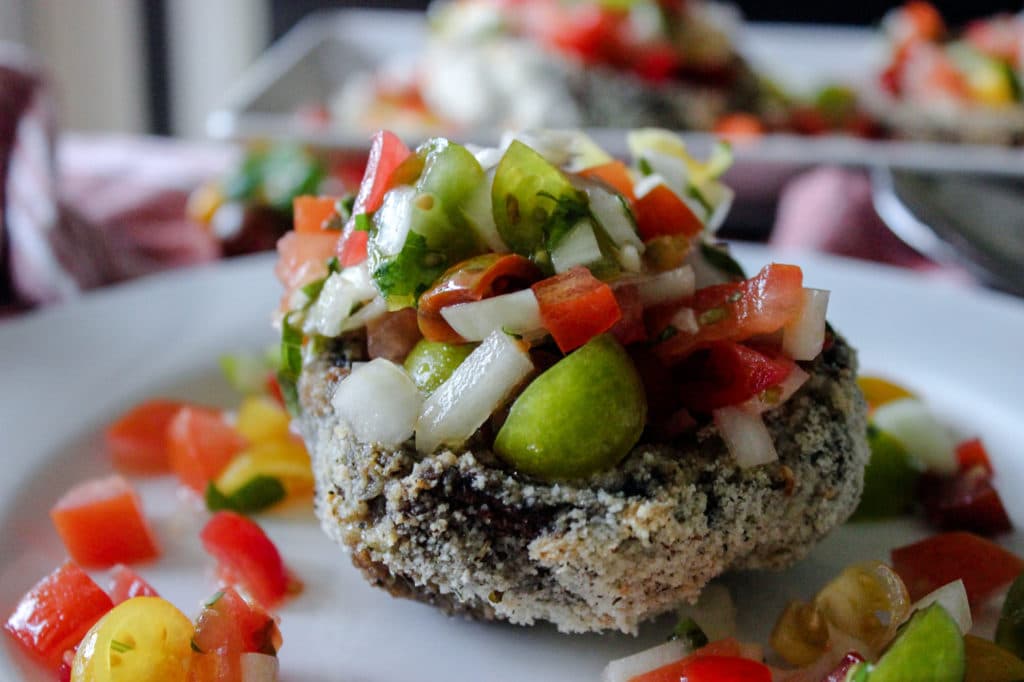 Oven Fried Port0bellos:
Portobello mushrooms are great as a meat replacement. They are large and can be easily stuffed with lots of other yummy things! I wanted to create a crunchy outside to counteract the tender texture of the portobello mushroom (sometimes they're a little to squishy for me). I mixed fresh parmesan, almond flour, salt, garlic powder, and Italian seasonings. Dredge the mushrooms in egg wash and then into the dry almond flour breading. Pop the mushrooms into the oven on roasting rack. Bake them first with the cap side up and flip halfway. After they are cooked and crunchy, fill them with a big pile of fresh bruschetta. Add more fresh parmesan and a drizzle of olive oil before serving! Enjoy these beautiful oven fried portobello mushrooms with bruschetta.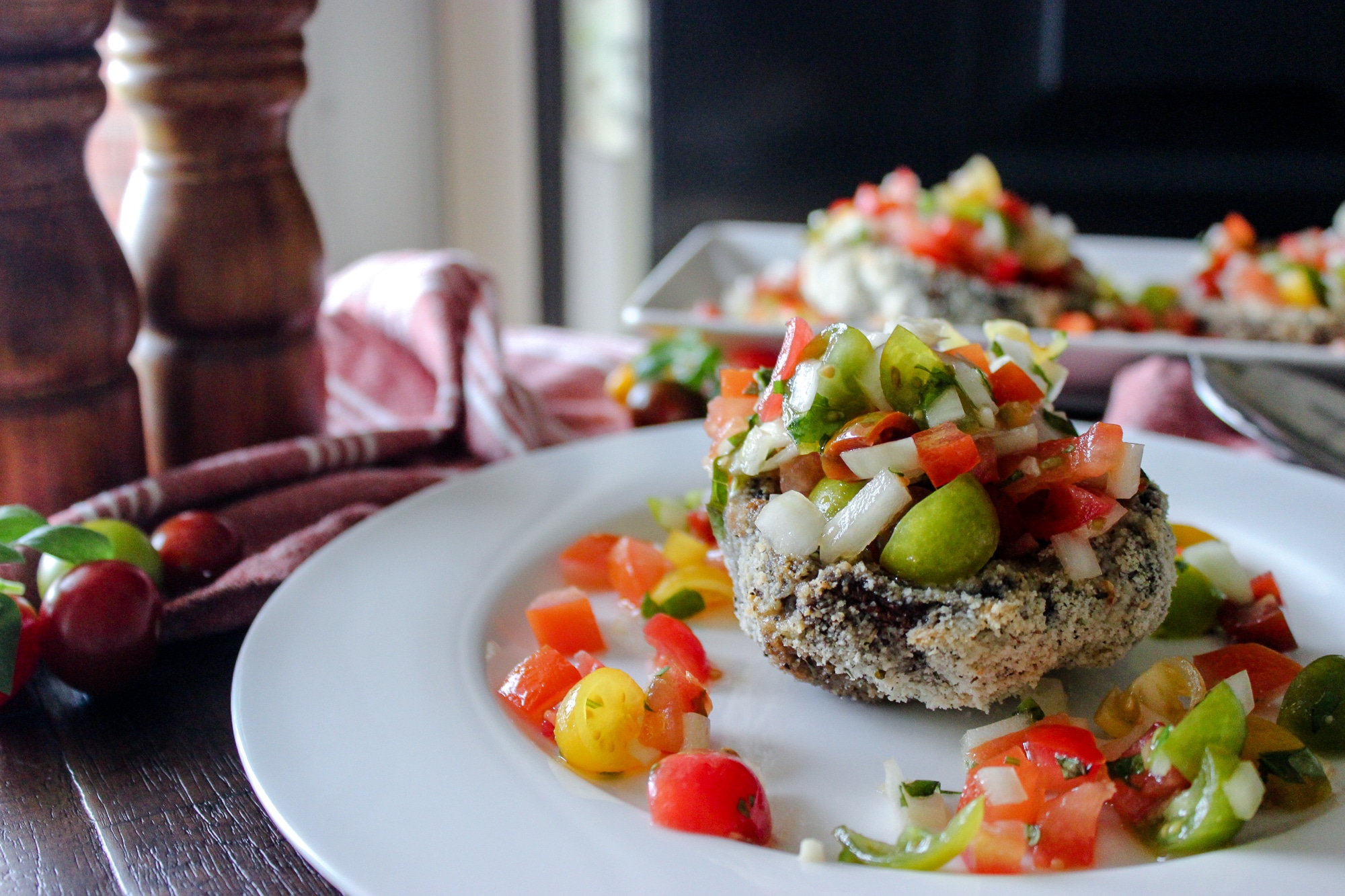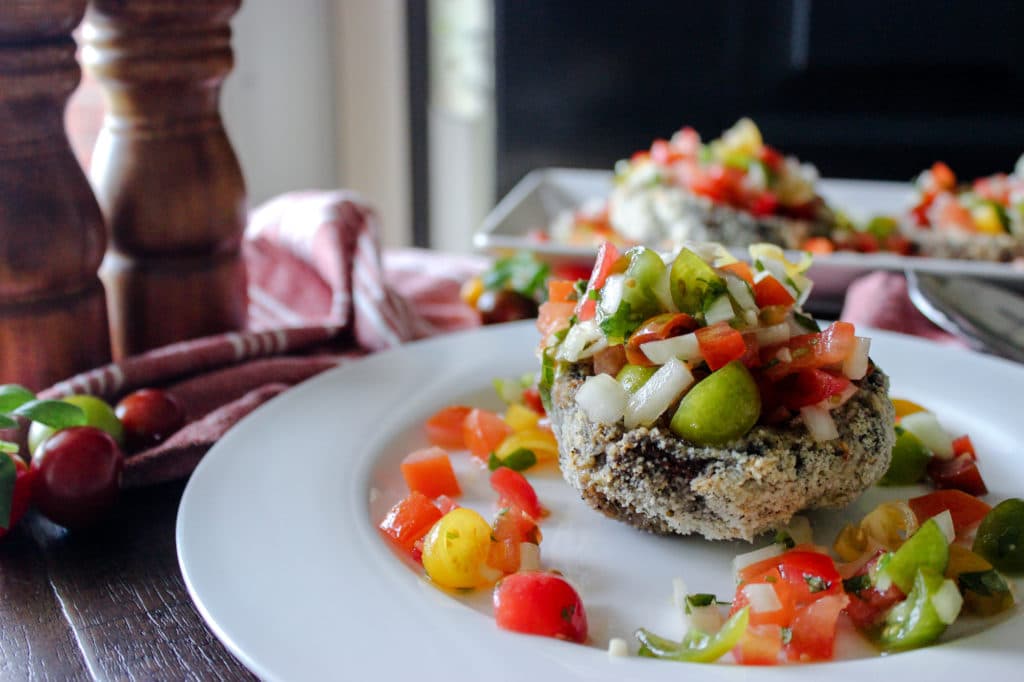 Bon Appeteach,
-L
Oven Fried Portobello Mushrooms with Bruschetta
Print Recipe
Ingredients
4 Large Tomatoes

1 Medium Onion, diced small

3-4 Garlic cloves, minced

Handful of Fresh Basil, chiffonade

Salt to taste

Olive Oil

8 Large Portobello Mushrooms

1 1/2 cups Almond Flour

1/2 cup Parmesan

1 tbsp. Garlic Powder

1 tbsp. Italian Seasoning

1 tsp. Salt

2 Eggs
Instructions
1
Preheat the oven to 400 degrees F. Cover a baking sheet with foil. Place a roasting rack on top of the foil and spray with non-stick olive oil
2
In a bowl combine the almond flour, parmesan, salt, garlic powder, and Italian seasonings. In another bowl, beat your two eggs and set aside.
3
Clean the mushrooms and pat them dry. Remove the inside stems.
4
Dip the mushrooms completely in egg and then roll both sides into the almond flour parmesan mixture.
5
Place on the roasting rack and repeat till all the mushrooms are coated.
6
Bake for 15 minutes with the cap side down. Flip the mushrooms over and bake an additional 10-15 minutes. If you want them to brown a bit more, you can broil them for a few minutes but don't over do it!
7
While the mushrooms are baking, make your bruschetta. Slice the tomatoes in half and scoop out the seeds. Slice and dice your tomatoes small. You can also swap out cherry tomatoes. I like to see what is ripe and best when I shop for tomatoes!
8
Dice your onion and chiffonade the basil. Mince the garlic.
9
Combine all the vegetables in a bowl. Add salt and pepper and drizzle with a generous amount of quality olive oil (I like there to be enough to coat the tomatoes but not let it sit in a pile of oil. Start with a 3-4 tbsp and go from there).
10
Plate the mushrooms with the top side down. Fill the inside with a heaping scoop of bruschetta. Garnish with additional parmesan cheese and fresh basil.