Mini Keto Chocolate Peanut Butter Tarts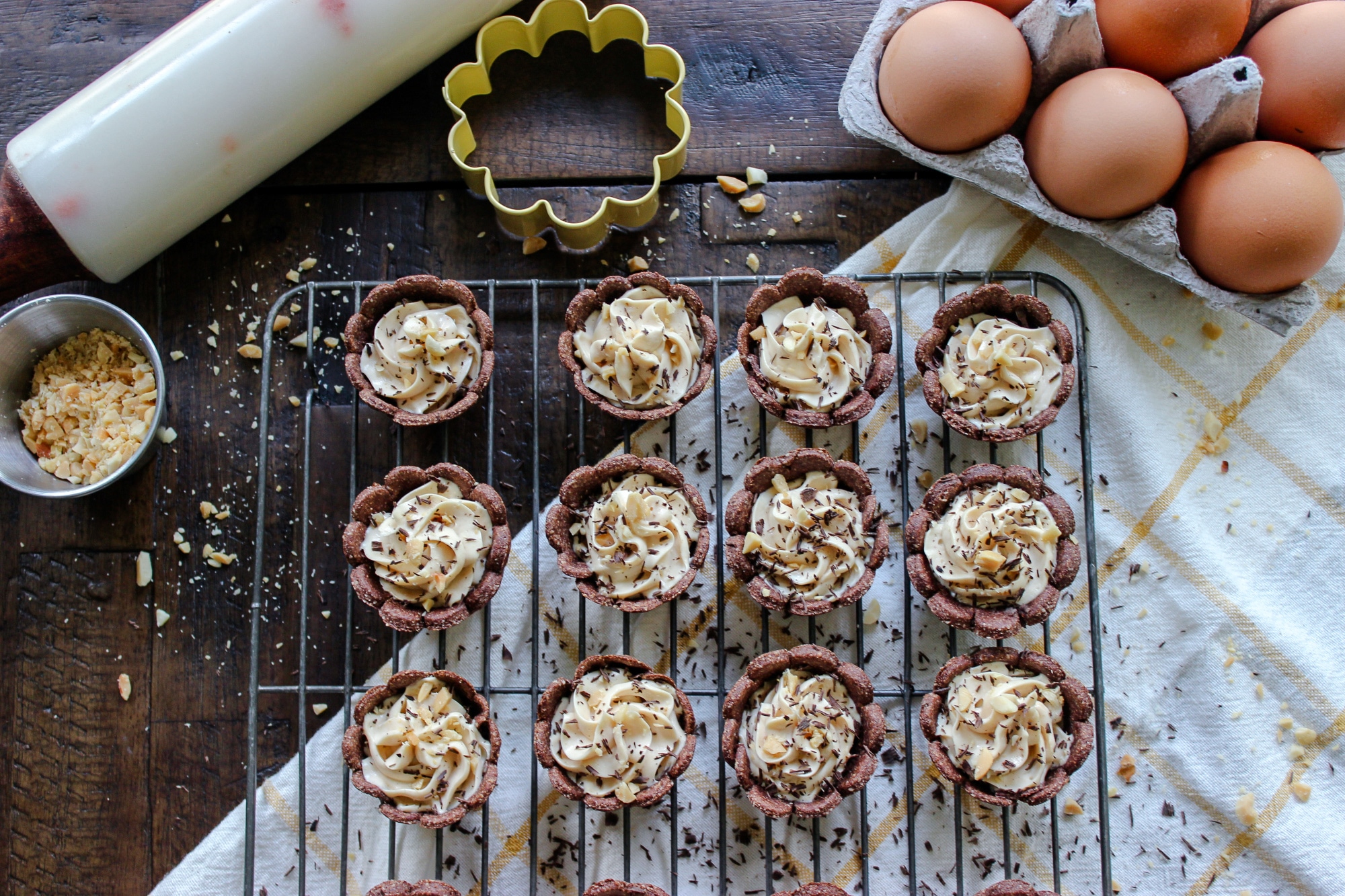 Mini Keto Chocolate Peanut Butter Tarts:
Yup. Another low carb keto friendly dessert. With peanut butter. Though, in my humble opinion there can never be too many desserts or too much peanut butter! Are you excited? I am! These mini tarts are perfect for snacking, are an incredible dessert for all your summer BBQ's and parties, and are very versatile. I will say however, the tarts themselves are not overly sweet but I prefer this. I think it helps balance out the inside filling and allows you to adjust sweetness. The recipe for these tart shells is a play off of one of my most popular recipes, Keto Tortilla Recipe. With a few ingredient additions and a few changes it was super easy to create such a beautiful and tasty dessert! Find the whole recipe for these Mini Keto Chocolate Peanut Butter Tarts at the bottom of the page and read on for more tips and tricks.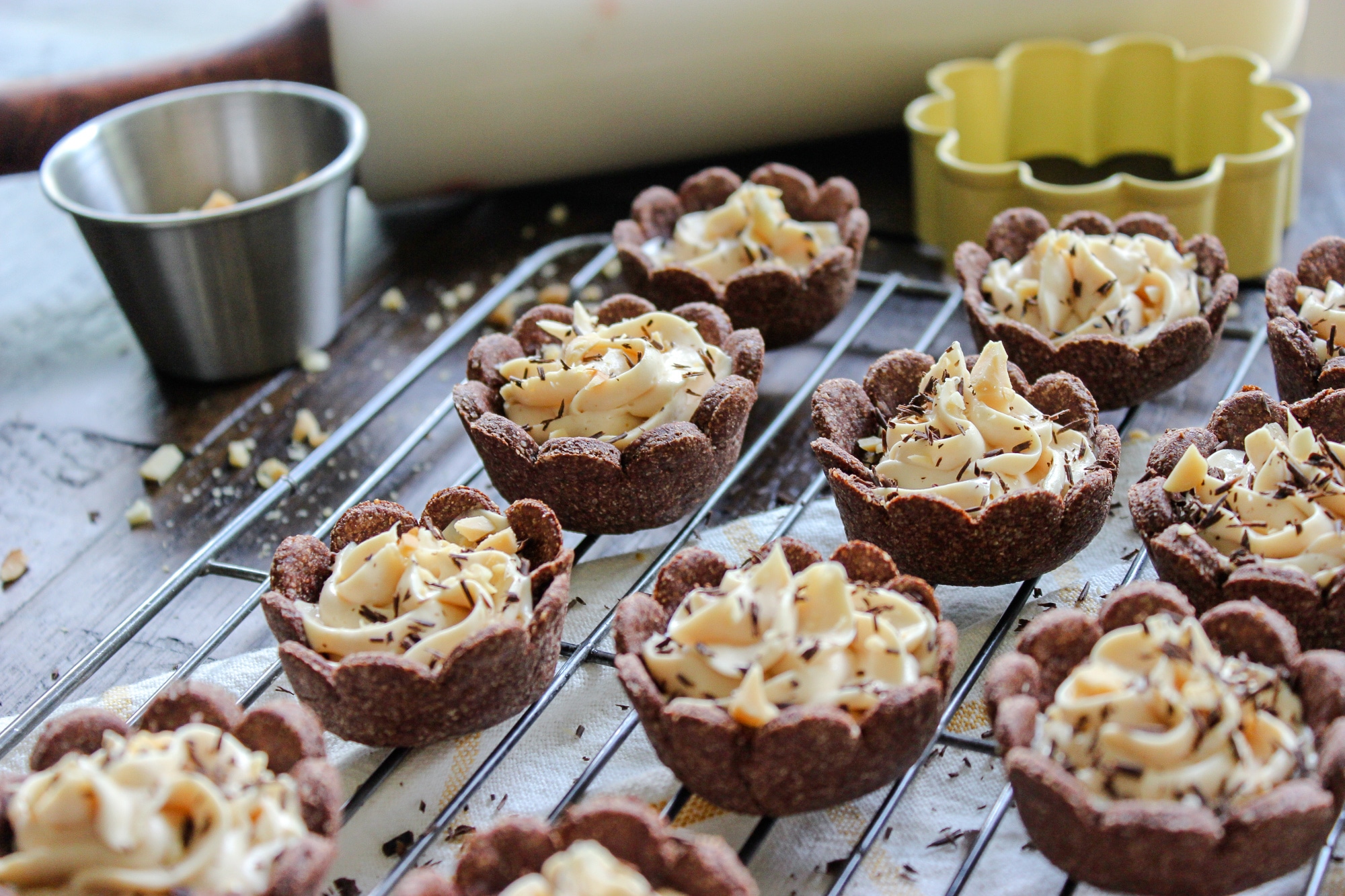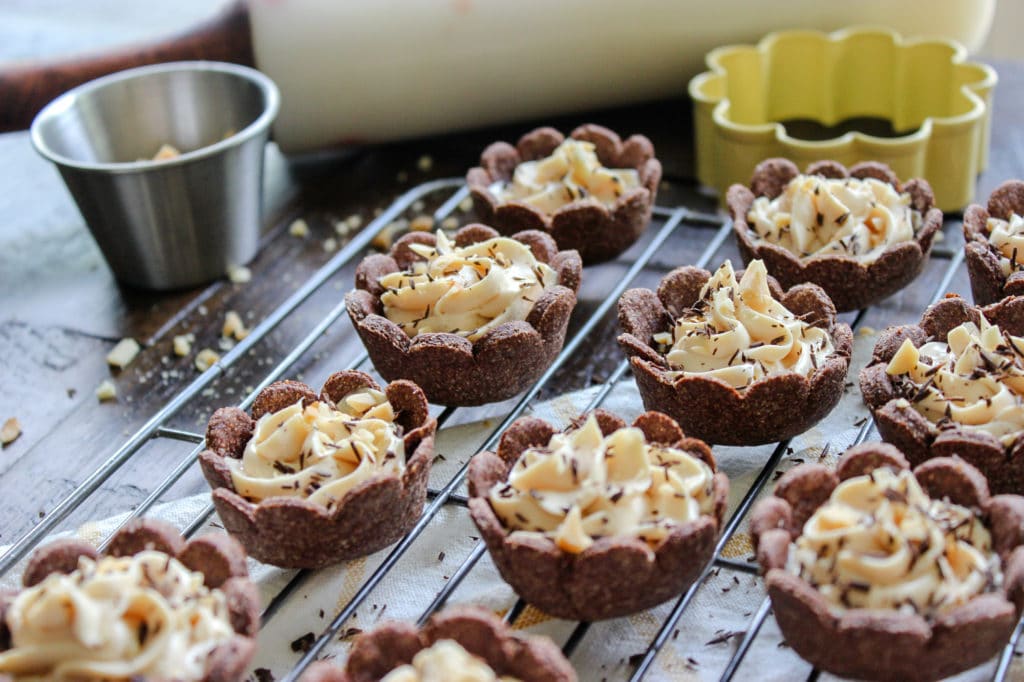 "School" Supplies:
Mini Muffin Tin (24 count)
3″ Cookie Cutter (the rim of a cup would work as well)
Parchment Paper
Rolling Pin
Food Processor
Mixing Bowl
Hand Mixer
Measuring Cups/ Spoons
Optional- Piping Bag/ tips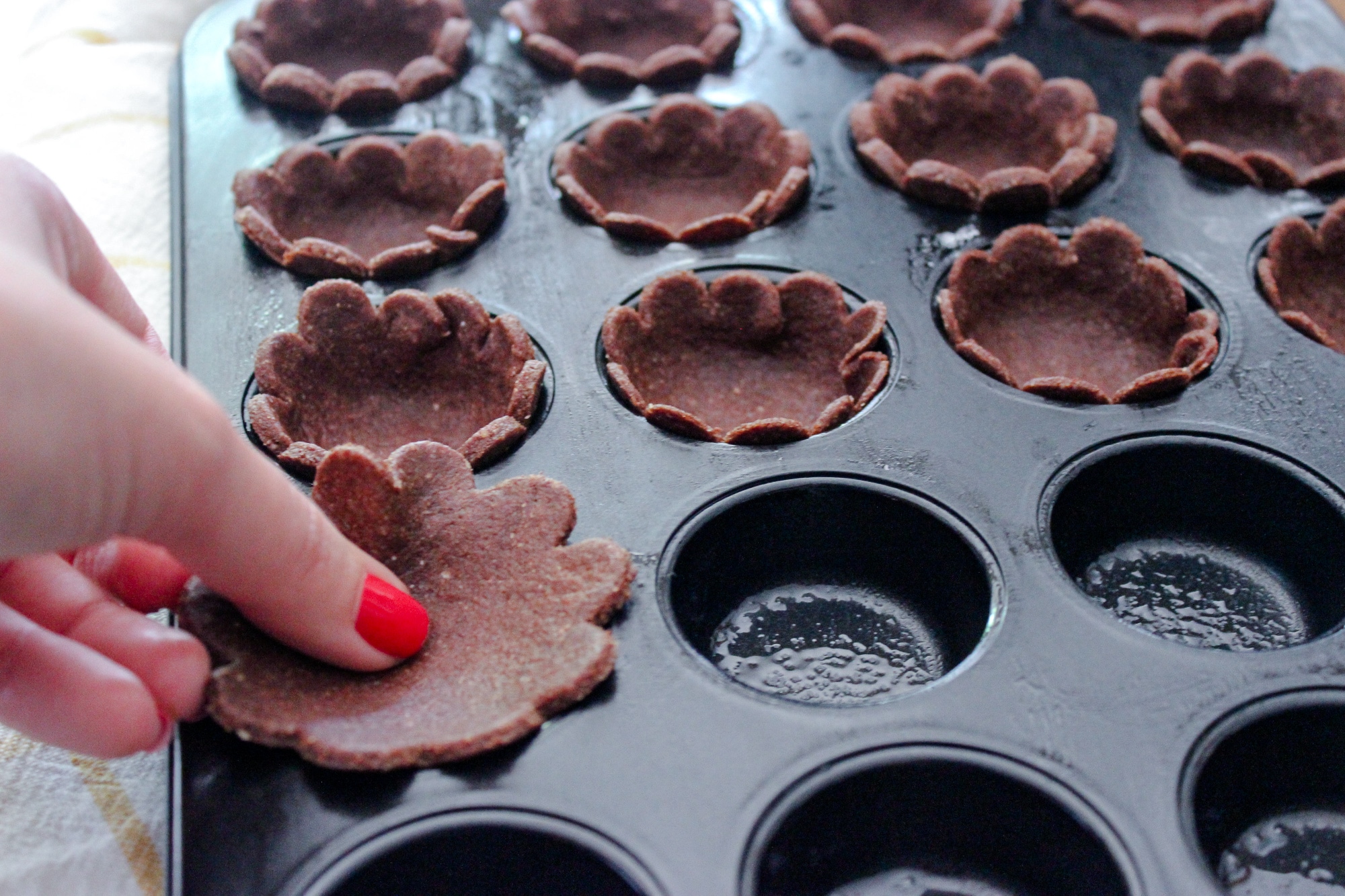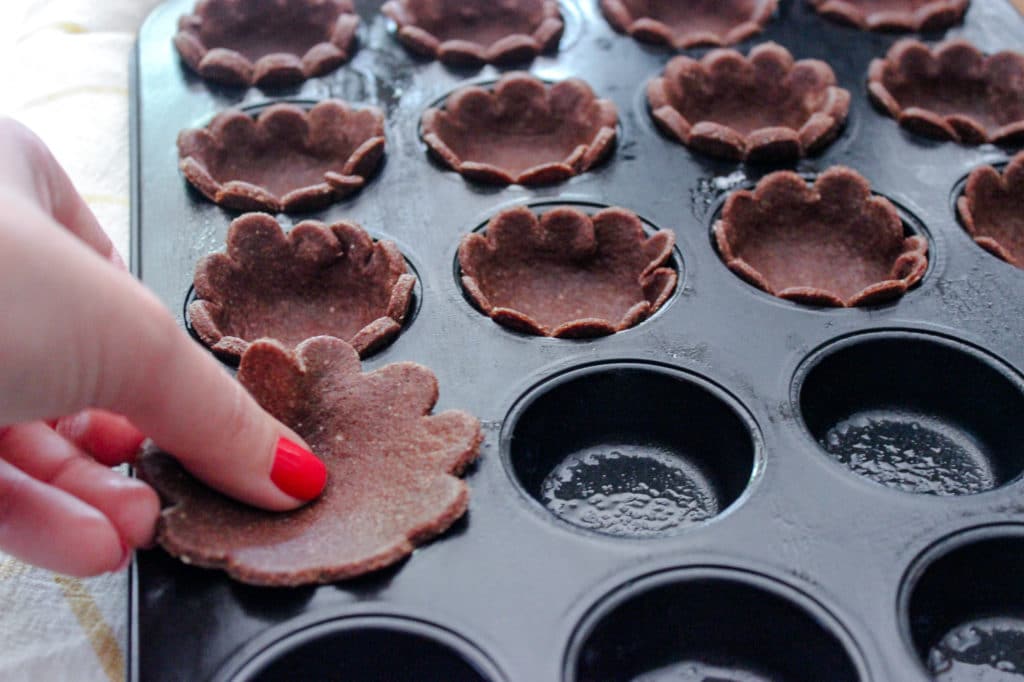 "Class" Notes:
The Pastry Shells:
This part is fairly simple if you have made my Keto Tortilla Recipe, my Low Carb Thin Crust Pizza, or these Low Carb Hot Pockets .You will need a food processor to make the dough. I find this is the best way to get all the ingredients to come together and helps bind everything easily. All the dry ingredients go in first, pulse a few times. The xanthan gum is important and MUST not be omitted. This helps keep the dough bendable and prevents it from cracking and crumbling when rolling it out. The vinegar must also be used as it works to help the xanthan gum. Luckily the cocoa powder helps prevent the taste of vinegar from being detected (in case you were worried). Roll the dough out thinly between two pieces of parchment, cut out circle and place in a greased muffin tin. The shells bake up nicely, do not stick, and should be cool before filling. By themselves they are not particularly sweet. You could add more stevia or swerve if you feel it needs it.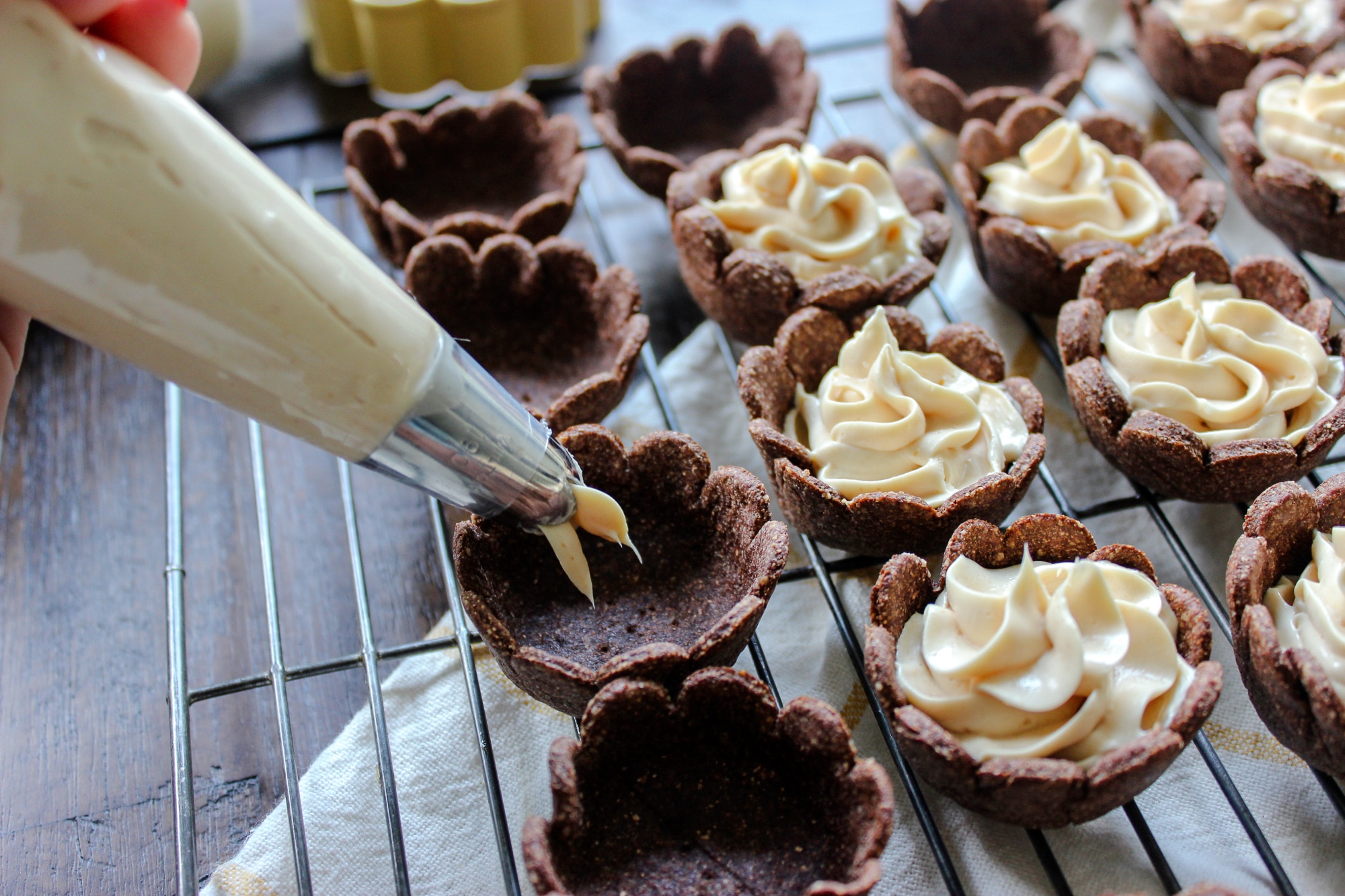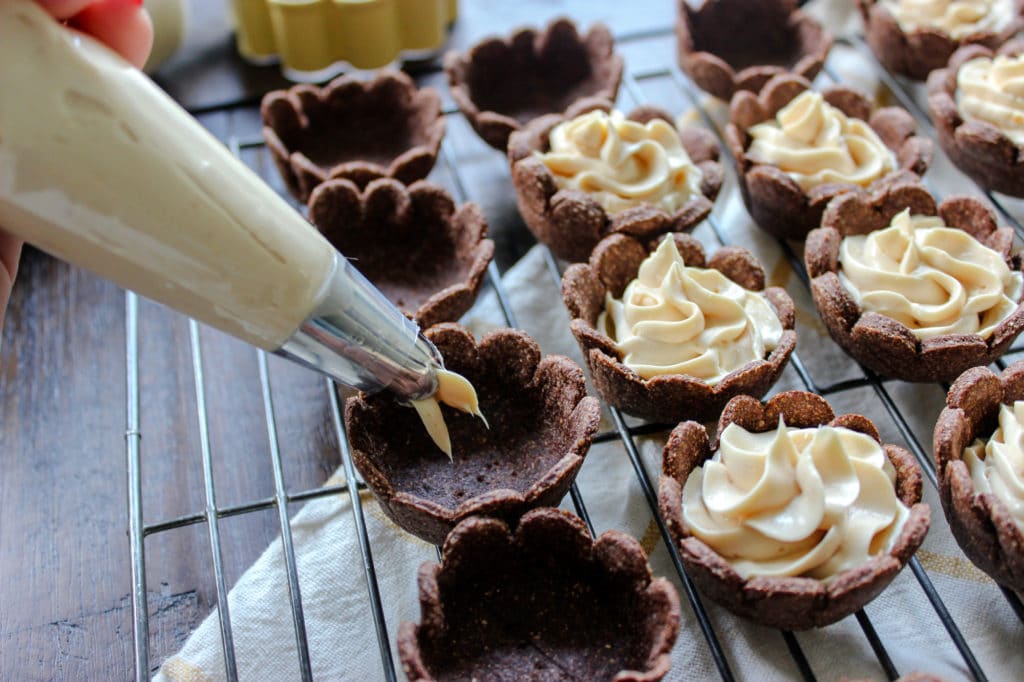 The Filling:
I chose to fill these with a peanut butter cream cheese mixture. I personally enjoy the combination of chocolate and peanut butter so I chose this for my filling. You could easily just make a whipped cream and add your favorite berries as well. Have fun and be creative! To keep the carbs as low as possible I combined cream cheese and some PB2 powder. Most grocery stores sell this. I chose this over regular nut butters because the dried powder helps create a smoother texture and prevents the filling from getting too runny. I whipped the filling together with a hand mixer and used a piping bag to fill each of the shells. I garnished each shell with dark chocolate shavings and a sprinkle of chopped peanuts!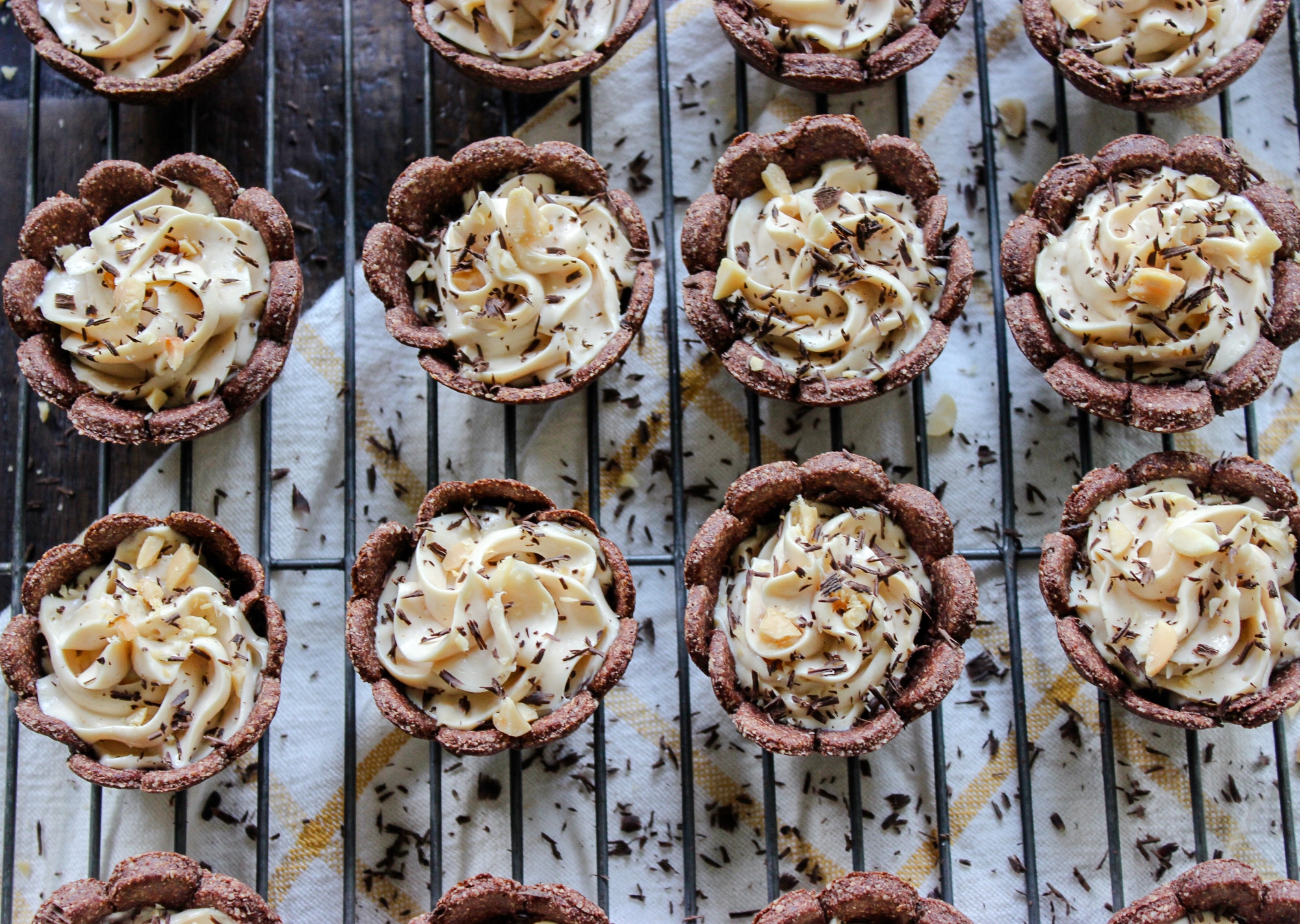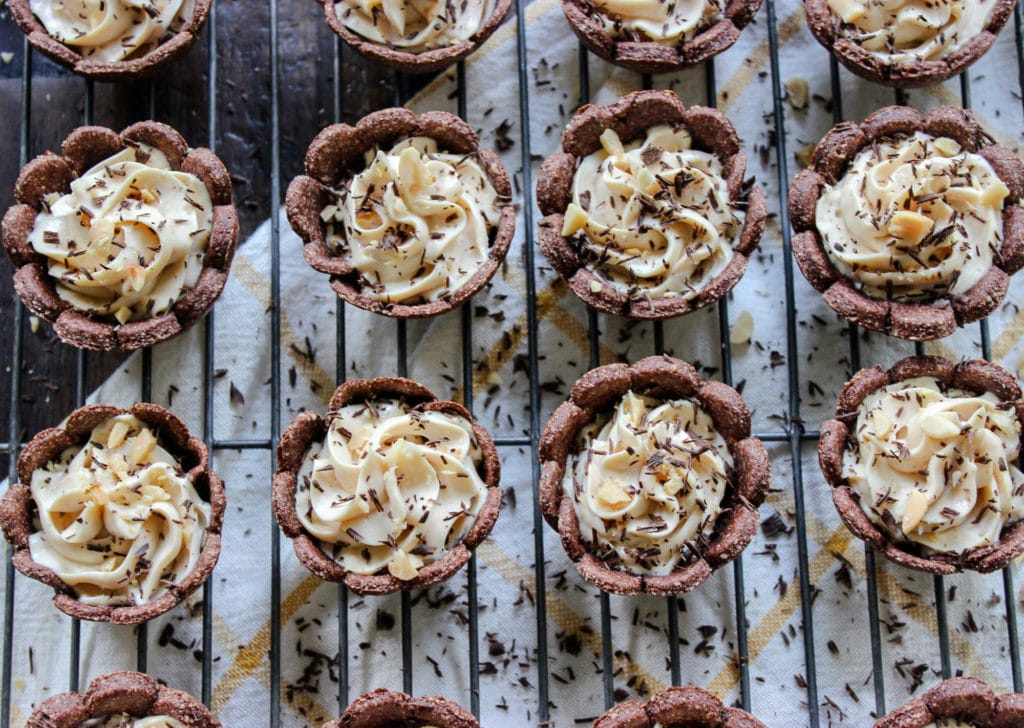 I hope you love these adorable Mini Keto Chocolate Peanut Butter Tarts as much as I did. Find the complete recipe below! If you love peanut butter and chocolate as much as I do then also check out these Keto Skillet Peanut Butter Cookies. 
Bon Appeteach,
-L
Nutritional Information- Obtained using My Fitness Pal. Please always verify with your own ingredients as brands vary.

Ingredients
1 cup Almond flour

1/4 cup Coconut Flour

1 Egg beaten + 1 Tbsp. Water

3 Tbsp. Swerve

2 Tbsp. Cocoa Powder

1 1/2 Tbsp. Vinegar

1 1/2 tsp. Xanthan Gum

8 oz. Cream Cheese

1/4 cup Swerve

2 Tbsp. PB2 Powder

Optional Garnishes: Shaved Dark Chocolate and Chopped Peanuts
Instructions
1
Preheat the oven to 425 degrees F. Grease a 24 cup mini muffin tin (I used coconut oil but non-stick spray would work well too).
2
In a food processor, combine the almond flour, coconut flour, cocoa powder, vinegar, swerve, and xanthan gum. Pulse a few times to combine everything.
3
In a bowl, beat the egg and the water. Slowly add it to the food processor while it is running. If the dough appears to be too crumbly, add 1 tsp of additional water at a time until it comes together to form a ball.
4
Remove the dough and place between to sheets of parchment. Roll it out to be 1/8th of an inch thick. Use a cookie cutter to cut out a circle that will be large enough to fill the inside of the muffin tin and fill the sides completely. If a little pops over the edge, that is fine!
5
Bake for 8-10 minutes. The shells should be hard but do not over cook. Mine popped right out of the pan and cooled on a cooling rack. They must be cool before filling.
6
In a mixing bowl, combine the 1/4 cup of swerve, the pb2 powder, and the cream cheese. Mix with a hand mixer until fluffy. Place into a piping bag (or a plastic bag) and pipe about a tablespoon of the mixture into each cup.
7
Garnish with dark chocolate shavings and chopped peanuts if you desire!