Low Carb Thai Style Veggie Wraps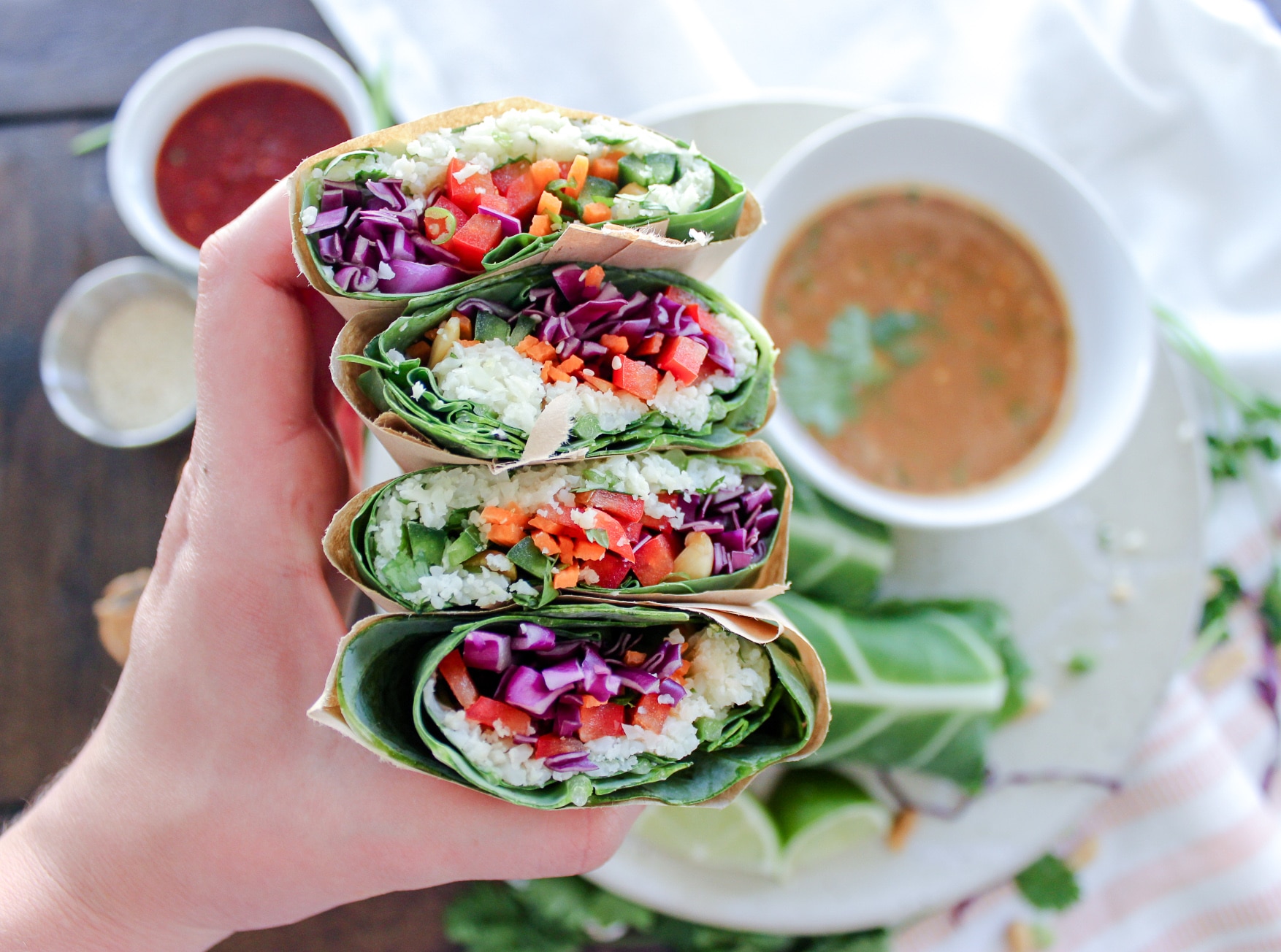 Low Carb Thai Style Veggie Wraps:
Celebrating the end of winter (FINALLY) and basking in this beautiful 80 degree day. It felt like the perfect night to leave the oven off and make a light refreshing Meatless Monday style dinner. These Low Carb Thai Style Veggie Wraps are flavorful and filling and the spicy peanut dipping sauce packs a serious punch! These Thai inspired wraps are made with cilantro and lime cauliflower rice, a handful of sliced veggies, and topped with peanuts and sesame seeds. I filmed the making of this wrap last week on my Instagram Story and I just couldn't stop eating them. I almost didn't have enough left to photograph…oops! Thankfully, I did. I got so many messages about this recipe that I decided I might as well share it sooner rather than later. So, find the full recipe for these Low Carb Thai Style Veggie Wraps at the bottom of the page. Read on for a few useful tips and tricks! 

"School" Supplies:
-Food Processor
-Cutting Board & Knife
– Large Mixing Bowl
-Rubber Spatula
-Liquid Measuring Cup & Spoons
"Class" Notes:
For The Wrap:
I wanted to pull in some fresh and bright flavors. I felt inspired from some of my favorite Thai dishes and added some sweet red peppers, a bit of spice from the jalapeno, crisp red cabbage, and some slices of julienned carrots. The cauliflower rice by itself needed a bit of "life" and flavor breathed into it. I added salt, cilantro, and some lime juice. I wanted to finish this veggie wrap off with a nice crunchy texture. So, I added a few sliced green onions and some chopped salted peanuts (you could also add almonds or cashews too). This veggie combo is great, but the real tricky part is in the wrap itself. I thought about using kale or cabbage leaves but opted not to. Instead, I chose to make this wrap with these with organic collard green leaves. They aren't to dense or waxy in texture, are large and durable enough for wrapping, and complimented the other flavors nicely.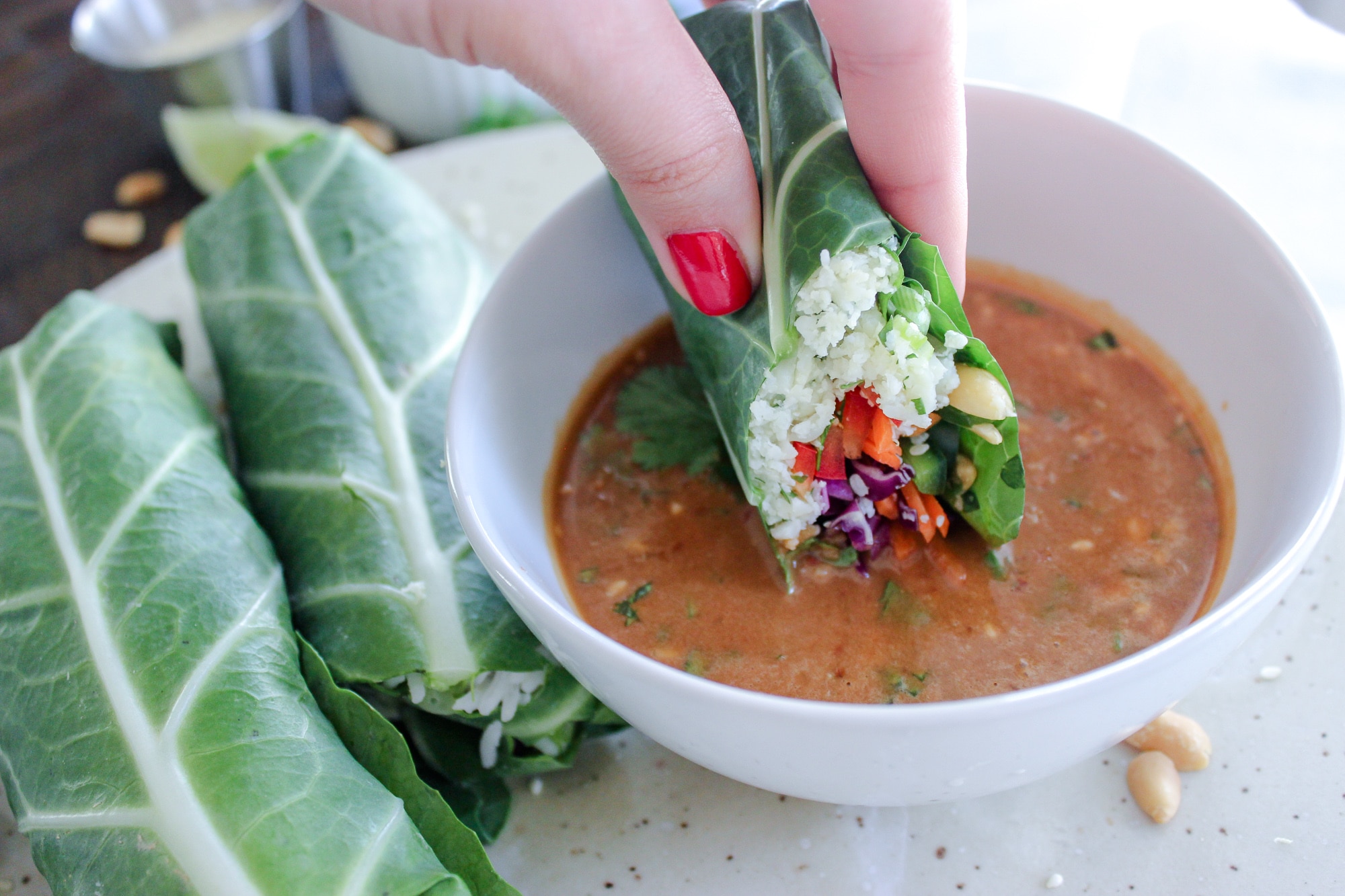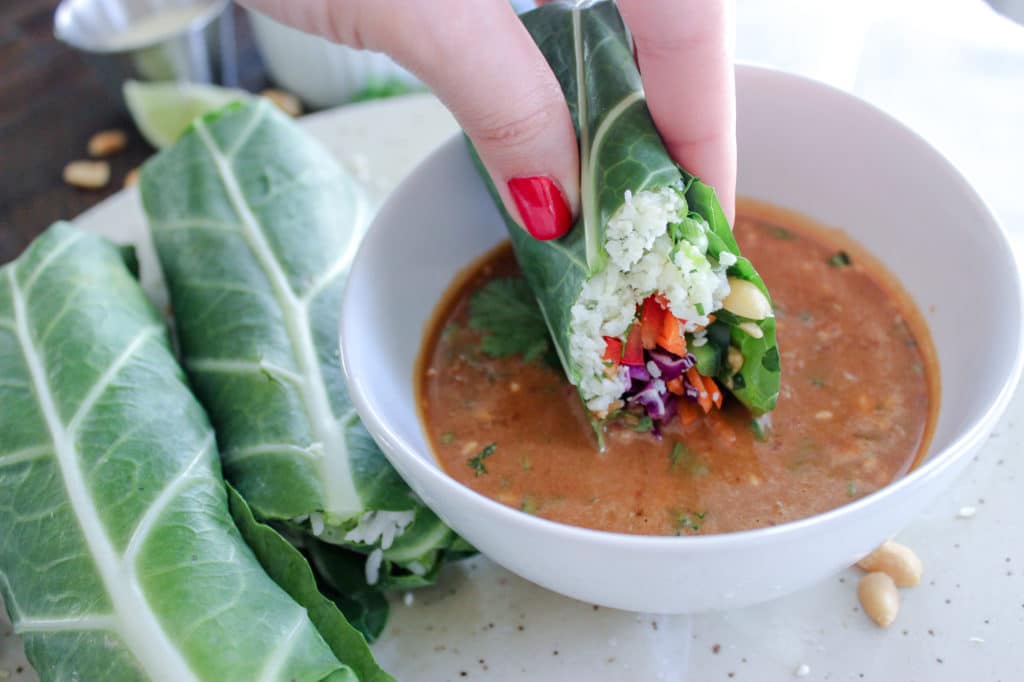 Spicy Peanut Dipping Sauce:
This sauce is a guilty pleasure. I honestly could drink it (yes it's that good and yes…I'm that weird). The star of this sauce is the chili paste. It has a nice kick of heat that compliments the peanut butter and vinegar nicely. I chose to use coconut aminos as the base of my sauce. Coconut aminos are very similar in taste to soy sauce. What I love about using the aminos is they are low carb and generally (depending on the brand) come from the protein in non-GMO soybeans. It contains no sugar and has way less additives and sodium than regular soy sauce. I purchased mine on Amazon (my local grocery store didn't carry it but I have seen it at Kroger in the past). It is a bit pricey compared to soy sauce but it has lasted me several months and I enjoy using it!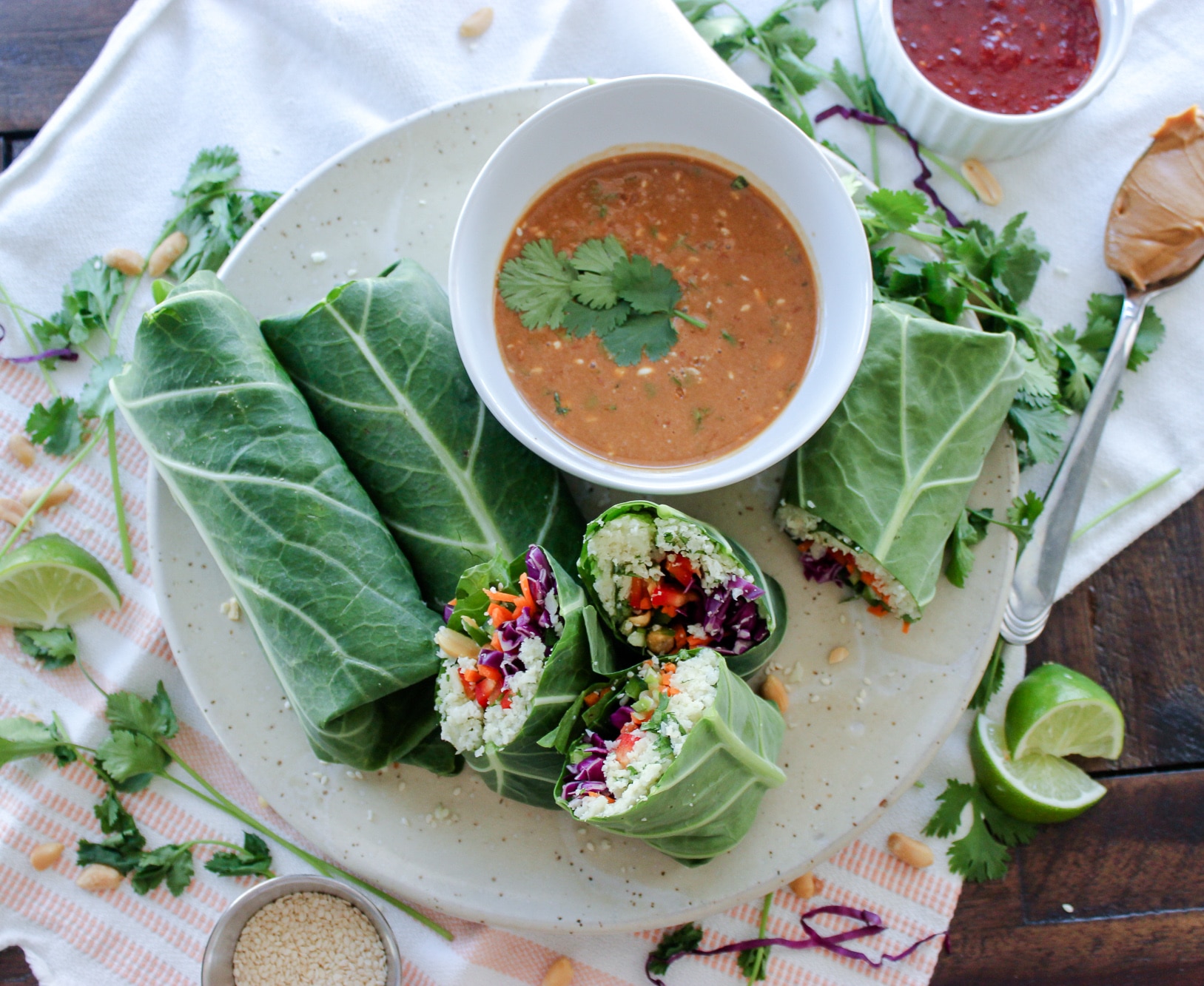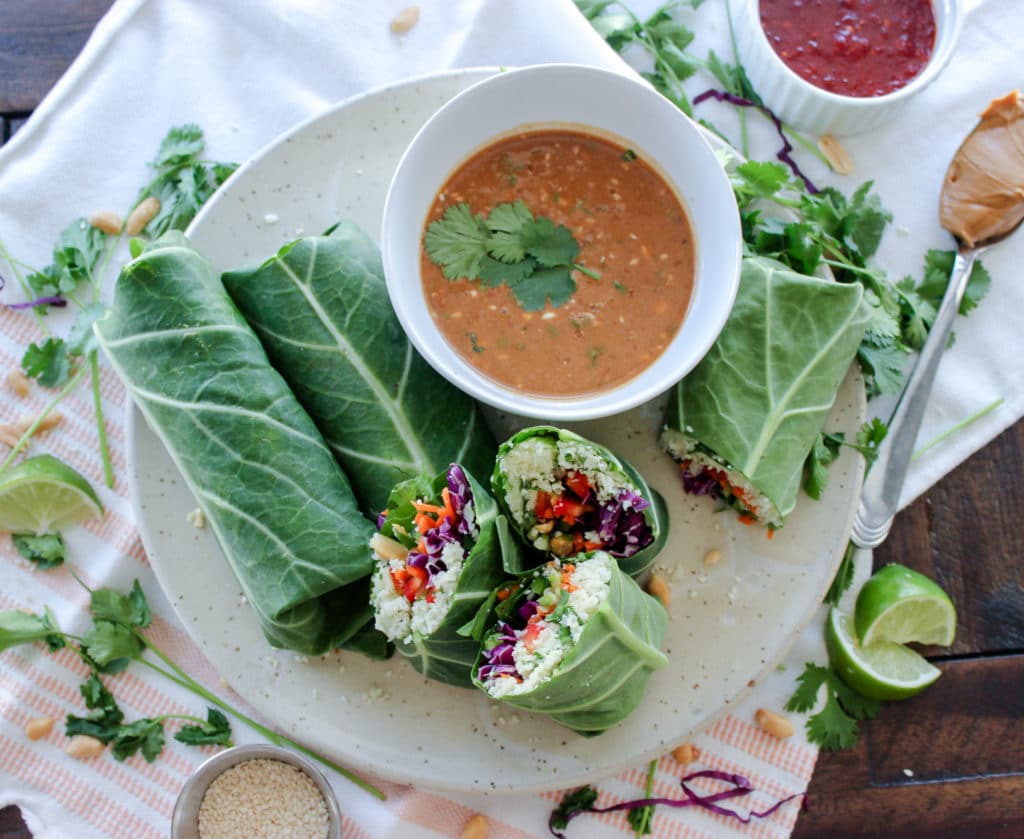 These Low Carb Thai Style Veggie Wraps are a great way to celebrate spring/summer in style. Take the heat out of the kitchen and the carbs out of your meal with this dinner winner! I love making extra (because I accidentally ate most of them while photographing) for weekday lunches as well! Check out the complete recipe below!
Bon Appeteach,
-L
Nutritional Information:
For the Wrap Only (information via My Fitness Pal)-                             For the Dipping Sauce Only (Via My Fitness Pal)-
Ingredients
6 Collard Green Leaves

3 cups Cauliflower Rice

1/2 Red Pepper, sliced into thin strips

1 Jalapeno, seeded and sliced into thin strips

1/4 cup Carrots, Julienned (matchstick size)

1/2 cup Red Cabbage, sliced and shredded

2 Green Onions, sliced

1/4 cup Cilantro, minced

1/2 Lime, juiced

1/4 cup Peanuts, diced

1/2 tsp. Fresh Ginger, minced

1 Garlic Clove, minced

1/4 cup Coconut Aminos (or soy sauce)

1/4 cup Water

1 Tbsp. Chili Paste

1 Tbsp. Organic Peanut Butter (sugar free)

1 Tbsp. Rice Wine Vinegar
Instructions
1
Begin by making your cauliflower rice. I rice mine in the food processor and then microwave it for 5 minutes. Move to a clean towel and allow to cool for a few moments. Squeeze out as much liquid as possible (do this same step with store bought cauliflower rice as well). Place the cooked cauliflower rice back into the mixing bowl.
2
Add 1/2 of a juiced lime and 1/4 cup of minced cilantro to the cauliflower rice. Season with salt to taste.
3
Rinse the collard greens off and pat dry. Remove the stalk end of the collard greens.
4
Sliced the red pepper and jalapeno into thin slices. Julienne the carrots (this looks like a matchstick). Dice the peanuts. Mince the garlic and ginger. Set the veggies aside.
5
In a food processor or blender, combine the garlic, ginger, coconut aminos, water, vinegar, peanut butter, and chili paste. Mix until it is smooth and place in a small bowl for dipping. Mine did not need salt but season to taste.
6
Place one collard green down on a cutting board or plate. Place about 1/4 cup of the cauliflower rice across the collard green leaving space on the left and right for rolling.
7
Add 4 slices of red pepper, 3-4 slices of jalapeno, about a tablespoon or so of carrots and red cabbage. Sprinkle in a few pieces of green onion and peanuts.
8
Tuck the sides in the wrap tightly. Tuck the seam under so it is laying down. Cut in half and server with the spicy peanut dipping sauce!
Notes
You can easily substitute the coconut aminos for soy sauce but you will need to adjust the nutritional information. Add chicken or shrimp to add additional protein!