Low Carb Snickerdoodle Cookies
I never met a cookie I didn't like. However there are a lot of those "low carb" fake tasting recreations of baked goods that just seem to really miss the mark for me.  I love to bake (even more than I love to cook), and since I've drastically changed my lifestyle and diet I do it a lot less. So, I get really excited when I am able to recreate a favorite baked treat like these Low Carb Snickerdoodle Cookies. They are made with almond flour and monk fruit sweetener. I prefer monk fruit to ANY other low carb sweetener and cannot rave about it enough. Everything I have made with it, actually tastes like the real deal (to me at least). I've even foodled my non-keto friends and family too. If you are not using a low carb sweetener but want avoid refined sugars, you can try and use a  honey or maple syrup too! Find the full recipe for Low Carb Snickerdoodle Cookies and read on for the tips and tricks of making the perfect cookie!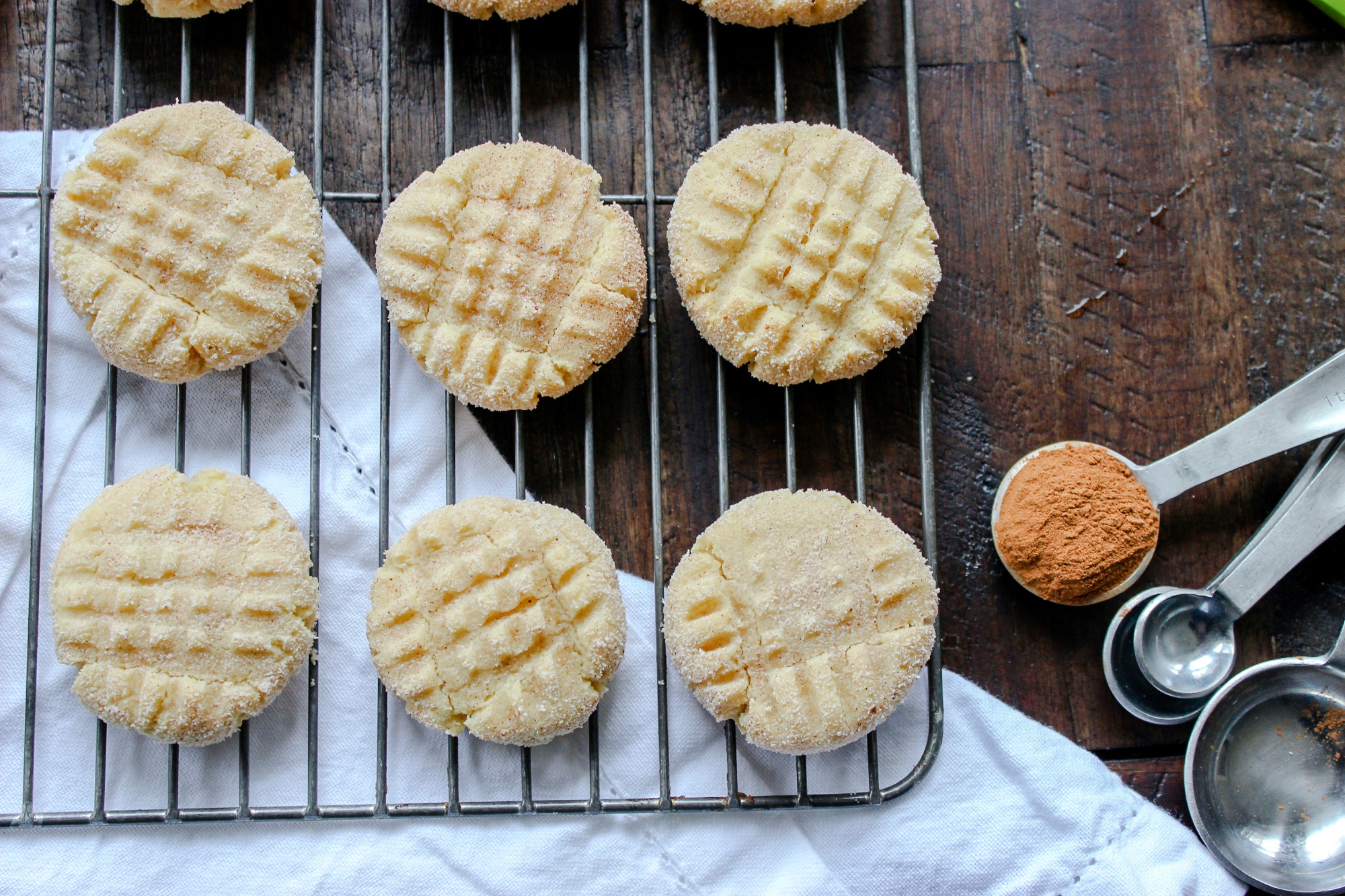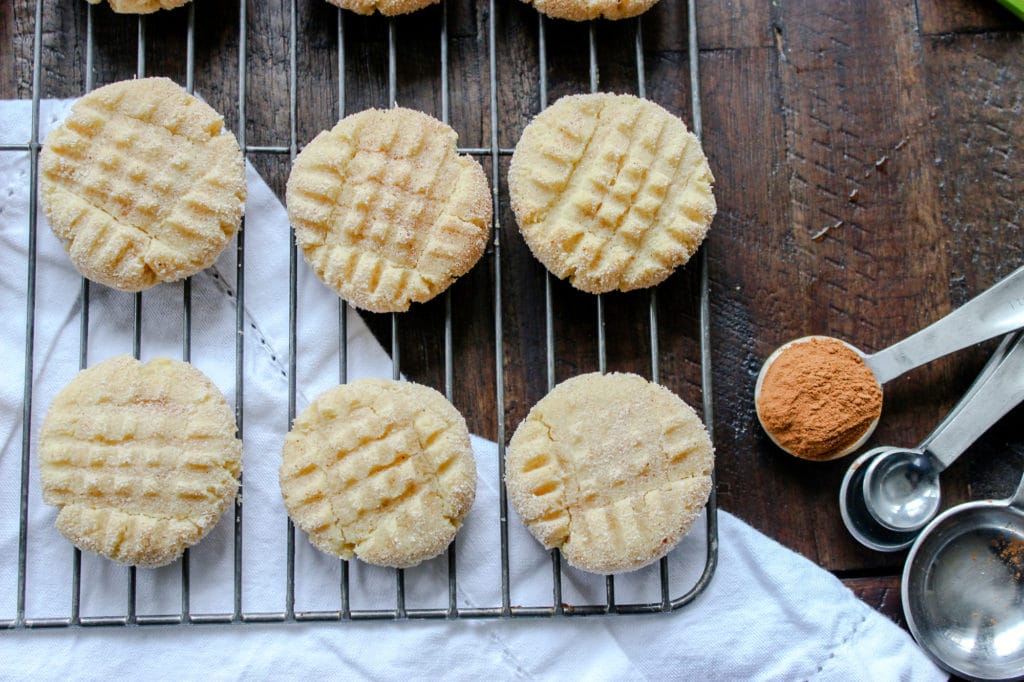 "School" Supplies:
Measuring Cups/ Spoons
Cookie Scoop or Spoon
Hand Mixer or Stand Mixer
Small Mixing Bowl
"Class" Notes:
Cookie Dough 101:
The dough is simple and comes together quickly. Start by adding your softened (not melted) butter to your monk fruit (or other sweetener you choose to use). Blend until smooth and the mixture looks whipped and creamy. This is always an important stage in the baking process that many people might overlook. During this stage, the butter is whipped to break down the "sugar" so it is easily incorporated into the baked good as well as, adds air and volume into whatever dough you're creating. Next, add in the vanilla, egg, and a bit of cinnamon. In a separate bowl combine the dry ingredients. I like adding a tiny bit of coconut flour to a lot of my gluten free baked goods. Almond flour can be extremely dense and the coconut flour is a nice way to lighten up the dough. If you don't have any coconut flour on hand, just use more almond flour instead. Finish the dough off by combining the wet and dry ingredients together and then they are ready for rolling!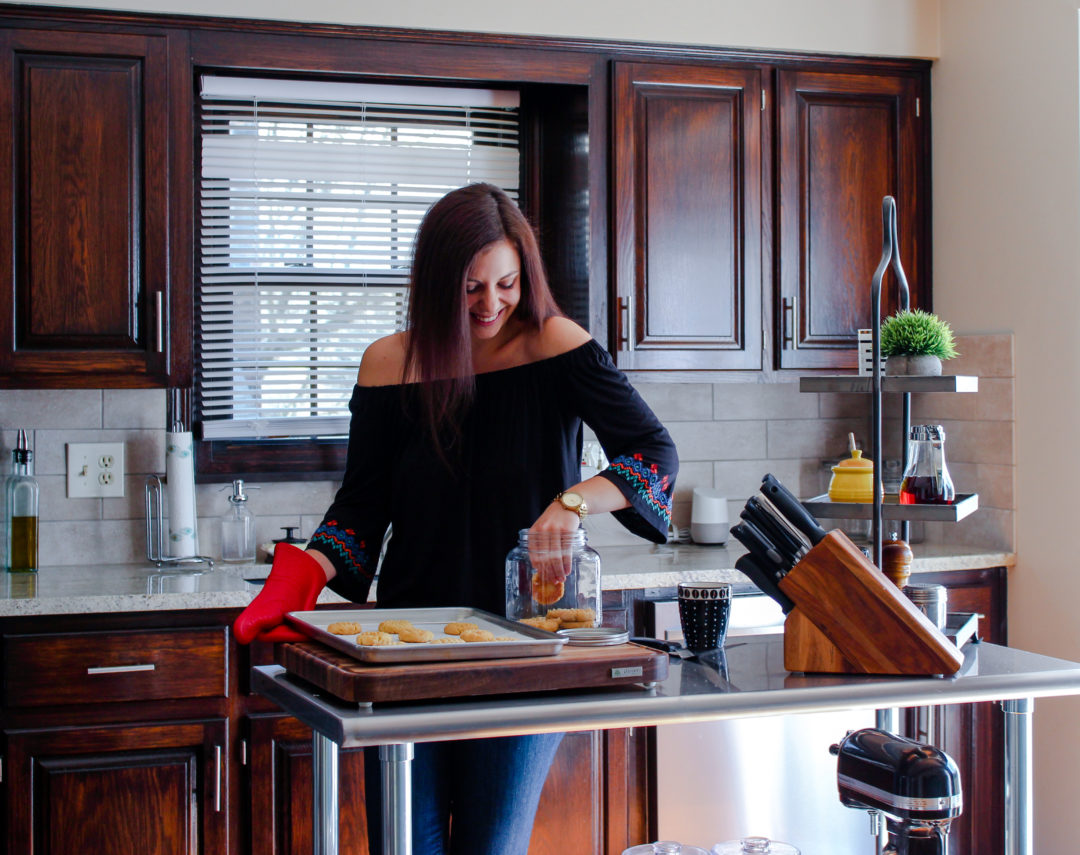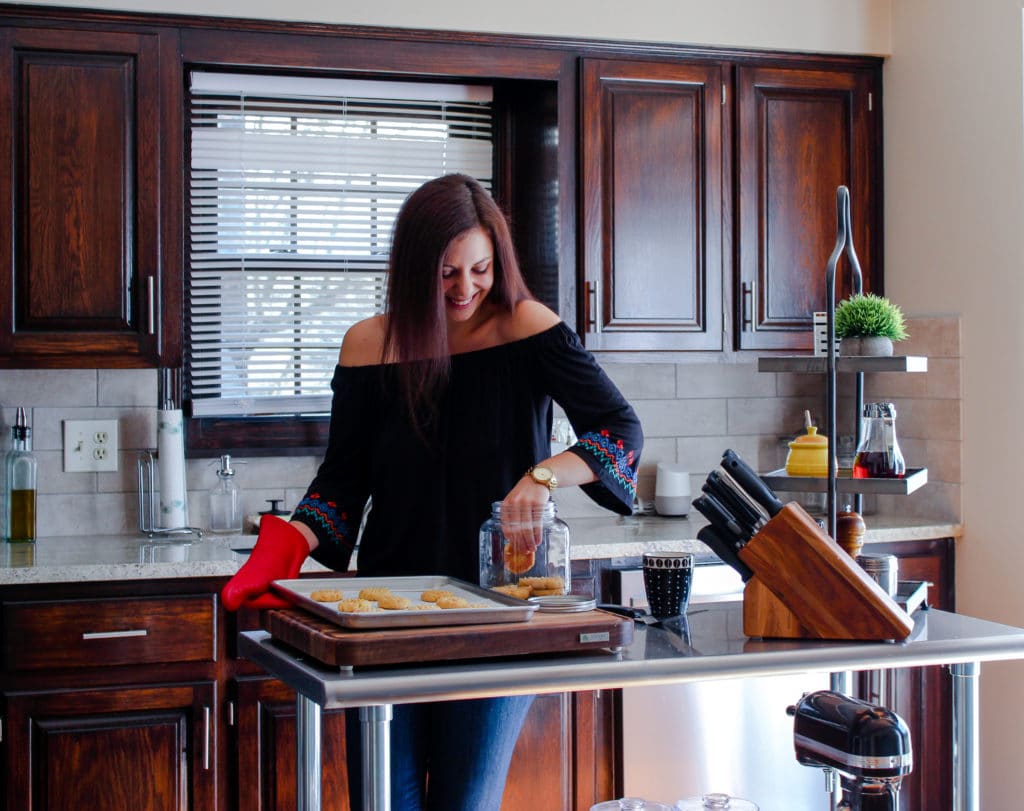 Baking Tips:
The key to making this similar to a real Snickerdoodle is rolling it in a cinnamon/sugar (and a little nutmeg) mixture before baking. A few things I have learned when testing this recipe is they don't spread out very much in the oven like normal cookies, because they are made with almond and coconut flour. I like to use a fork to create the pretty criss cross marks (see picture below) to help have a nice shape that bakes up nice and  even. They come out a little crispy around the edges and are delicious when warm. I stored them in a container for a few days and they will soften up a bit as the monk fruit sweetener won't caramelize like regular sugar. I personally don't mind this and think they go great with a delicious cup of coffee or even a nice night cap!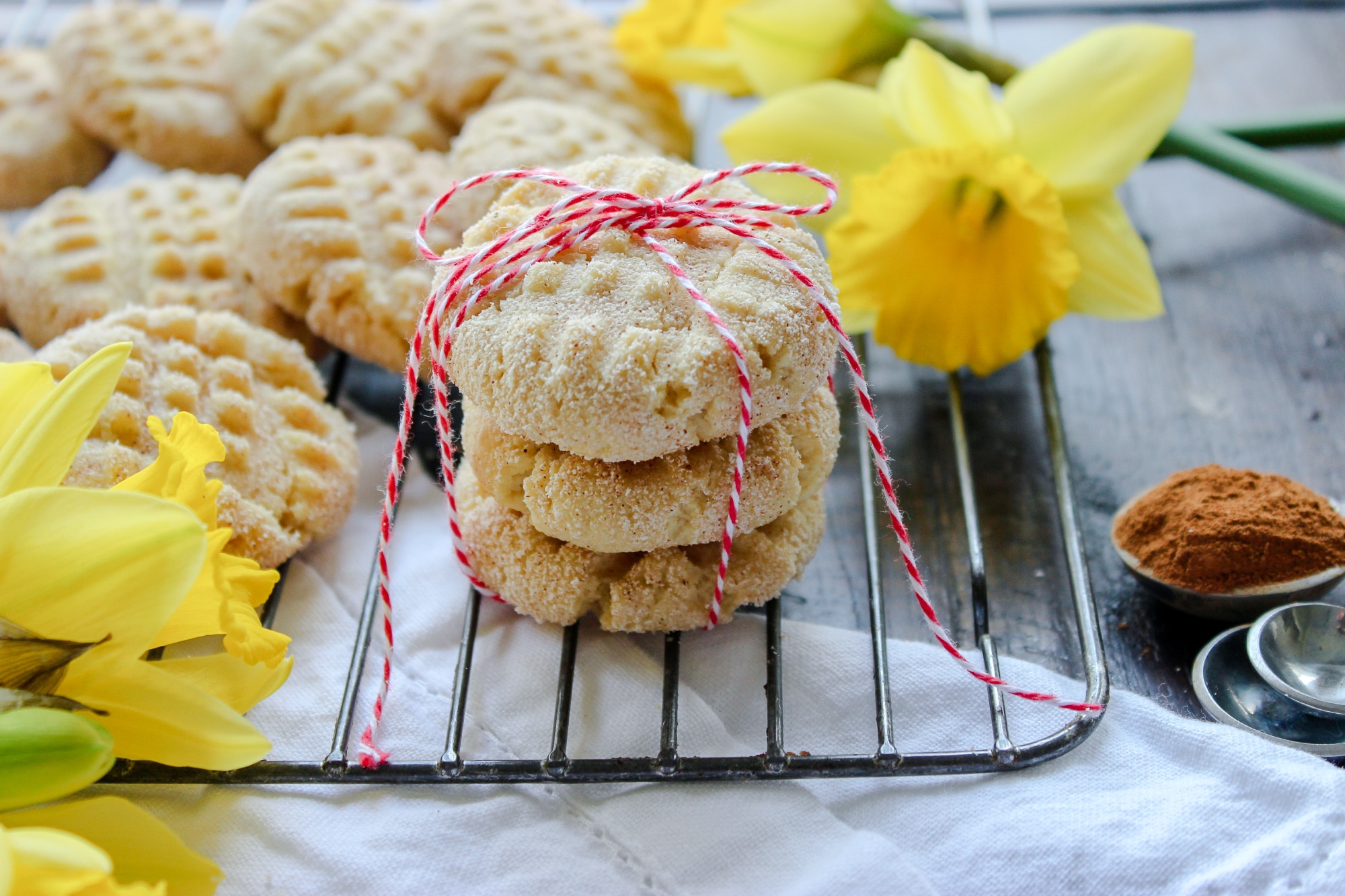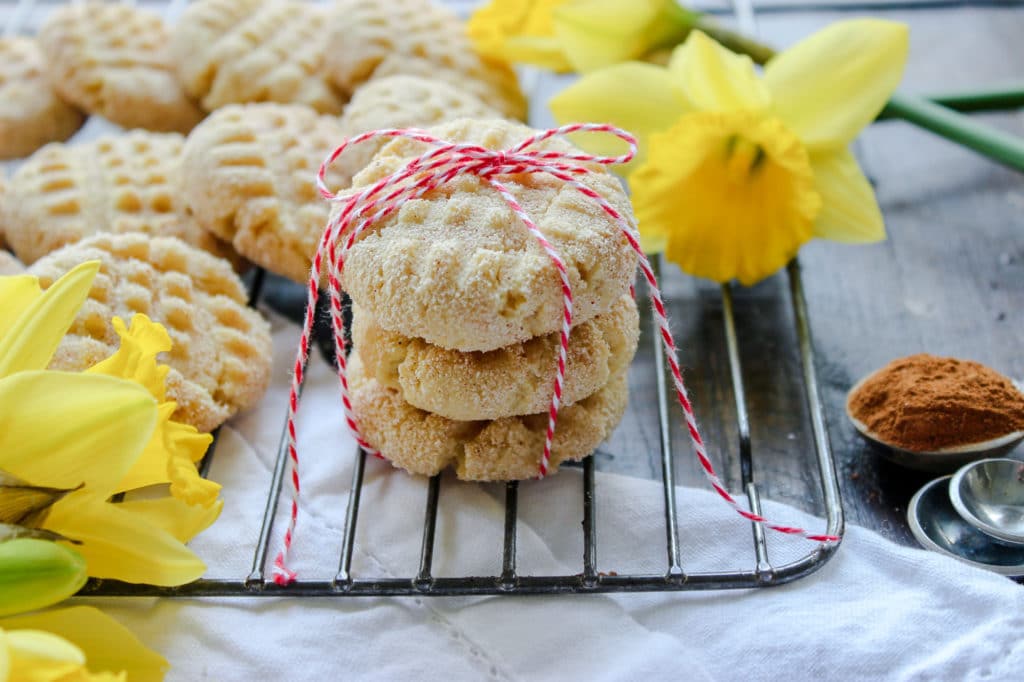 I hope you enjoy adding these Low Carb Snickerdoodle Cookies to your baking arsenal! If you are looking for additional keto or low carb (and gluten free friendly) cookies, check out these easy Keto Skillet Peanut Butter Cookies or this insanely popular Keto Sugar Cookie Fruit Pizza!
Bon Appeteach,
-L
Nutritional Information:
Obtained using My Fitness Pal. I am not nor do I claim to be a nutritionist, so it is important to always verify the nutritional information as brands vary. I work hard to always provide the most accurate information as possible in hopes of making this easier for you, my readers!

Bon Appeteach is a participant in the Amazon Services LLC Associates Program, an affiliate advertising program designed to provide a means for sites to earn advertising fees by advertising and linking to amazon.com. I only share products that I use and stand behind personally.
Ingredients
1/2 cup Butter, softened

1 cup Monk Fruit Sweetener (or other low carb sweetener)

1 Tbsp. Vanilla

2 Eggs

2 tsp. Cinnamon (divided)

1/2 tsp. Nutmeg

1/2 tsp. Salt

2 cups Almond Flour

1/2 cup Coconut Flour

2 tsp. Baking Powder

*Optional* Extra Monk Fruit for rolling (about 1/4 cup or so)
Instructions
1
Preheat the oven to 350 degrees F. Prepare a baking sheet with parchment paper.
2
In a mixing bowl, beat the softened butter and the low carb sweetener (monk fruit) together. Add the vanilla and two eggs. Then add 1 tsp. of cinnamon.
3
In a separate bowl, combine the coconut flour, almond flour, salt, and the baking powder. Mix with a whisk then add to the wet ingredients.
4
In a bowl, add (about 1/4 cup) of Monk Fruit and the additional 1 tsp. of cinnamon and the nutmeg. Mix to combine.
5
Using a small spoon, scoop out a small amount of the dough and roll into a ball. Roll each ball into the cinnamon sugar mixture.
6
Place each ball spaced out about 1 1/2" apart on the baking sheet. Use a fork and make a crisscross patterns over the top to flatten them out before baking. This is important as they don't spread out much.
7
Bake for about 10 minutes or so. They save well in an airtight container and do get softer the next day after baking. Enjoy!