Low Carb Everything Bagel Hot Pockets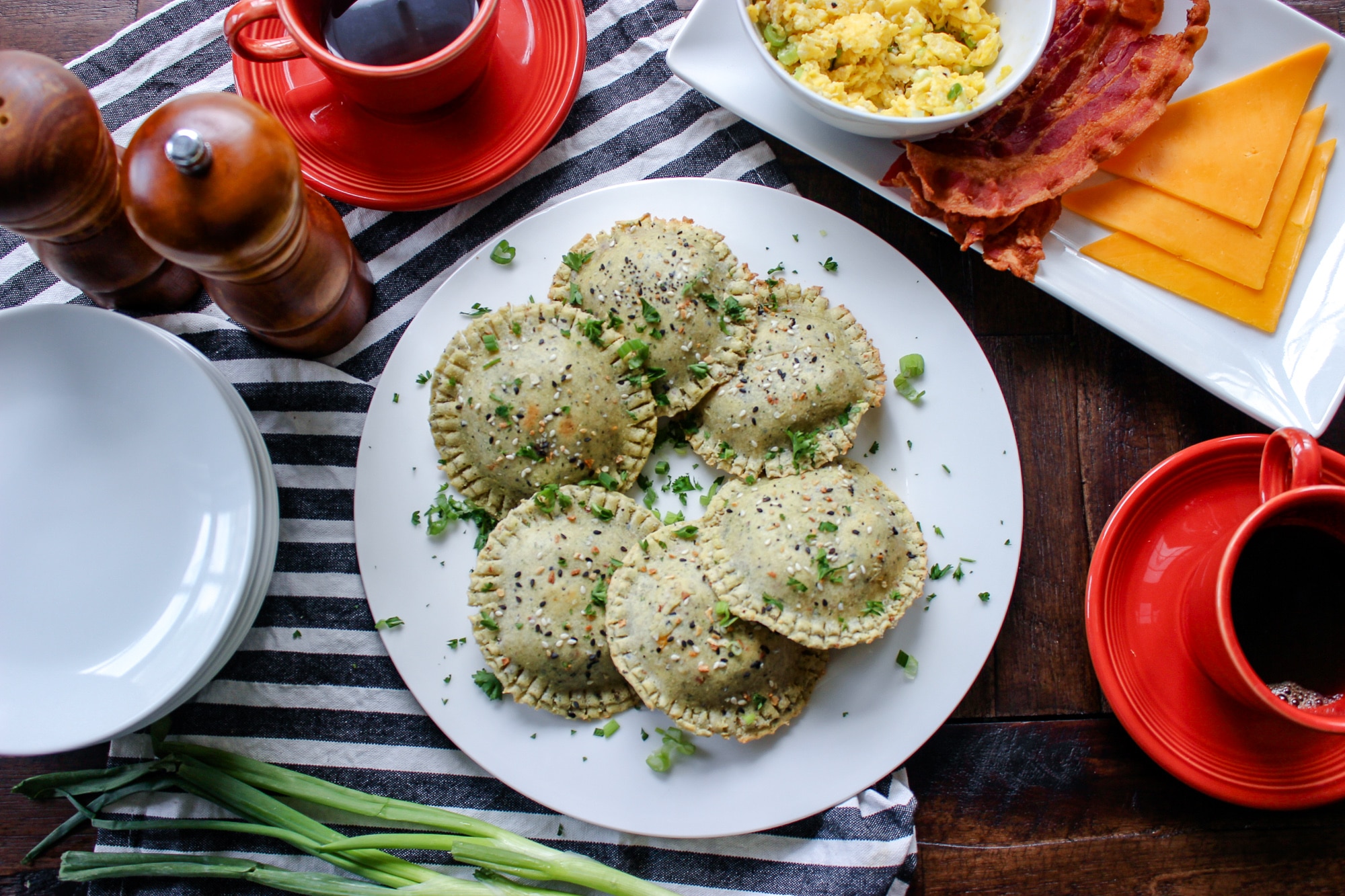 Low Carb Everything Bagel Hot Pockets:
Sometimes, all I want is a good breakfast sandwich ya know? Just something easy to eat with all my favorite breakfast foods (eggs, cheese, bacon). That's why I'm currently doing my recipe developing happy dance over here (you can't see me…probably a good thing). These Low Carb Everything Bagel Hot Pockets are a meal prep game changer. They are only 2 net carbs, are fairly easy to make, and reheat just as well. I've been snacking on these all week and can easily call it an addiction by now. Switch up your fillings for something classic and savory like pizza or chicken. The possibilities are endless! Find the full recipe for these Low Carb Breakfast Hot Pockets below and read on for a few tips and tricks!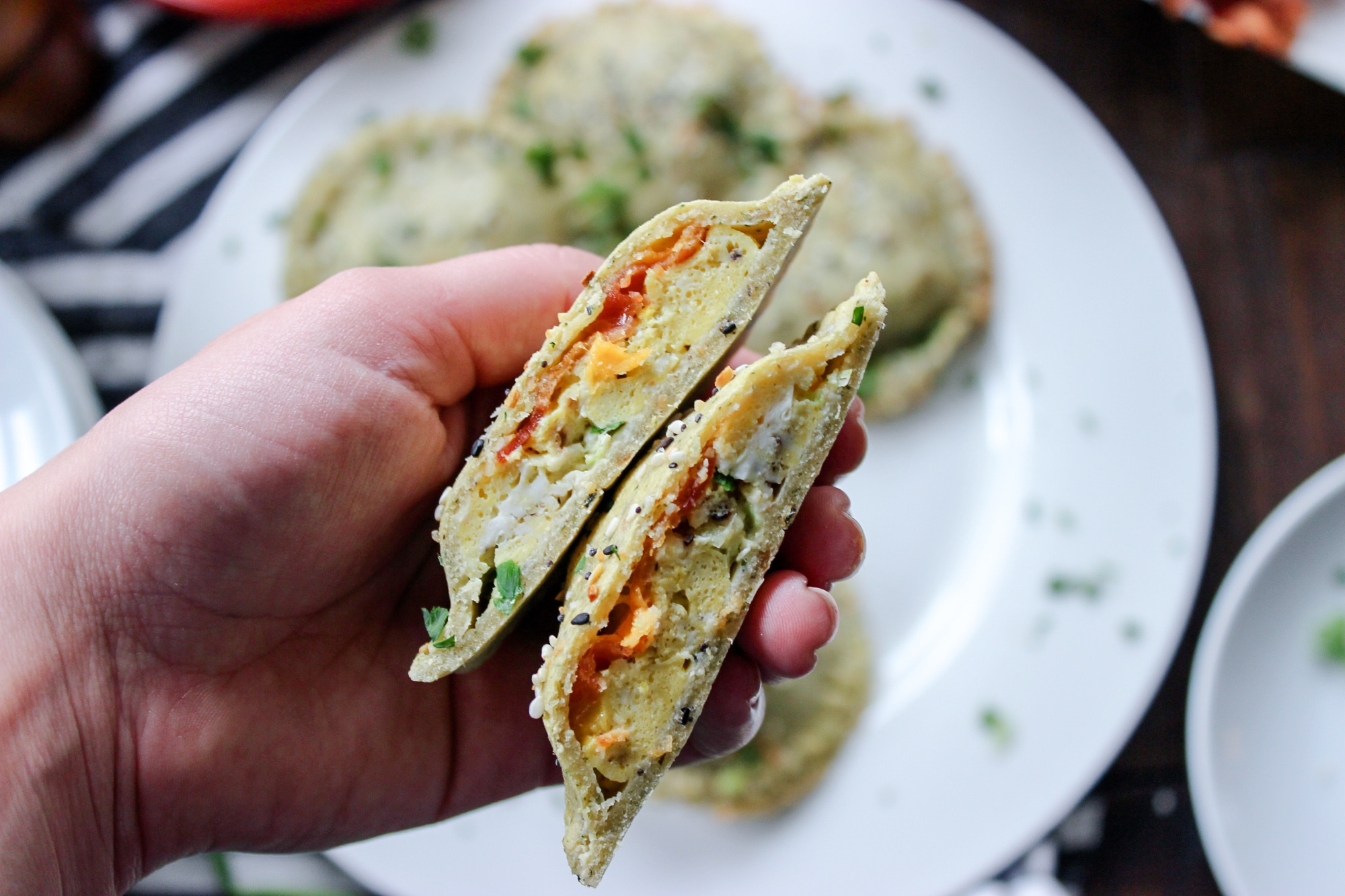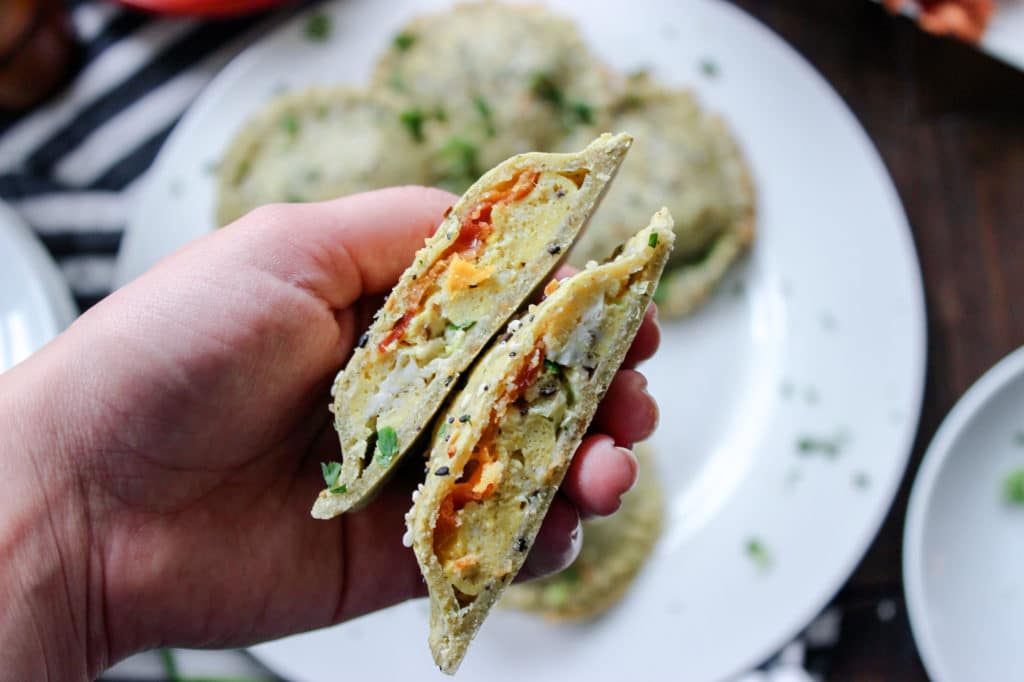 "School" Supplies:
-Food Processor
-Cookie Cutter or Glass
-Parchment Papper
-Rolling Pin
-Baking Sheet
-Frying Pan
-Cutting Board & Knife
"Class" Notes:
Making The Dough:
If you are familiar with my 1 net carb Keto Tortilla Recipe, then this recipe should seem fairly easy and straightforward to you. I took the base of this dough recipe and with a few adjustments in baking and preparation I was able to create these perfect Low Carb Everything Bagel Hot Pockets. My favorite part is how easily the dough comes together with the use of a food processor (I have not tried a blender so results may vary if you use this). First combine the dry ingredients (almond flour, coconut flour, xanthan gum, and the everything bagel seasoning). Mix in the apple cider vinegar and pulse till combined. Add the egg and water to the food processor while it is mixing. The dough should come together easily and form a ball. Remove the dough and sandwich it between two sheets of parchment paper. Roll the dough out to 1/8″ thick. Use a round 3″ cookie cutter to cut circles out of the dough (you can use a glass cup as a cutter as well). Reroll the dough scraps as needed till all the circles are cut. You should be able to get 12 total.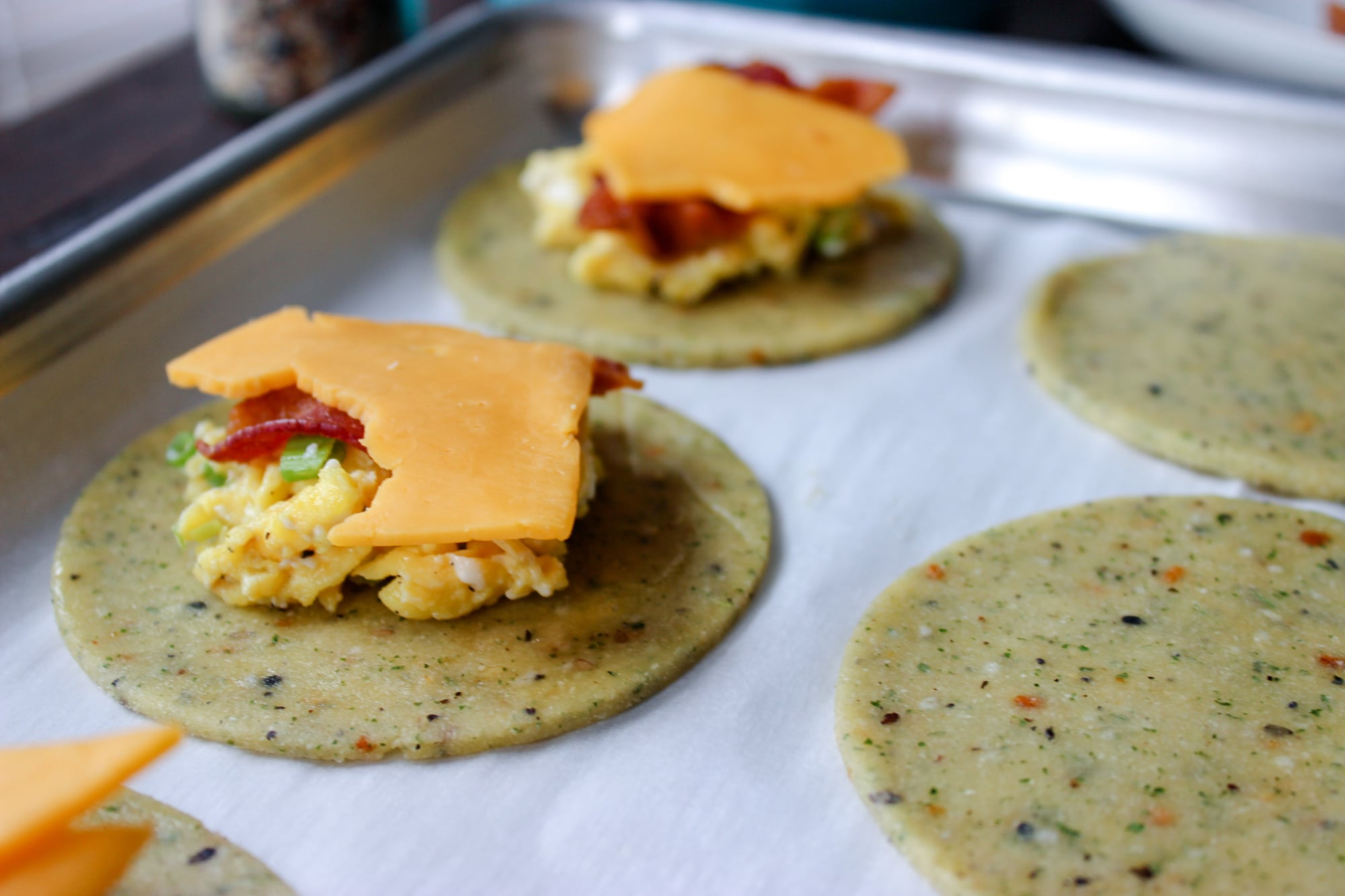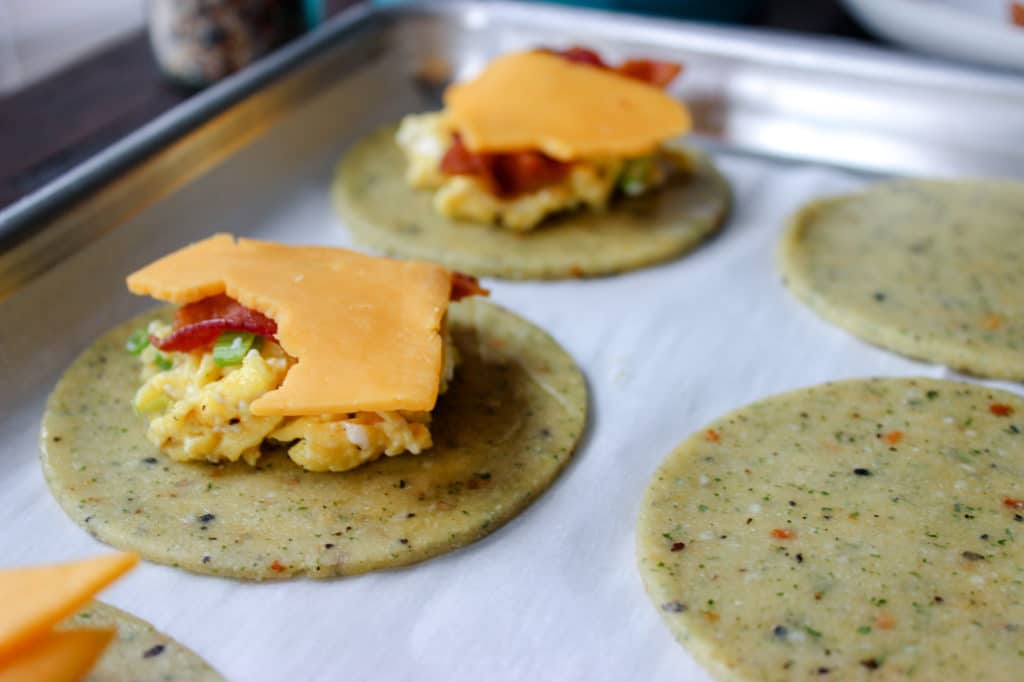 Assembling The Hot Pockets:
This recipe will make 6 hot pockets. You will use two pieces of dough to form each one (one for the top and one for the bottom). Add 1 tbsp. of scrambled egg, 1 tbsp. of bacon, and 1 tbsp. of cheese to the inside of one of your cut out pieces of dough. Use your finger and spread the egg wash in a thin layer around the edge of the circle. Place another piece of dough right on to the top to seal and cover the filling by pressing down along the edges. Use a fork and press down to seal the two pieces of dough together. The key to this is to not over fill the dough. It will not stretch like a bread dough (no gluten here) so it would rip and tear. Place the 6 sealed Low Carb Everything Bagel Hot Pockets onto a parchment paper covered baking pan. Brush the tops with the remaining egg wash and sprinkle additional everything bagel seasoning over the tops if desired. Bake for 10 minutes at 425 degrees F.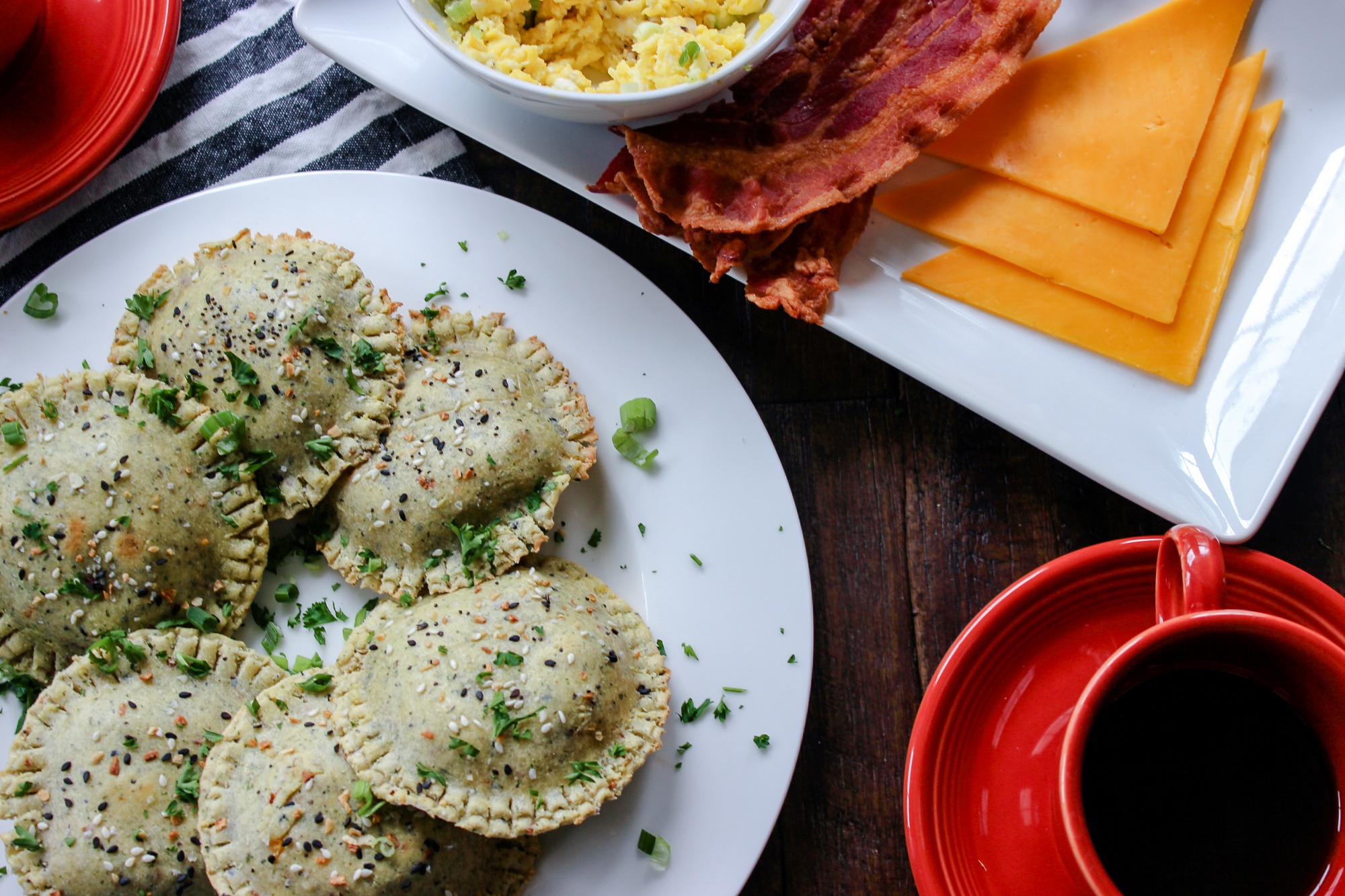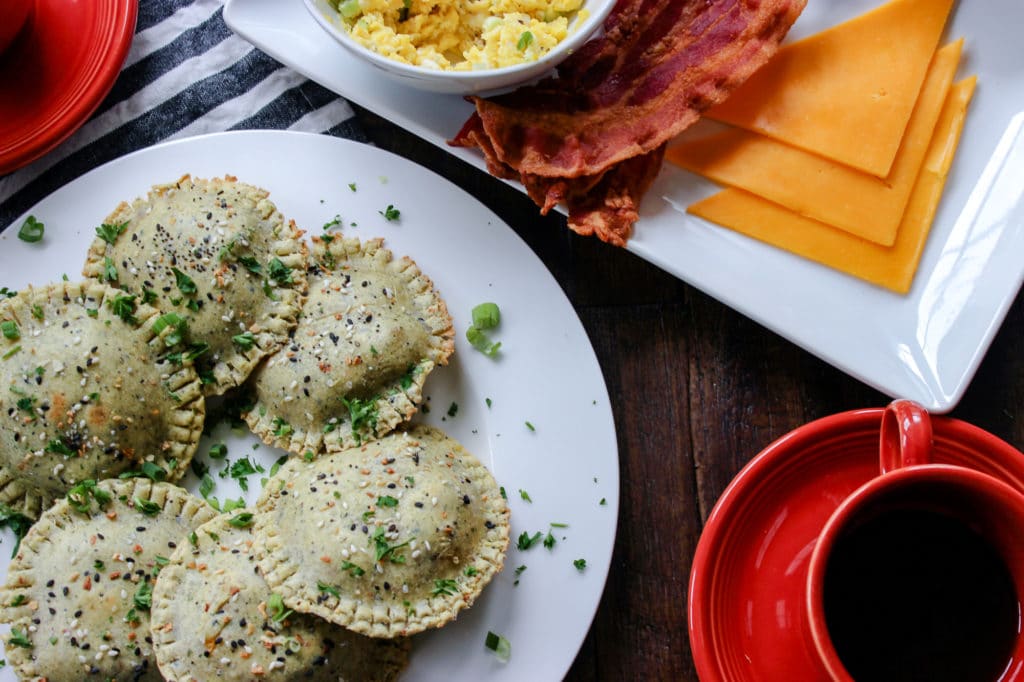 These Low Carb Everything Bagel Hot Pockets taste perfect right out of the oven but also reheat nicely. They are small enough to pop into your toaster or I just place mine on my oven rack and reheat until crispy! They make the perfect meal prep and can also be frozen for a later date. I hope you love this Low Carb Everything Bagel Hot Pockets recipe as much as I do. Find the complete recipe below!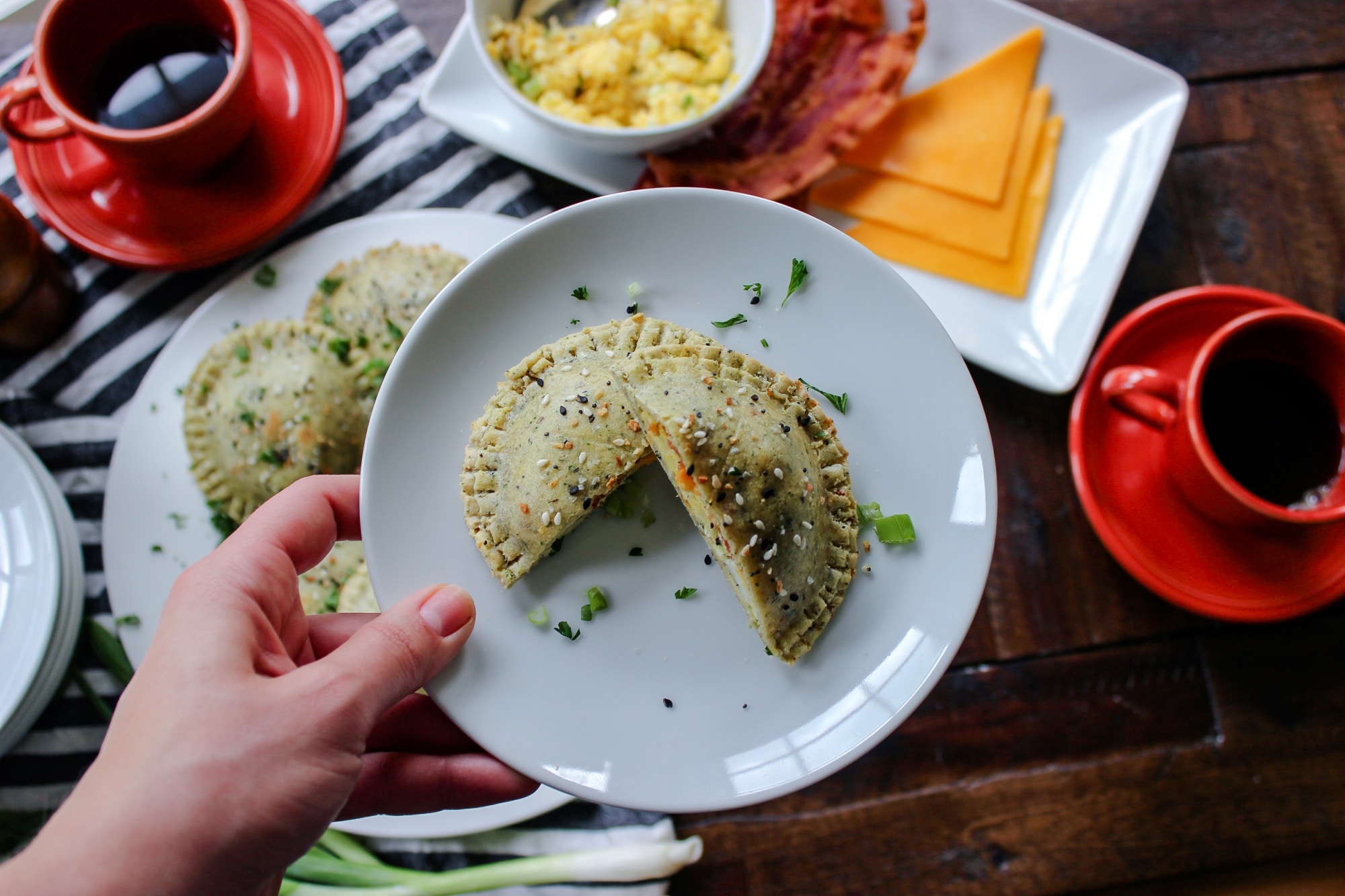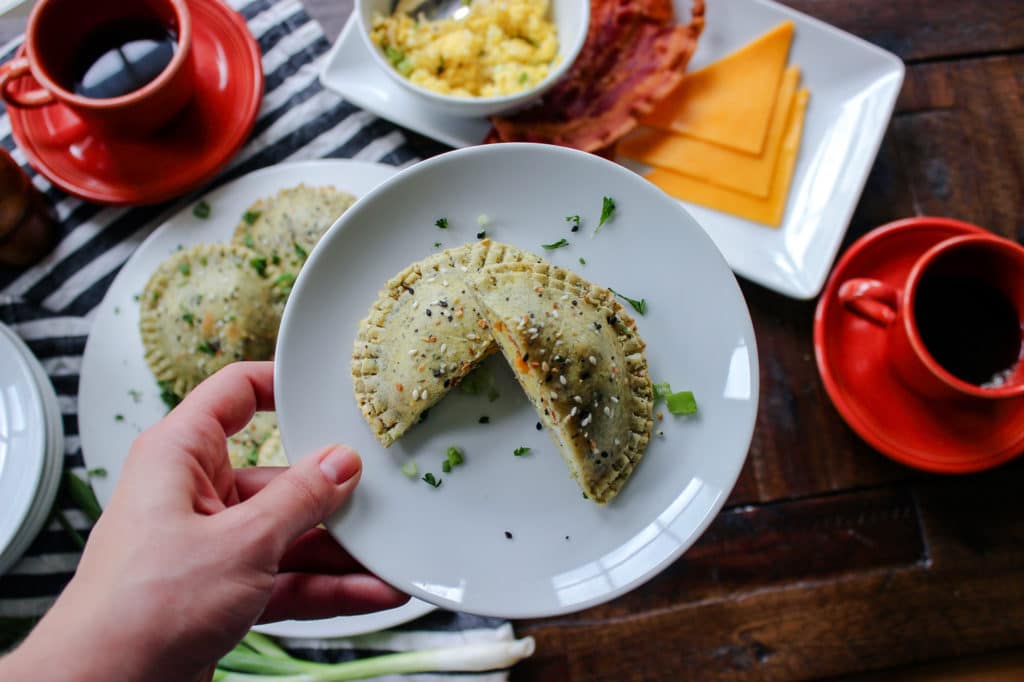 Looking for some other keto/ low carb friendly breakfast options!? Check out my delicious Cauliflower "Hash Brown" Breakfast Casserole or these delicious Chorizo & Egg Stuffed Peppers. Both are great for feeding a crowd and having extras for those busy weekday mornings!
Bon Appeteach,
-L
Nutritional Information:
Information obtained from My Fitness Pal and will vary depending on the brands you use.
Please be sure to verify on your own for accuracy.

Ingredients
1 cup Almond Flour

1/4 cup Coconut Flour

1 1/2 tsp. Xanthan Gum (I purchased mine from Target)

1 Tbsp. Everything Bagel Seasoning (plus extra for sprinkling on top of the hot pockets)

1 1/2 Tbsp. Apple Cider Vinegar

1 Egg, beaten + 1 Tbsp. of Water

Filling- 2 Eggs, 2 Strips Bacon, 1 slice Cheddar Cheese

1 Additional Egg, for egg wash
Instructions
1
In a food processor, combine the first five ingredients and pulse a few times until combined.
2
Preheat the oven to 425 degrees F. Cover a baking sheet with parchment paper.
3
In a liquid measuring cup, combine the egg and water. Beat with a fork.
4
Turn the food processor on to low and slowly pour the egg/water mixture into the processor. You may need to turn it up to high and pulse a few times so it comes together into one mixture.
5
Dump the dough onto a piece of parchment paper. Pack it together into one ball.
6
Place another piece of parchment paper over the top of the dough and roll into one large thin sheet of dough about 1/8" thick.
7
Use a 3" cookie cutter to cut out 12 circles. To do this you will have to reroll the scrap dough a few times.
8
Place 1 tbsp. of egg, bacon, and cheese into the center of 6 pieces of dough. Use the egg as and with your finger (this works best) place a small amount around the edge of the dough. Take the second piece of dough and place it over each of the circles and gently press down. Do not over stuff the hot pockets because the dough will not stretch. To seal the dough completely, use a fork to press down around the edges sealing the two pieces of dough together.
9
Brush with egg wash and add additional everything bagel seasonings over the top if desired. Bake for 10 minutes or until the edges are browned and the dough is crispy.
Notes
Freeze the hot pockets and reheat in the toaster or oven.