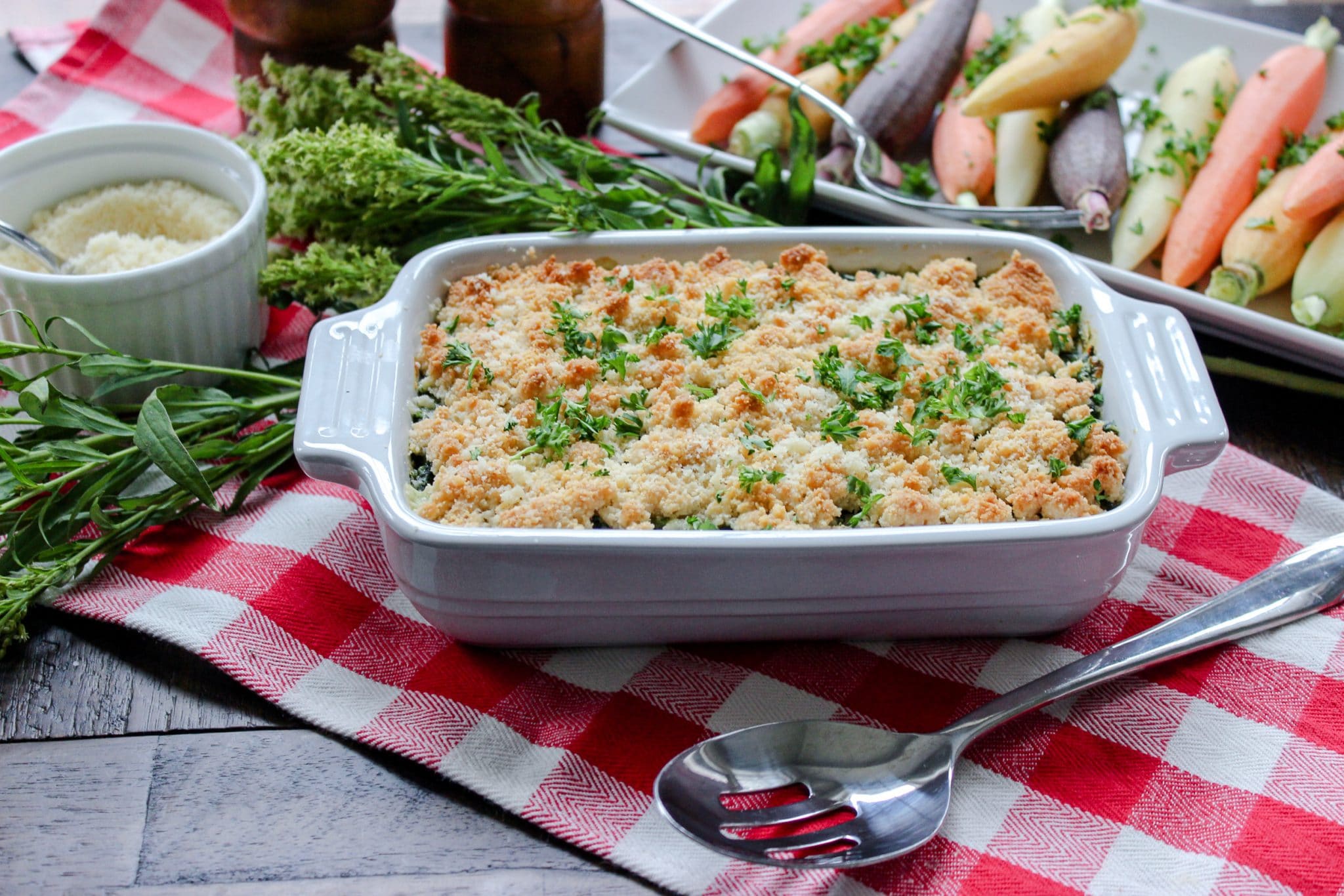 I am going to be honest with you, I am a bit of a side-dish-aholic. Side dishes are my favorite part of a meal 90% of the time. Especially during the holidays.
This Low Carb Creamed Spinach is the perfect side to so many dinners that you are going to want to keep this recipe on a weekly repeat. It's simple to throw together, looks beautiful, and can even be made ahead of time and reheated. The full recipe for Low Carb Creamed Spinach can be found at the bottom of the page. 
"School" Supplies:
Strainer
Sauce Pan
Spatula
Whisk
Baking Dish
"Class" Notes:
Besides loving side dishes, I also love a good white sauce. White sauce gives me all the warm happy feelings that carbs used to! The sauce is four total ingredients. A little butter, some fresh garlic, heavy cream, and fresh Parmesan cheese.
The trick is in the ratios! A classic white sauce or Bechamel sauce, is made with a roux (a butter/flour mixture that's cooked and helps thicken the sauce). Because this is low carb, we omit the roux and use a heavy cream base with Parmesan to thicken our sauce and give the dish structure.
When using very few ingredients in a dish like this, I highly recommend buying higher quality ingredients. So, don't get too stingy on the Parmesan cheese! Bring everything over medium heat, stir continuously, mix in the cheese, and wait till it thickens. So simple!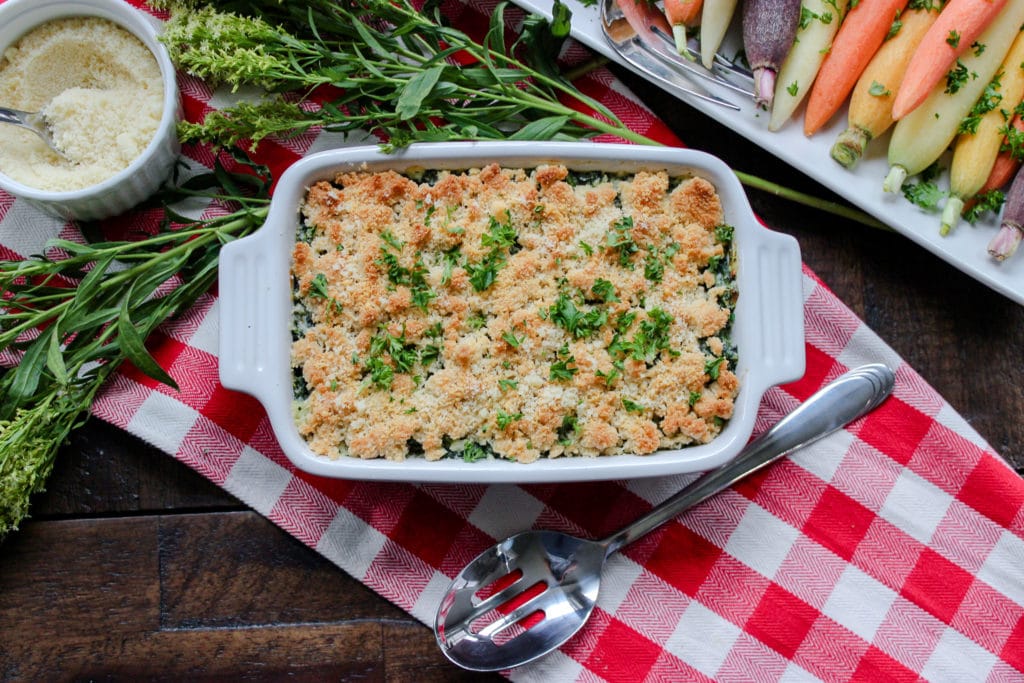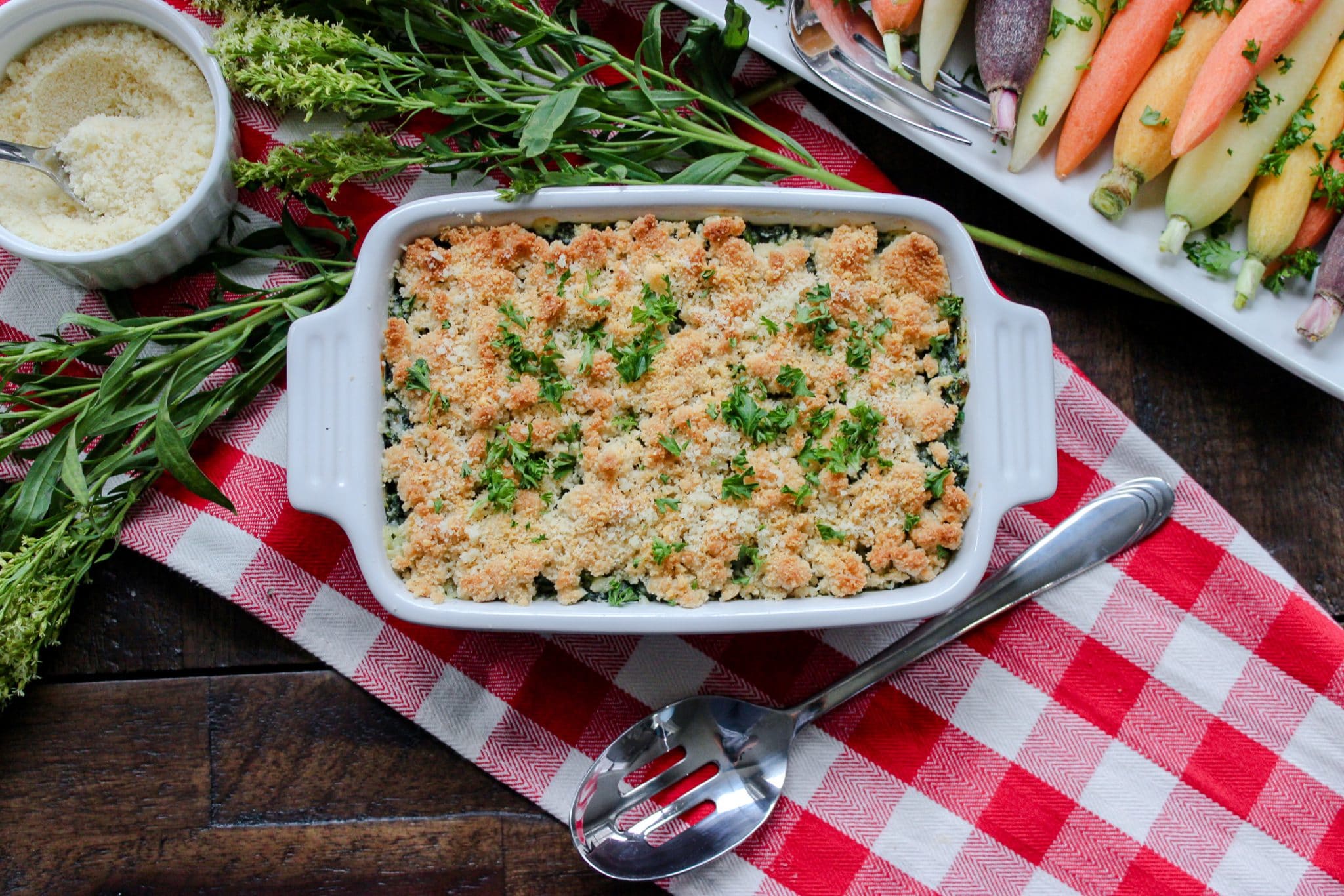 Next, you need to add in the spinach. You have two choices here. Either purchases raw spinach and cook it down in a saute pan or buy frozen spinach and defrost. Usually I am all about my fresh veggies but I actually opted for some frozen chopped organic spinach for this side dish. I like the texture and the chopped pieces personally!
The key to having a successful low carb creamed spinach, is to remove as much water from the spinach as possible. When working with frozen spinach, place it in a fine mesh strainer and run hot water over it until it thaws. I like to then use a wooden spoon or spatula to press as much of the liquid out as I can. This helps prevent your dish from getting too soupy while it bakes.
Finally, make the topping. Crush (or buy the pork "panko") the pork rinds, add in some seasonings, and a bit more Parmesan as well! Place this mixture all across the top of the spinach.
When it bakes it gets nice and crunchy and resembles crunchy cracker crumbs. This is one of my favorite tricks and just has the best texture! I hope you and your family enjoy this comfort filled class side dish. T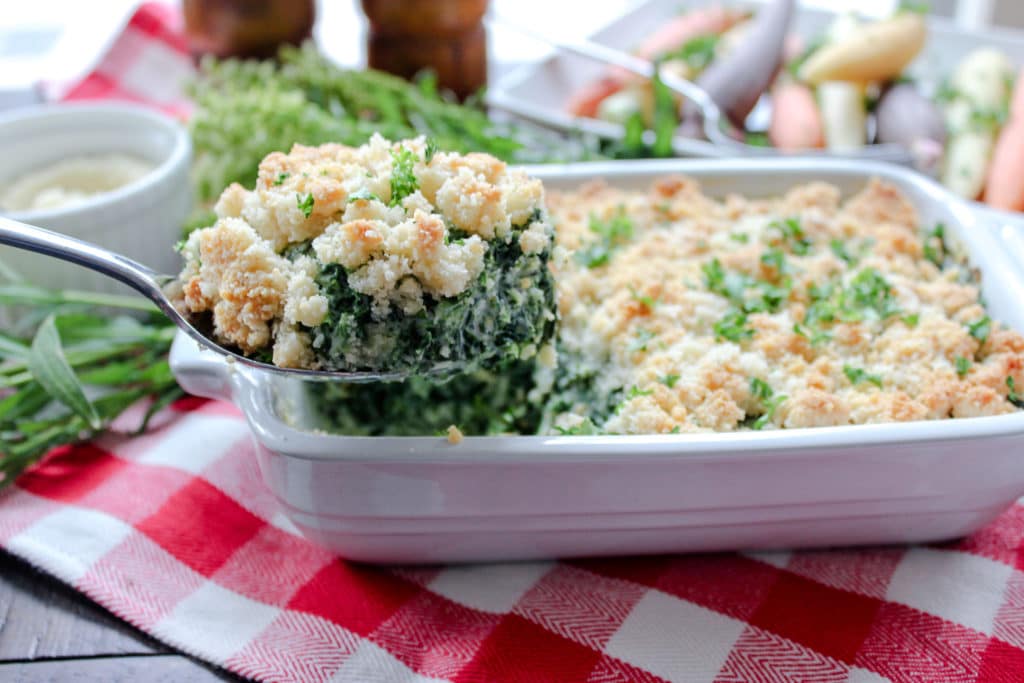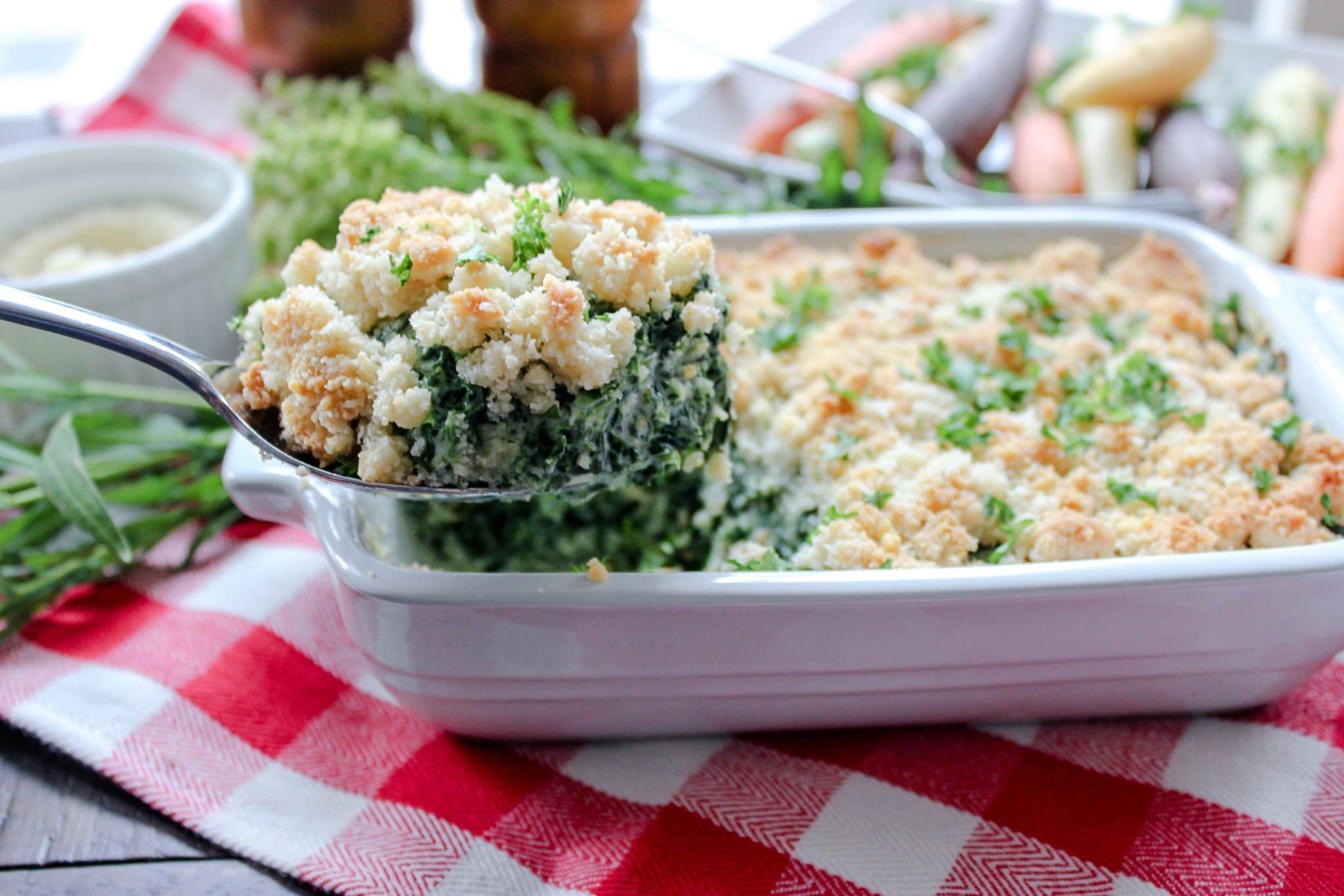 Bon Appeteach,
-L
Yield: 6
Low Carb Creamed Spinach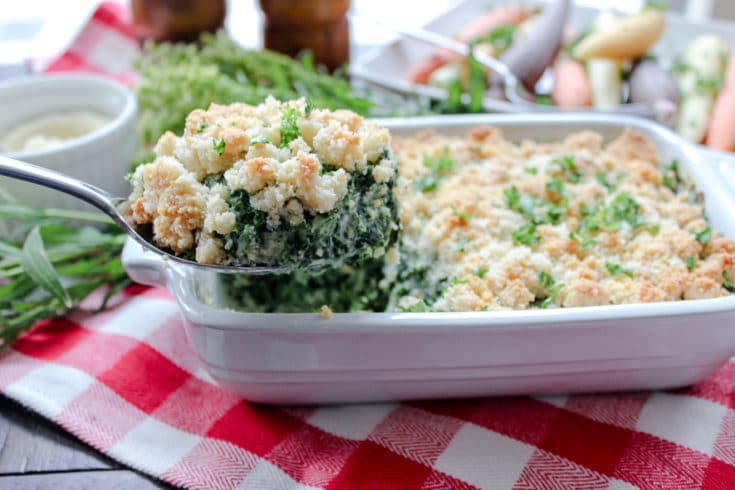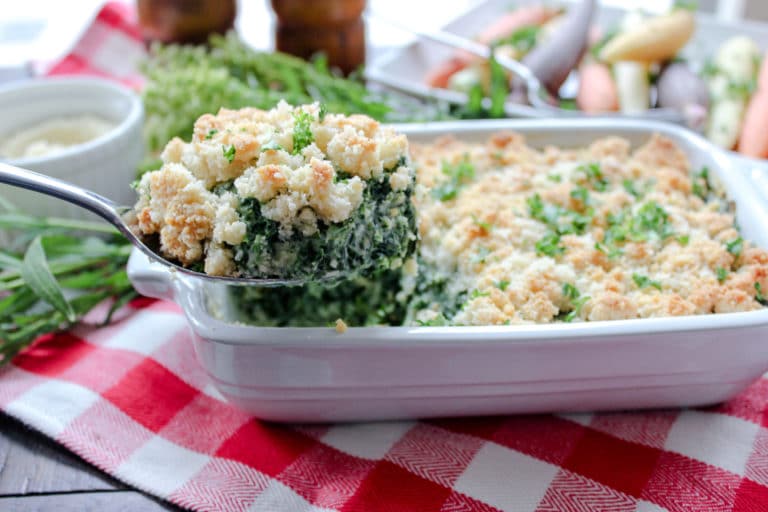 The perfect low carb creamed spinach recipe that's gluten free and delicious.
Ingredients
10 oz. Frozen spinach, thawed and strained
1/2 Tbsp. Butter
1 Garlic Clove, minced
1 cup Heavy Cream
1/2 Grated Parmesan
1/ 3 cup Crushed Pork Rinds
2 Tbsp. Grated Parmesan
Instructions
1. Preheat the oven to 350 degrees F.

2. Defrost your spinach and strain the excess liquid out as much as possible. If using fresh spinach, saute it in a pan until wilted. Make sure that if you use fresh or frozen you press as much excess liquid out as possible.

3. In a saucepan, melt the butter and add the minced garlic. Cook on medium heat for about a minute. Add the heavy cream and bring it up to temperature about 3-4 minutes. Stir with a whisk continuously to prevent scorching.

4. Add in the Parmesan cheese and whisk till smooth and the mixture has thickened. It should coat the back of a spoon and not by runny.One the sauce is thickened, fold the drained spinach into the mixture.

5. Place the mixture in a small 4X6 inch baking dish or in individual
ramekins. Fold in the remaining Parmesan and the crushed pork rinds and place the mixture over the
top of the spinach.

6. Bake for 15-20 minutes or until the sides appear bubble. If you would like to brown the top a bit, turn on the broiler for a minute or two. Make sure to watch it closely as it could easily burn!
Notes
To Make ahead and refrigerate. To bake, simply bring the dish out an hour or more prior to baking to bring it to room temperature and follow the regular baking instructions. If baking straight from the fridge you will need to add additional baking time of approximately 30-45 minutes.
Nutrition Information:
Yield:
6
Serving Size:
1
Amount Per Serving:
Calories:

256
Total Fat:

21g
Saturated Fat:

12g
Trans Fat:

1g
Unsaturated Fat:

8g
Cholesterol:

64mg
Sodium:

393mg
Carbohydrates:

4g
Net Carbohydrates:

2g
Fiber:

2g
Sugar:

1g
Protein:

13g