Low Carb Chocolate Zucchini Cakes
Bon Appeteach is a participant in the Amazon Services LLC Associates Program, an affiliate advertising program designed to provide a means for sites to earn advertising fees by advertising and linking to amazon.com. I only share products that I use and stand behind personally.
Low Carb Chocolate Zucchini Cakes:
Creating and baking these Low Carb Chocolate Zucchini Cakes has given my soul a little extra peace these days. You see, if I could bake beautiful yummy creations everyday I would. In fact, I wanted to go to the French Pastry Institute of Chicago post high school graduation but went to Illinois State University and found my love for teaching all things Family Consumer Sciences instead. Culinary and more specifically baking, is and always will still be my first love. I've always been drawn to it and I'm fairly certain that my passion for all things sweet is in my DNA. My great grandparents owned a bakery in the suburbs of the Chicago. I grew up watching my grandmother make endless pies, brownies, cakes, and more. You name it, she made it! I have found myself desperately missing those good ol' baking days lately since taking this low carb approach to life.  Thankfully, my intense urge to bake paid off with these fudge-like tasty lil Low Carb Chocolate Zucchini Cakes. Read on for a few tips and tricks or find the full recipe at the bottom of the page!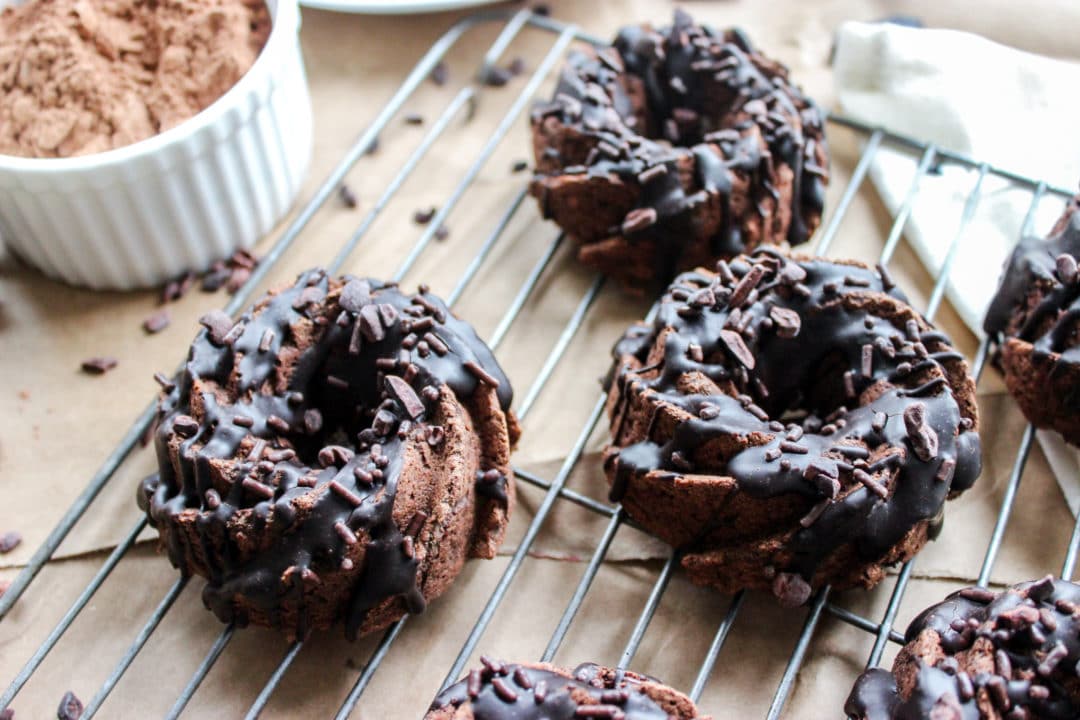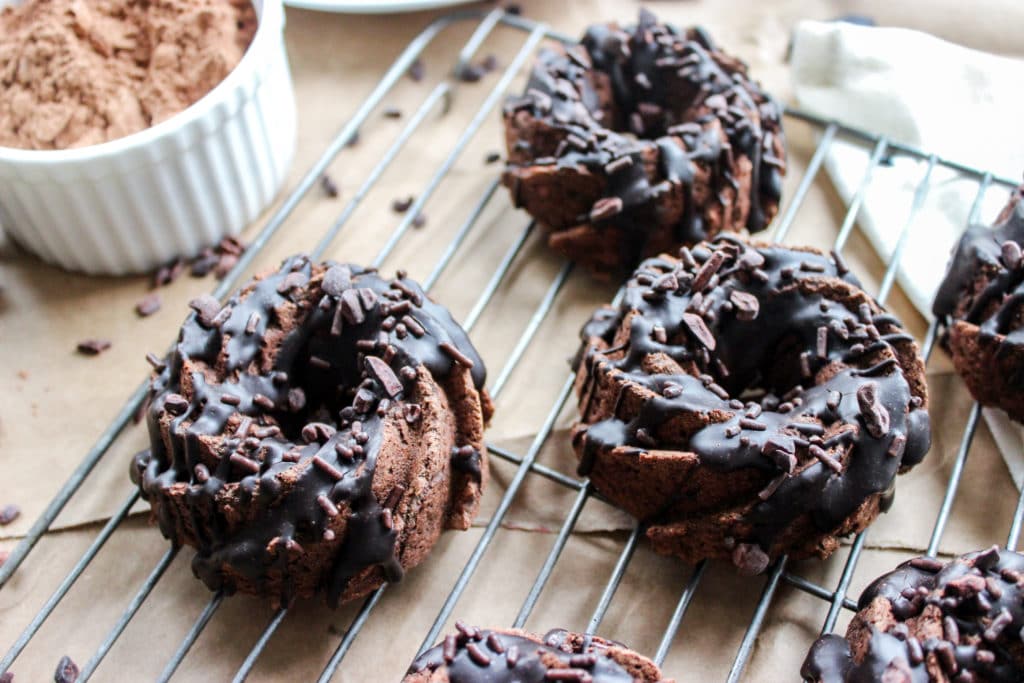 "School" Supplies:
Here are all the tools you will need to successfully make the mini bundt cake version or the cupcake/muffin version. I've included the links to some of the exact tools I use and highly recommend!
–Nordic Ware Bundt Pan (or similar) OR Cupcake Pan
– Liquid & Dry Measuring Cups /Spoons
-Rubber Spatula
– Cookie Dough Scoop (optional)
-Muffin Liners (optional)
-Cooling Racks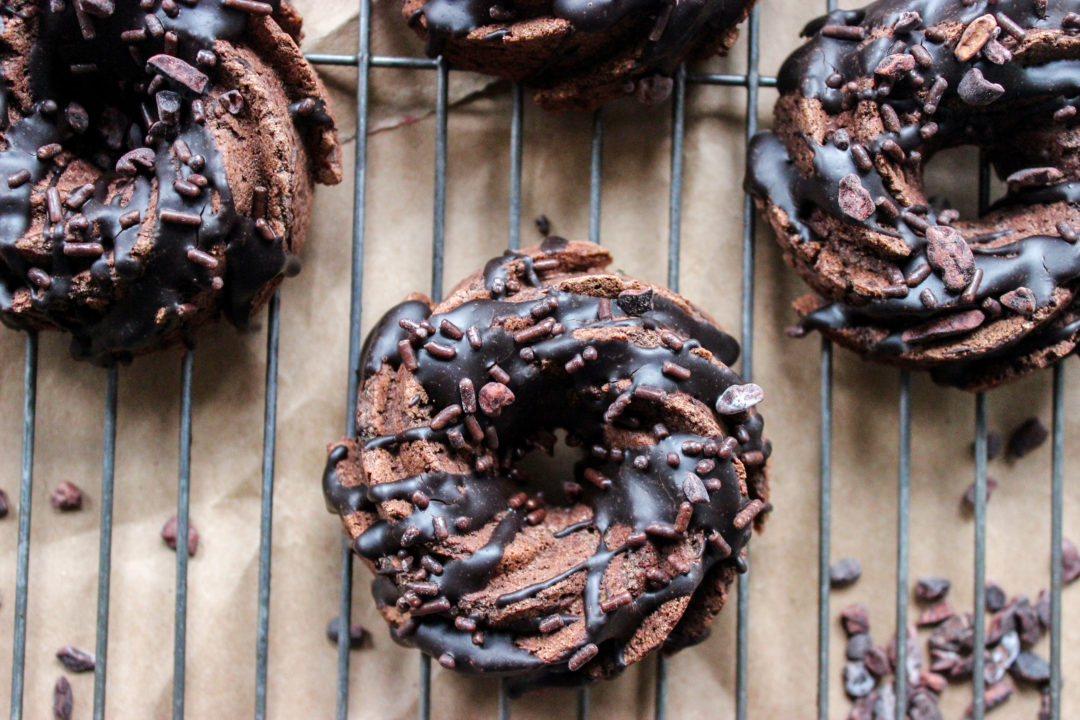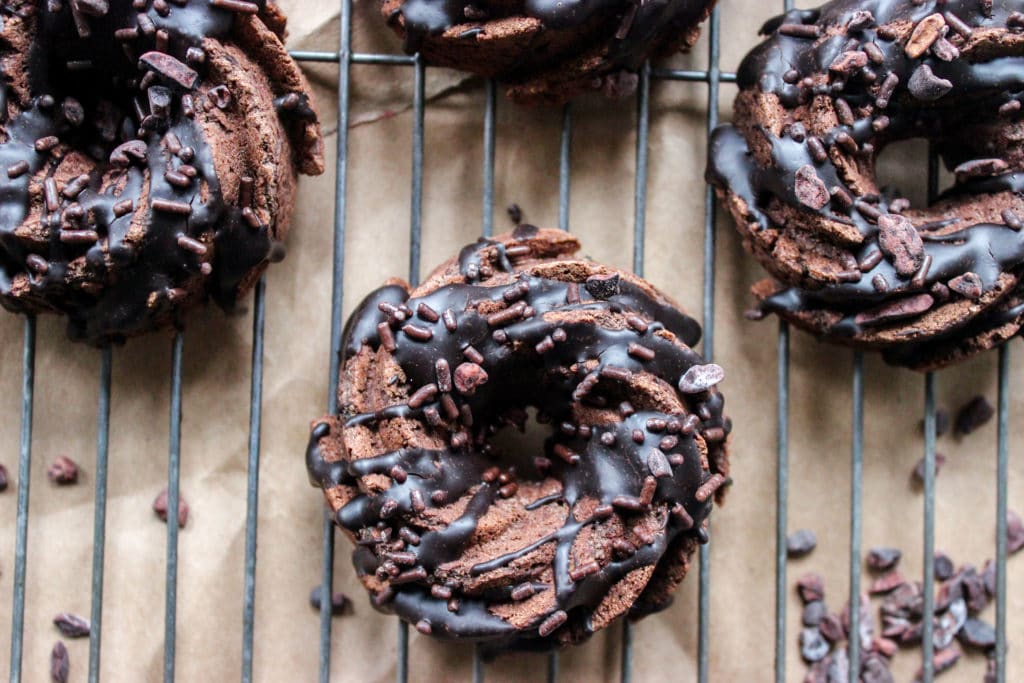 "Class" Notes:
The Zucchini Cake Batter:
To make this cake, you need to grate or shred your zucchini. The zucchini makes this super rich and moist too. I like to pat the zucchini dry a bit after grating on a paper towel just to soak up a tiny bit of the moisture to prevent the batter from getting too watery. Combine the eggs and zucchini together. Add in a splash of vanilla. Vanilla actually helps bring out the chocolate flavor! For the dry ingredients, I typically like to play around with a mix of almond and coconut flour. This can help keep the texture of the cake light and fluffy. In one big bowl I added my coconut flour , almond flour, my favorite organic stevia, unsweetened cocoa powder, baking powder, and salt. The dry ingredients will be mixed into the zucchini mixture by alternating with the almond milk to form the batter.
Bundt Cakes or Cupcakes:
The batter is fairly thick compared to a regular cake batter. I don't know why, but I've been obsessed with this beautiful Nordic Ware Mini Bundt Pan for almost a year. Bundt pans make me happy friends. If you don't have this pan (you should get it and feel happy too), then you can easily make these into "cupcakes" or "muffins". They bake up just as great and you can follow the same baking instructions that you will find below. Feel free to experiment with a regular sized bundt pan (I have not done this so you may need to drastically change the baking time).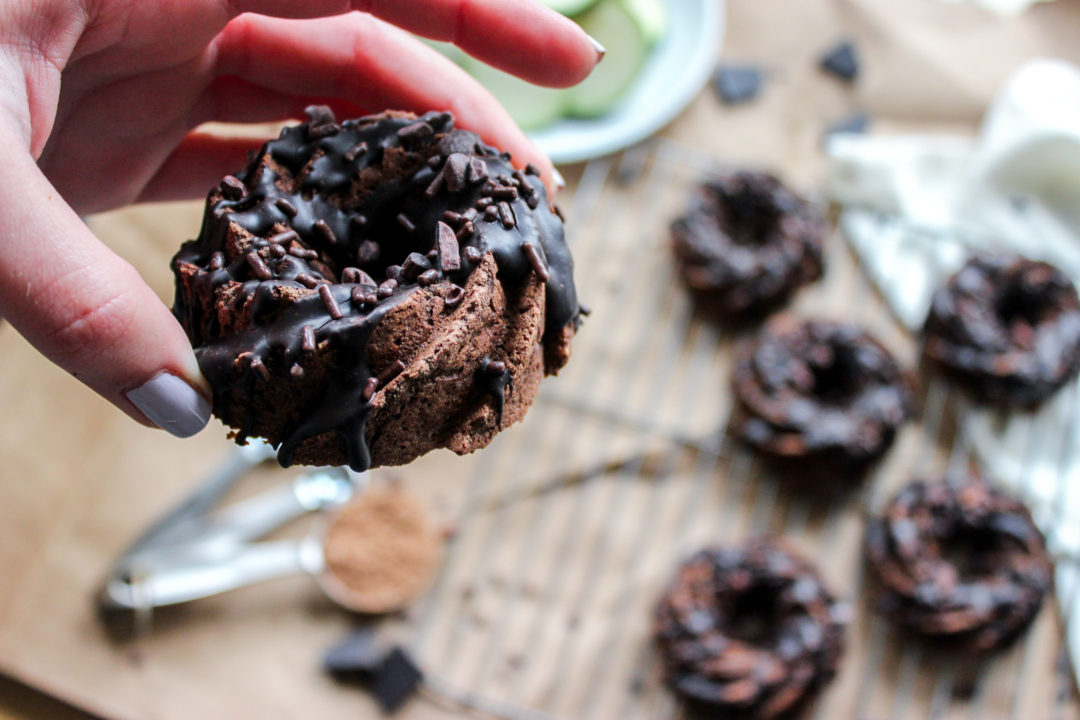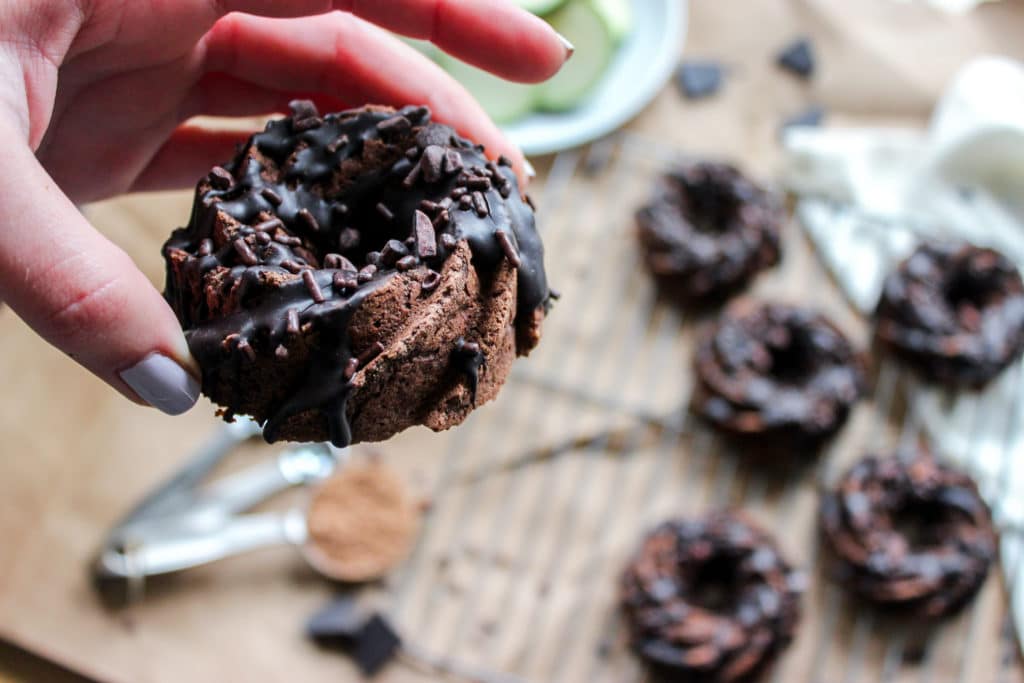 Chocolate Ganache Frosting:
I like using ganache as a frosting option because you can keep it fairly low carb and it just looks so unbelievably beautiful poured over the top of these Low Carb Chocolate Zucchini Cakes! All you have to do is heat some cream, allow the chocolate to sit and melt, and whisk it all together. Pour the ganache over you cakes and allow them to set. Add a few pieces of chopped dark chocolate or cocoa nibs over the top to garnish! Enjoy this treat all alone or with a side of my favorite (Low Carb) Blueberry & Rosemary Ricotta Ice Cream! Store these guys in an air tight container or in the fridge for about 3-4 days.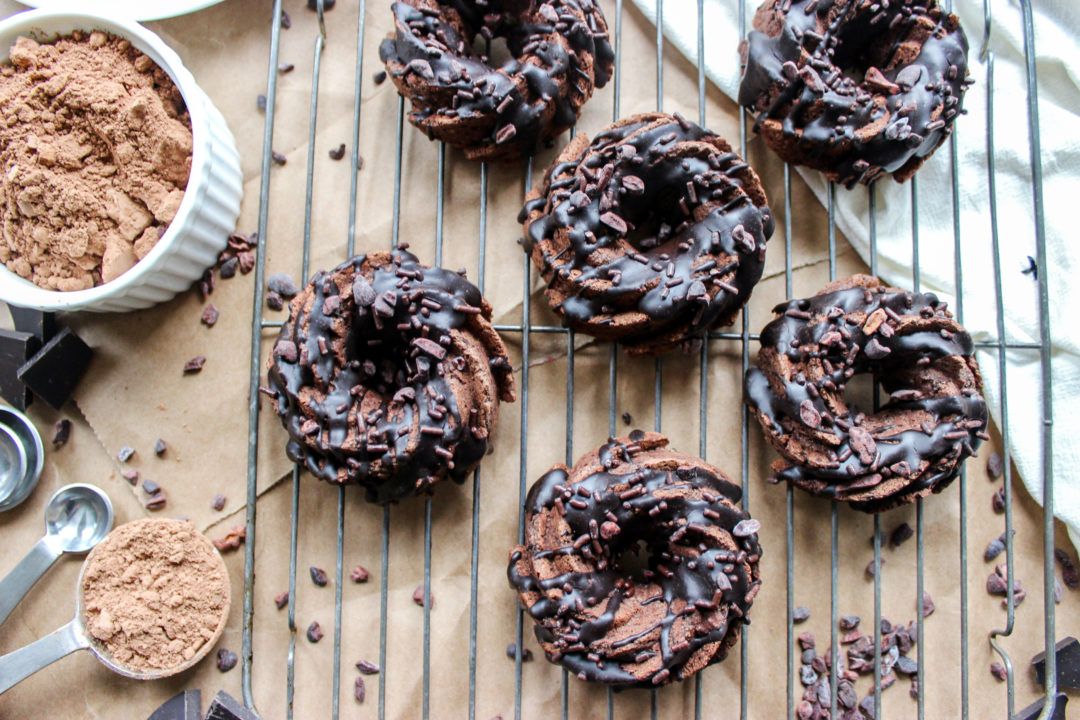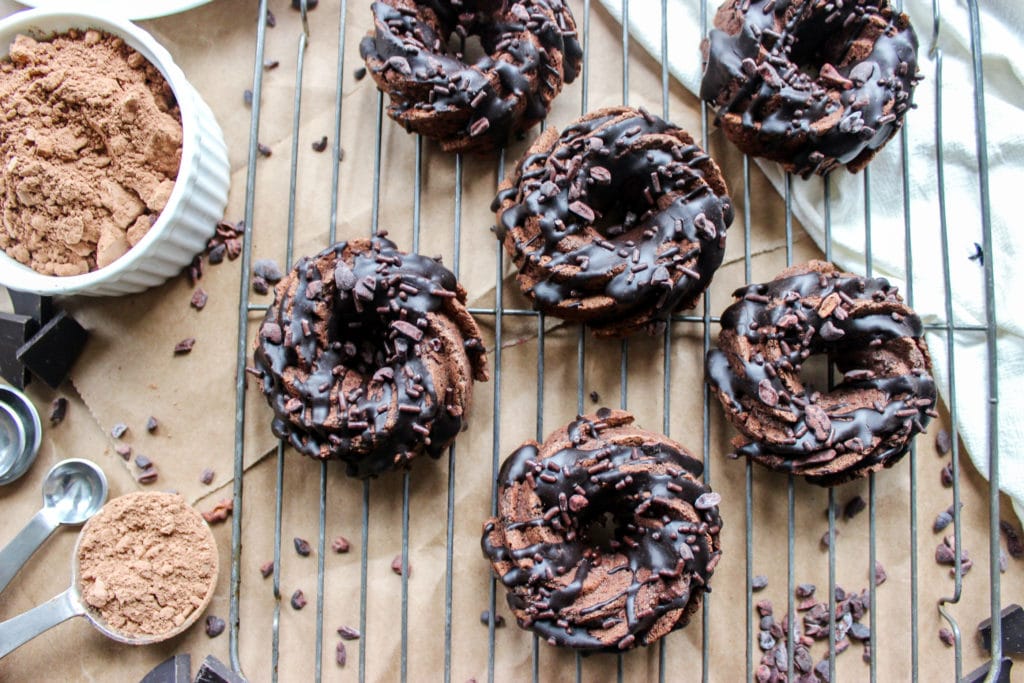 Find the complete recipe for these rich and delicious Low Carb Chocolate Zucchini Cakes below!
Bon Appeteach,
-L
Ingredients
2 cups Grated Zucchini

3 Eggs

1 cup Coconut Flour

½ cup Almond Flour

¾ cup Unsweetened Cocoa Powder

1 cup Stevia or Low Carb Sweetener

1 tsp. Vanilla

1 Tbsp. Baking Powder

1 tsp. Salt

2 cups Almond Milk

For the Ganache: ½ cup Heavy Whipping Cream & 4 oz. Chopped Dark Chocolate

Non-Stick Spray or Coconut Oil (greasing pan) or Muffin Liners
Instructions
1
Preheat the oven to 350 degree F.
2
Grate 2 cups of zucchini by hand or in a food processor. Transfer the zucchini to a paper towel to soak up a little moisture.
3
In a bowl combine the eggs, zucchini and vanilla.
4
In another bowl, combine the coconut flour, almond flour, cocoa powder, stevia, baking powder, and salt. Whisk until combined.
5
Take half the dry ingredients and fold them into your zucchini mixture. Then fold in half of the almond milk. Repeat this again until everything in incorporated. The batter will be fairly thick.
6
If using a bundt pan, grease it with melted coconut oil or use muffin liners for your cupcake tin.
7
Fill the molds with batter about 3/4th's of the way to the top.
8
Bake for about 30 minutes. The batter should be fully set and a toothpick should come out clean.
9
Let the baked cakes rest for 10-15 minutes or so before transferring to ensure they hold their shape.
10
To make the ganache, heat cream in a microwavable bowl for about 1 minute. Add the chopped dark chocolate and a little stevia and allow it to sit for 2-3 minutes to melt.
11
Stir vigorously with a whisk until it is glossy and smooth.
12
Drizzle over the top of the bundt cakes or dip the cupcakes into the ganache. Garnish with extra dark chocolate chunks or cocoa nibs.
13
Store in an air tight container for about 3-4 days.