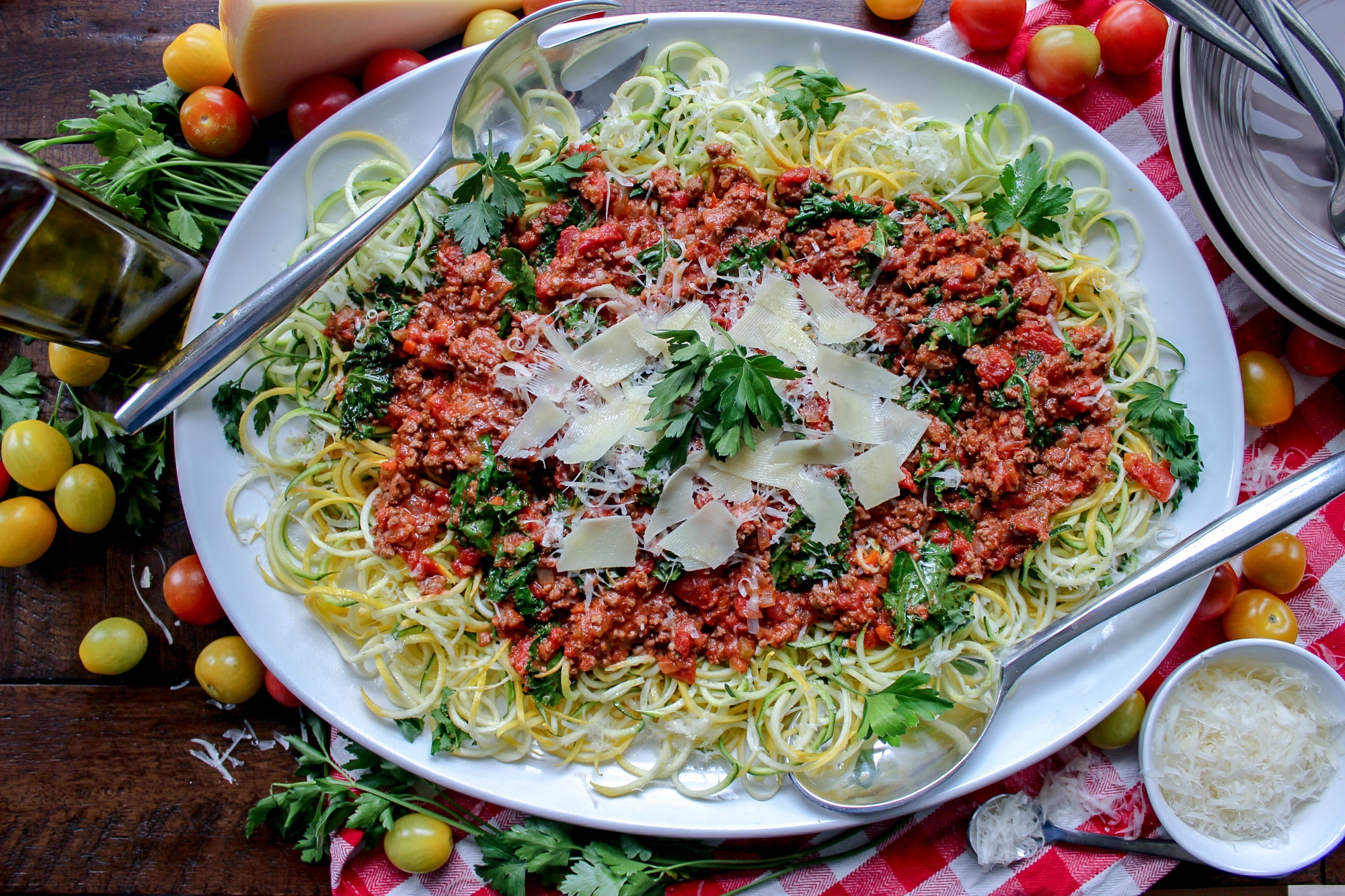 The classic bolognese pasta just got a low carb makeover with this zoodle based version. It's hearty, comforting, and easy to make too!
This recipe was inspired by my partnership with Hen House Markets. The opinions are my own.
Truth be told, I was never a huge pasta eater prior to my days of low carb eating (I had a sweet tooth and a tortilla chip tooth). But, there is something so comforting about a big bowl of bolognese.
I like this sauce over a standard red sauce for many reasons. For starters, it has a lot more meat. I like my pasta to have a coating of sauce and not look like a bowl of tomato soup. The meat in this sauce also packs a punch of flavor.
Add in a little cream for some richness and some grated Parmesan and this sauce is singing straight to my soul. Looking to make it lower carb is not too difficult with God's gift of zoodles to the world (seriously, if you created this I want you to know I love you).
Now, I will warn you…. tomatoes are higher in carbs (I get some "interesting" messages about this sometimes). However, I am of the "vegetables are never bad for you" variety and don't worry too much about this personally. You should always do what's best for you and your diet.
Find the full recipe for my Low Carb Bolognese below and read on for a few tips and tricks.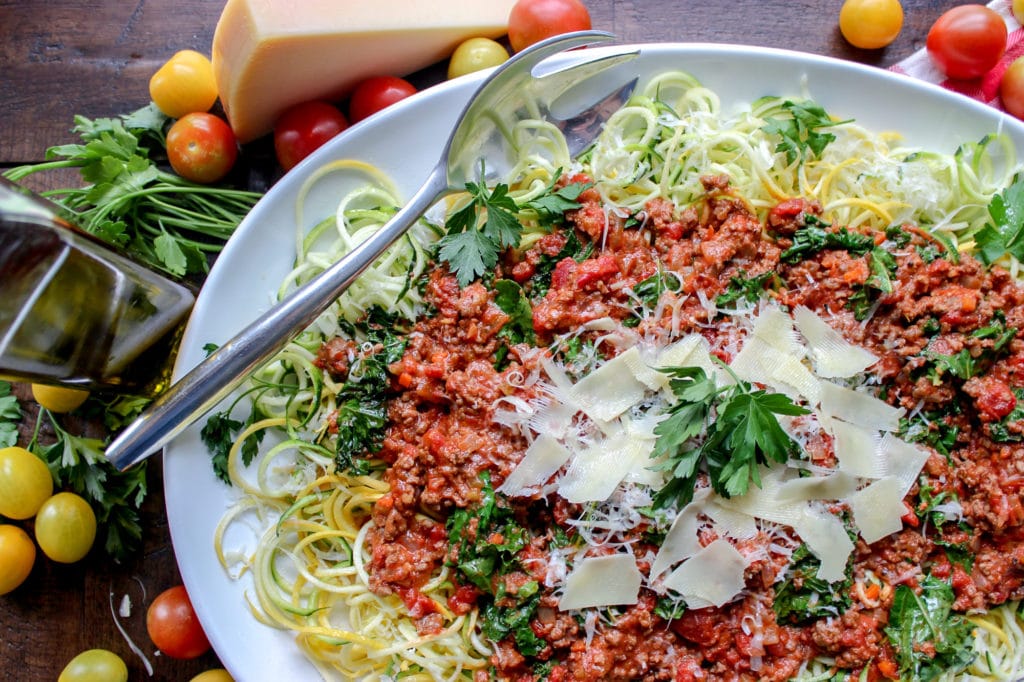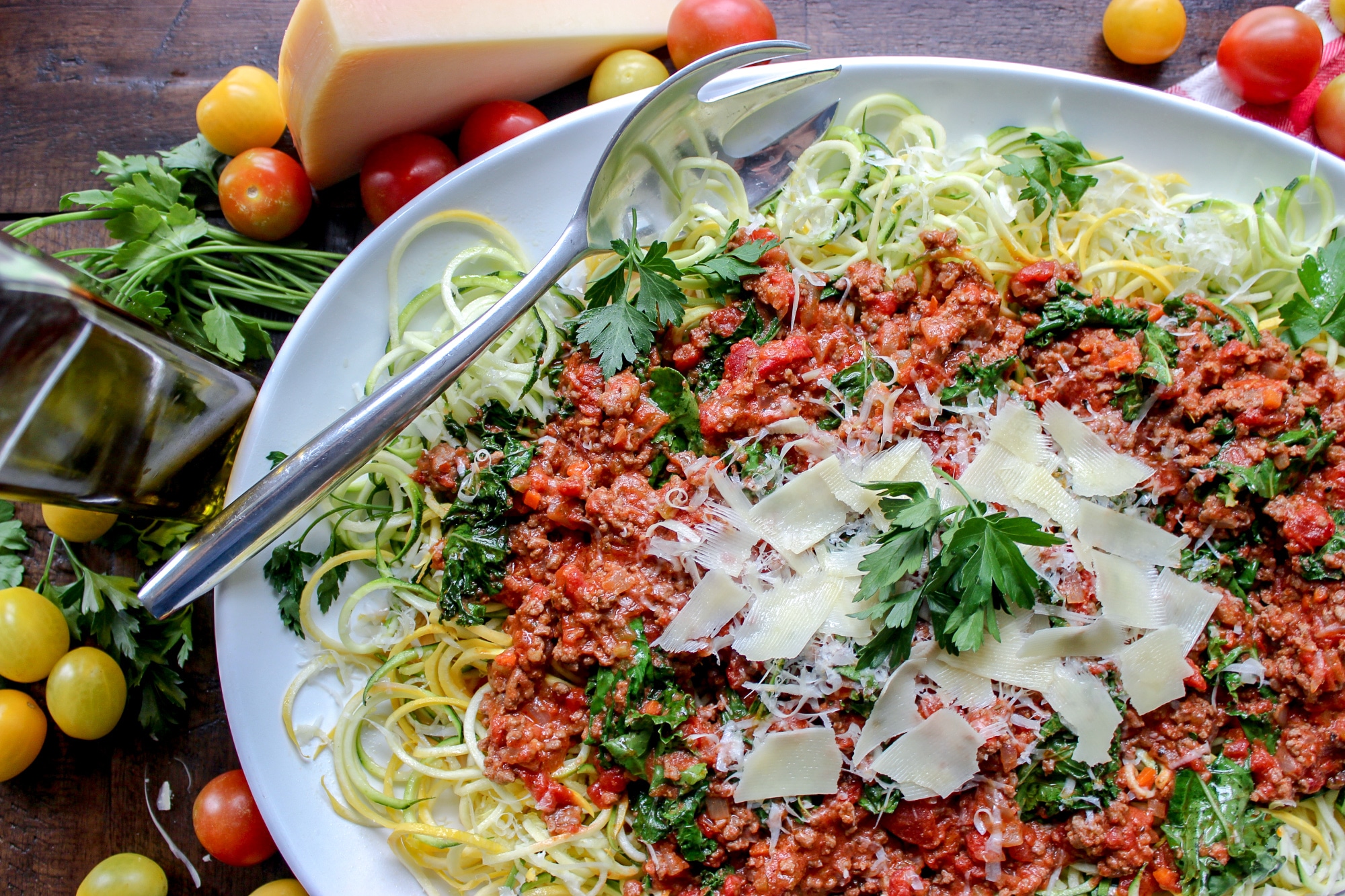 "School" Supplies:
Cutting Board & Knife
Spiralizer (or buy pre-made zoodles)
Sauce Pan
Can Opener
Measuring Spoons
Wooden Spatula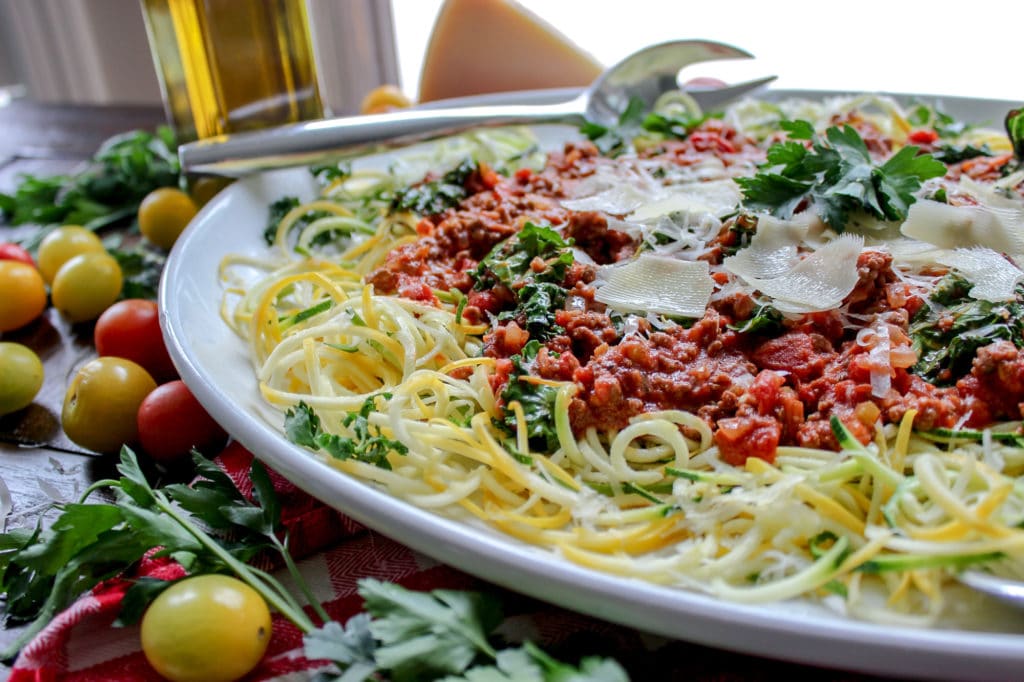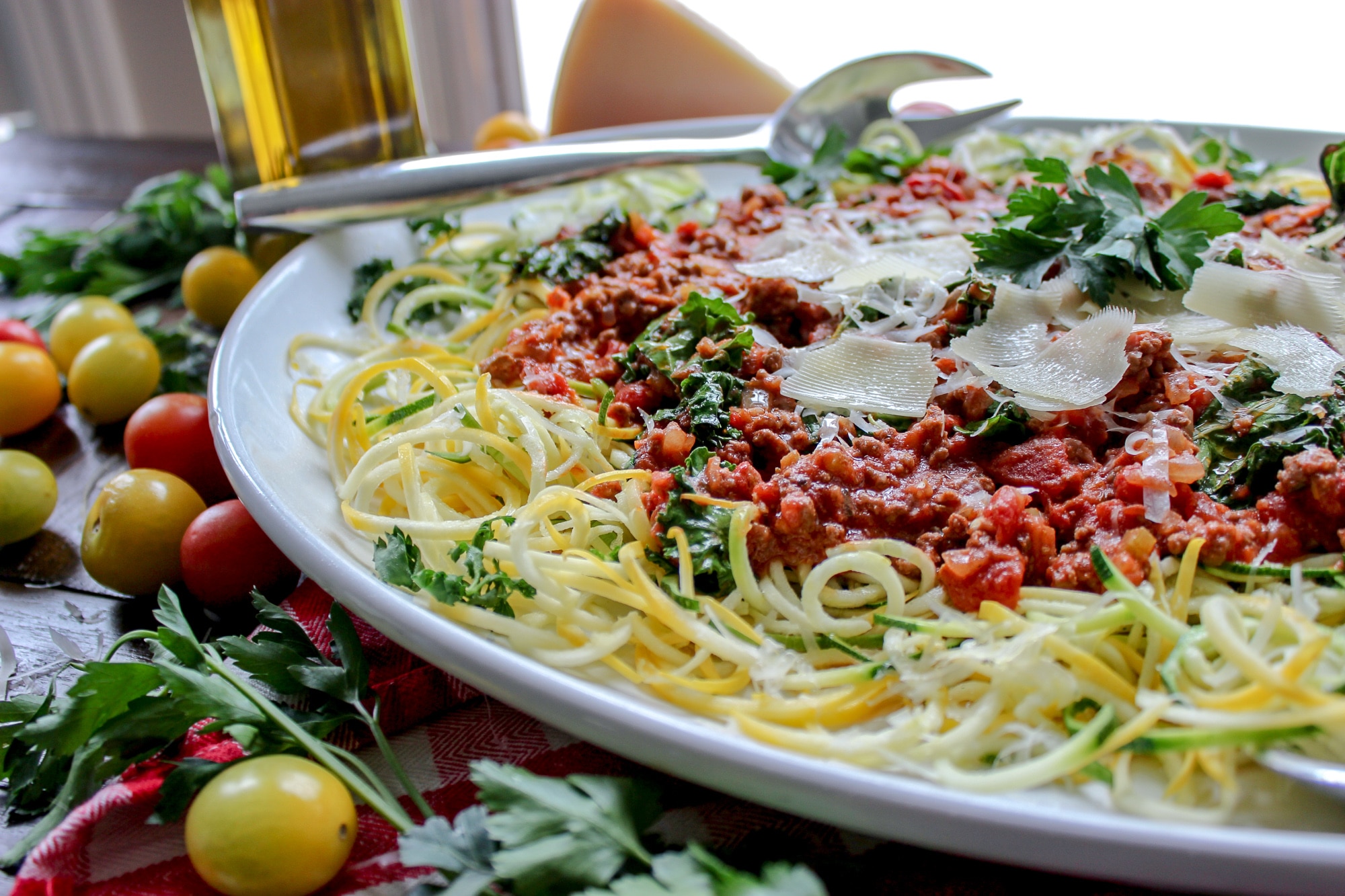 "Class Notes"
A few weeks ago when I made this, I had received some beautiful fresh ground chuck in my Hen House CSA. I used half to create these Bacon Wrapped Mini Meatloaves and the rest to create my Low Carb Bolognese sauce. I also had a little leftover ground italian sausage in my freezer that desperately needed to be used up, so that was added as well!
To start any good red sauce you need to start with a mirepoix. Mirepoix is three ingredients: onion, celery, and carrots. Now, as a die hard culinarian I had to add a mirepoix.
If you would like to eliminate the carrots I totally understand (I could just not do this so I added a very small amount). Simply saute in a little olive oil till tender and then add in some fresh garlic.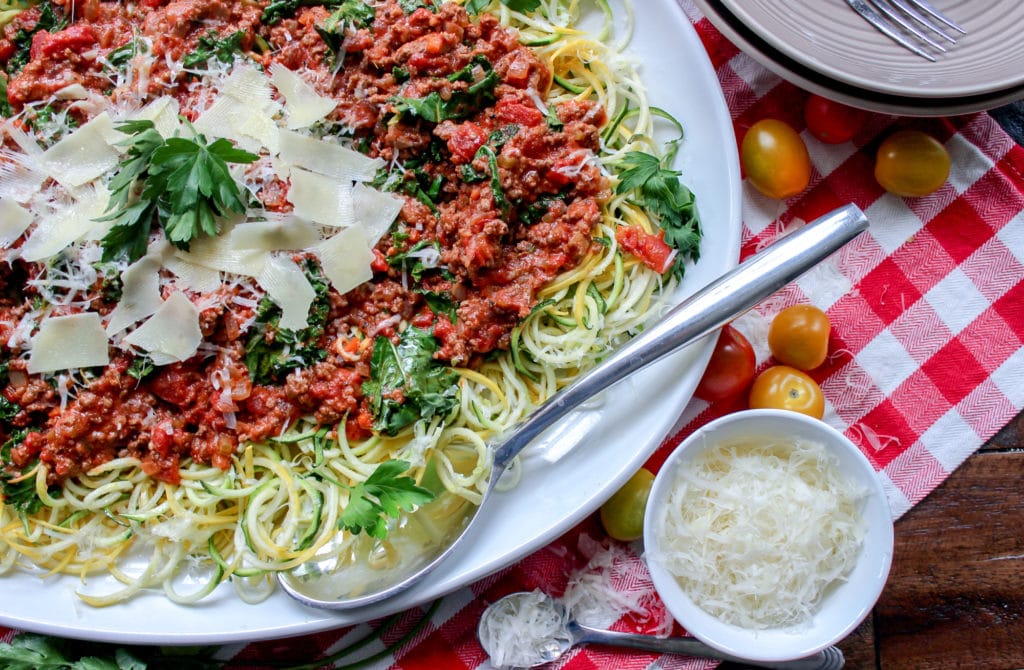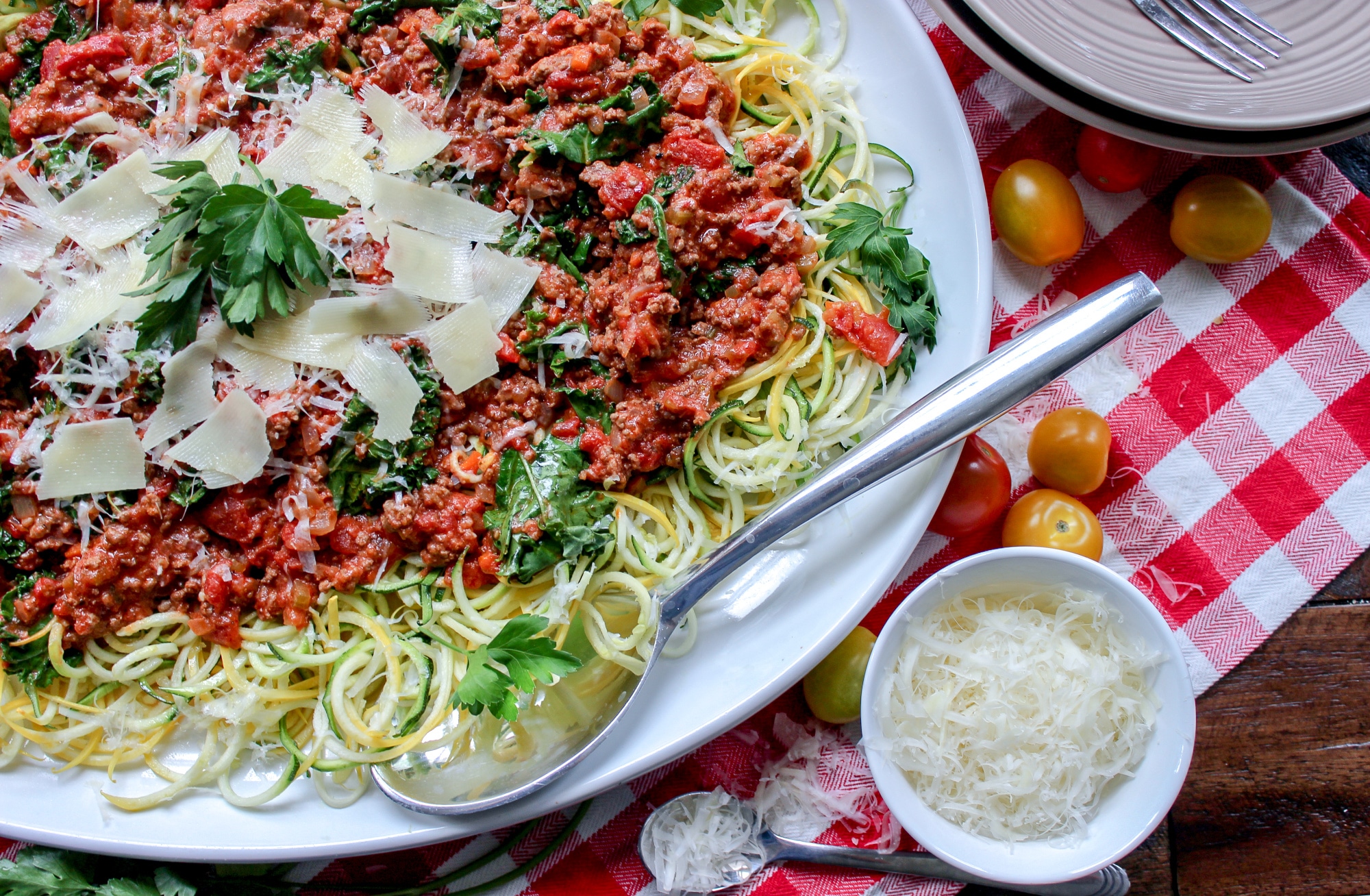 At this point, you need to cook the ground meat. I add the meat in and break it up with the spatula. I go "shopping" for spices in my cabinet. I like to add salt, pepper, oregano, thyme, and some basil. Once this is added the meat, I continue to cook it till it is browned all the way through.
If you have a lot of grease, drain some if it off. I like to leave a little to keep the flavor on point. Once the meat is cooked, add the stewed tomatoes. I smash these down several times as it cooks to help break it down and be more "sauce like".
I cook my sauce on low for a few hours to really let the flavors develop. If you don't have this kind if time, you could easily throw it in your slow cooker and cook it on low until you are ready to eat!
The final touches to the sauce are what make it. I keep it simple. Swirl in a little bit of cream or half and half (this is never a bad thing if you are on the keto diet). Then add some freshly grated Parmesan cheese. Taste the sauce and adjust as needed. The cream helps cut some of the tartness in the tomatoes, eliminating any need to add sugar to the recipe.
To "cook" the zoodles, simply toss and fold them into the sauce and let them heat for a few minutes. They cook quickly and release a little liquid. I also tossed in some chopped kale that I had from my Hen House CSA (nothing wrong with a few extra greens). Place it all in a big bowl or platter.  Top with a little extra pile of parm (cause cheese people…cheese!). Then garnish with parsley.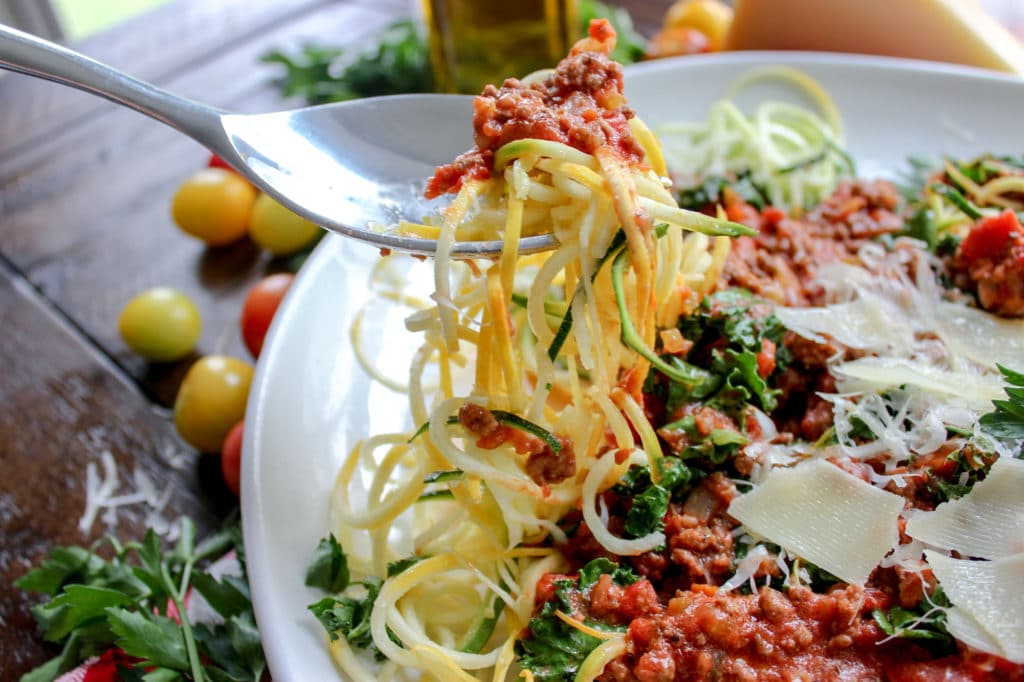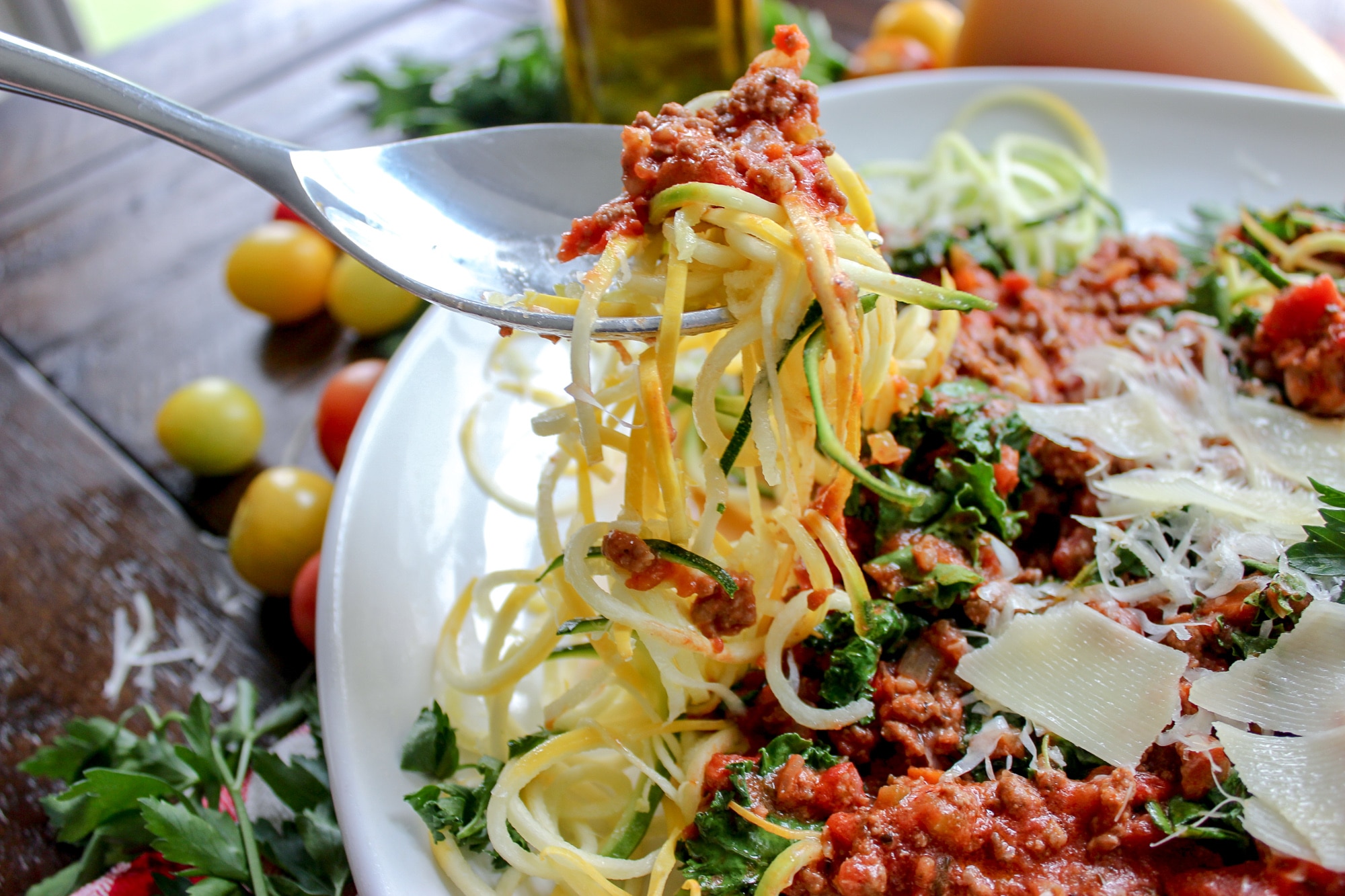 Voila. Low Carb Bolognese. Your welcome.
If you loved this zoodle dish, check out my Sriracha Salmon Zoodle Bowls or my Asian Inspired Chicken Zoodle Soup (great for meal prep)!
Bon Appeteach,
-L
Yield: 8
Low Carb Bolognese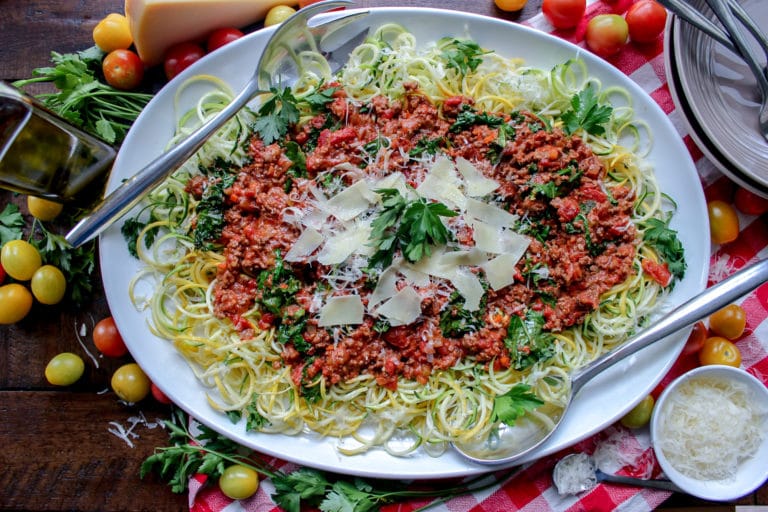 The classic bolognese pasta just got a low carb makeover with this zoodle based version. It's hearty, comforting, and easy to make too!
Ingredients
2 Large Zucchini
2 Large Yellow Squash
1 lb Ground Chuck
1/2 lb Ground Italian Sausage
1 tbsp. Olive Oil
1/4 cup Carrots, diced small (optional but recommended)
1/4 cup Celery, diced small
1/4 cup Onion, diced small
2 Garlic Cloves, minced
1, 28 oz can Whole Tomatoes
2 Bay Leaves
1 tsp Salt
1 tsp Pepper
1 tsp Oregano
1/2 tsp Thyme
1/2 tsp Basil
1/2 cup Cream
1/2 cup Parmesan Cheese
Instructions
1. In a large saucepan on medium heat, add the olive oil, carrots, celery, and onion. Cook till tender (about 5 minutes. ) Add the garlic and cook about 30 seconds.

2. Add the ground chuck and ground sausage. Use the spatula to start to brown. Add all the seasonings and mix into the meat. If the meat is really greasy, drain about 80% of it (some helps with the flavor).

3. After the meat is browned, add the whole tomatoes. Use the back of spatula to break them down and smash them a bit. Reduce the heat to low and allow it to cook. Add the bay leaves.

4. Stir occasionally and smash the tomatoes down a bit each time. I let mine cook for about 2 hours. If the liquid is evaporating you can add a little water to it.

5. Remove the bay leaves. Stir in the cream or half and half and then the Parmesan cheese. Taste test to adjust flavors and seasonings.

6. Add the zoodles and chopped kale (optional) right before serving. I fold them directly into the sauce. They will release liquid into the sauce over time so stir before serving!

7. To serve, sprinkle a little more Parmesan over the top and garnish with parsley.
Nutrition Information:
Yield:
8
Serving Size:
1
Amount Per Serving:
Calories:

392
Total Fat:

27g
Saturated Fat:

11g
Trans Fat:

1g
Unsaturated Fat:

14g
Cholesterol:

89mg
Sodium:

684mg
Carbohydrates:

10g
Net Carbohydrates:

7g
Fiber:

3g
Sugar:

7g
Protein:

25g