Low Carb Balsamic BBQ Sauce:
I have been missing BBQ for quite some time. I haven't spent much time looking for low carb BBQ sauces that are on the market because I personally try to stay away from a lot of processed foods. I also enjoy (obviously) creating and discovering new ways to take basic meals up a notch and still have them fit my lifestyle and diet needs. So yes, I make my own sauces a lot of the time. Because I love how this Low Carb Balsamic BBQ Sauce recipe came out I wanted to share it with you all. If you already love my class Low Carb Smoky BBQ Sauce recipe I posted back in April, then you will also fall in love with this version! It really pairs so well with chicken and salmon that you can't go wrong with adding this to your BBQ rotation this summer. Find the complete recipe for this Low Carb Balsamic BBQ Sauce below and read on for a few tips and tricks!
"School" Supplies:
-Sauce pan
-Whisk
-Measuring Cup & Spoons
– Jar/Container
"Class" Notes:
A few things to mention before you make this Low Carb Balsamic BBQ Sauce. First, because this is sugar free it won't have a similar texture to typically BBQ sauce (honey, molasses, brown sugar, etc make it "stickier" and thinner).  So with that said, it obviously isn't going to be 100% identical to a standard BBQ sauce. The texture is slightly thicker but does stick really well to the food you grill or bake it with.  After it cools and is refrigerated it will thicken even more (just a heads up). So, reheat it slowly in a saucepan and add a tiny bit of water to the mixture to help thin it out slightly.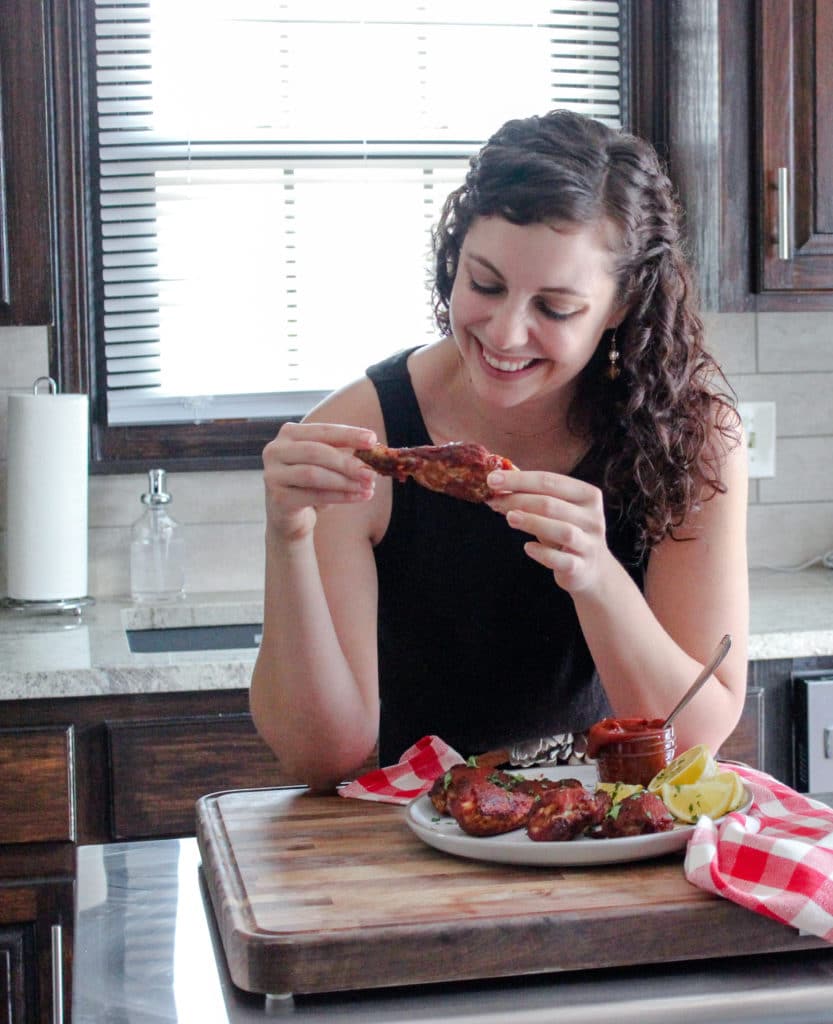 It should last for a week or so in your fridge, however you can extend the shelf life by freezing it as well. I have tested out this recipe several times and depending on the brands you use there could be a slight difference in taste but should generally be standard in flavor. If you make this a day ahead of time, the flavors develop even more and are absolutely delicious. This would be delicious on these Roasted Chicken Drumsticks and or even with these Pulled Pork BBQ Tacos with it too. Let me know what you pair your sauces with and share a picture of it with me on Instagram and tag me @Bonappeteach. I hope you enjoy getting creative with the upcoming BBQ season with this Low Carb Balsamic BBQ Sauce Recipe!
Bon Appeteach,
-L
Nutritional Information:

Ingredients
1 cup Tomato Paste

1/2 cup Water

2 Tbsp. Balsamic

2 Tbsp. Dijon Mustard

1 Tbsp. Swerve

1 Tbsp. Apple Cider Vinegar

1 Tbsp. Garlic Powder

1 tsp. Onion Powder

1 tsp. Salt

2 tsp. Liquid Smoke
Instructions
1
In a medium saucepan over medium low heat, add all the ingredients together and whisk slowly till everything is well mixed and incorporated.
2
As the mixture begins to heat, it will thin out a bit.
3
Taste the sauce at this point and determine if you want to add any more salt, swerve, or balsamic.
4
If making for bbq on the same day, I set it aside on the stove until I need it for brushing. I used a grill brush or pastry brush to spread the sauce onto chicken, fish, shrimp etc. It bakes nicely and I add a second coat before serving! If making ahead of time, refrigerate the sauce in a jar or container until needed. The fridge will thicken the sauce a bit, so you will need to reheat it (reheats best on the stove) and you may have to thin it out slightly with a bit of water. Store in the fridge for about a week or freeze in a plastic bag or container till needed!