The "Ladies Only", Beans, Greens, & Proteins Challenge has officially arrived! If you follow me on Instagram you know that myself and 8 other foodie friends decided to challenge one another to create a healthy dish that was made up of just 10 ingredients! The recipe had to include beans, green vegetables, and a lean animal protein (not including salt/pepper, and one oil). Naturally, I was more than excited to participate. My Ladies Only Cooking Challenge- Pork & Pineapple Cauliflower "Fried Rice" is the perfect dish to get you over the hump of these yucky winter blues! Full recipe is at the bottom along with links to the other bloggers recipes that are participating!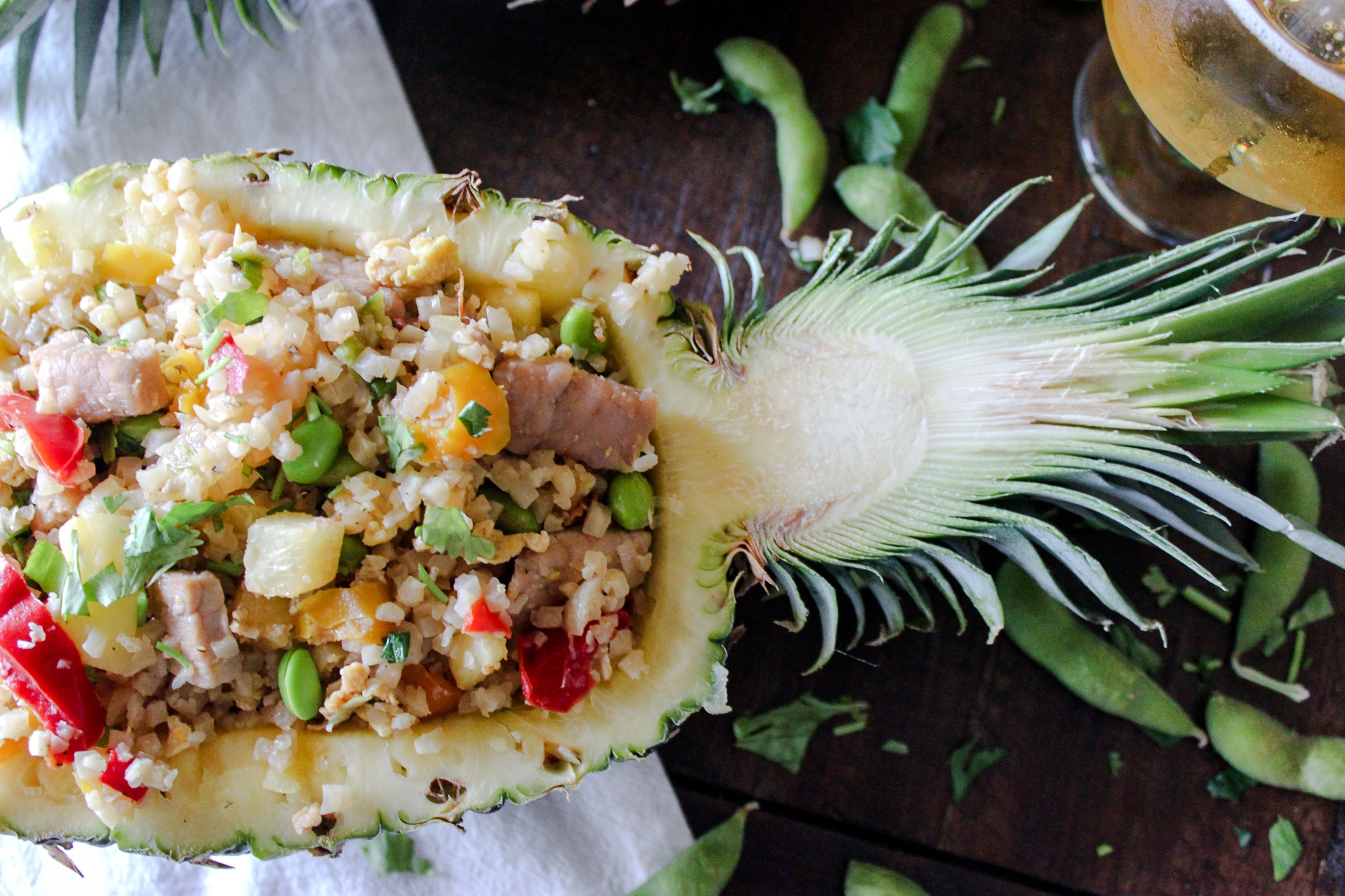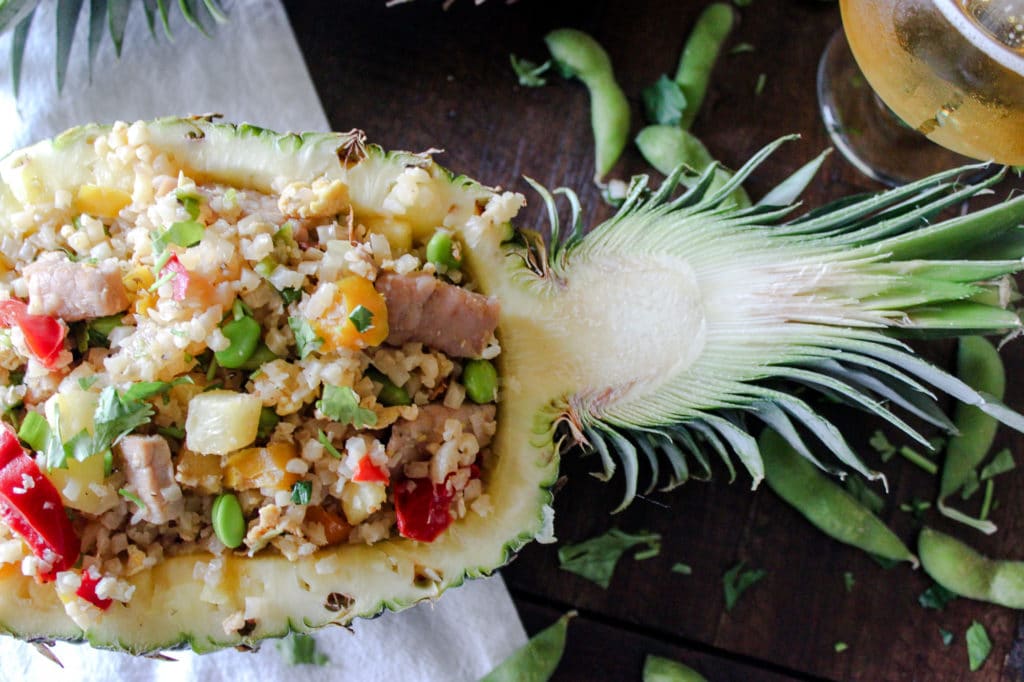 Pork & Pineapple Cauliflower "Fried Rice"
I eat mostly low carb, dairy free, and sugar free. I like creating dishes that fit my lifestyle so this challenge goes right along with my current meal preparation needs. I wanted to do something that would get me out of this winter slump I've been in. I'm 6 months out from living in South Florida and I can say I am definitely now feeling the withdrawals. You don't realize how important sun is…until its gone! I wanted to create a fresh, low carb, pork fried cauliflower "rice" dish that was easy to recreate any night of the week and would be something your whole family would enjoy. This recipe if fairly simple but still packed with flavor. Plus, I think everything tastes better when it's served in a pineapple!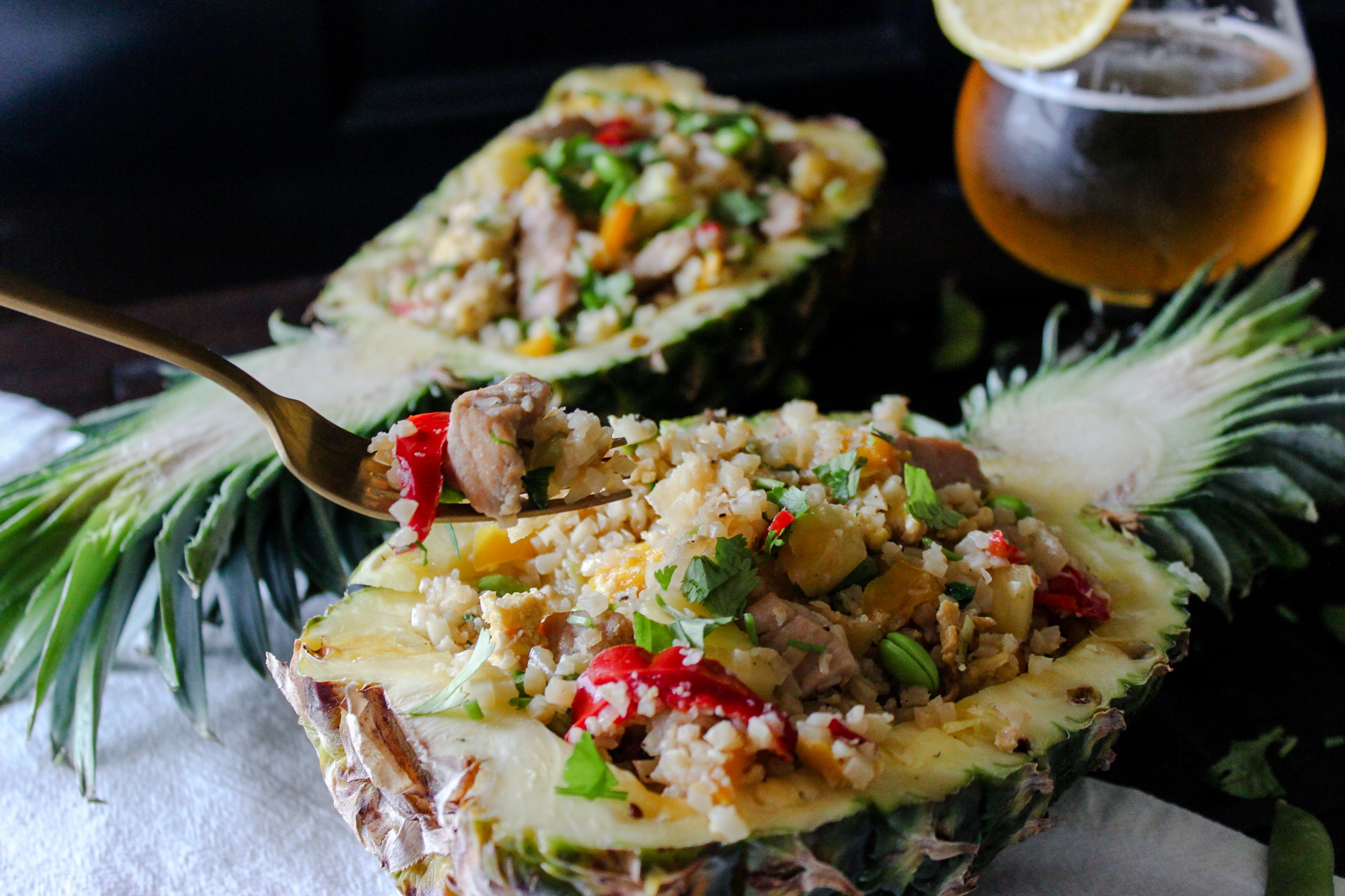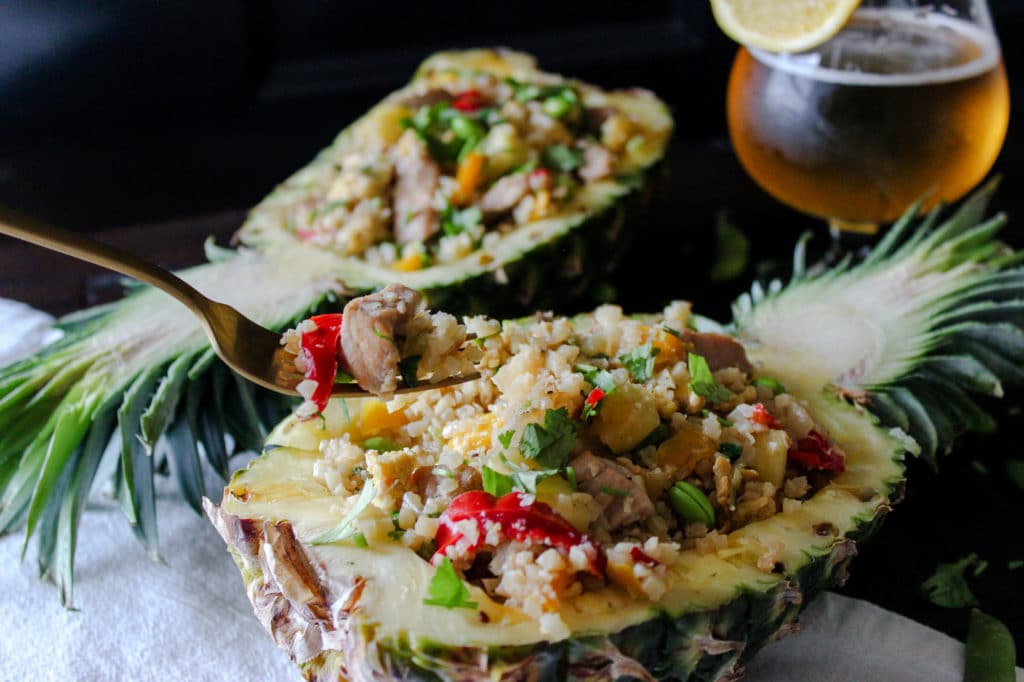 Want More Recipes?:
Amy from The Speedy Spatula created these delicious Yum Yum Tacos 
Allie from ABK Living made this beautiful Spinach Stuffed Chicken with Roasted Veggies
Check back from now until February 2nd for updates and post from the other participants! 
Bon Appeteach,
-L
Ladies Only Challenge- Pork & Pineapple Cauliflower
Print Recipe
Ingredients
1 lb. Lean Pork Chops

1/2 cup, Coconut Aminos (sub soy sauce)

2 Garlic Cloves, minced

6 cups, Cauliflower Rice (frozen)

1 Bag, Frozen Pepper Medley

1 cup, Edamame (removed from shells)

1 Pineapple (save 1 cup diced pineapple for fried rice)

4 stalks, Green Onions

3 Eggs

Cilantro for garnish

Salt & pepper

Olive Oil
Instructions
1
Begin by placing the pork chops into the freezer for 10 minutes (this makes it easier to cut).
2
Preheat the oven to 350 degrees F.
3
Place your frozen riced cauliflower onto a baking sheet and spread it out. Drizzle the top with olive oil and season with salt and pepper. Bake for 10 minutes, stir, and bake an additional 10 minutes.
4
While the cauliflower rice is baking, cut the pineapples directly in half down the middle.
5
Using a paring knife, cut around the edge of the pineapple and scoop out the core and fruit with a spoon. Set aside.
6
Cut up the pineapple, mince the garlic, dice the green onion.
7
In a bowl, add the coconut aminos and the garlic.
8
Slice the pork chops into thin strips. Cut each strip in half
9
Preheat a skilled to medium and add a little olive oil.
10
Add the pork and half the sauce. Cook till done, about 5-6 minutes.
11
Add the frozen bag of peppers and cook 3-4 minutes.
12
Move the mixture to one half of the skillet.
13
In a bowl, beat the eggs and then pour into the open skillet. Scramble the eggs and combine with the pork mixture.
14
Add in the edamame, green onion, and pineapple.
15
Once the cauliflower rice is heated through, add it to your skillet.
16
Pour over the remaining sauce. Stir to combine thoroughly.
17
Place the mixture into the hallowed out pineapple and garish with fresh cilantro.