Grilled Sausage and Peppers with Zoodles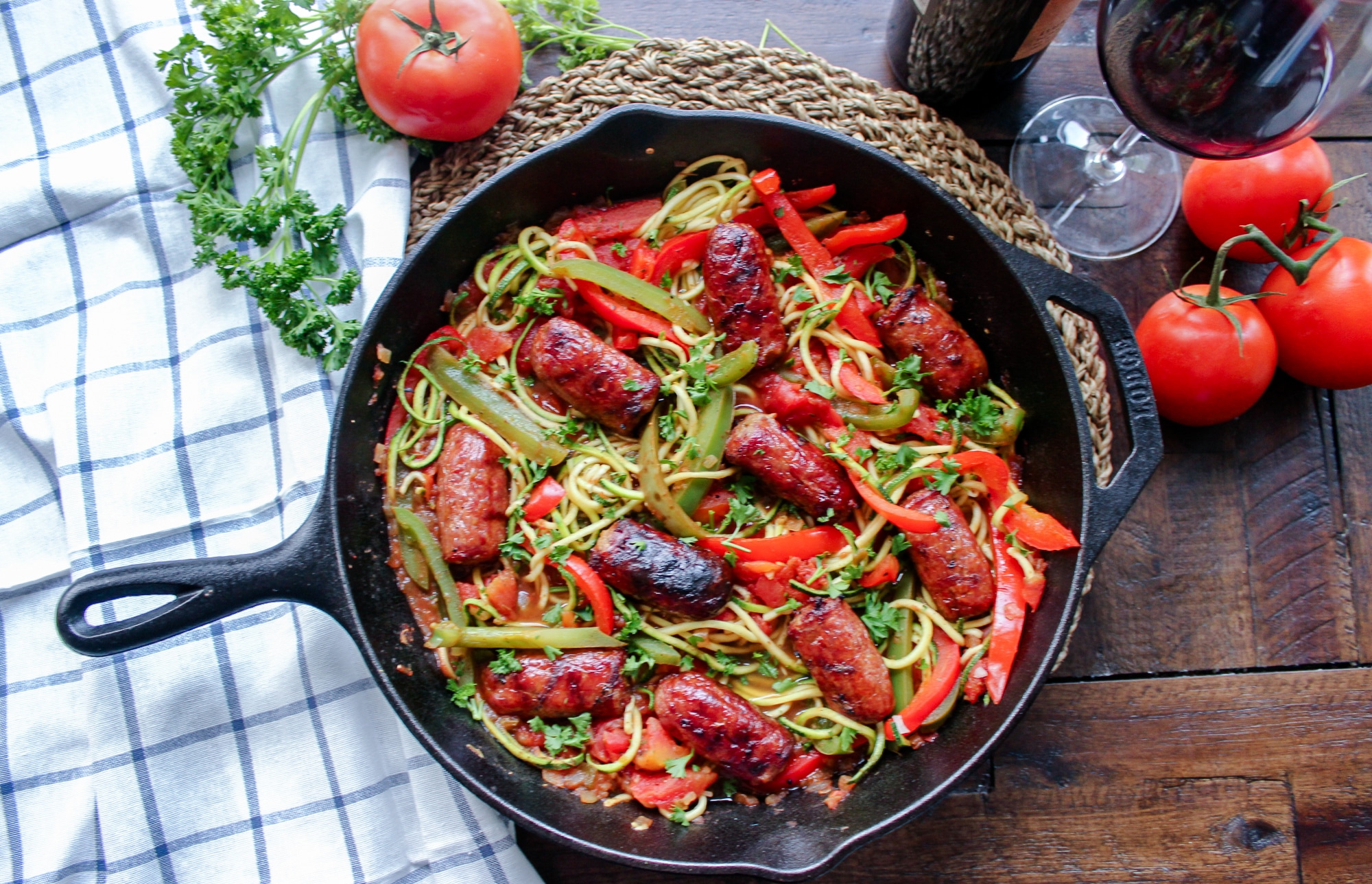 Grilled Sausage and Peppers with Zoodles :
As soon as the weather gets warmer, I am outside on the patio and firing up the grill! Because this whole meal was made directly on the grill (not just the sausage), it means less time in the kitchen and more time outside. The flavors from the grill really enhance this dish, but it is possible to make this on your stovetop as well if grilling isn't in your near future. You can easily eat the Grilled Sausage and Peppers as is without the zucchini noodles, but I honestly think they add some dimension to this dish. This meal is perfect for hosting guests this Memorial day weekend as well if you are looking to try something outside  of the normal burgers and hot dogs routine. My favorite part? The leftovers! They paired perfectly with a fried egg the next day making this meal even better! Find the full recipe for Grilled Sausage and Peppers with Zoodles at the bottom of the page and read on for a few of my tips and tricks.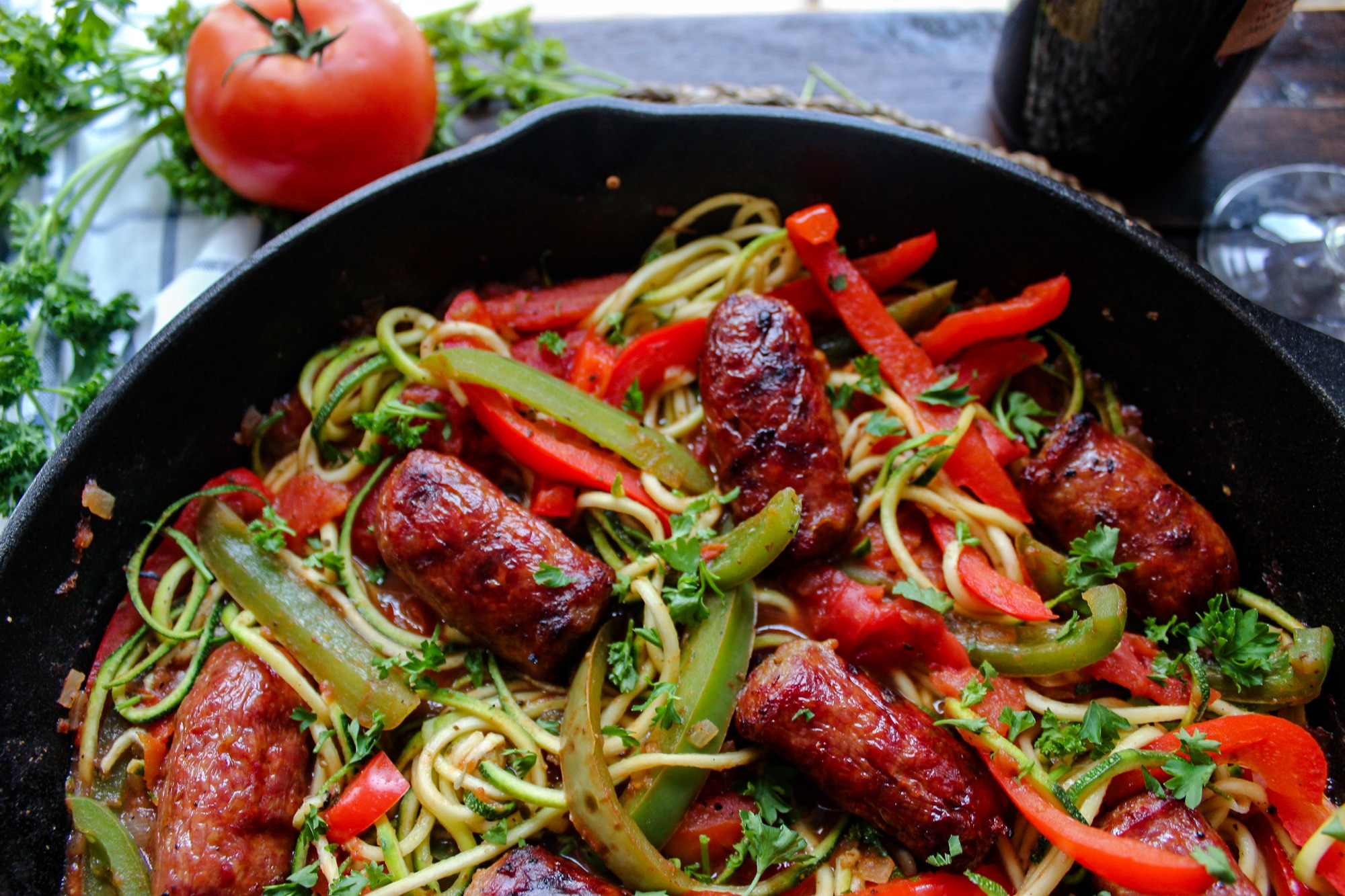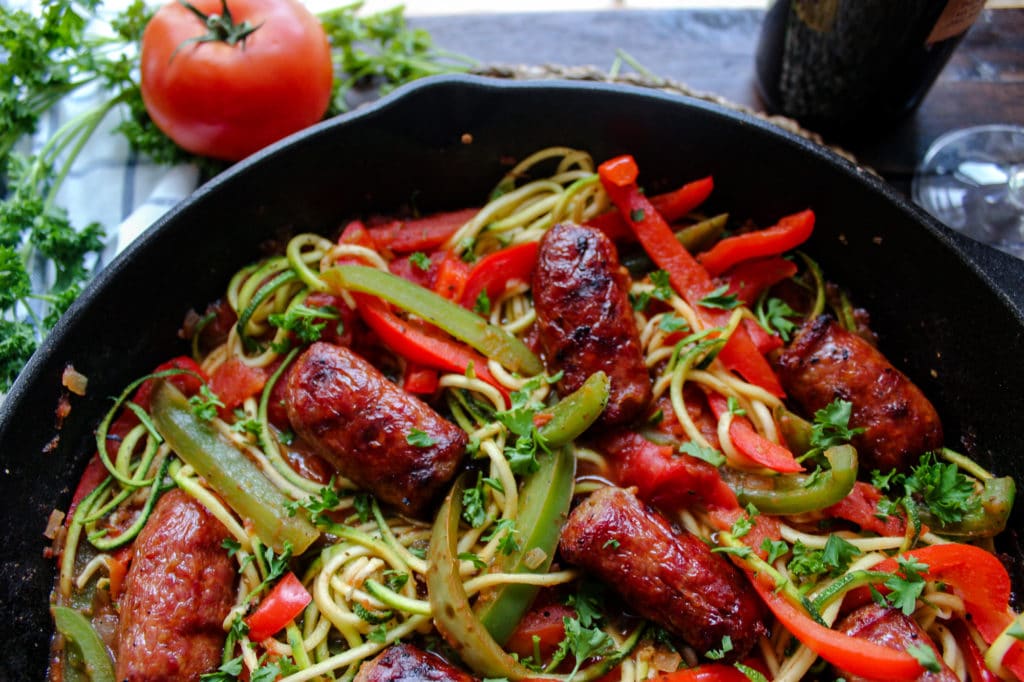 "School Supplies"
-Cast Iron Skillet
-Spiralizer for Zoodles
-Knife & Cutting Board
-Tongs
-Wooden Spoon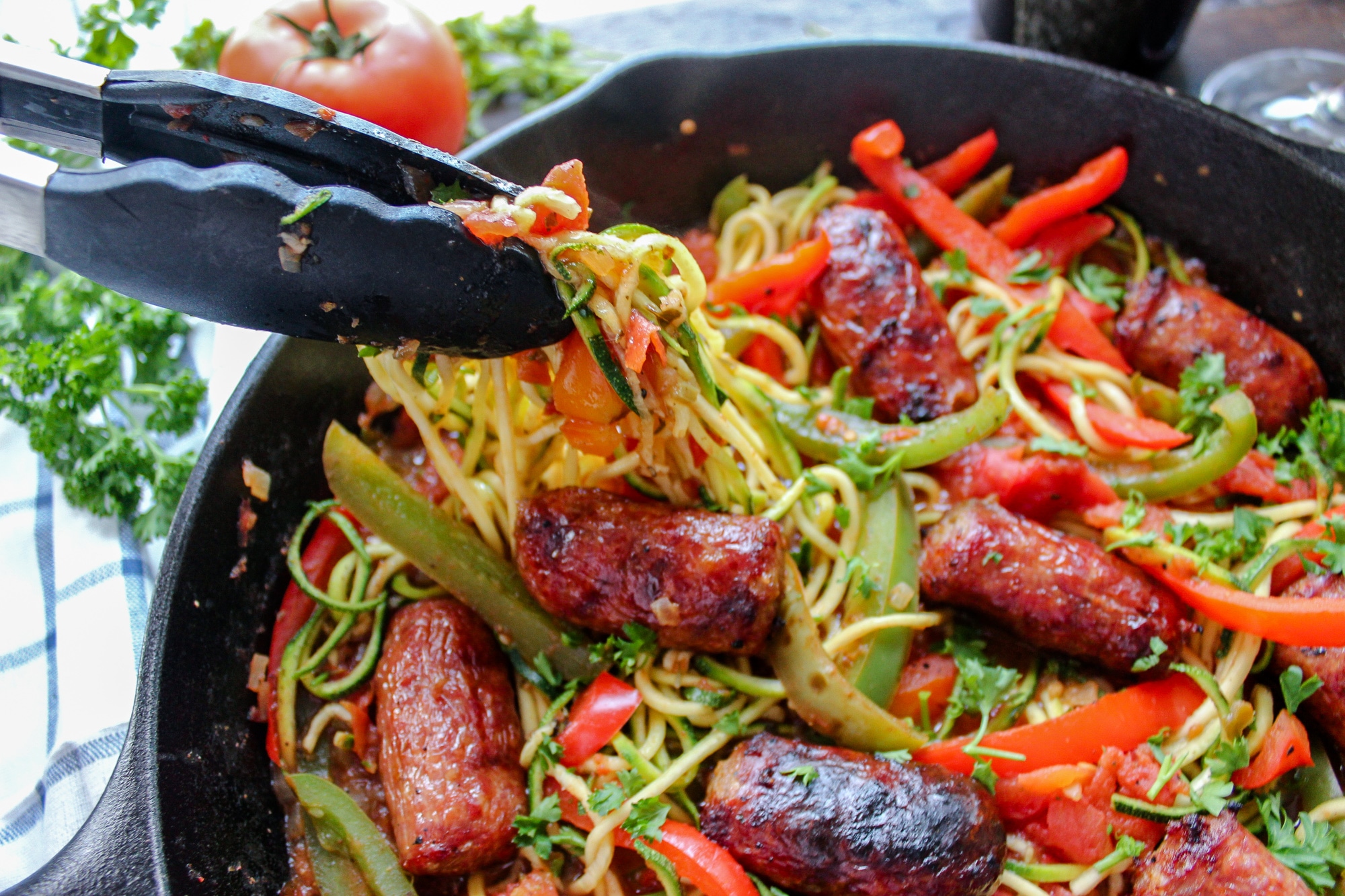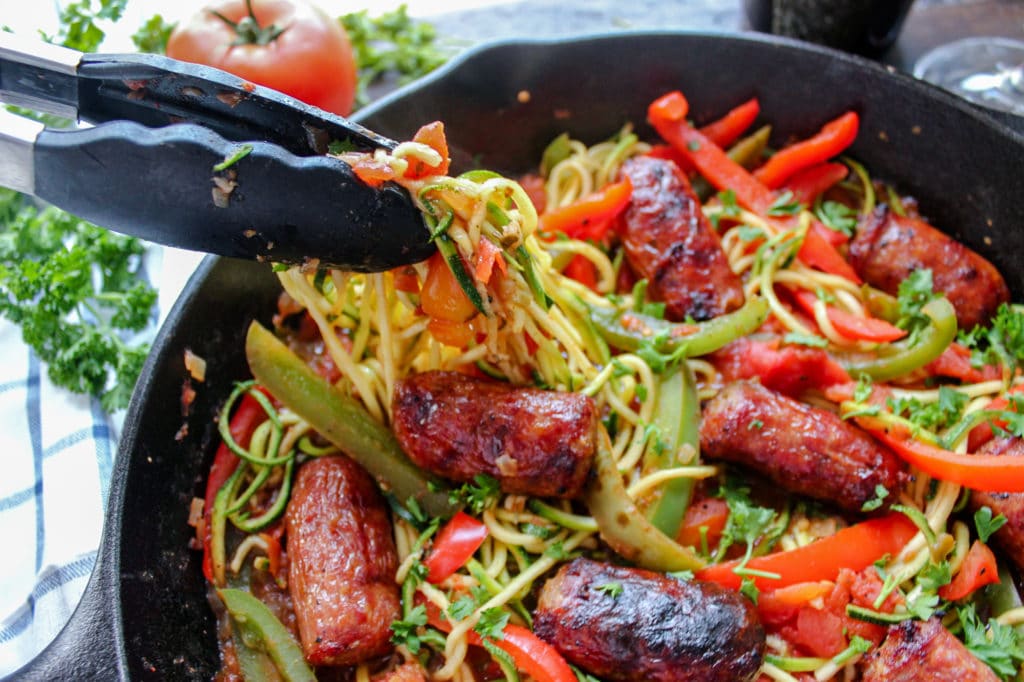 "Class" Notes:
Mise En Place:
Mise En Place or "to put in place" is a key component in any recipe. This is the first thing I stress with my Level I culinary arts students. Recipes move quickly sometimes, so you need to be ready. Because I prepared this whole recipe on the grill, it was important to have everything sliced, diced, and measured out and ready to go. I placed everything onto a baking sheet that I was able to set next to my grill and add ingredients as needed. For this recipe, I made my own zoodles using a spiralizer. If you don't have one you can use a peeler or buy zoodles from most grocery stores like Whole Foods.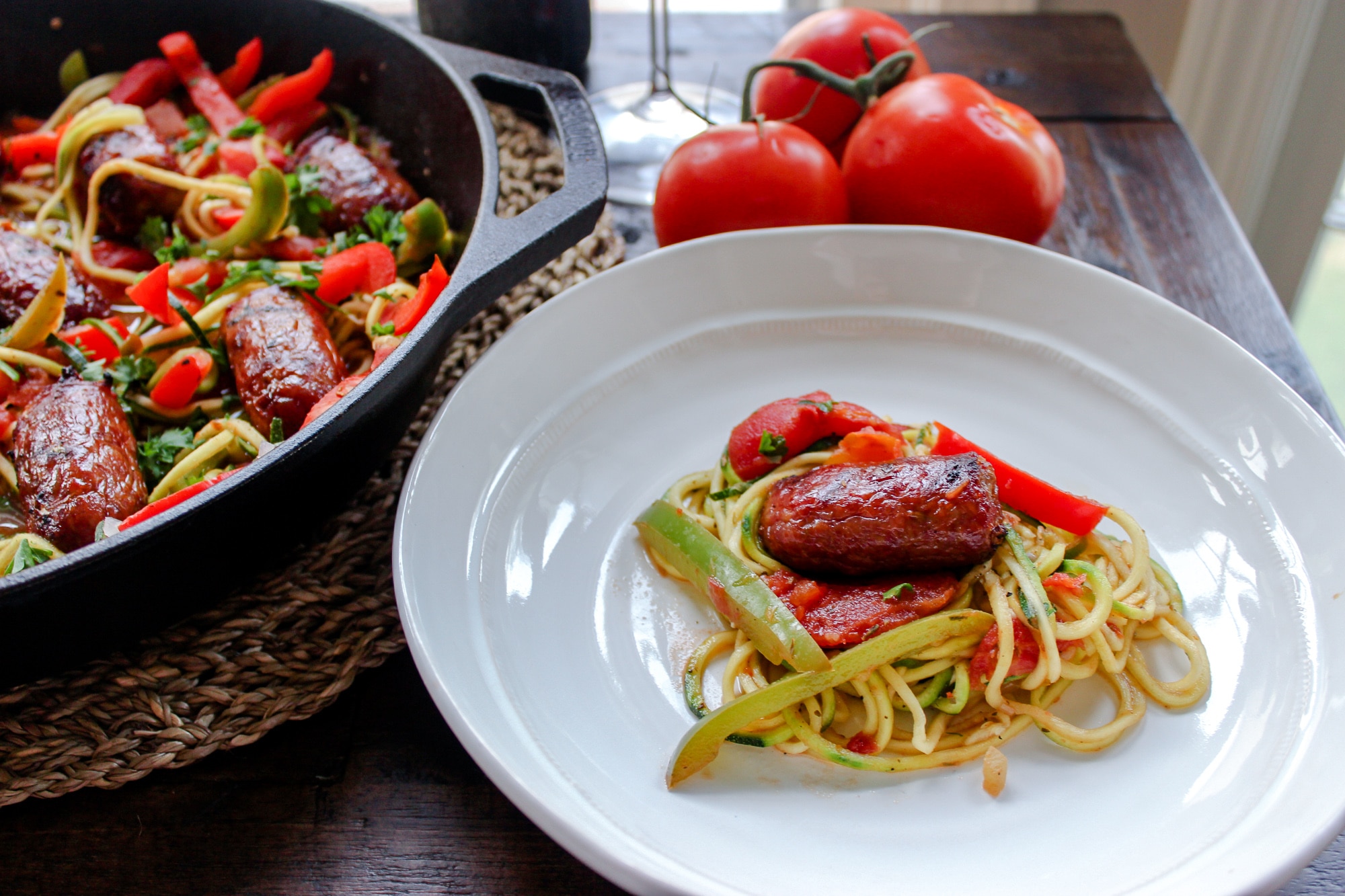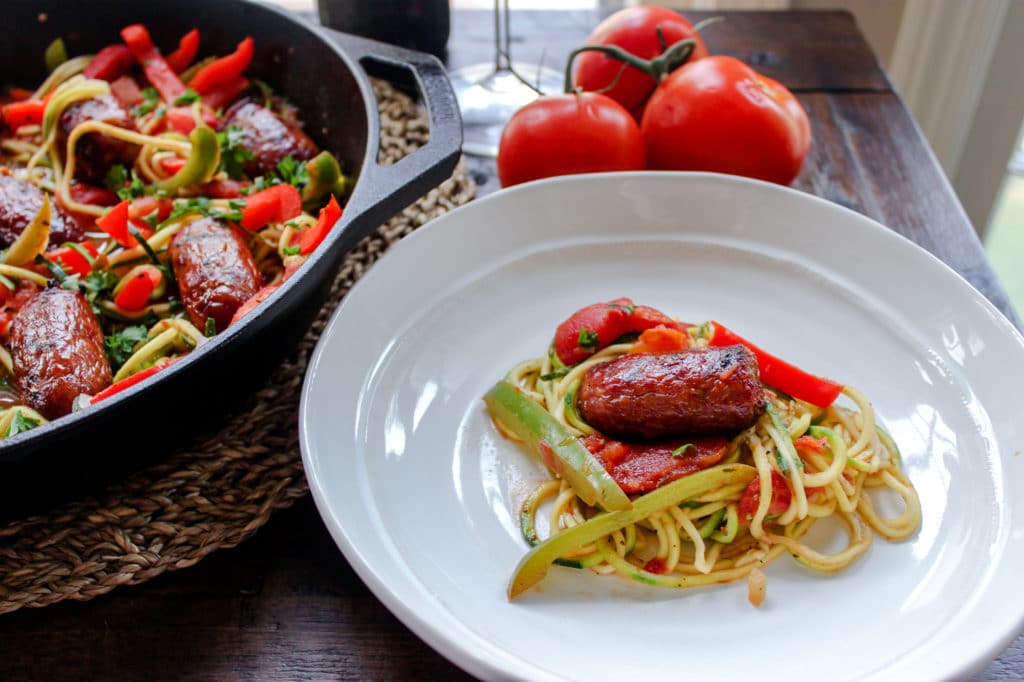 Grilled Sausage and Peppers with Zoodles:
I started by cooking my Italian Sausages first. In order to make this dish easier to eat I actually sliced each of my larger sausages in half before I grilled them. This worked out perfect for portioning out the dish in my opinion. While the sausages cooked, I preheated my cast iron skillet on the grill. Then, I added in the onions and garlic and allow them to cook a few minutes. Once they brown slightly I added the peppers. I did close the grill lid for a few minutes to help cook the peppers and keep my grill temperature even. Now, I personally have a lot of weird preferences when it comes to the textures of my food. I do not like mushy peppers (probably why I fed stuffed peppers to my dog as a kid when my Mom wasn't looking), so I do not cook them for a very long time. You can adjust this to your preference but I like mine to have a bit of crunch still left in them! After the peppers have been sauteing for a few minutes, add in the can of stewed tomatoes and a little chicken broth. Use the back of a wooden spoon to smash the tomatoes down a bit and let it cook and reduce slightly. At the end, toss in the zoodles until they are full coated, add in the grilled sausages, and serve!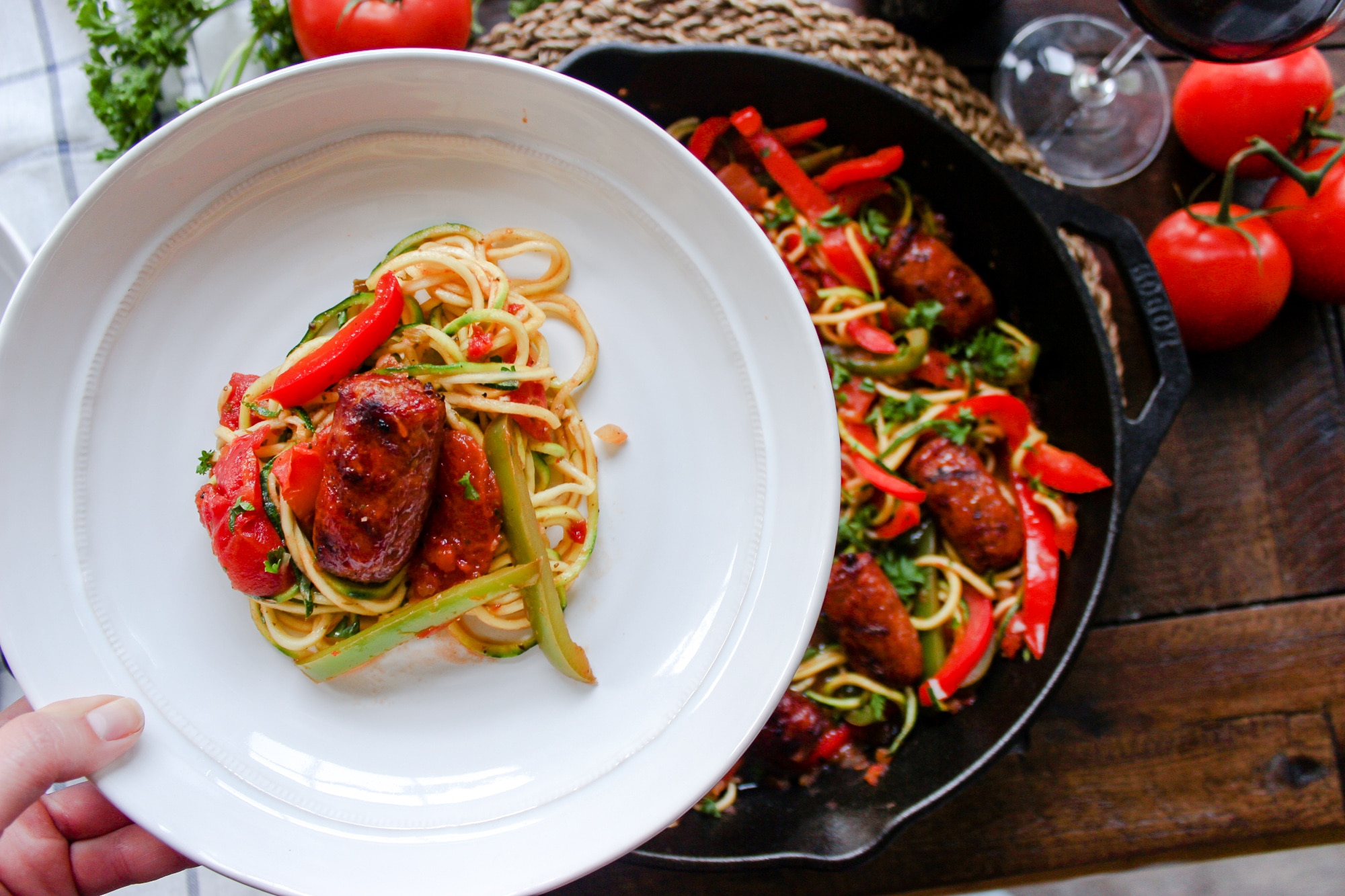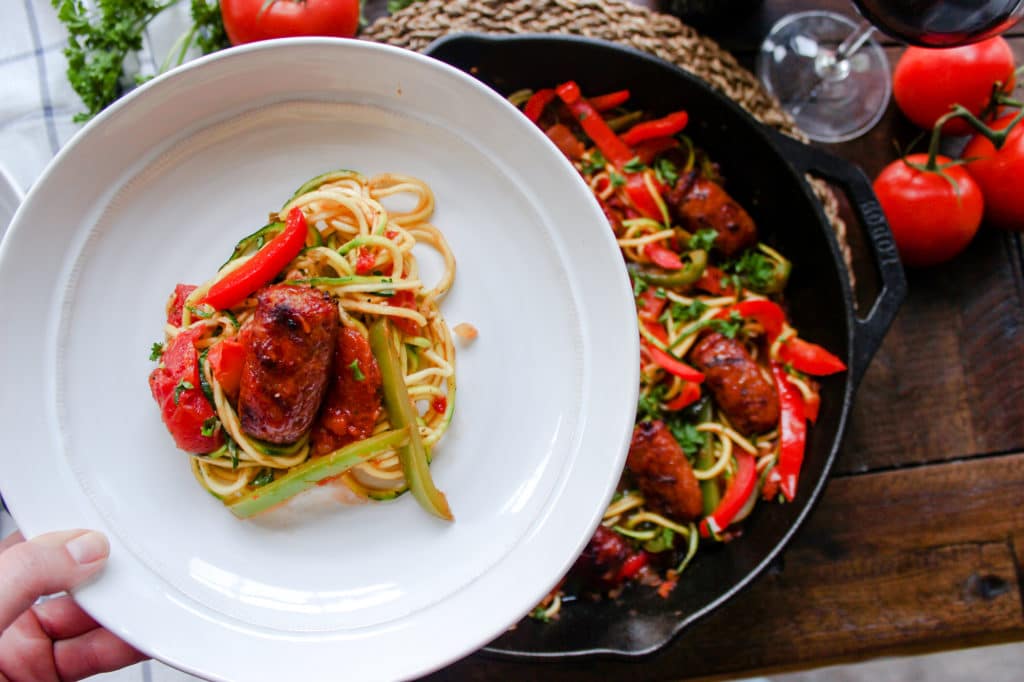 This recipe for Grilled Sausage and Peppers with Zoodles is so easy and absolutely packed with flavor! Enjoy this fun summer style low carb meal for dinner tonight! If you love zoodles, check out these Sriracha Salmon Zoodle Bowls too!
Bon Appeteach,
-L
Ingredients
1 lb. Italian Sausages (5)

1/2 Green Pepper

1/2 Red Pepper

1/4 cup Diced Onion

1 Garlic Clove, minced

1, 14.5 oz can Stewed Tomatoes

1 Large Zucchini, spiralized

1 cup Chicken Stock

1 tsp. Salt

1 tsp. Pepper

1 tsp. Italian Seasonings
Instructions
1
Cut the sausages in half and place on the grill. Preheat a cast iron skillet on the grill as well.
2
When the sausages are about half way done, add the onions and garlic to the skillet and saute for a few minutes until lightly browned.
3
Add the peppers and saute for about a minute. Close the lid of the grill and allow them to cook until al dente. If cooking directly on the stove, allow them to cook at medium heat for 4-5 minutes or so.
4
Add the stewed tomatoes, chicken stock, salt, pepper, and Italian seasonings. Saute and smash the tomatoes down a bit with the back of the wooden spoon.
5
If the sausages are done, remove them from the grill and set them aside. Once the tomatoes have reduce slightly, add the zoodles and fold them into the mixture so they are fully coated. Place the sausages into the skillet and remove the skillet from the grill (or stove top).