Its winter time, and all a girl needs is a cozy blanket and a big bowl of pasta. Or in my low carb case…. Meditteranean spaghetti squash pasta. I really enjoy experimenting with different flavors, different types of cuisines, and finding ways to keep out the refined carbs from my diet (I will be sharing more of my personal reasons for this soon). This is a very refreshing "pasta"dish and makes you body healthy and your soul happy. That's my kinda dinner….
Classic Mediterranean Flavors:
Most of my dishes come from a whim of inspiration and of course, a food craving. This one was a mixture of planning and whimsical creativity (aka using up all the things in my fridge because I'm moving soon). I knew I was craving some of those classic Mediterranean flavors like feta, oregano, kalamata olives, and fresh tomatoes. I've also been dying to make Teri Turner's (No Crumbs Left) marinated red onions and this dish gave me the perfect excuse! Feel free to pick and choose what flavors and vegetables you want to play around with in this dish. The ones I mentioned above are definitely a must for me, but you could always add things like peppers, zucchini, or sun dried tomatoes. Have fun with what you have in your house and what fits your style and taste buds.
One Pan, One "Pasta":
What I also loved about this meal was that it was all made in one dish (with exception to cooking the squash). I love my cast iron skillets. These pans are the most loyal kitchen tool if you treat them with love and kindness! I seared and cooked my marinated chicken, cooked my veggies, and tossed in the squash all into one pan. I think they also make the perfect serving dish because they keep your food hot and have a beautiful simplicity to them. If you haven't jumped on the cast iron skillet band wagon yet,then you better do it soon! Full recipe and steps are listed below!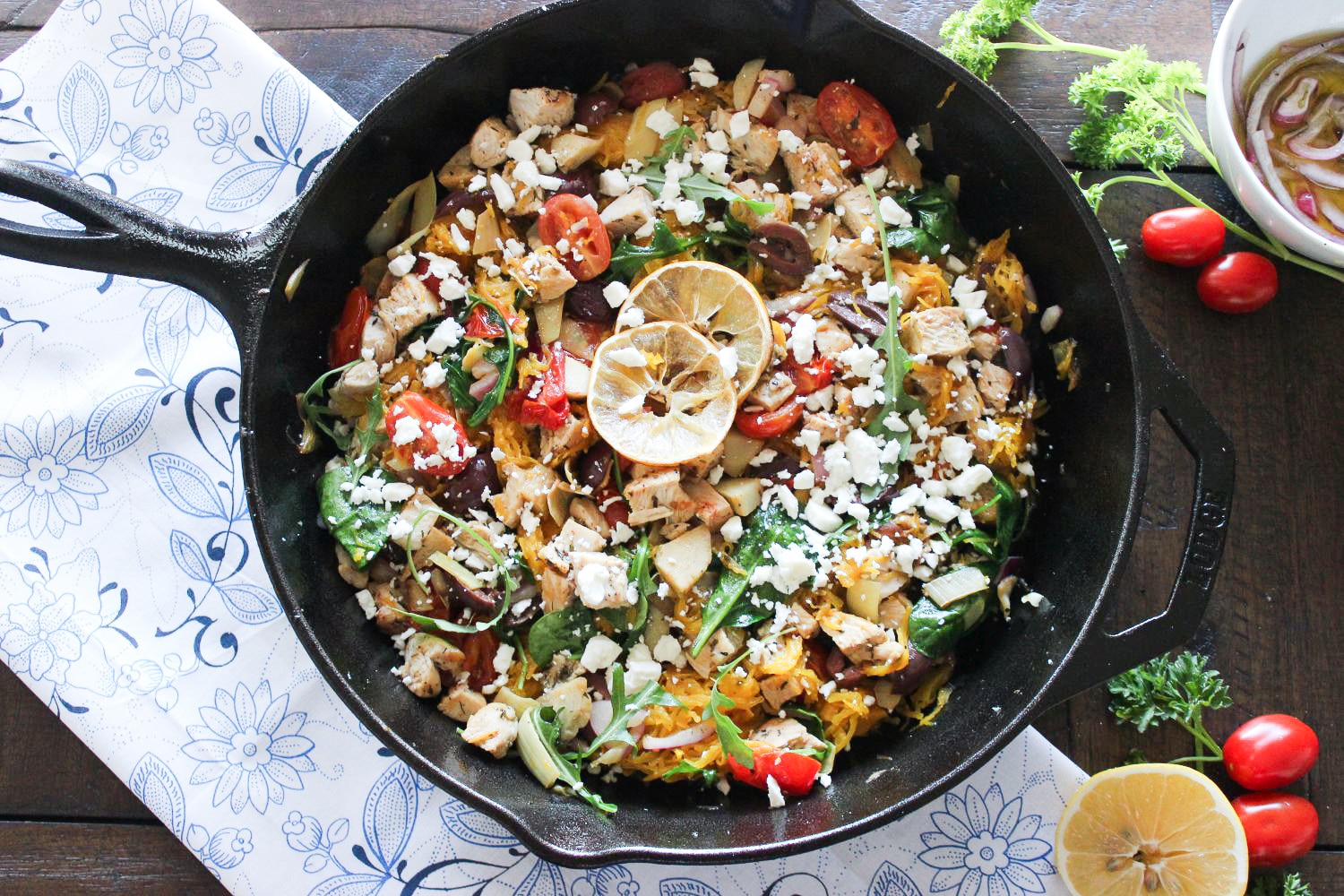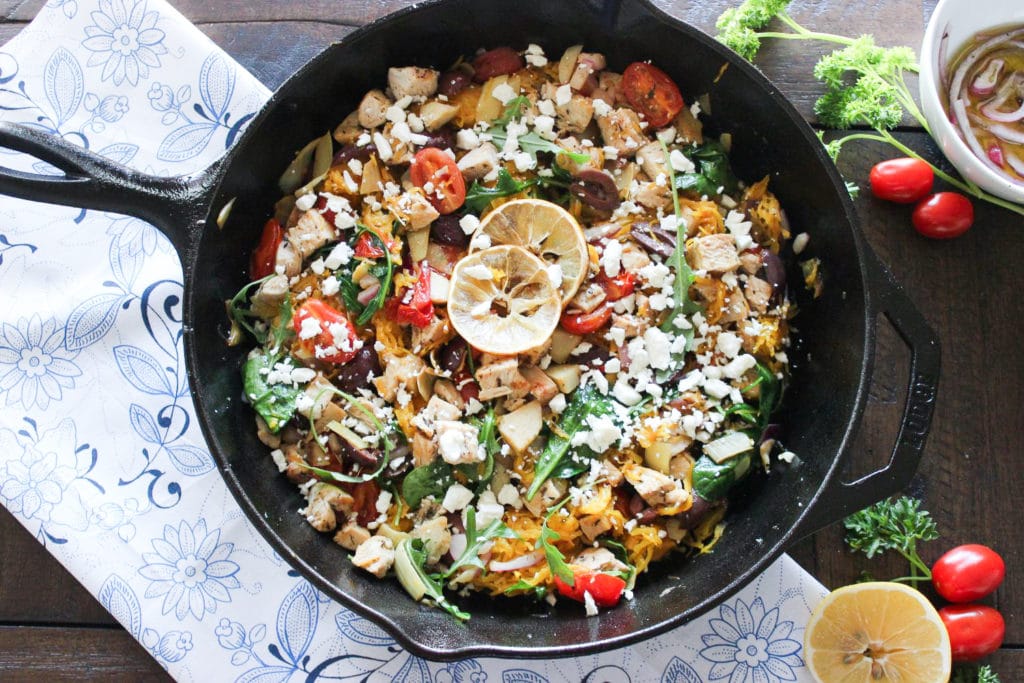 Bon Appeteach
-L
Ingredients
1 large Spaghetti Squash

2 large, Chicken Breasts

1/3 cup, Olive Oil

1 Lemon, juice & zest

3 cloves, Garlic, minced

1 Tbsp. Oregano

1 tsp. Thyme

1 tsp. Salt & Pepper

1/2 Marinated Red Onions (see link in post for recipe)

1 cup, Cherry Tomatoes, halved

1/2 cup, Kalamata Olives, halved

1 cup, Artichoke Hearts, diced

1 1/2 cups, Spinach or Arugula

1/2 cup, Feta
Instructions
1
Start by marinading your chicken 1 hour prior to cooking. Place the chicken into a shallow container and add the olive oil, lemon juice and zest, oregano, thyme, garlic, salt, and pepper.
2
Begin by microwaving or roasting your spaghetti squash. If you roast the squash this will add additional cooking time to the meal.
3
Heat a skillet to medium. Add the marinated chicken breasts once hot and cook. Brown both sides and let cook until no longer pink.
4
Half the tomatoes and olives. Dice the artichokes.
5
Remove the chicken from the pan and allow it to rest.
6
Toss in the tomatoes, olives, and artichokes. Allow them to cook for a few minutes until the tomatoes begin to soften. Add in the red onions. Cook a few more minutes.
7
Dice the chicken and toss back into the pan.
8
Scrape out the spaghetti squash and add to the pan. Fold and toss the squash into the veggies and chicken. Remove from heat.
9
Add in the spinach. The heat from the food will help it wilt. Sprinkle the feta cheese over the top.
10
At this point you can serve as is or I like to drizzle a little extra olive oil or the red onion marinade mixture over the top!