Grain Free Pumpkin Spiced Granola:
This time last year I was just exploring more about myself as a chef, a food photographer, and more about the keto/ low carb lifestyle. This was a recipe I played around with last fall but didn't begin my website till much later (sometime in mid December of 2017). This recipe for Grain Free Pumpkin Spiced Granola deserved a shot. So, here it is. Pair with a variety of keto/low carb friendly food options (see class notes below) or eat as is! Full recipe can be found at the bottom of the page.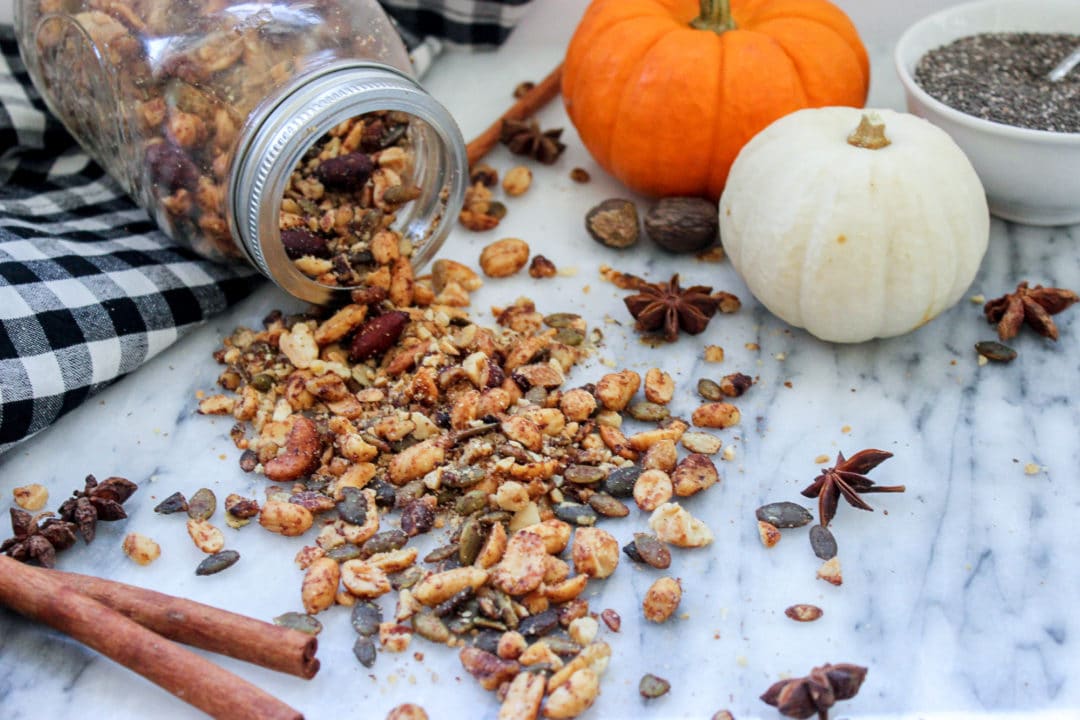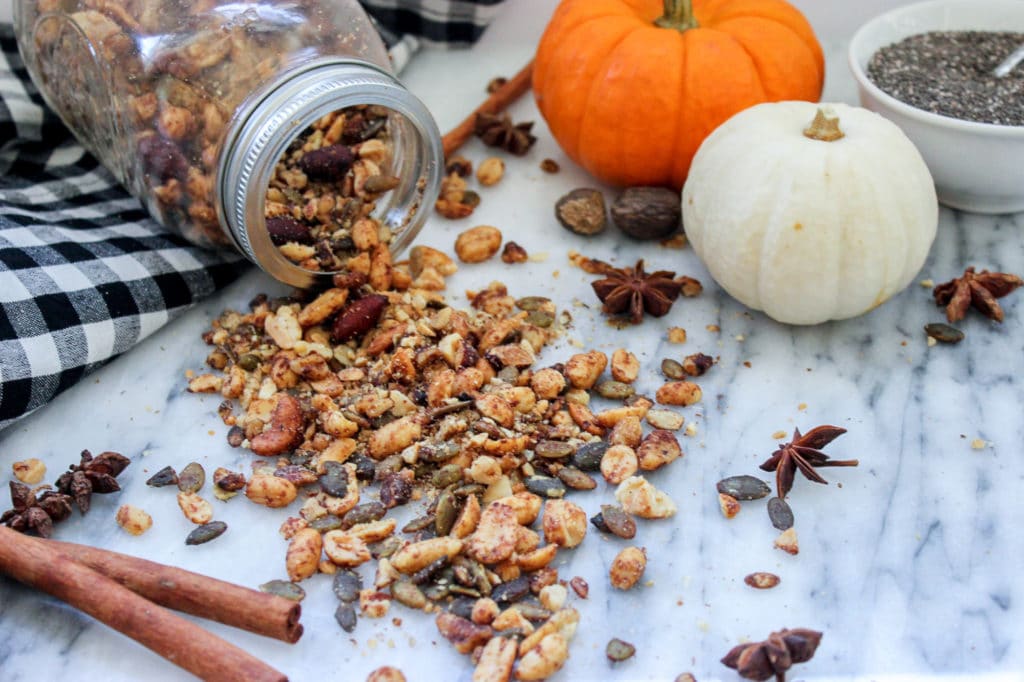 "School" Supplies:
Baking sheet
Large Mixing Bowl
Rubber Spatula
"Class" Notes:
Being grain free, this granola is made up of seeds and a mix of different nuts. You can easily customize it to your diet, taste, and macros (if you track that kinda thing). This recipe is modeled after many recipes you may have seen for candied nuts (especially during the holiday season). The concept is not new,  but it is lower carb, gluten free, and tasting as basic as possible. I live my best PSL life and really don't care. Plus it makes your house smell pretty damn good. What's not to love? Full recipe is below.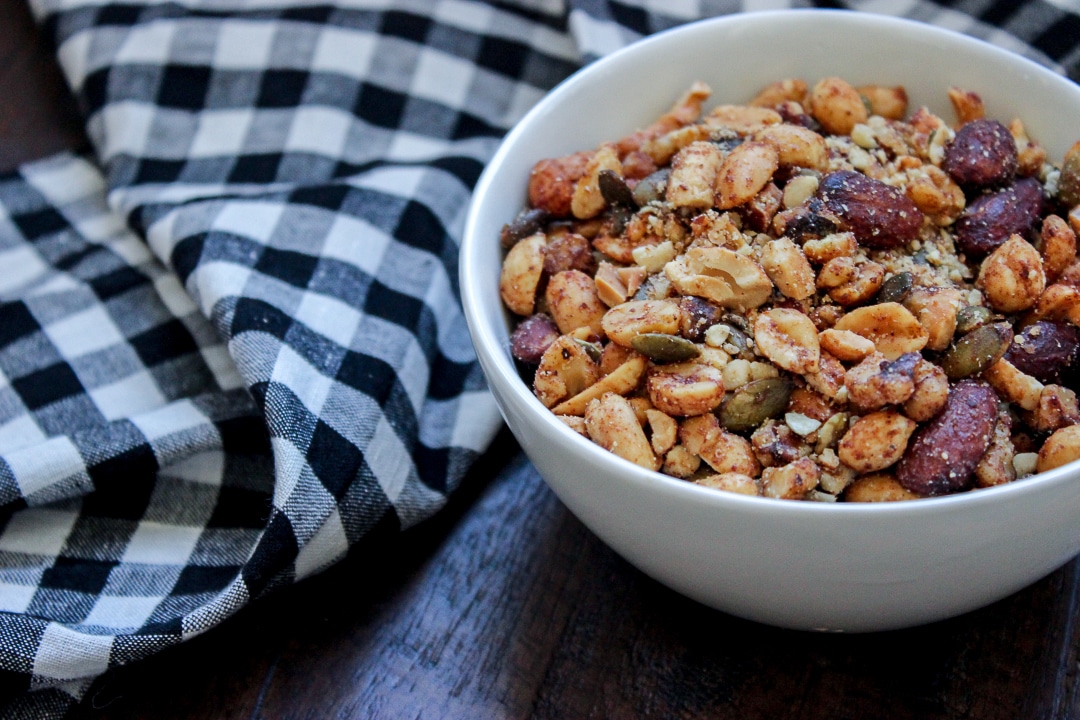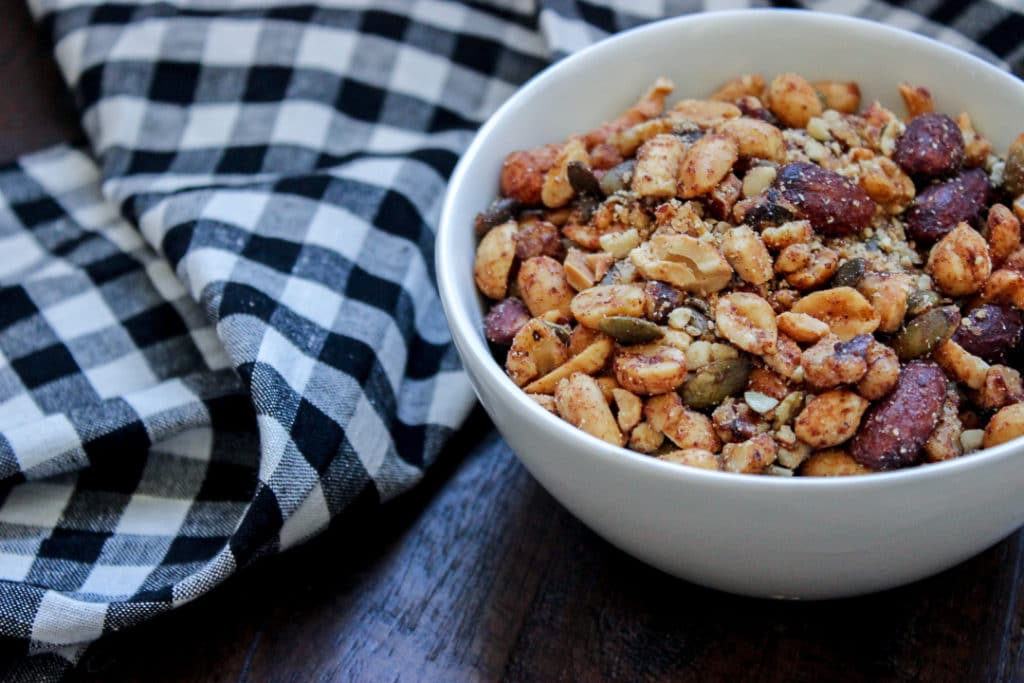 Bon Appeteach,
-L
Ingredients
1 Egg White

1 tsp Vanilla

1/2-3/4 cup Monk Fruit Sweetener (or your sweetener of choice)

3 cups Nuts (I used a mix of cashews, almonds, walnuts, and macadamia)

1 cup Pumpkin Seeds

1-2 tsp Pumpkin Pie Spice

Optional- Flax Seed, Chia Seeds, and Sunflower seeds
Instructions
1
Preheat your oven to 225 F. Prep a baking sheet with parchment paper or foil.
2
In a bowl, mix the egg white and the vanilla.
3
Add the nuts and seeds into the bowl with the egg white and fold it together. The egg white should coat all of the seeds and nuts.
4
Mix the monk fruit and the pumpkin pie spice together, then add it to the nuts/seeds. Continue folding till fully coated.
5
Spread the mixture out onto the baking sheet in an even layer. Bake for 15 minutes, stir, and repeat. Do this for 1 hour total and allow it to cool.
6
Optional- I take about 1 cup of the mixture and place it in my food processor and pulse a few time to really break down the nuts, then add it back in to the final product. This helps it feel more like a granola than a trail mix to me. Add the granola to yogurt, chia pudding, or a smoothie bowl. It makes a great snack too!