I love how gorgeous this Goat Cheese and Berry Pull Apart Tart is!  This will be a show stopping appetizer this holiday season and it is demanding to be on your table. Not only is it beautiful, but I just find the balance of both sweet and savory flavors to be so refreshing and delicious. This may look intimidating, but I truly believe anyone can make this (read through the post and the recipe for several tips and tricks)!
I first started by creating a berry compote. This involves using fresh or frozen berries, a bit of OJ and orange zest and even a splash of orange liquor (optional). Cook this down and mash the berries a bit. Add in a little cornstarch and allow it to cool. I threw mine in the freezer for about 15 minutes or so to speed this process up.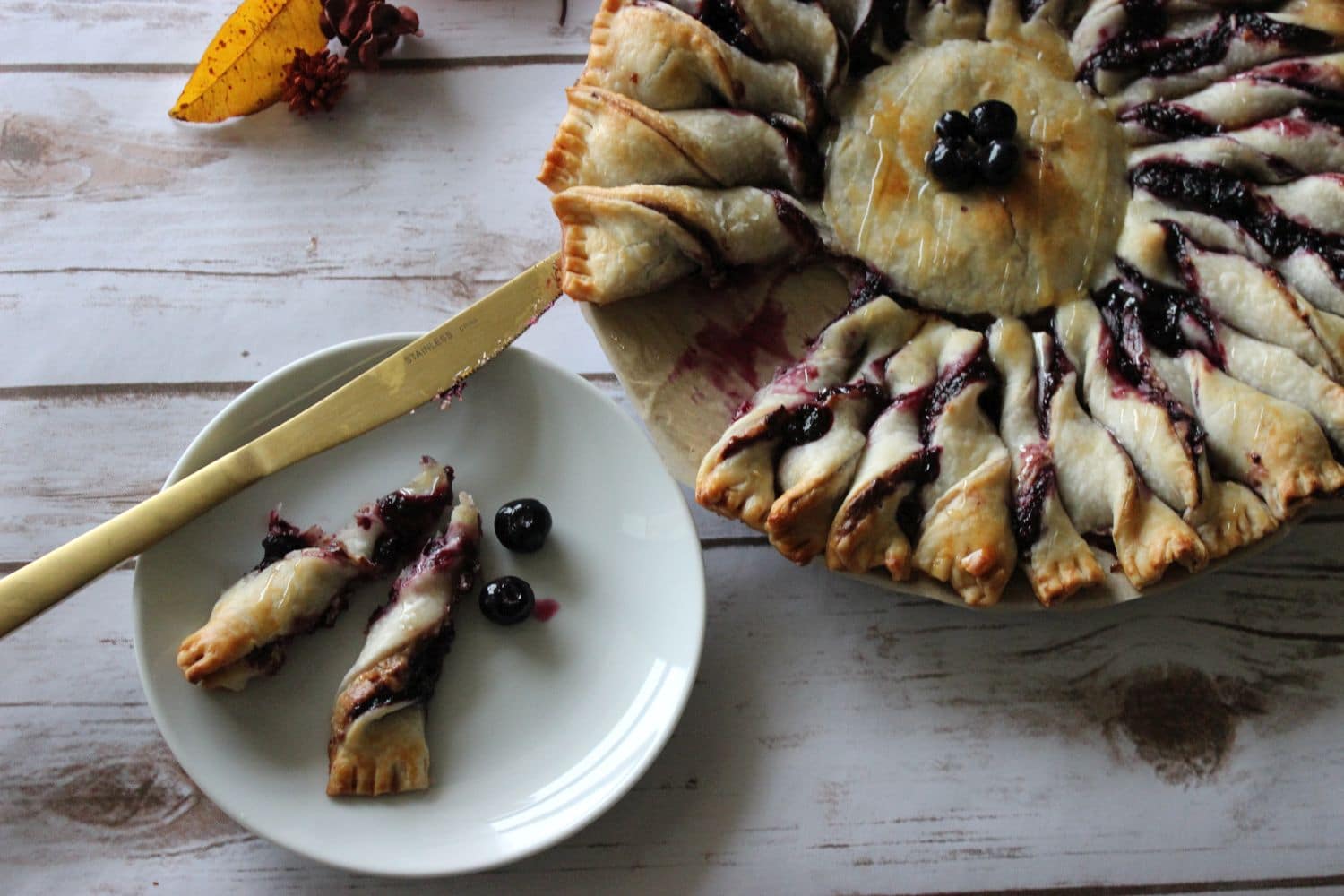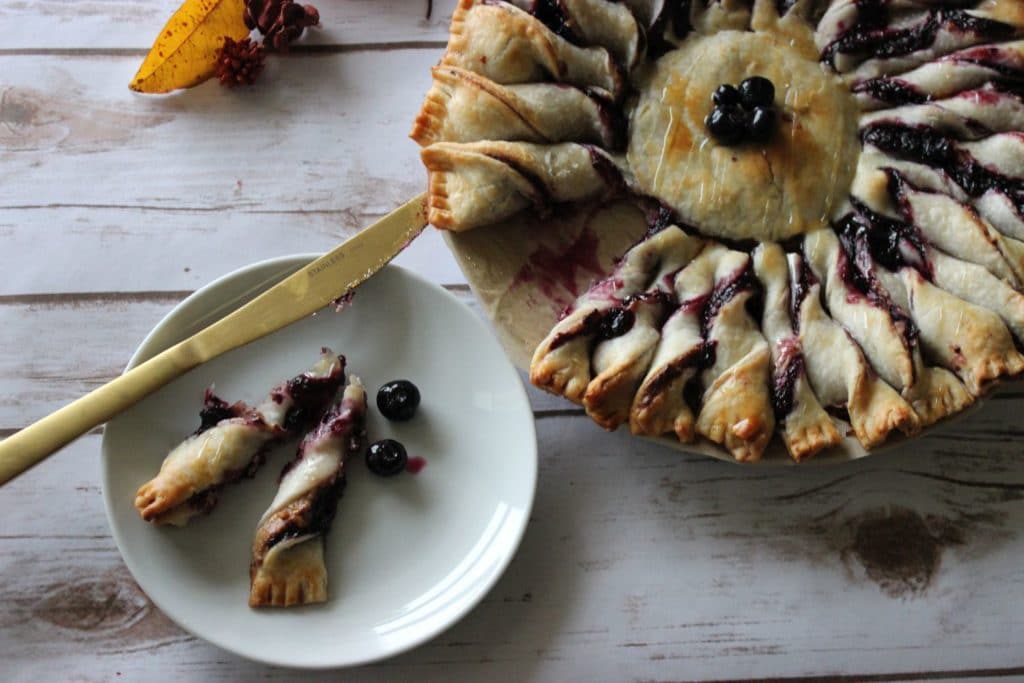 Berries go beautifully with goat cheese. I am a huge fan, but even I find goat cheese to be a bit pungent sometimes when it is all by itself. To help balance out the flavor, I combined cream cheese, rosemary, and some finely chopped pecans. If you don't want to add the goat cheese at all, then the cream cheese will still work perfectly by itself.
I made the Americas Test Kitchen Vodka Pie Crust recipe. I SWEAR by it! However, a store bought crust will work great if you're not a fan of the time or the task. I added one crust to a parchment covered pizza stone. Slathered on some honey, layered with the goat cheese/cream cheese mixture, topped with the berries and added the second crust. Seal it completely by crimping the edges with a fork. Place a small bowl in the middle and proceed to make even cuts (I used a pizza wheel). Once it is cut, twist each piece a few times. It may be a bit messy and oozy but it all comes out great!
This is seriously a show stopper and will be perfect as your next holiday appetizer!
Bon Appeteach,
-L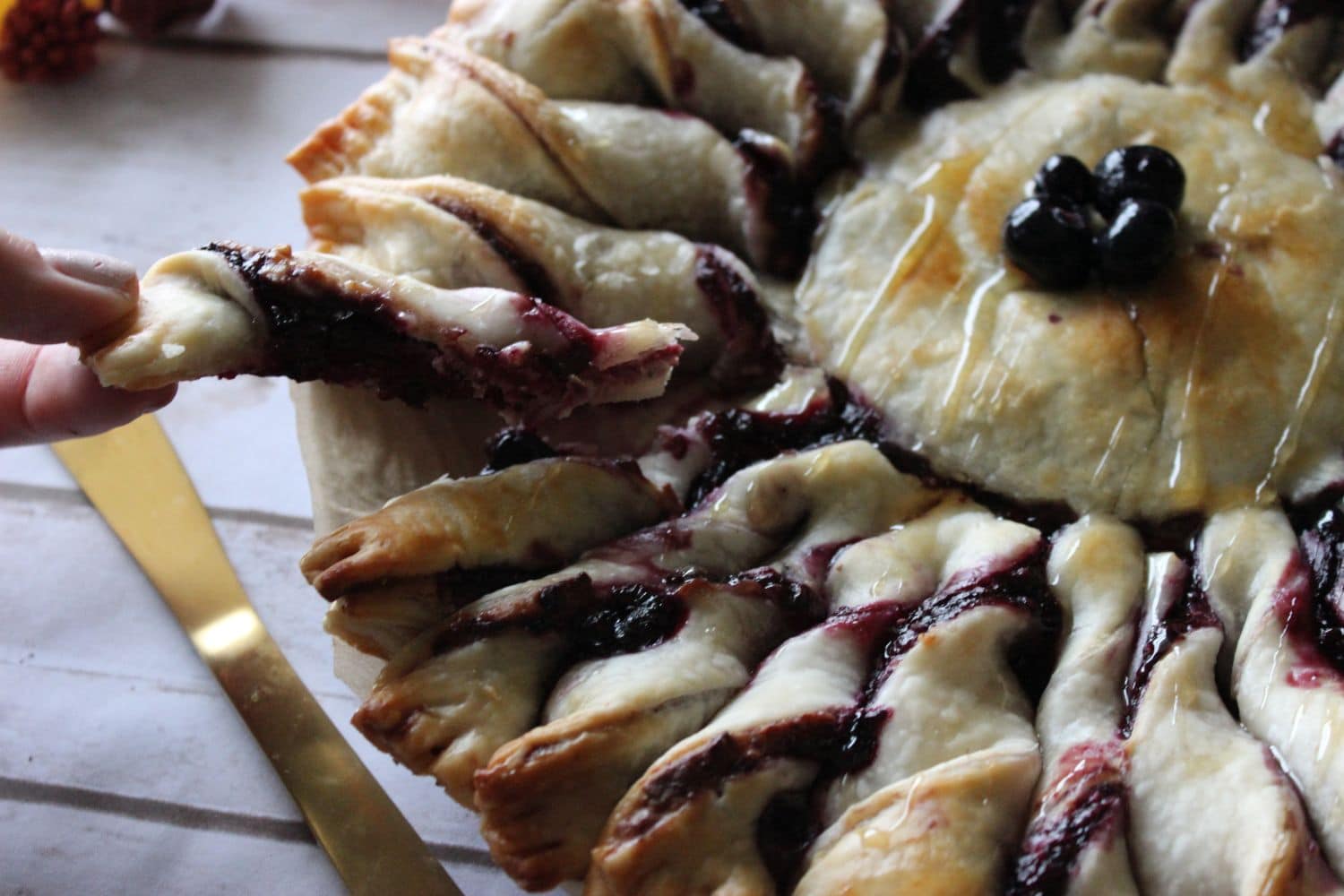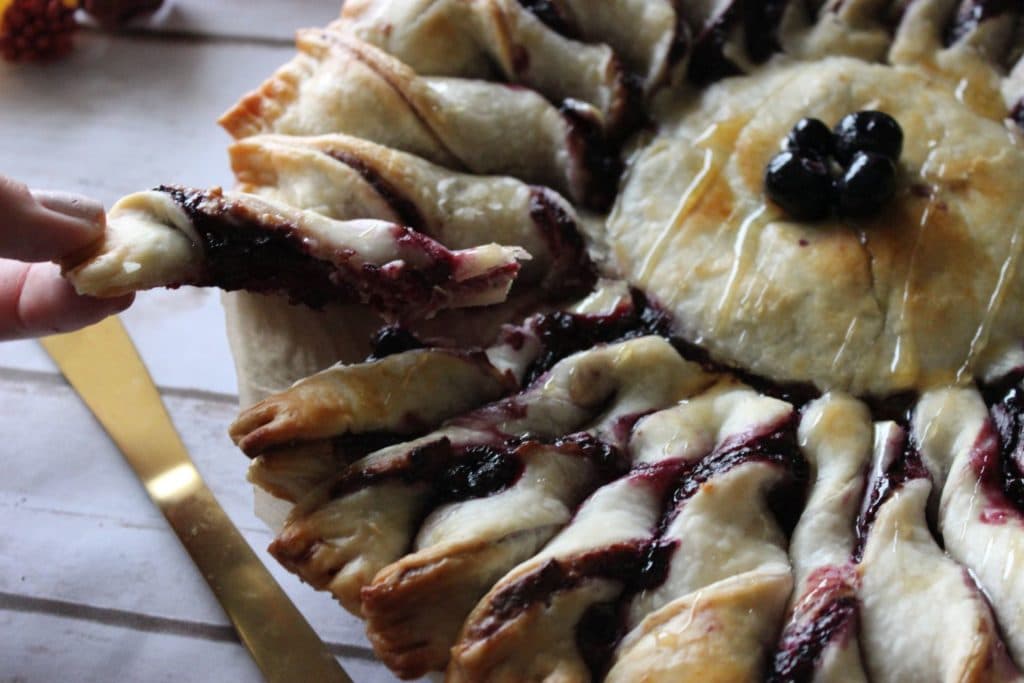 Ingredients
2 Pie Crusts (make your own or purchase store bought crusts)

2 Cups- Mixed Berries (can be frozen or fresh)

1/4 C. Sugar

1/4 tsp. Salt

1/4 tsp. Pepper

Juice from 1/2 of an orange (about 2 Tbsp.)

1 oz. Orange Liquor (optional)

1 Tbsp. Orange Zest

2 tsp. Cornstarch

1, 8 oz. Package of Cream Cheese

3 Tbsp. Goat Cheese (optional)

1/2 C. Finely Chopped Peacans

2 tsp. Dried Rosemary

1/2 tsp. Salt

1/4 cup Honey and extra for drizzle

1 egg (for egg wash....optional)
Instructions
1
Begin by preparing your pie crust (if making from scratch).
2
Preheat the oven to 375' F.
3
In a small sauce pan combine the mixed berries, sugar, salt, pepper, orange juice, and orange zest. Add the orange liquor (optional).
4
Cook on medium, stirring occasionally to break up large pieces. Let it cook down for 10-15 minutes by simmering. Add the cornstarch.If the cornstarch looks a little lumpy, just keep stirring it will dissolve.
5
Set it aside to cool or pop it in the freezer for a bit. DO NOT PLACE ON TART HOT! It should be room temperature or cold.
6
Prepare the goat cheese filling by placing the goat cheese, cream cheese, salt, rosemary and pecans into a mixing bowl and blend with a hand mixer till smooth and creamy (you may need to pulse the pecans in a food processor a few times if you cannot find very fine pecans. They should resemble a course cornmeal).
7
Place parchment paper on a round pan (I use a pizza stone).
8
Place your first pie crust onto the parchment and cover with the 1/4 cup of honey. Spread with a spatula but leave a 1/4" edge free of any of the layers (like a pizza crust).
9
Add the goat cheese layer. Then the cooled berry layer over the top. You may have some of each filling leftover. Don't overfill the tart or it will explode and ooze upon cutting. Just lightly spread a layer of each (leftovers taste great on crackers).
10
Carefully place the second pie crust over the top of all the layers. Use a fork to crimp the edges of the crust.
11
Beat an egg and brush the egg wash over the whole pie crust.
12
Use a small bowl and place in the center of the pie crust. Lightly press down and leave the bowl there.
13
Use a really sharp knife or a pizza wheel to create your twists. To make them even I created 4 large cuts evenly around the bowl (think one cut from the edge to the bowl at 12 o'clock, one at 3 o'clock, 6 o'clock, and 9 o'clock....if that makes sense). Then from those four cuts I felt that making 3-4 smaller cuts was easiest (less of the filling comes oozing out with 3 small cuts but 4 cuts looked better....see what works!).
14
Then with each small cut or "ribbon" gently pick it up and just twist the dough over itself 2-3 times.
15
Repeat this step with all the cuts and then remove the bowl. Don't worry if some of the filling spills out.
16
Bake for 20-25 minutes in the preheat 375' F oven. It should get lightly golden brown! Again, it may ooze a little. Serve warm or at room temperature. Feel free to drizzle a little more honey over the top!
Notes
If you don't want to make the berry filling find any store bought jam to substitute! Play around with filling combinations and enjoy! I use the America's Test Kitchen vodka pie crust recipe that you can find on their website.