Sometimes we just need simple! This Easy Shakshuka recipe requires only a few ingredients, uses just one pan, and take little time to prepare. I think I just hit the breakfast jackpot! Better yet, I even make this dish for dinner on a busy weeknight when I want a warm home cooked meal but I want minimal effort. There are many versions of Shakshuka out there. This is a simple and cheap recipe that is packed with flavor! You can find the full recipe for my Easy Shakshuka at the bottom of the post.
Using Canned Tomatoes:
I really love cooking with fresh ingredients, however, there are times when canned vegetables work best! In the dead of winter, we are still clearly very far from tomato season. That means most of the tomatoes you buy at the store are probably ripened with gases, hold little flavor, and over all are fairly underwhelming. I find canned tomatoes to be a good substitute during the winter months for a dish like this. They are cheap, easy to keep on hand, and require less cooking time than fresh tomatoes. I used two cans of stewed whole tomatoes for this recipe. Add some some diced onion, several cloves of minced garlic, and a lot of spices to get an Easy Shakshuka in no time!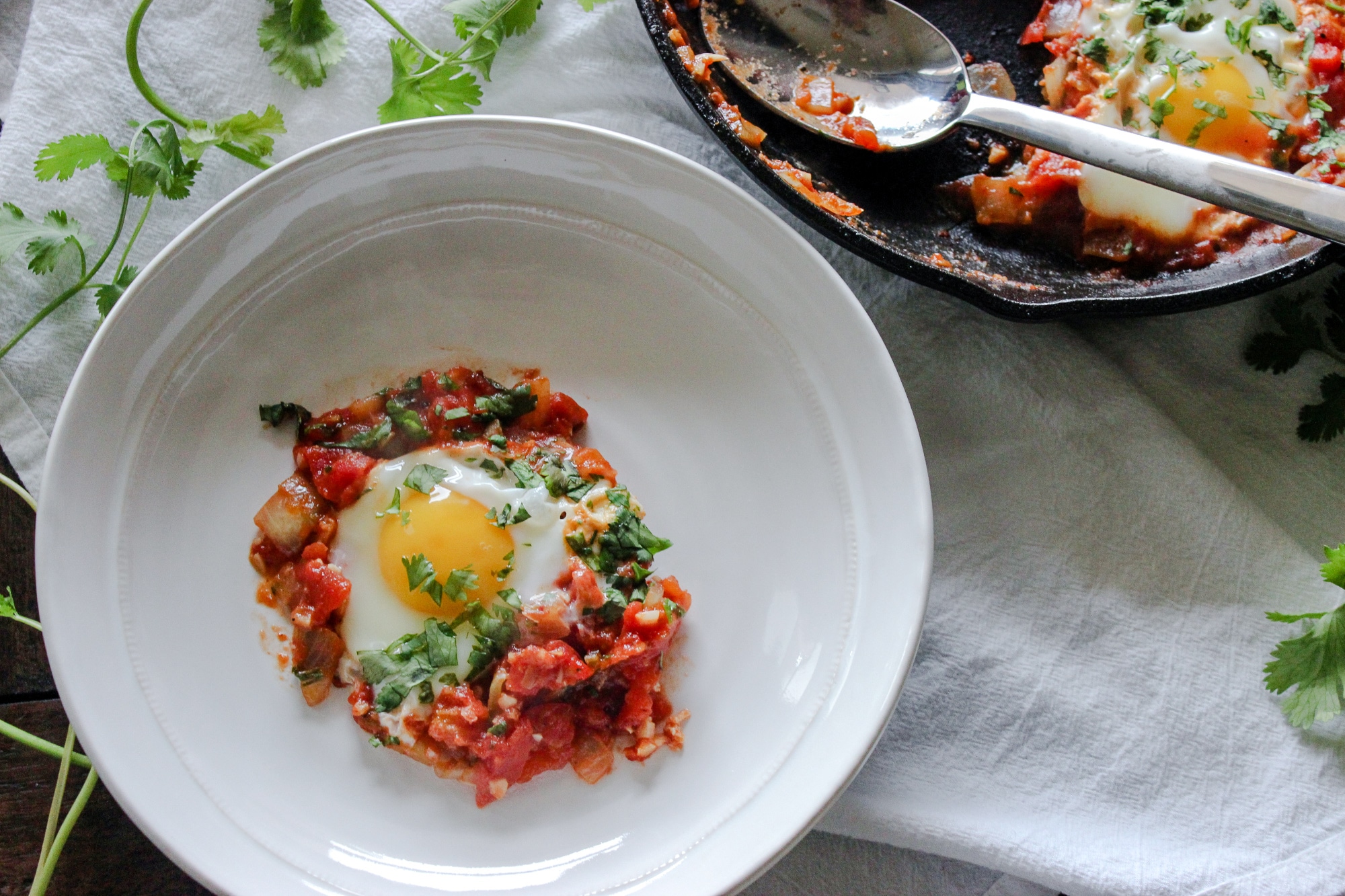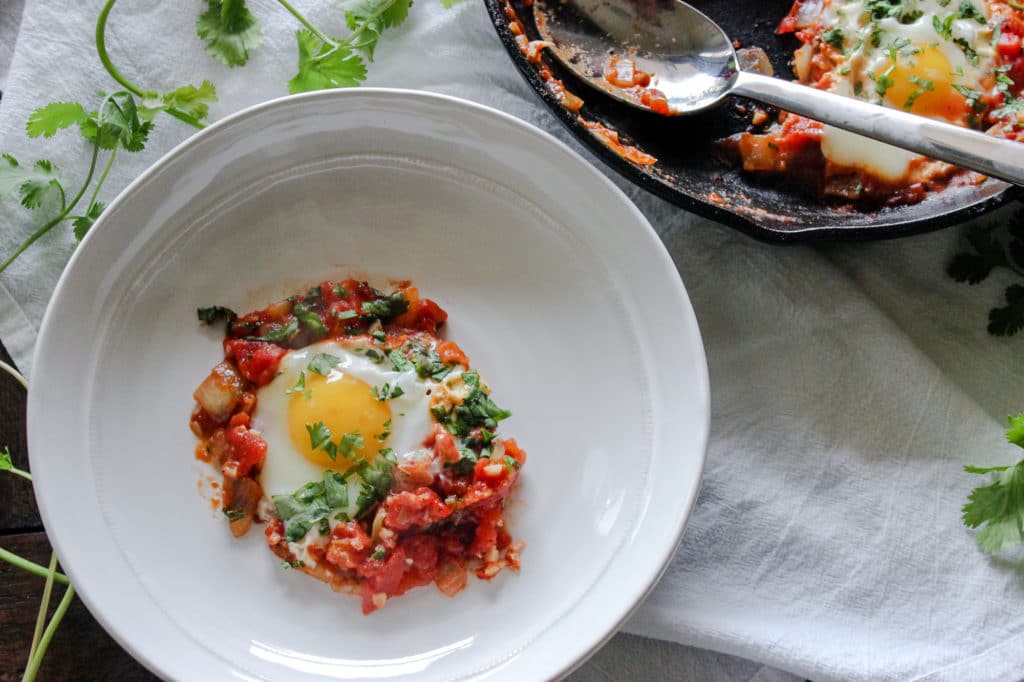 Poaching the Eggs:
Poaching the eggs in the stewed tomato mixture is very simple. For a 9″ skillet, I typically will poach 4-5 eggs. The trick to an easy poach is to make a little "well" in the tomato mixture to crack your egg into. If your nervous about adding the egg directly to the pan, you can first crack the egg into a smaller cup or bowl. Then pour that directly into the "well". Allow the eggs to cook "sunny side up" in the liquid till the white is set but the yolk is still runny. You can cover the pan for a few minutes to help steam some of the egg white on top.
Serve your Easy Shakshuka with a sprinkle of fresh parsley, a handful of feta, and a side of crusty bread (if that's your thing). I like to add a side of bacon too!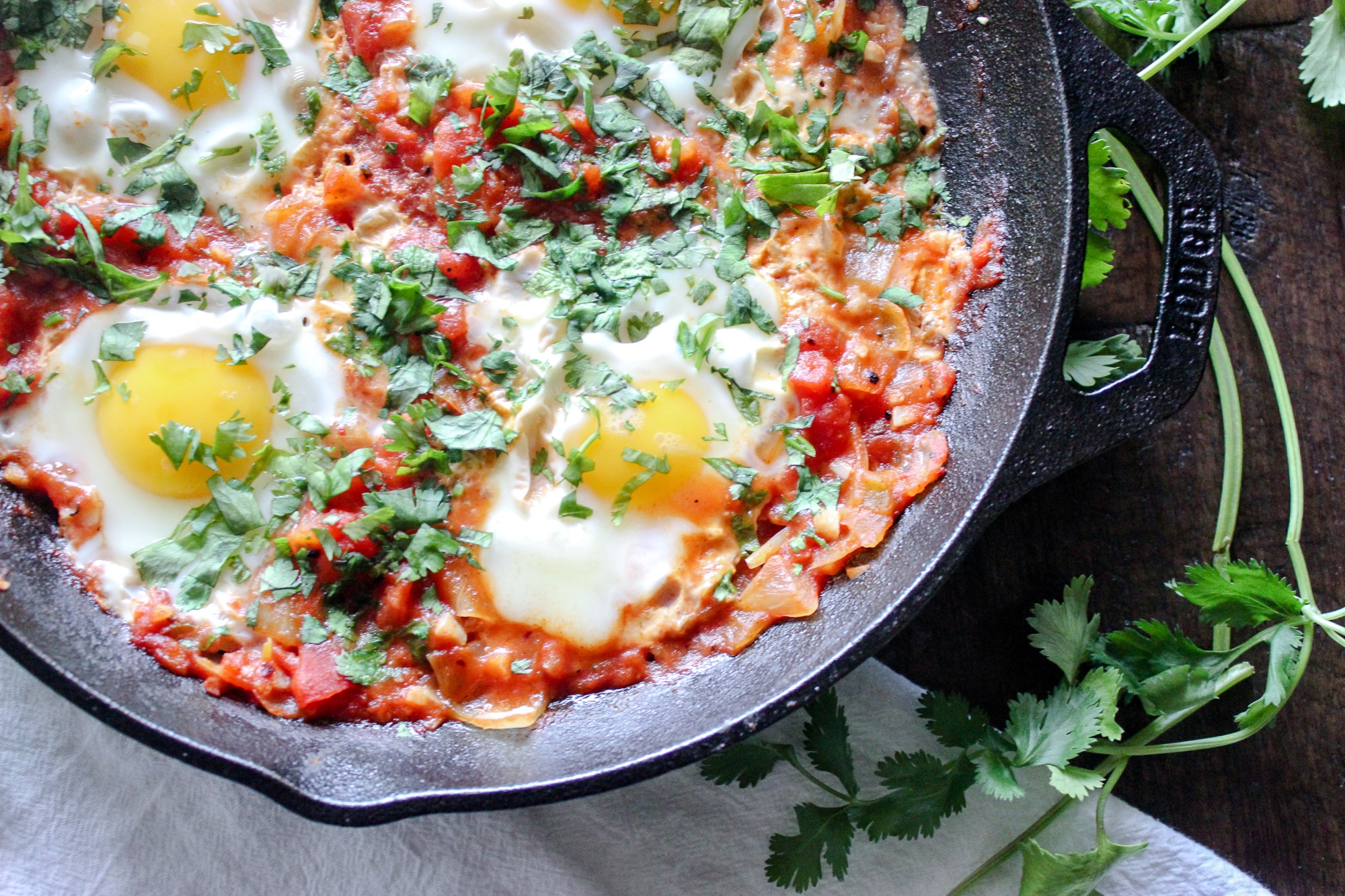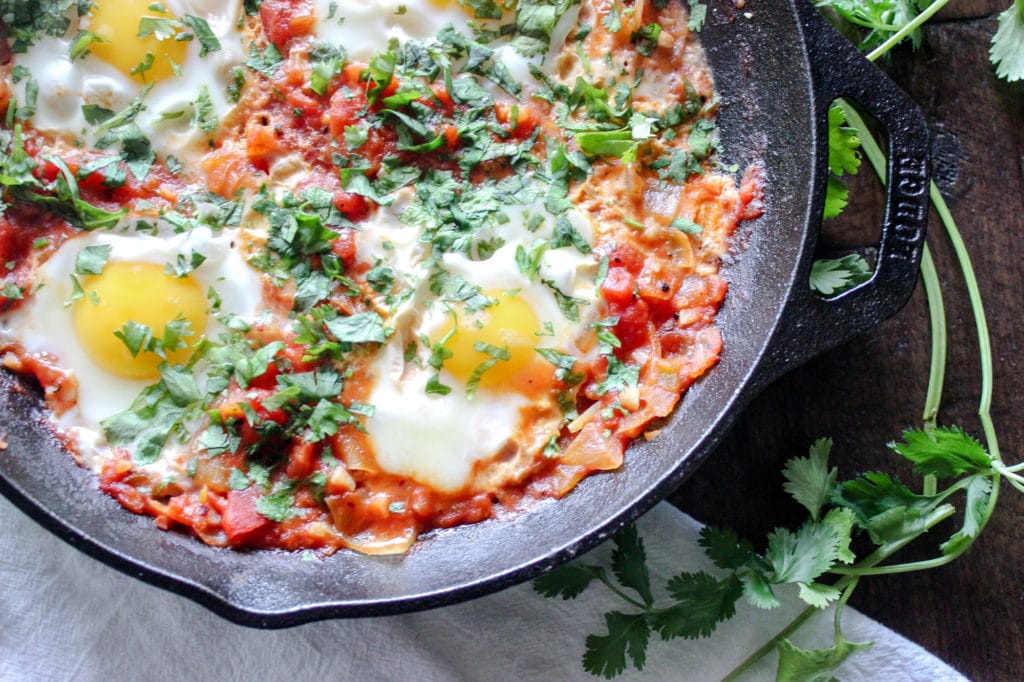 Bon Appeteach,
-L
Ingredients
2, 15.5 oz can Stewed Tomatoes

1 Onion, diced small

4 cloves Garlic, minced

4 Eggs

Olive oil

1 tsp (each) of Cayenne. Paprika, Cumin, and Chili Powder

Salt to taste

Garnish- Feta and Fresh Parsley
Instructions
1
Preheat a heavy bottom skillet on medium low.
2
Add in a small swirl of oil to the pan.
3
Saute your diced onions for 4-5 minutes. They should be clear and fragrant.
4
Add the garlic and cook for about 30-45 seconds. Do not burn!
5
Toss in the spices. I like to toast them a minute or two in the pan to bring out the flavor.
6
Add in the two cans of stewed tomatoes. Bring the mixture up to a simmer.
7
Using a wooden spoon, occasionally break down the tomatoes into smaller pieces. Overall, it shouldn't need much stirring.
8
Allow it to simmer for 8-10 minutes.
9
To add the eggs, make a small "well" in one corner of the pan. Gently drop the egg in and repeat!
10
Allow the eggs to cook in the liquid until the whites are set and the yolk is still runny.