Cucumber & Smoked Salmon Roll Up's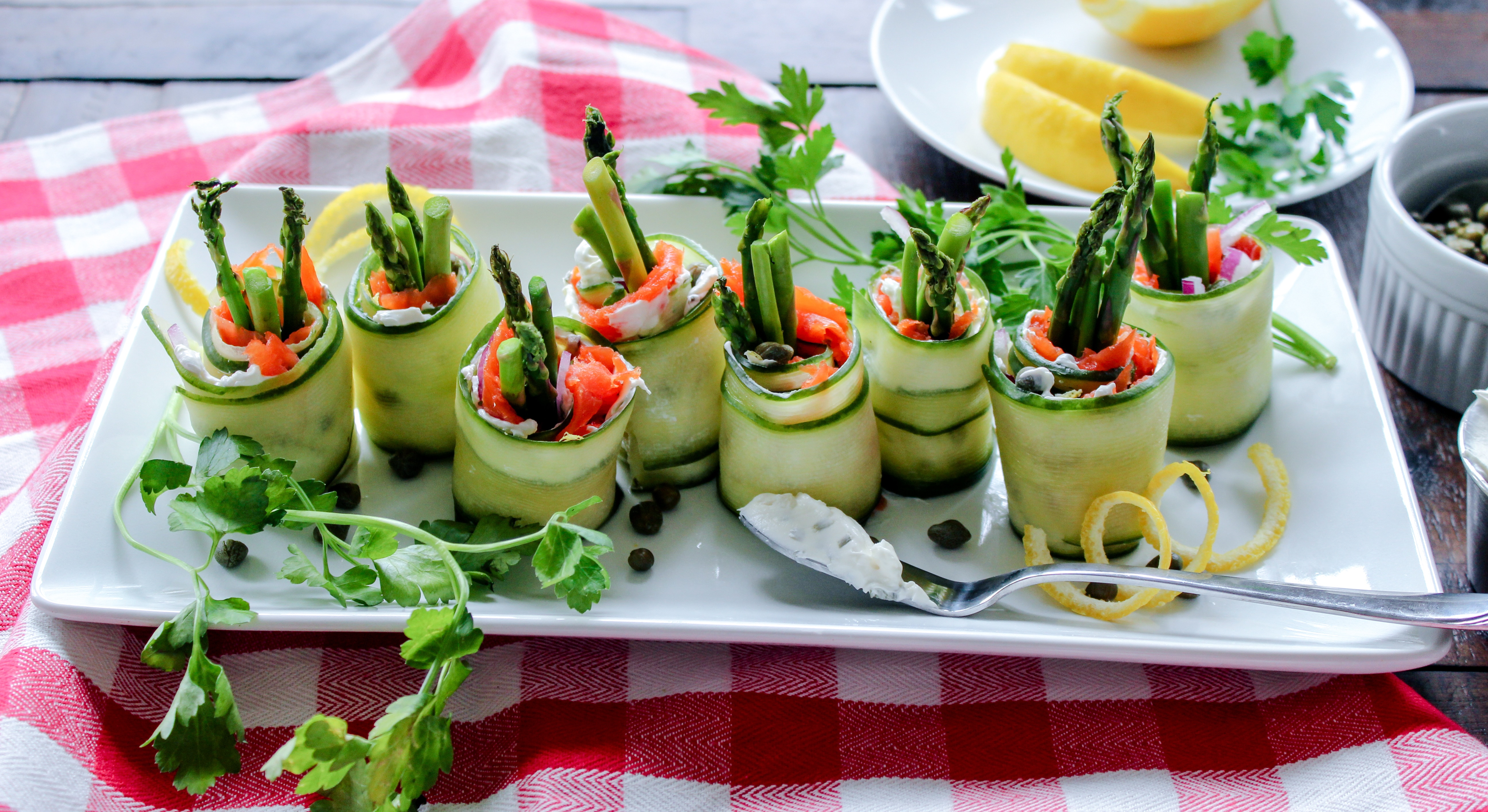 Bon Appeteach is a participant in the Amazon Services LLC Associates Program, an affiliate advertising program designed to provide a means for sites to earn advertising fees by advertising and linking to www.bonappeteach.co. I only share products that I use and stand behind personally.
Cucumber & Smoked Salmon Roll Up's:
Ok, these came out beyond beautiful! Am I right!? Believe it or not they are also ridiculously simple too! If you are also on a low carb diet (or keto or gluten free etc.) then you probably also miss foods like pizza, french fries, and well maybe even sushi. This may not quite be the same as your favorite sushi (ok, it's really not the same at all) but it helps turn off that little button in my head that keeps whispering, "Sussssshi….Sussssshi". Here is my take on a great snack, appetizer, or even a delicious lunch! You can find the recipe below for these Cucumber & Smoked Salmon Roll Up's.
"School" Supplies:
–"Y" Shaped Peeler (I've linked the one I use often)
-Sharp Chef's Knife
-Cutting Board
-Butter Knife or Cake Spatula
– Strainer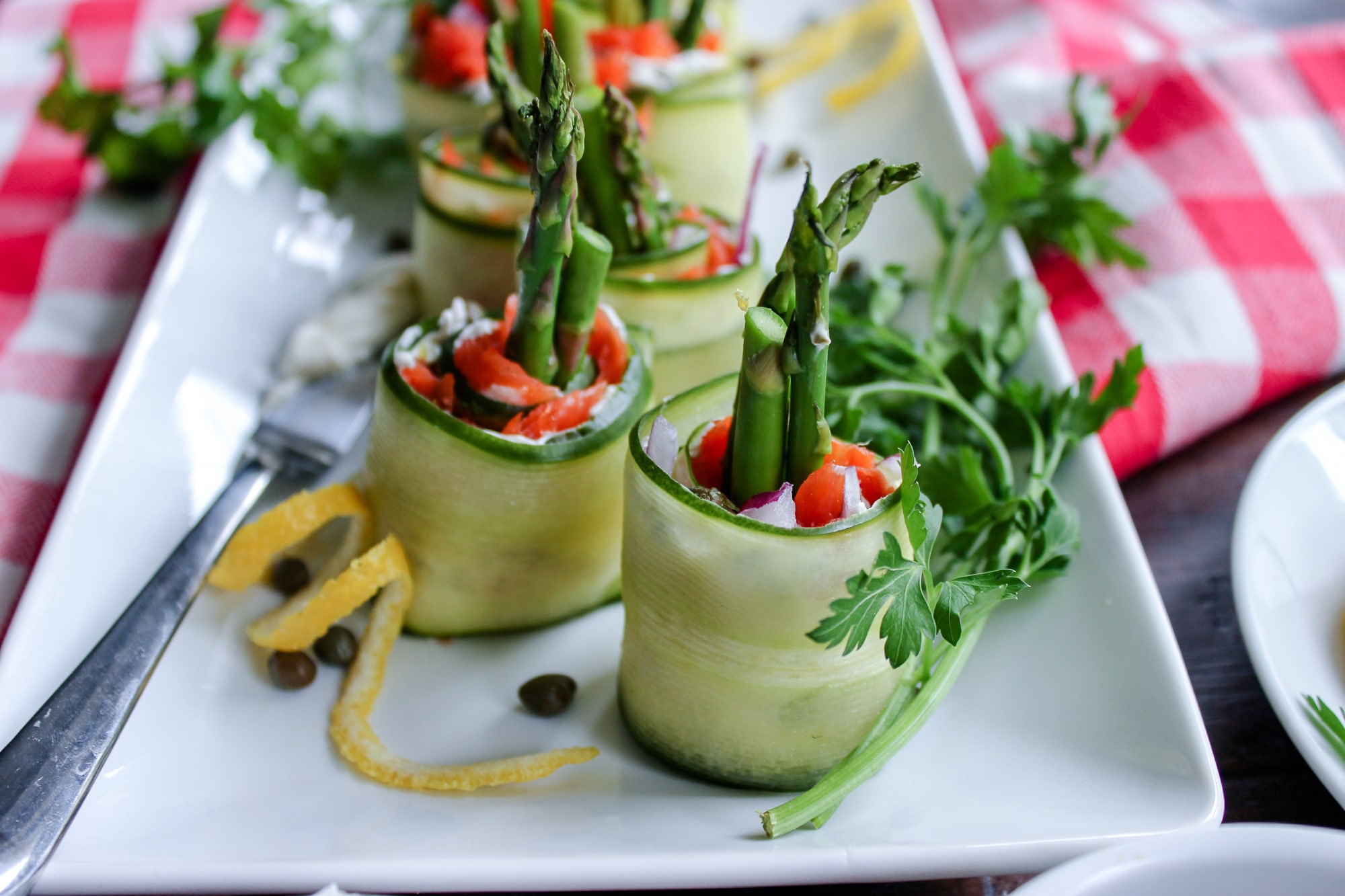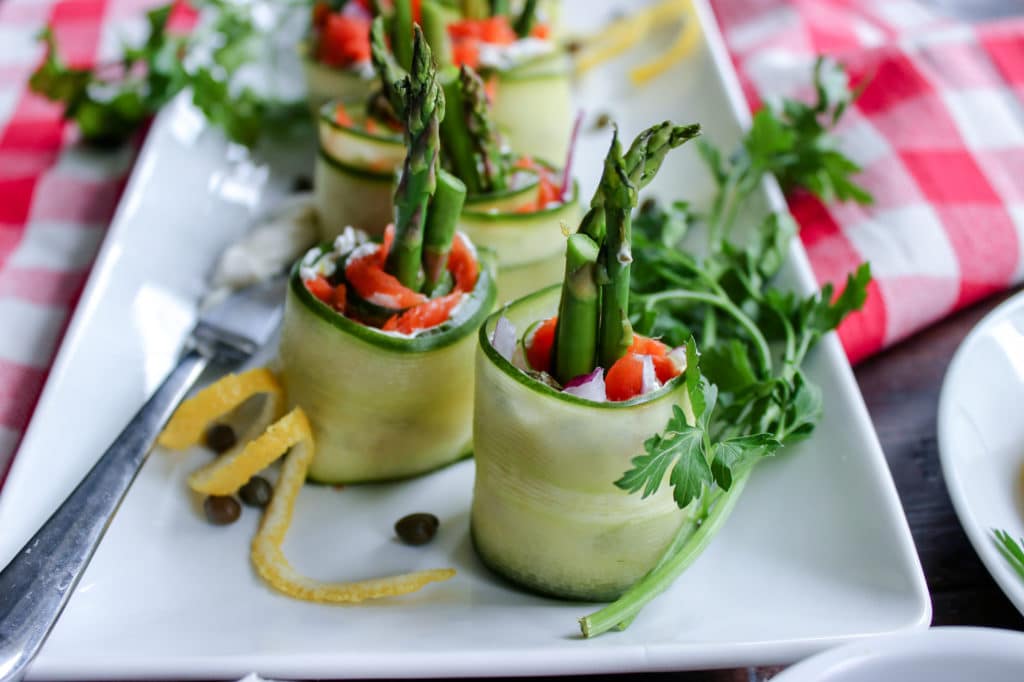 "Class" Notes:
To make this recipe a success I have to recommend right away you do two specific things!
Buy a higher quality smoked salmon (you could also buy a high quality raw salmon if you choose). The better the quality the better the taste. Pretty simple.
Use an English Cucumber. They are longer (easier for making the ribbons) and have very small seeds. The seeds are less dense and overall it tastes better.
For this recipe I chose a chive cream cheese to act as my "glue". You could easily use a regular cream cheese or a veggie cream cheese too if you prefer. It is important to get a cream cheese that is easily spreadable and is at room temperature. I layered two of the thin cucumber "ribbons" over one another to ensure the rolls were durable. Spread a thin layer of cream cheese and any other "add in's" you prefer over the top. I added thinly sliced red onion, a few capers, and a bit of lemon zest (they didn't have any fresh dill at my local grocery store but I would have loved to add this). Cilantro, spicy jalapenos, and avocado would be delicious too for example. Feel free to have fun mixing and matching what you want to add.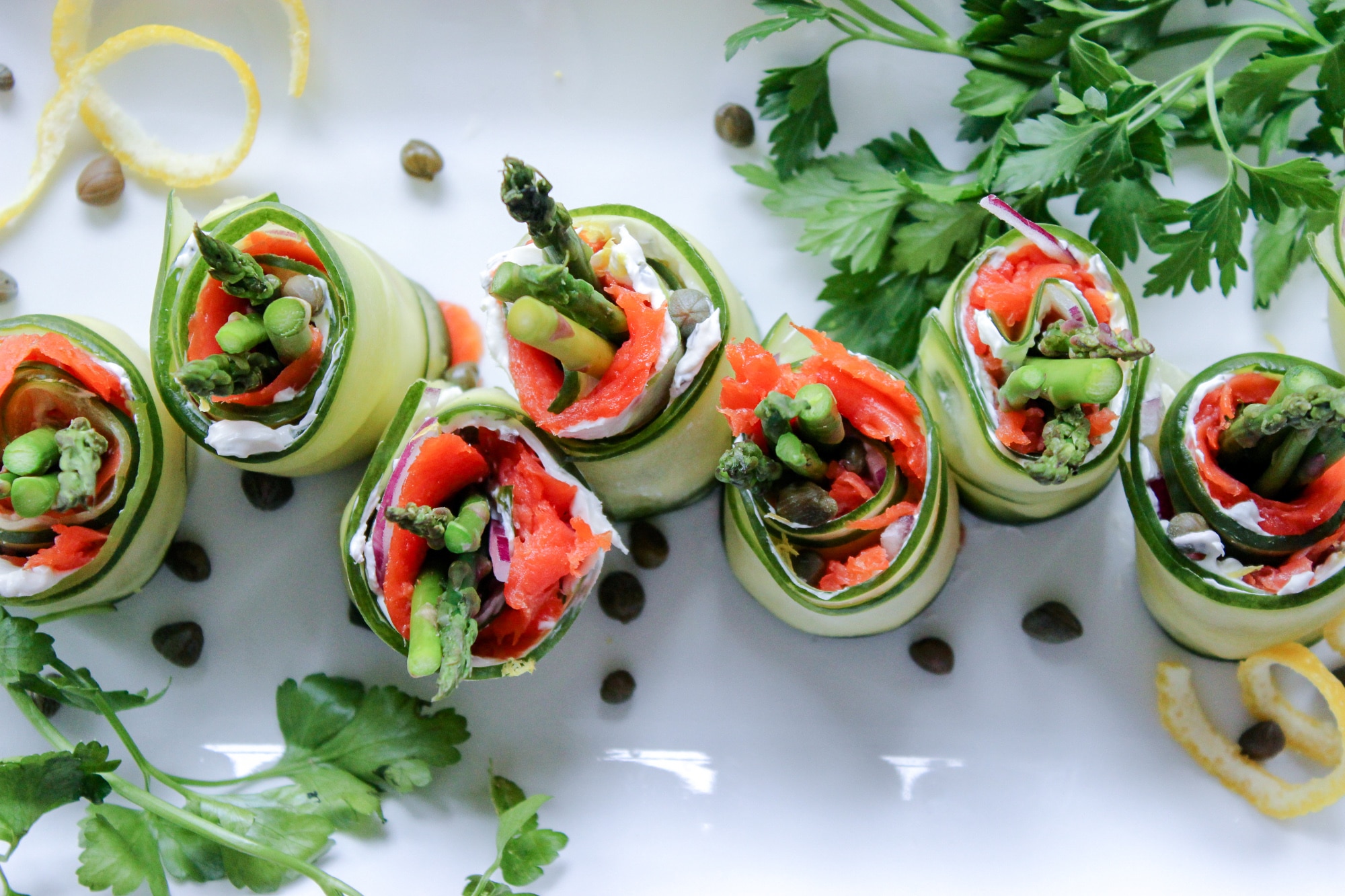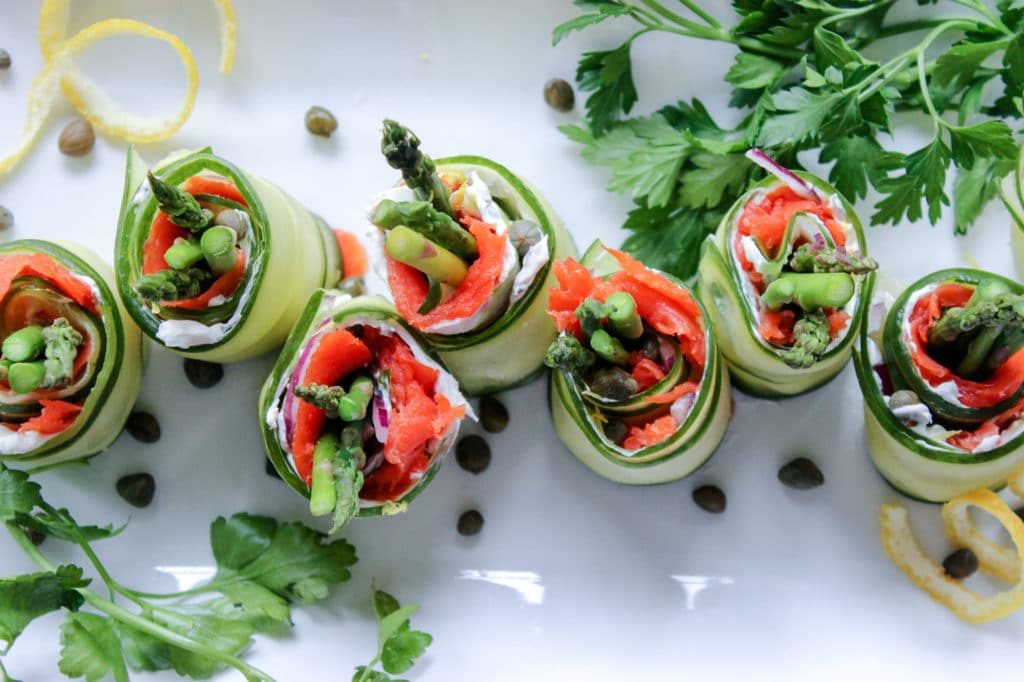 Next, place a few tablespoons of the smoked salmon onto the cucumber ribbons. It is important to leave room (about and inch or so) open at the front of the cucumber ribbon and several inches towards the back. This helps with the overall rolling experience because the filling will spread out a bit as you apply pressure and it needs somewhere to go! I had some leftover asparagus, trimmed the stems, and quickly blanched the stalks. I added a few on top of the smoked salmon and rolled! These stay closed easily because of the cream cheese and keep for a day or two (but they taste best when eaten the same day). So simple and so beautiful.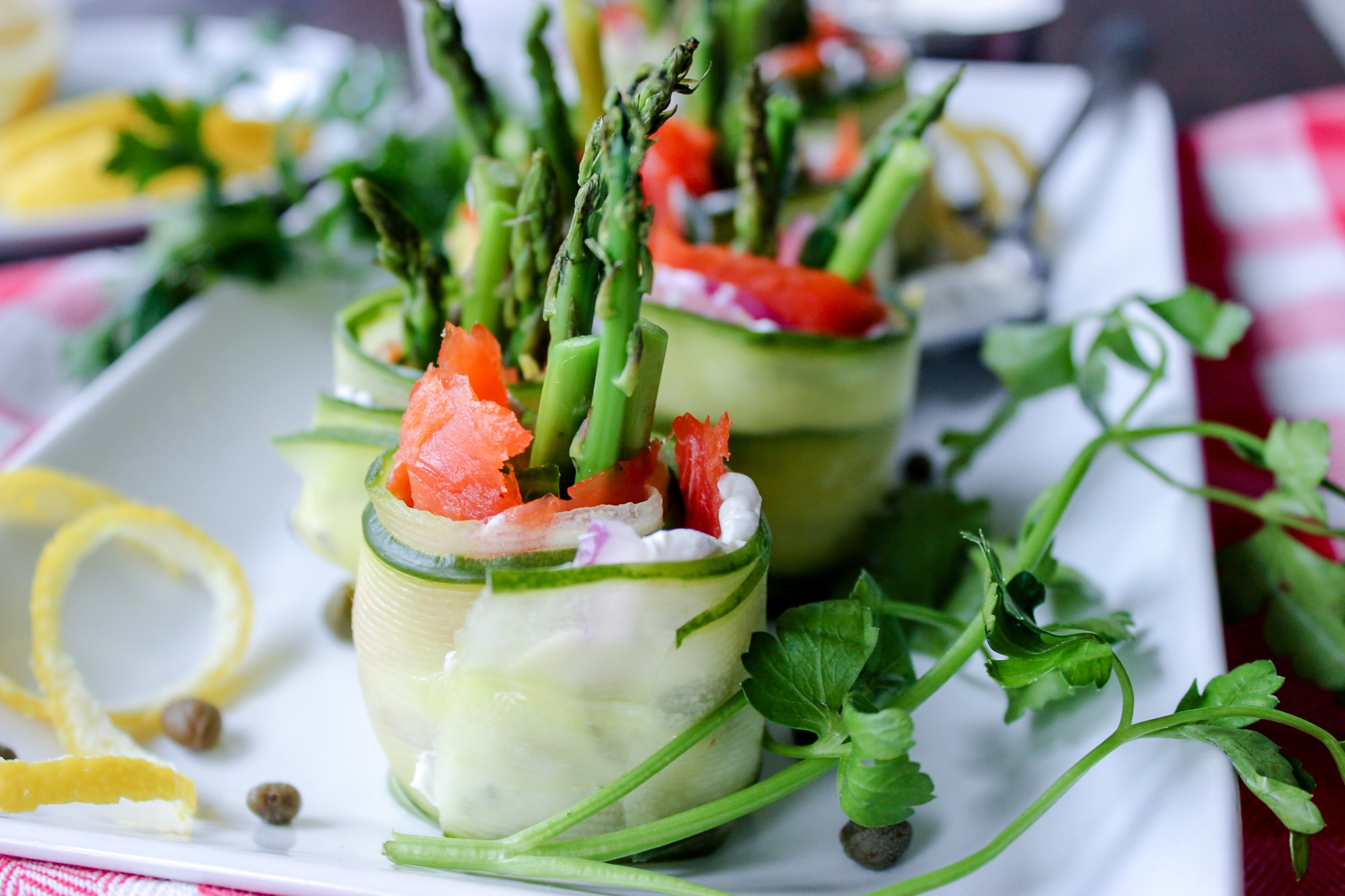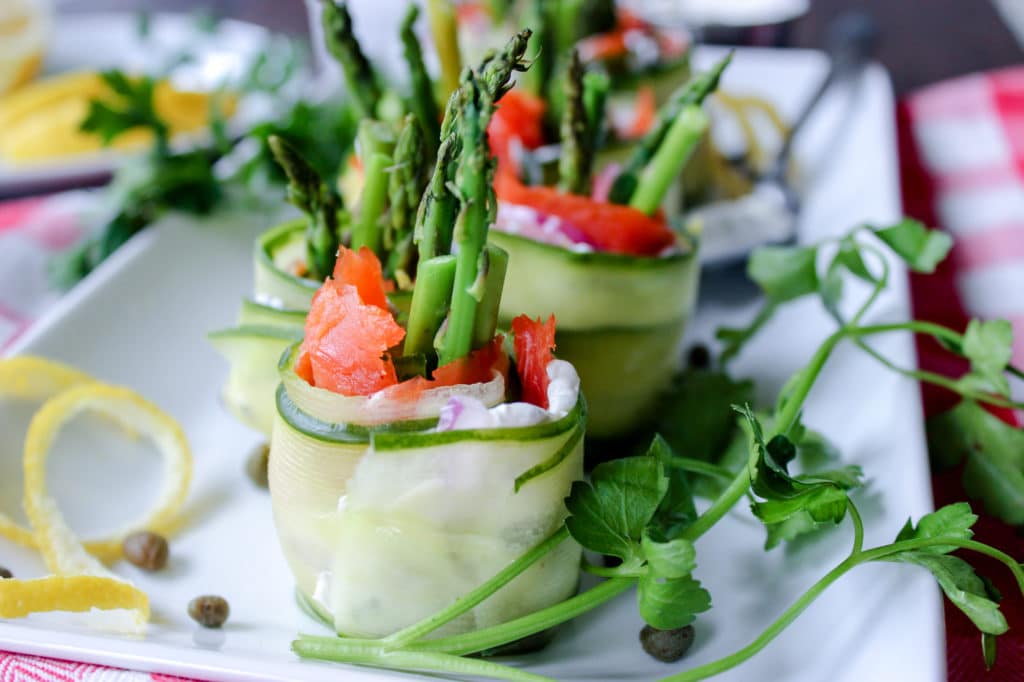 I hope you love these faux sushi wannabe Cucumber & Smoked Salmon Roll Up's!
Bon Appeteach,
-L
Ingredients
1 large, English Cucumber (HIGHLY RECOMMEND THIS!)

4 oz. Smoked Salmon

4 oz. Softened Cream Cheese (I used chive)

1 Tbsp. Capers

1 Tbsp. Red Onion, sliced thin or minced (optional)

1 tsp. Lemon Zest

16 Asparagus Stalks, blanched

1 Bunch of Fresh Dill, minced
Instructions
1
With a "Y" peeler or a mandolin, cut thin slices from the top and bottom of the English cucumber. You need 16 strips total.
2
Pat the strips dry lightly with a paper towel to remove excess water. On you work surface, lay one cucumber ribbon over another. By layering two for each roll ensures durability. You should now have 8 total.
3
Spread on the softened cream cheese with a butter knife or cake spatula (about 1 Tbsp. cucumber ribbon) onto the top of each cucumber ribbon.
4
Sprinkle a bit of the capers, lemon zest, sliced red onion (optional) and the minced fresh dill over the cream cheese layer.
5
Leaving about an inch or so of space at the front of the cucumber ribbon, place a few tablespoons of smoked salmon across the ribbon. Leave a few inches at the back as well. This ensure the filling doesn't fall out during rolling.
6
Cut the asparagus stalks into 2 or 3 pieces each depending on the size of the stalk. Place in a strainer and pour hot water over the tops and shake off the remaining liquid.
7
Place a few stalks of asparagus (mix and match the tips with the bottoms) right over the smoked salmon in a bunch.
8
To roll, start at the end closest to you and begin rolling fairly tightly. You will feel the salmon mixture spread out a bit which is fine (this is why we left the back end open and free of salmon). The cream cheese will act as a glue and should hold the ends of the cucumber around itself on its own.
9
Place on a serving plate or eat half before you get that far. Because they are that good! Enjoy!