As a teacher, I am inherently a planner. Therefore, meal prep is a huge part of how I make my meal choices for the week. I also want something easy that I can make for lunch or dinner without little thought! That is why I love these gorgeous and flavorful Chicken Pesto Stuffed Tomatoes. Sunday's are great days for me to prepare for a week of healthy meals. Throwing chicken into a slow cooker takes a lot of the leg work out of my weeknight dinner prep time because it is already precooked and shredded. These stuffed tomatoes take under 30 minutes to prepare, have minimal clean up, and are a great low carb meal option that fills you up! Check out the full recipe at the bottom of the page!
Making Pesto
Pesto is such a refreshing and flavor packed sauce that pairs beautifully with tomatoes. It is fairly easy to make and straightforward. Thought, I prefer homemade pesto sauce, you can easily buy several pre-made options if you really want to cut out the prep time! The key to making a delicious pesto is a lot of fresh basil. Pesto can be made with different types of nuts (pine nuts, cashews, etc.) so I chose walnuts (I also had an already open package in my pantry). Blend it together with the basil, parmesan, olive oil and lots of garlic!
Stuffed Tomatoes:
Take your shredded chicken (you can also poach chicken or buy a rotisserie chicken if you don't meal prep your chicken ahead of time) and mix it with the pesto. Hollow out your tomatoes to remove the seeds and discard. Stuff the tomatoes with the shredded pesto chicken and top with more parmesan cheese. Place in the oven and bake till heated through! Serve warm over a side salad with lemon and oil vinaigrette. The full recipe for Chicken Pesto Stuffed Tomatoes is below!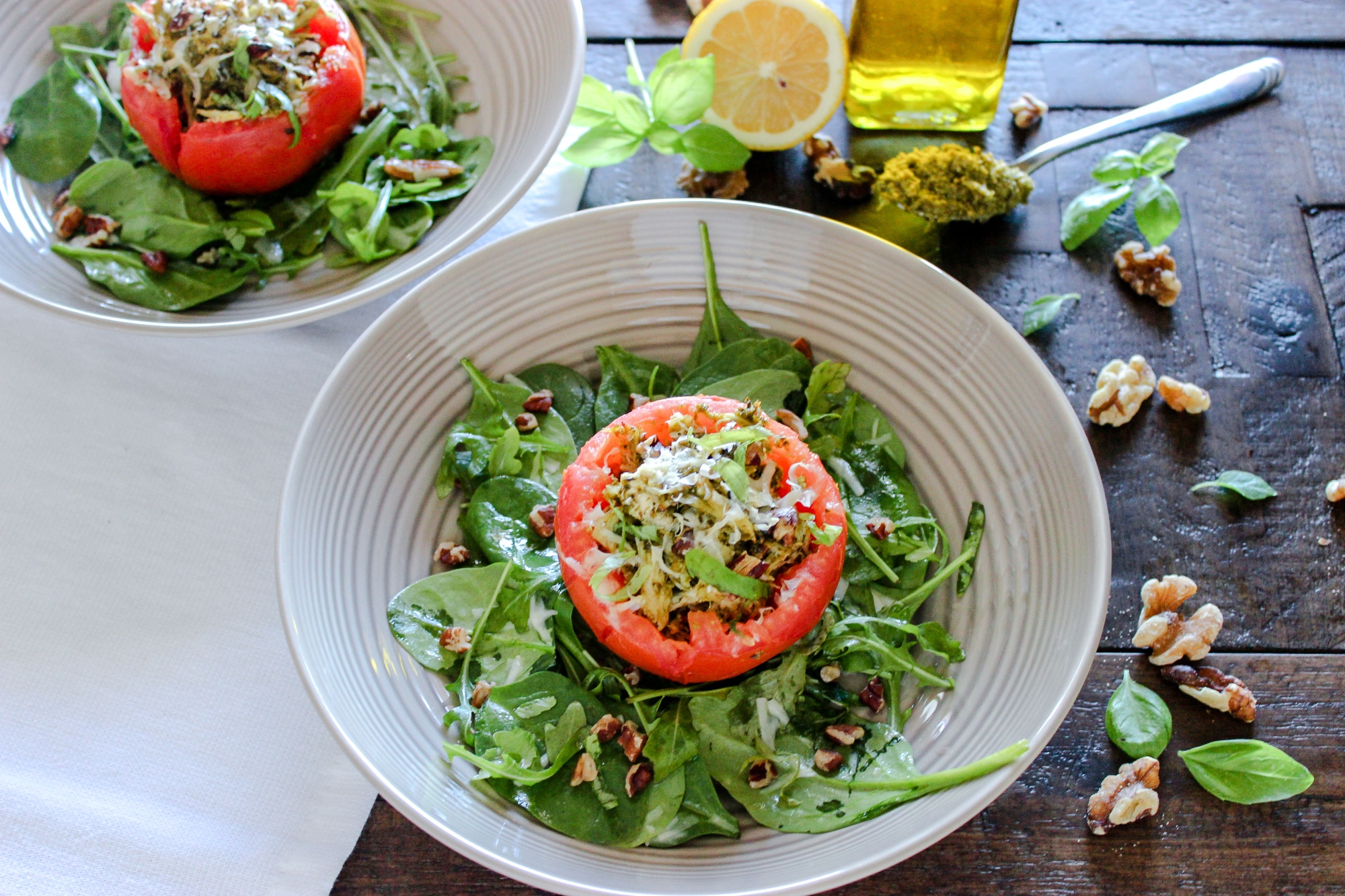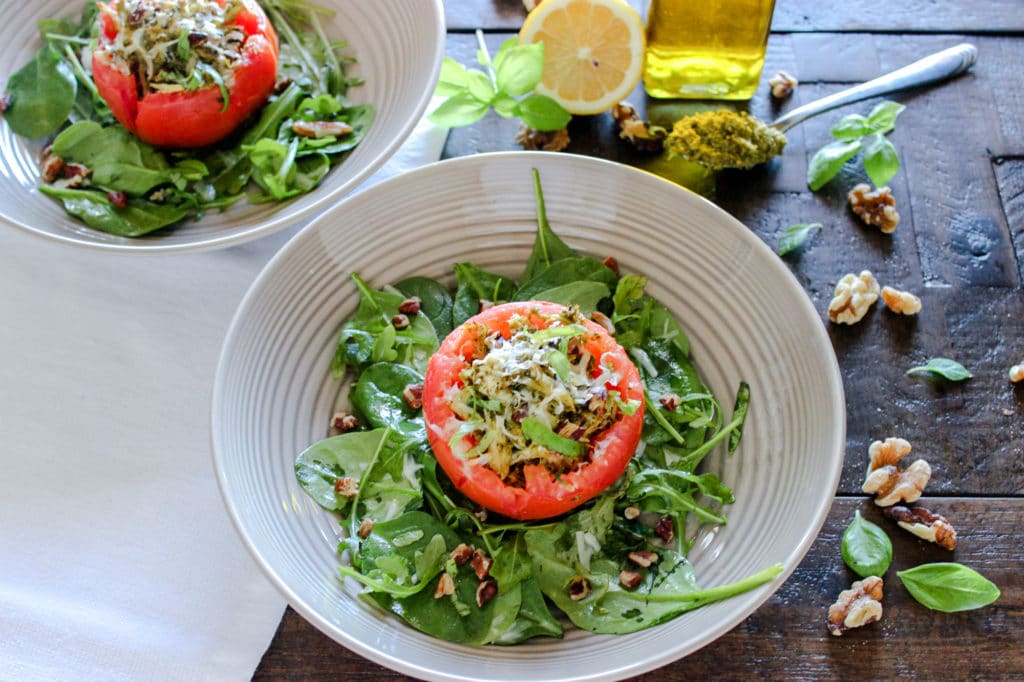 Bon Appeteach, -L
Ingredients
4 Roma Tomatoes

1 1/2 cups of Shredded Chicken

1 cup Packed Basil

1/4 cup Walnuts

1/4 cup Parmesan Cheese

2 cloves Garlic

1/3 cup Olive oil

1/2 tsp Salt

Extra Parmesan & walnuts for garnish
Instructions
1
Preheat the oven to 350 degrees F. Line a baking sheet with foil.
2
Cut the tops off the tomatoes and cut around the insides with a small knife. Use a spoon to scoop out and discard the insides.
3
In a a food processor, combine the basil, walnuts, parmesan, and garlic. Pulse a few times and then slowly drizzle in the olive oil through the top until it is well blended. You make need to add more olive oil or salt depending on your tastes.
4
Mix the chicken and the pesto together and stuff inside the tomatoes. Add more parmesan to the top and bake till heated through (about 10-15 minutes).
5
Serve with a side of green salad for a healthy and complete meal!