Chicken Cordon Bleu Meatballs with Dijon Sauce
Chicken Cordon Bleu Meatballs with Dijon Sauce:
Today is National Meatball Day! Yes, apparently that is a thing. Since beginning my food blogging journey I have come to realize there is literally a national food day for everything, and I don't hate it. Any excuse to celebrate food is cool with me.
Also, who doesn't love a good meatball? I am over the moon about this variation on a classic meatball. This recipe is low carb/ keto friendly and gluten free too! They would also make an incredible appetizer (Easter plans anyone?) or even are great as a main dish!
They even reheat really well in the oven or microwave, making them an ideal meal prep dish as well. The full recipe for the Chicken Cordon Bleu Meatballs with Dijon Sauce is at the bottom of the page!
"School" Supplies:
Mixing Bowl
Baking Sheet & Cooling Rack
Small Saucepan
Whisk
Measuring Cups & Spoons
"Class" Notes:
The meatball mix was so simple, which makes this recipe a favorite for that very reason! I added ground chicken, precooked diced ham sliced and diced (very tiny pieces here people), eggs, salt, pepper, garlic powder, and finally a bit of almond flour to bind it all together.
Mix well with your hands. Take a spoon and scoop a bit of the mixture into your palm. Roll into a ball and make a nice indent with your thumb. Stuff with a small cube of Swiss cheese and roll it closed.
Repeat this until through and roll in a bit of seasoned almond flour to add some crispy texture! All that's left is to bake these baby's off and be in Chicken Cordon Bleu Meatball heaven!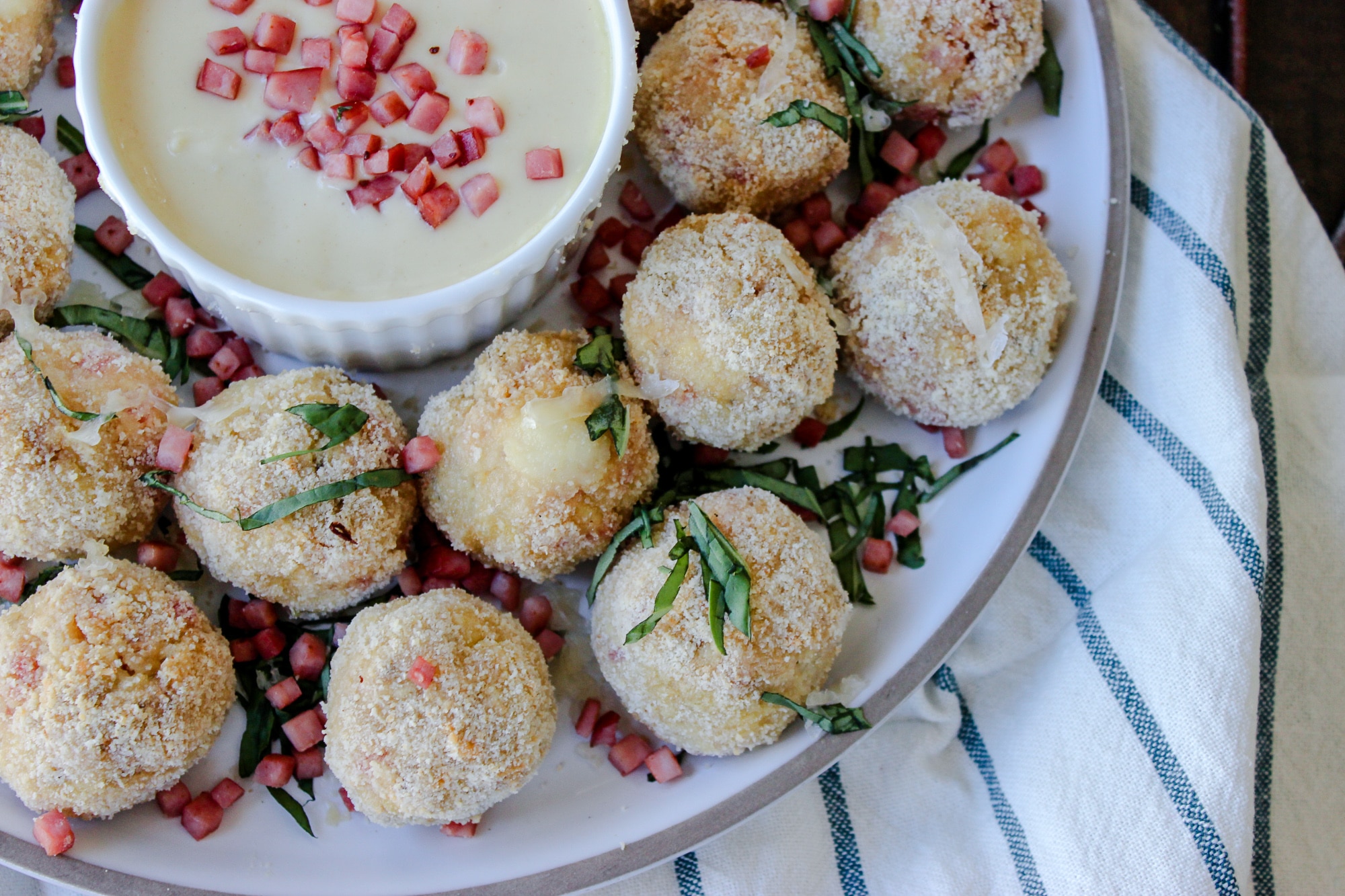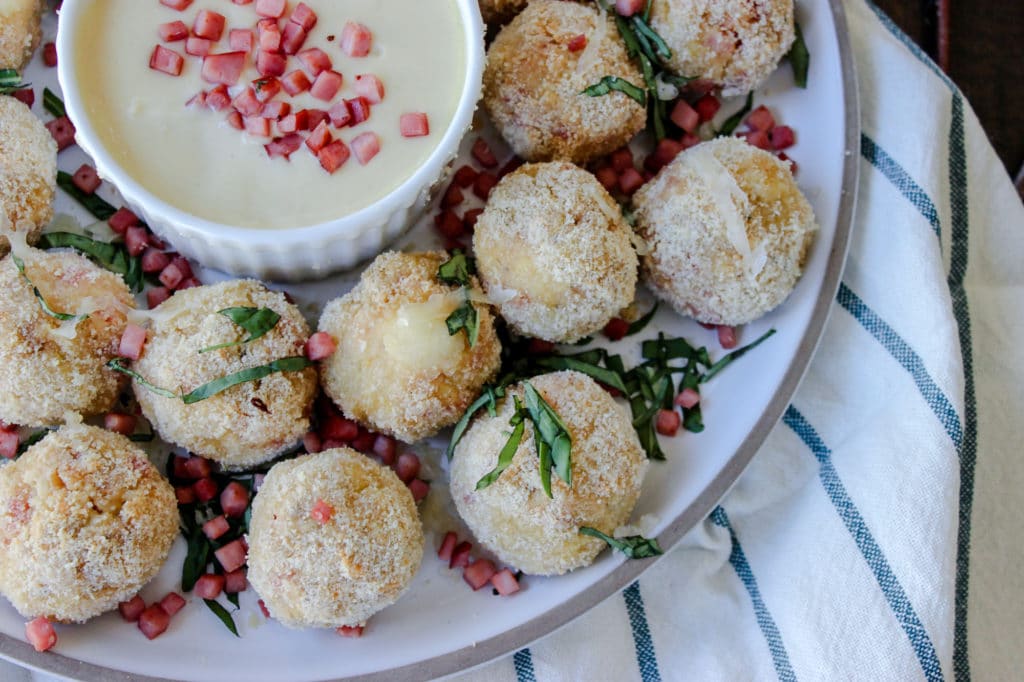 The sauce is literally three ingredients. Cream, parmesan, and Dijon mustard. I added a small amount of cream to a pot on low heat, add the parmesan in and let it thicken and melt.
Stir constantly here so the cream doesn't burn. Add in a few tablespoons of Dijon and a bit of salt. Give it a taste test and adjust your amounts of parmesan to Dijon sauce.
The sauce can be drizzled over the Chicken Cordon Bleu Meatballs or I like to place it in a small dish for dipping! Either way, it pairs so well with these lil guys that you don't want to skimp out on this step!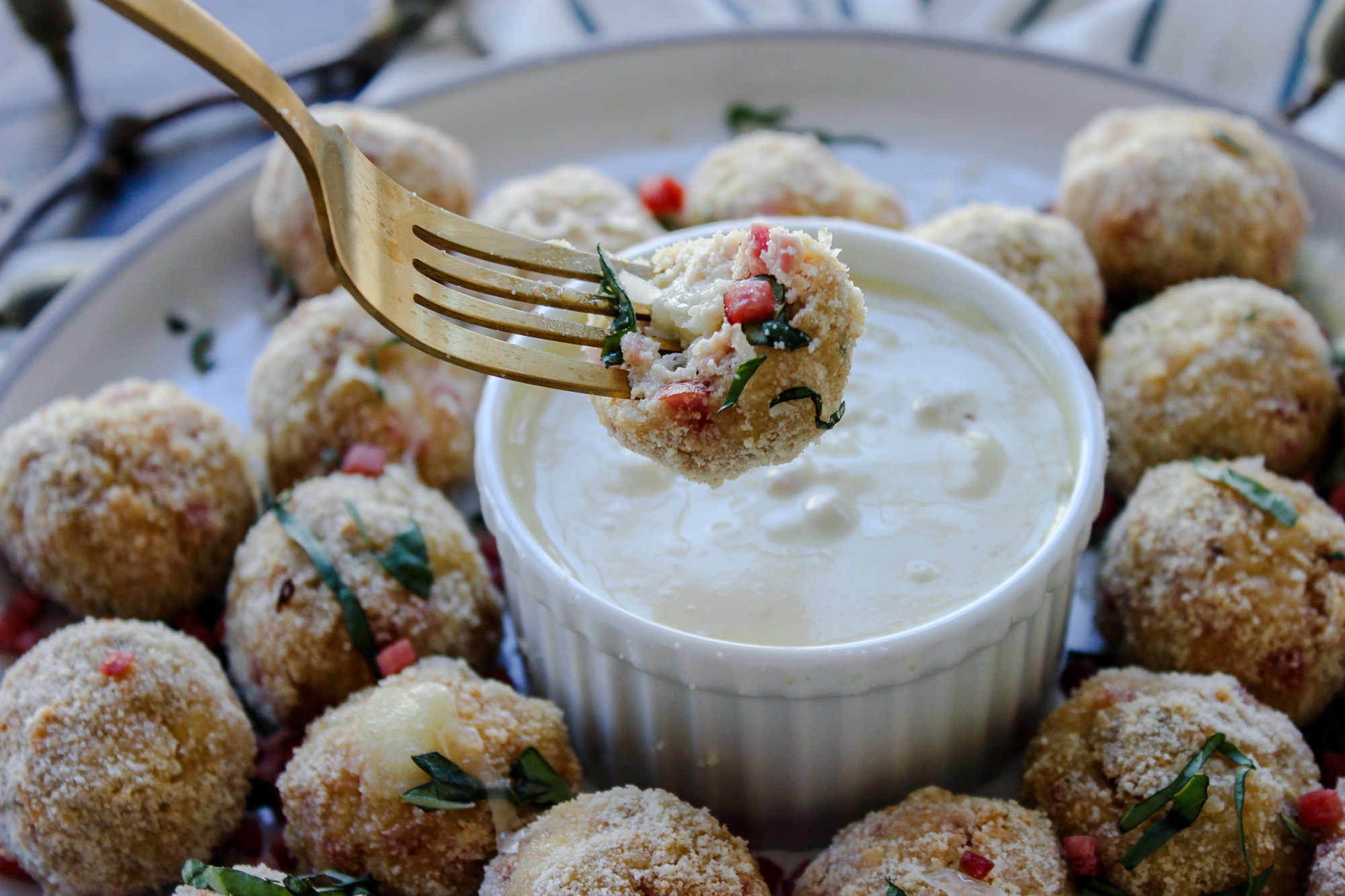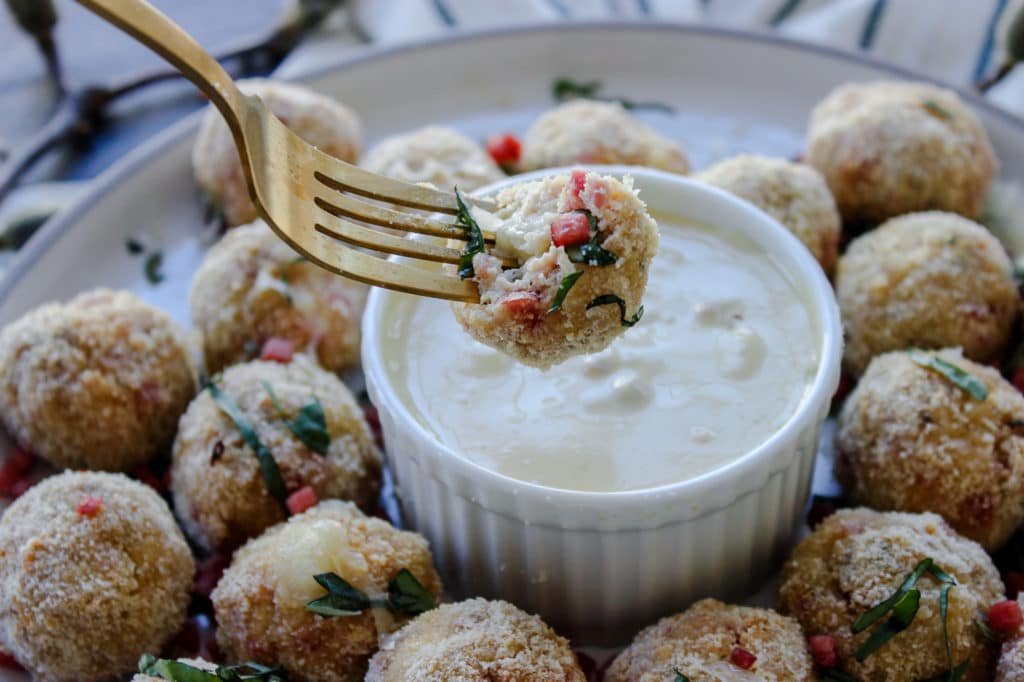 Happy National Meatball day my friends! Enjoy the complete recipe for Chicken Cordon Bleu Meatballs with Dijon Sauce below. If you love this chicken meatball recipe and are looking for similar recipes, then check out my Low Carb Butter Chicken Meatballs too!
Bon Appeteach,
-L
Nutritional Information: Obtained using My Fitness Pal. I am not nor do I claim to be a nutritionist, so it is important to always verify the nutritional information as brands vary. I work hard to always provide the most accurate information as possible in hopes of making this easier for you, my readers!
Yield: 24
Chicken Cordon Bleu Meatballs with Dijon Sauce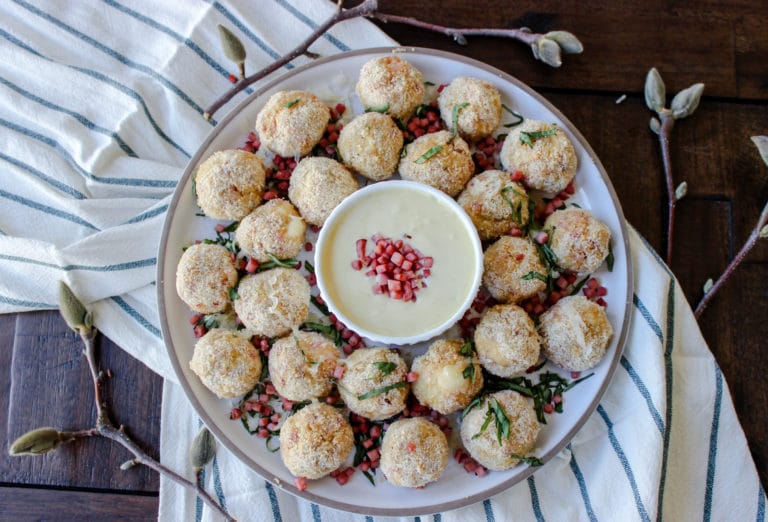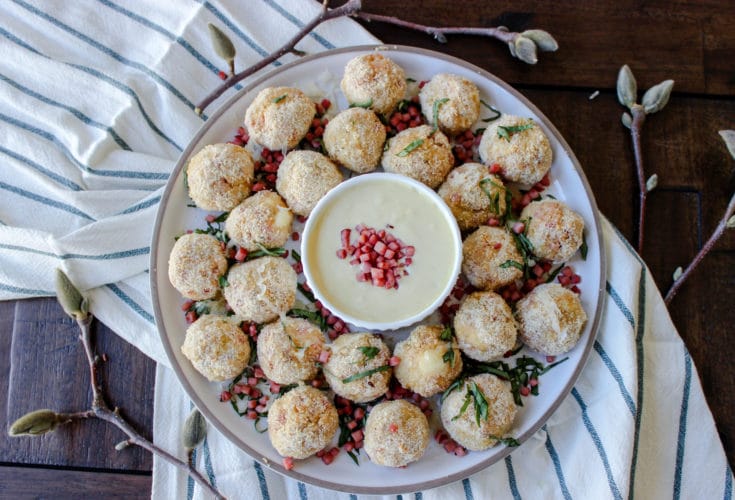 These easy, keto, low carb, and gluten free Chicken Cordon Bleu Meatballs are a great way to enjoy the classic French meal in bite size meatball form. Dip in the easy to make dijon cream sauce to t
Ingredients
1 lb Ground Chicken
1 cup, Pre-Cooked Ham Slice (minced)
1 Egg
1 tsp. Salt & Pepper
1 Tbsp. Garlic Powder
2 tsp. Dried Thyme
1/2 cup Almond Flour + 1/2 cup Almond Flour (reserved for rolling the meatballs in)
3 oz. Swiss Cheese (small cubes)
3/4 cup Heavy Cream
1/2 cup Parmesan Cheese
2-3 Tbsp. Dijon Mustard
Salt to taste
Instructions
Preheat your oven to 350 F. Cover a baking sheet with foil and a cooking rack (optional but helps evenly bake the meatballs). Spray with non-stick olive oil spray.

In a bowl combine the ground chicken, minced cooked ham slice, egg, seasonings, and almond flour. Mix well with your hands.

Dice the Swiss cheese into about 24 small cubes. They should be maybe a little smaller than a dime for reference. If they are too large it is harder to roll the meat around them.

Use a spoon to scoop out about a tablespoon of the meatball mixture and roll into a ball. Use your thumb to create an indent in the center and stuff with your Swiss cheese cube. Roll the meat over so the cheese is covered inside. Roll in a small amount of almond flour reserved to the side. Place on the baking rack and repeat till all meatballs are rolled out. I got about 24 meatballs.

Bake for 20 minutes and then broil on high for a few minutes if you want to get the outside a little crispier (optional).

While the meatballs are baking, in a small pot add the heavy cream and heat on medium low. Stir while heating to prevent scorching.



Add the parmesan slowly and whisk in into the cream until it dissolves. Then add the Dijon mustard. Feel free to add more or less of each. Wait to add the salt till you are done adding the parmesan so you can see how salty it is. Serve over the meatballs or in a small dish on the side for dipping!
Notes
Reheating: I reheated these meatballs at 350 F on a foil covered baking sheet until they were heated through (maybe 10-15 minutes out of the fridge). They will stick to the foil a bit so spray with non-stick spray. The sauce and meatballs do reheat very easily!
Nutritional information is for the meatballs only.
Nutrition Information:
Yield:
24
Serving Size:
24
Amount Per Serving:
Calories:

62
Total Fat:

4gg
Saturated Fat:

1gg
Trans Fat:

0gg
Cholesterol:

26mgmg
Sodium:

35mgmg
Carbohydrates:

1gg
Fiber:

0gg
Sugar:

0gg
Protein:

5gg