Chicago Style Italian Beef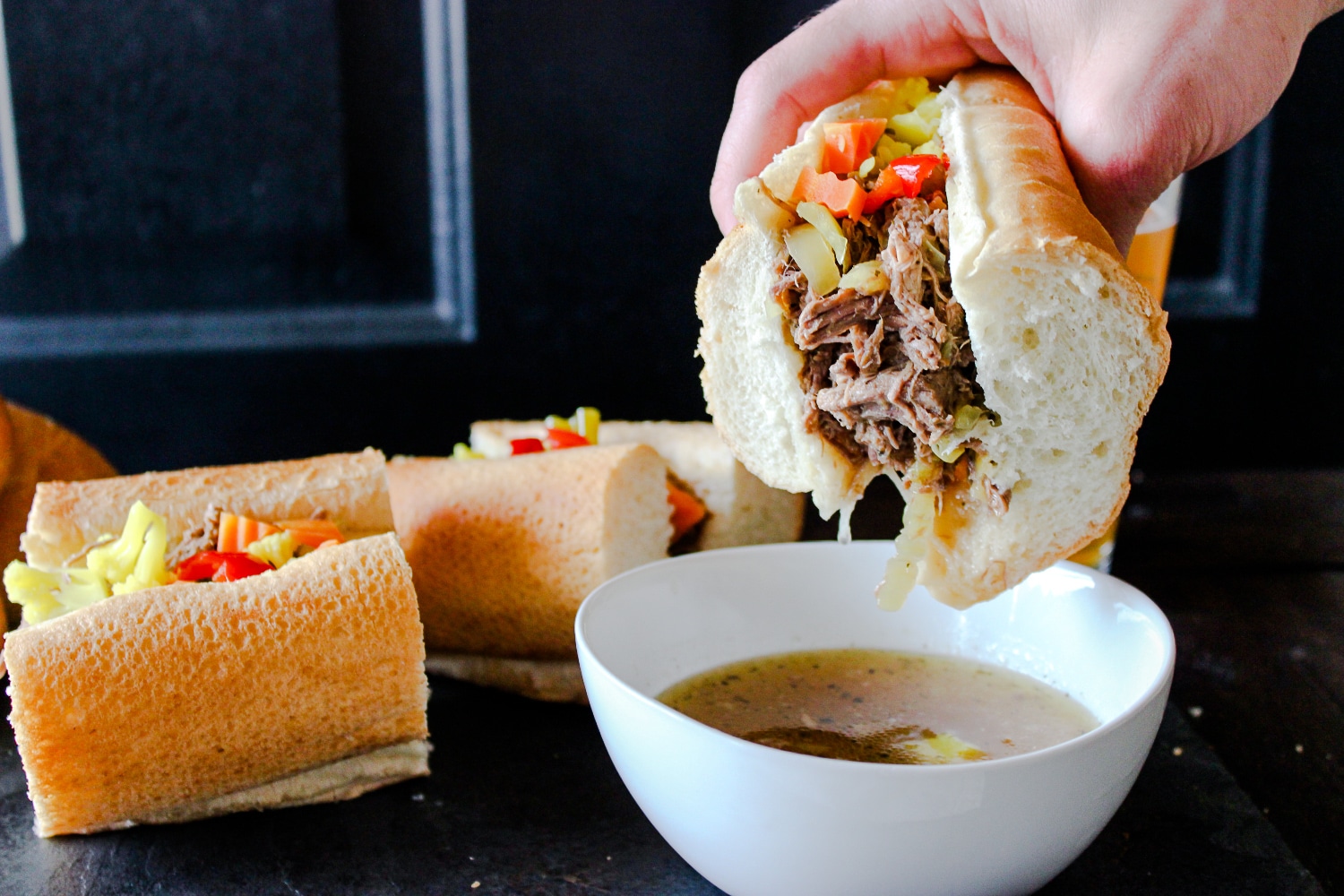 I'm a tried an true Midwest girl down to my core. I have lived in three states (about to be four) and there really just isn't any place quite like the good ol' Windy City of Chicago. When I am missing home I crave three foods.
Pizza, duh- Give me deep dish or thin crust…nothing beats it.
 Chicago Dog- NO KETCHUP EVER. Run it through the garden (google this if you don't know what it means)
 Chicago Style Italian Beef- Shredded, sliced thin, dunked in au jus and piled high with spicy giardiniera…that's my heaven right there!
Every Chicagoan has their favorite beef joint. Some love Al's, some love Johnny's, or maybe you're just all about Portillos. No matter where you get it, it is all beef to me! This Chicago style Italian beef recipe is so easy I am not sure it even qualifies as a recipe. But it's incredible and perfect for dinners, parties, and even for celebrating the upcoming Super Bowl! Full recipe is at the bottom of the post.
Crock Pot Friendly:
This recipe has four ingredients. Yes, FOUR! So simple! Turn your crock pot on high and place a large rump roast, beef stock, Italian seasoning packets, and a jar of pepperonchinis inside. Cover your pot, set it, forget it (for a while),  shred it, pile it on crusty bread, dunk it in the juice, and top with a big pile of spicy pickled peppers that we call giardiniera. Did you get all that?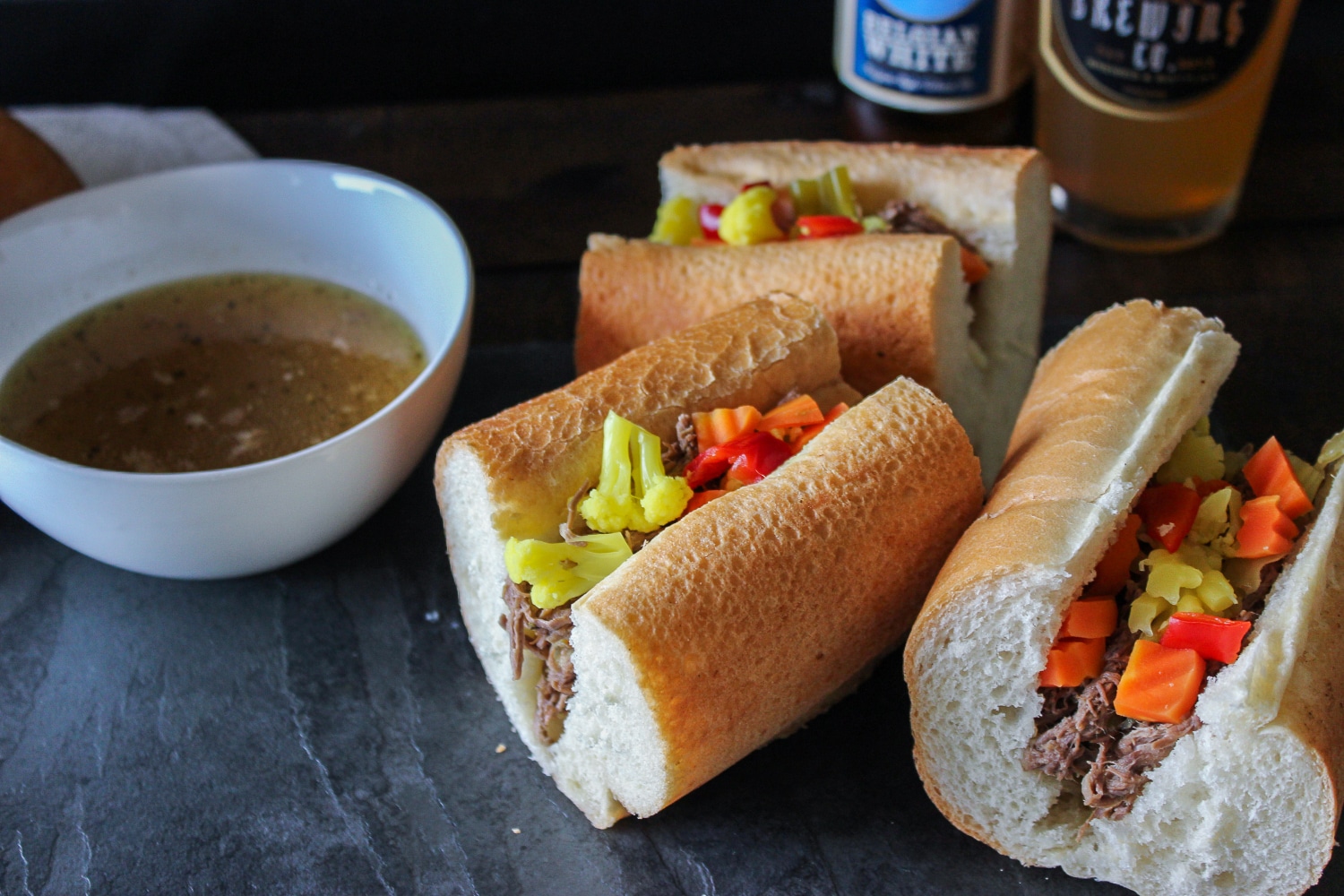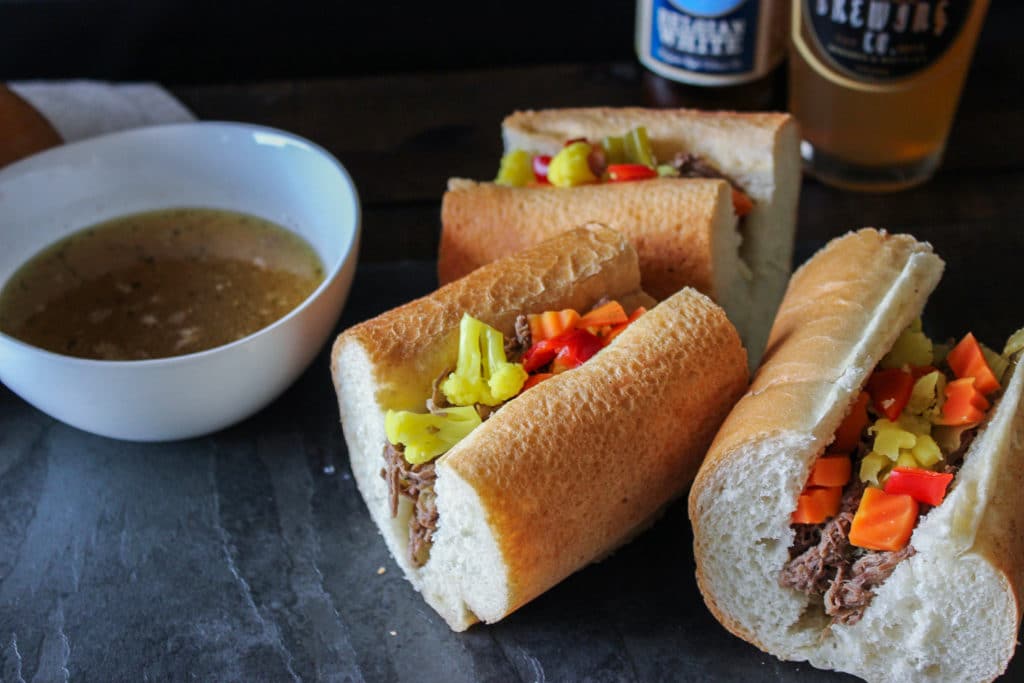 Bon Appeteach,
-L
Ingredients
1, 3-4 lb. Rump Roast

4 cups, Beef Stock

2 packets, Italian Dressing Mix

1 jar, Pepperonchini peppers

Crusty French Bread Loaf

Giardiniera
Instructions
1
Set your crock pot to high for 4 hours.
2
Place all the ingredients into the crock pot and cover.
3
After 4 hours, shred the beef and let sit in the juice for another hour.
4
Cut your french bread and lightly toast it (optional).
5
Using tongs, place a nice amount of beef on to your french bread. Make sure to add extra juice. Top with the giardiniera peppers and dig in!