Braised Red Cabbage with Prosciutto and Goat Cheese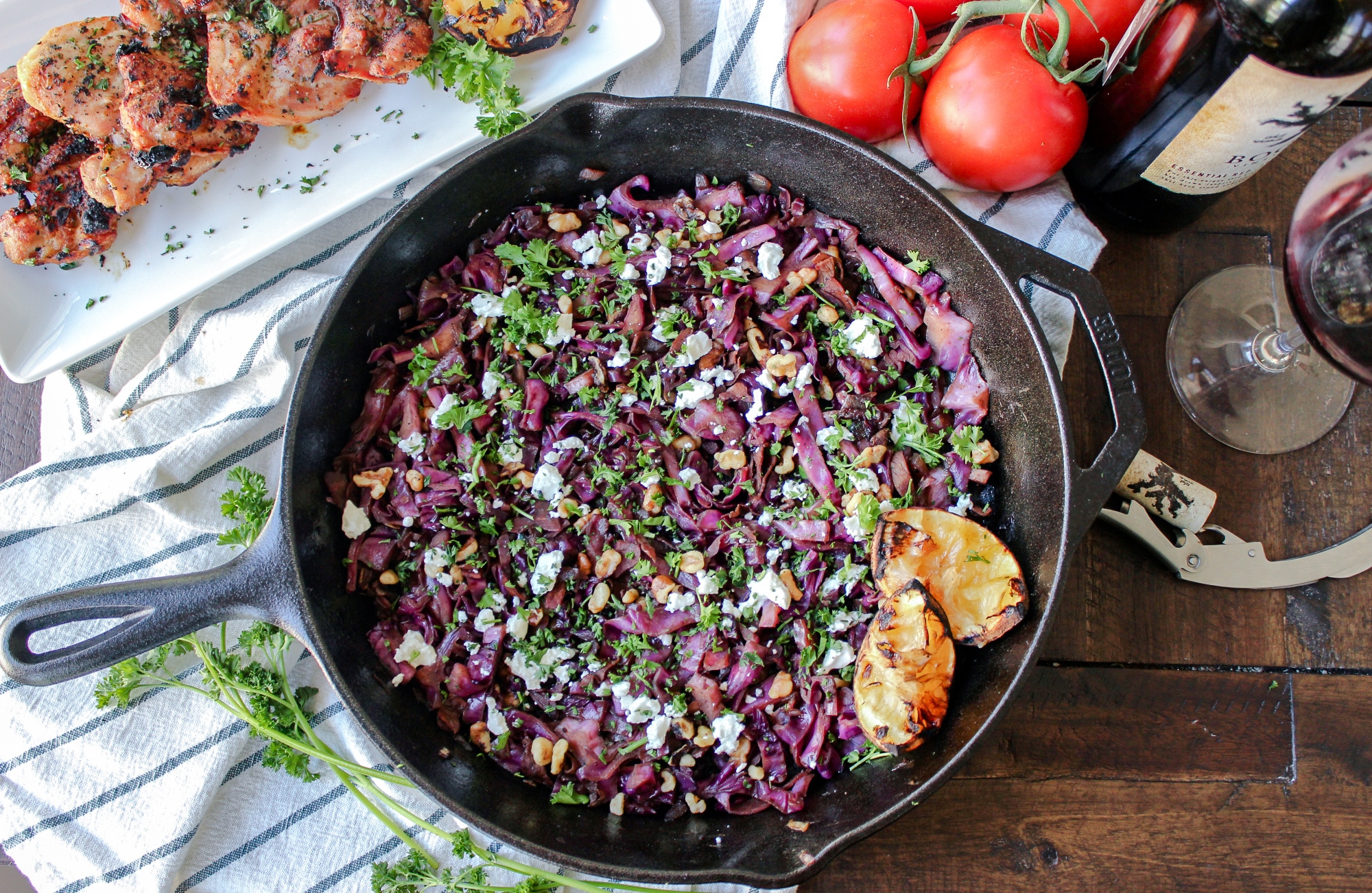 Braised Red Cabbage with Prosciutto and Goat Cheese:
I despise food waste. There is just something so terribly horrible about throwing away uneaten food that has spoiled. It breaks my heart. The last year, I have really tried to commit to a very strict grocery purchasing schedule and plan my meals better (having a food blog actually helps with the planning process). This has saved me money (again…. food blogging can get expensive) and I feel a lot less guilty. Typically I grocery shop on the weekends. Before I plan out recipe ideas, I like to look at what I have left in my fridge. This gives me a lot of inspiration for what I make each week! That is how I came up with this delicious Braised Red Cabbage with Prosciutto and Goat Cheese side dish. I had a lot of red cabbage left after making these beautiful Low Carb Thai Style Veggie Wraps and knew I needed a dish that would use up the leftover cabbage before it spoiled. It really is a great summer side that pairs so well with grilled chicken, a mouthwatering steak, or salmon fillet. It takes very little time to prepare and comes together in a few minutes. Find the complete recipe for this Braised Red Cabbage with Prosciutto and Goat Cheese  below and read through for additional tips and tricks!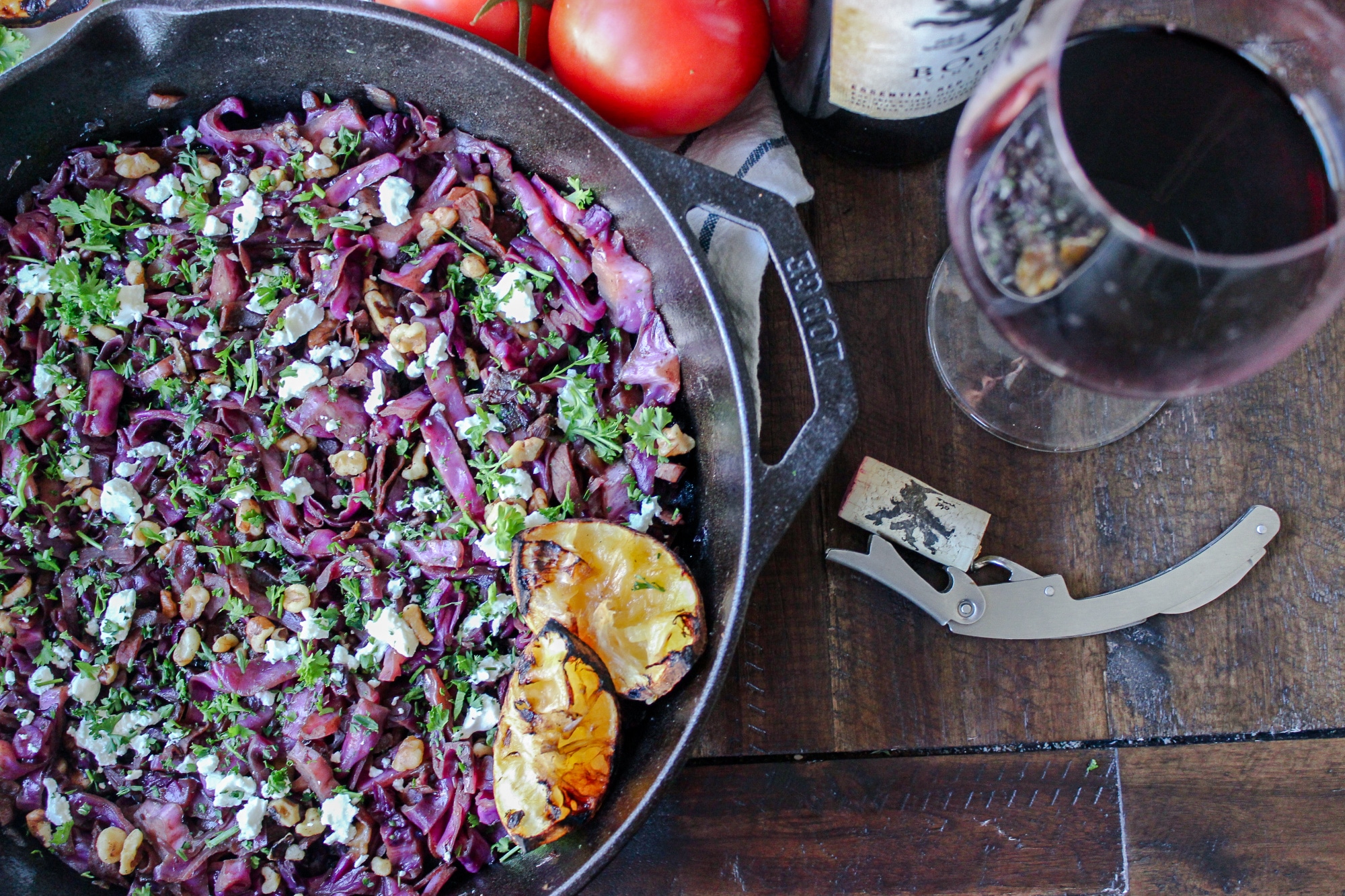 "School" Supplies:
-Skillet/ Cast Iron
-Knife & Cutting Board
-Spatula/ Wooden spoon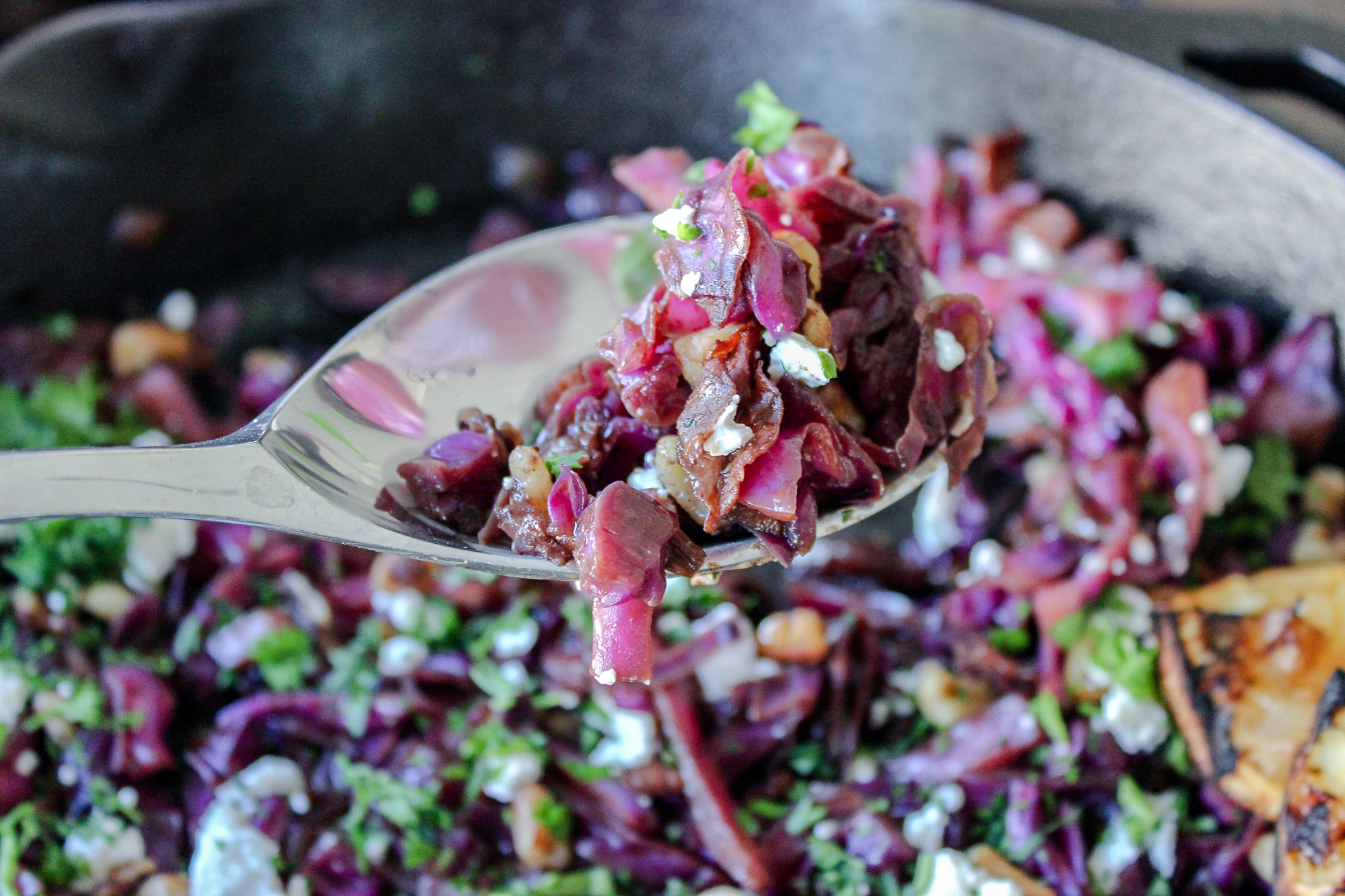 "Class" Notes:
This dish is seriously simple. I start by shredding my red cabbage into long ribbons. Before doing this, remove any damaged or wilted outside leaves and discard. I remove the inner core and slice 1/4″ slices across the entire head of cabbage. You can then seperate the layers by hand or run your knife through with a rough chop to make the pieces smaller if you prefer. The goal is to just get the cabbage to be all around the same size so it cooks evenly when braised. Slice and dice your prosciutto and begin browning it on medium heat in your skillet or cast iron pan (I prefer cast iron personally). I cook this until it is nice and crispy. Steal a few pieces to snack on because crispy cooked prosciutto is seriously too good to pass up. I'll wait…
Next, add in the small amount of diced onion and garlic. Saute until it browns slightly and then add in your cabbage. I allow the cabbage to sit for a few minutes before stirring around sauteing. Let it cook like this for 4-5 minutes or so. Next, add in the red wine vinegar, dijon mustard, and chicken stock (or vegetable stock) to the cabbage to begin the braising process. Your goal here is to cook the cabbage in the liquid at a simmer until it reduces down and the cabbage is nicely cooked. Make sure you really scrape the bottom of the pan and get any of the delicious brown bits from the crispy prosciutto off the bottom to add some extra flavor. Let the cabbage cook on medium-low heat until it is al-dente. You don't want it to be soggy but it should be tender. Season with salt and pepper to taste and remove it from the heat. I added fresh goat cheese in crumbles across the top. You could also swap this for a blue cheese or fontina. I added in some chopped walnuts and a fresh sprinkle of parsley to garnish. Serve with your favorite steak, chicken, or salmon!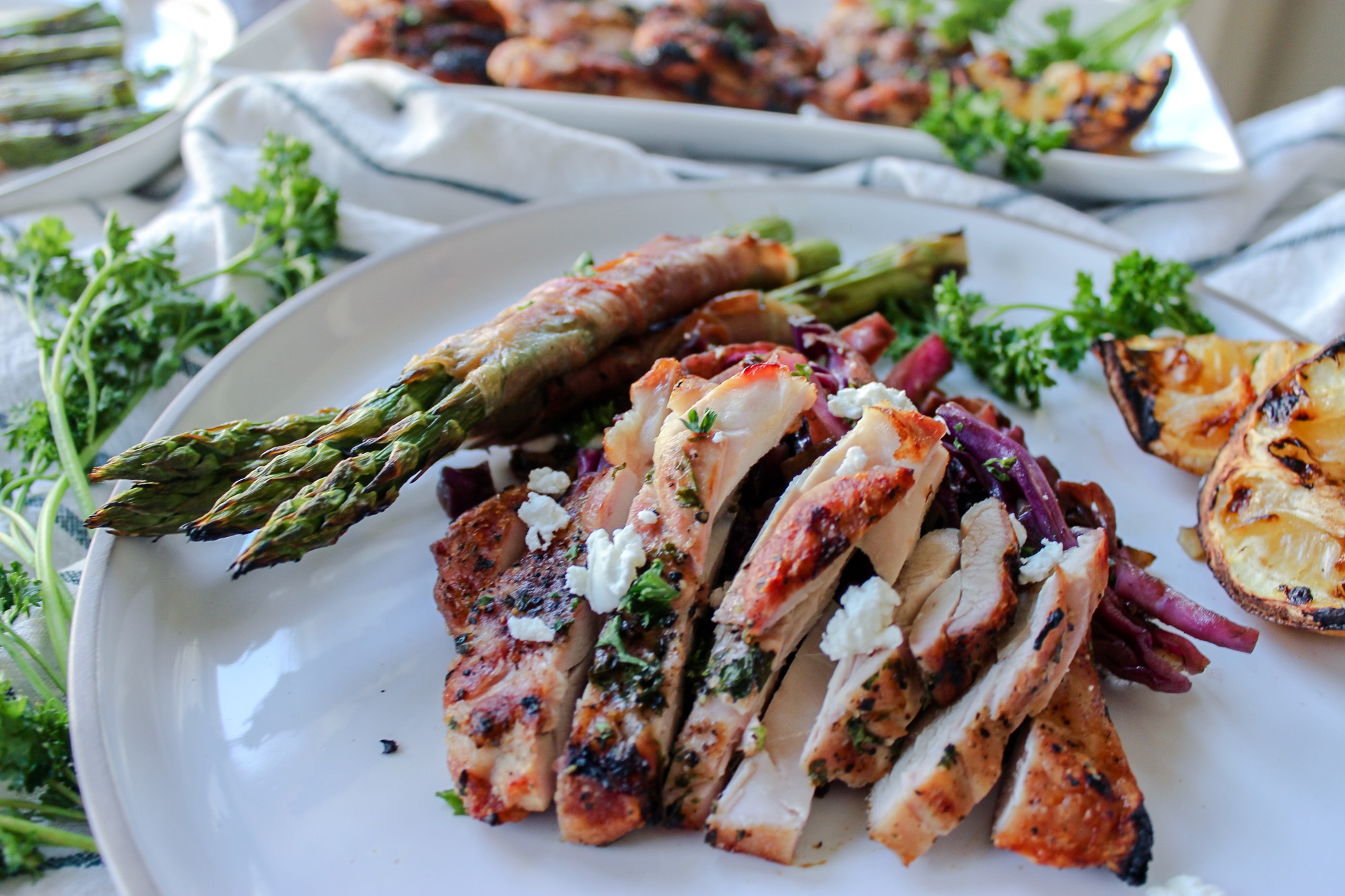 I hope you love this simple yet flavorful recipe for Braised Red Cabbage with Prosciutto and Goat Cheese . Find the full recipe below!
Looking for some great summer sides!? Check out this easy Keto Cajun Coleslaw recipe too!
Bon Appeteach,
-L
Nutritional Information:

Braised Red Cabbage with Prosciutto and Goat Cheese
Print Recipe
Ingredients
4 cups Shredded Red Cabbage

4 slices, Prosciutto, sliced and diced

1/4 Onion, diced small

1 Garlic Clove, minced

3/4 cup Chicken Stock

1 Tbsp. Dijon Mustard

1/4 cup Red Wine Vinegar

1/4 cup Chopped Walnuts

2 oz Goat Cheese, crumbled

Salt & Pepper to taste
Instructions
1
Remove any wilted outside cabbage leaves and discard. Slice the red cabbage into 1/4" thick strips, then roughly chop it with your knife. The goal is to get the pieces to be the same thickness for even cooking. You may need to separate the layers by hand a bit. Slice and dice your onion and mince your garlic. Slice the prosciutto as well.
2
Brown the prosciutto in a large skillet on medium heat until crispy. Add in the onions and sauté till translucent then add the garlic and sauté for 30-45 seconds more.
3
Add your red cabbage to the pan and allow it to sit for 60 seconds. Begin sautéing it lightly in the pan for a few minutes.
4
Move the cabbage to the side of the pan and add in the Dijon mustard, red wine vinegar, and stock. Mix everything together so it is all incorporated and allow the mixture to simmer on medium low heat until the cabbage is tender (about 10 minutes or so). The cabbage should be tender and the liquid should reduce. Sauté occasionally and use a wooden spoon to scrape the yummy browned prosciutto bits off the bottom of the pan. Add salt and pepper to taste.
5
Remove from the heat and sprinkle with chopped walnuts and goat cheese. Add a bit of fresh parsley to garnish.