Bacon Wrapped BBQ Meatloaf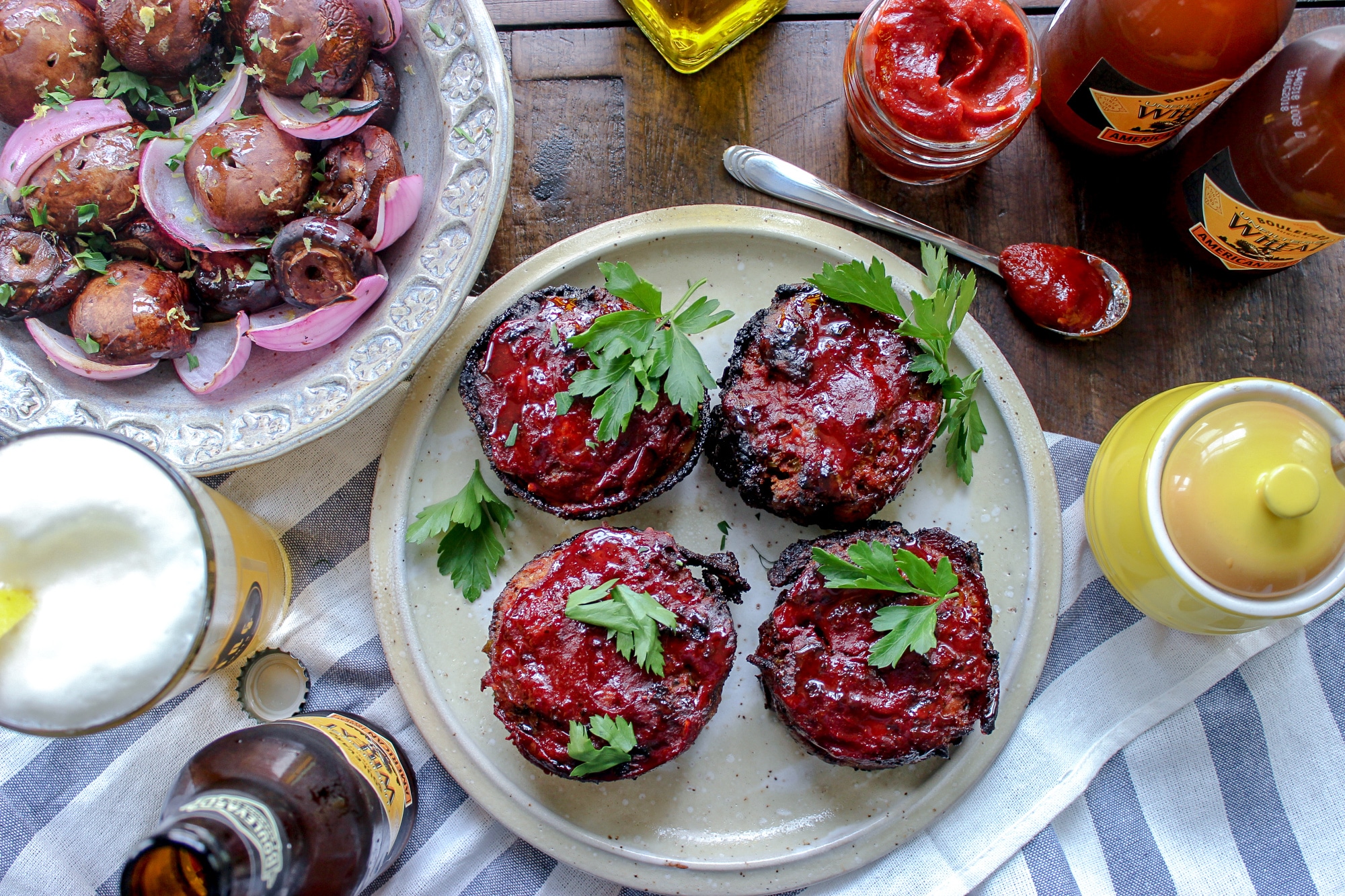 This recipe was inspired by my partnership with Hen House Markets. All opinions are my own. 
Bacon Wrapped BBQ Meatloaf:
Ohhhh yeah. You read that recipe title right. Are you ready for this? No, seriously. Are you ready!??? Guys, this isn't your Grandmother's meatloaf (not that I'm hatin on the Grandmas.. I love the Grandmas). This is just how you to simply "meatloaf" in the summer. The flavors here are on point. I used a mixture of pork and ground chuck, a little bit of veggies, some almond flour for binding, added some Low Carb Smoky BBQ Sauce, and wrapped it all up in some thick cut bacon. Ok, I know the suspense is killing you. Read on for a few tips or tricks on how I grilled this Bacon Wrapped BBQ Meatloaf. The full recipe is located at the bottom of the page!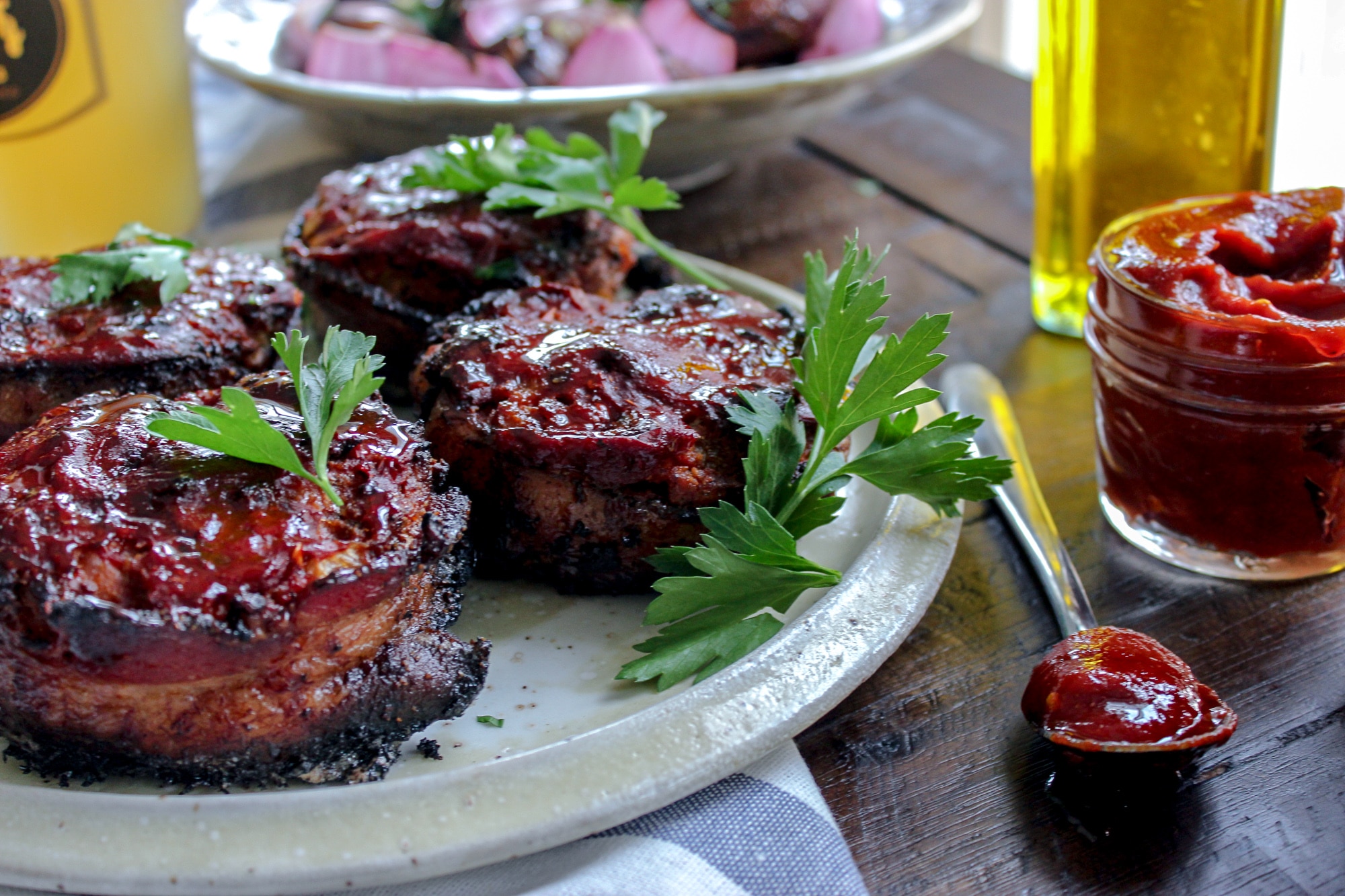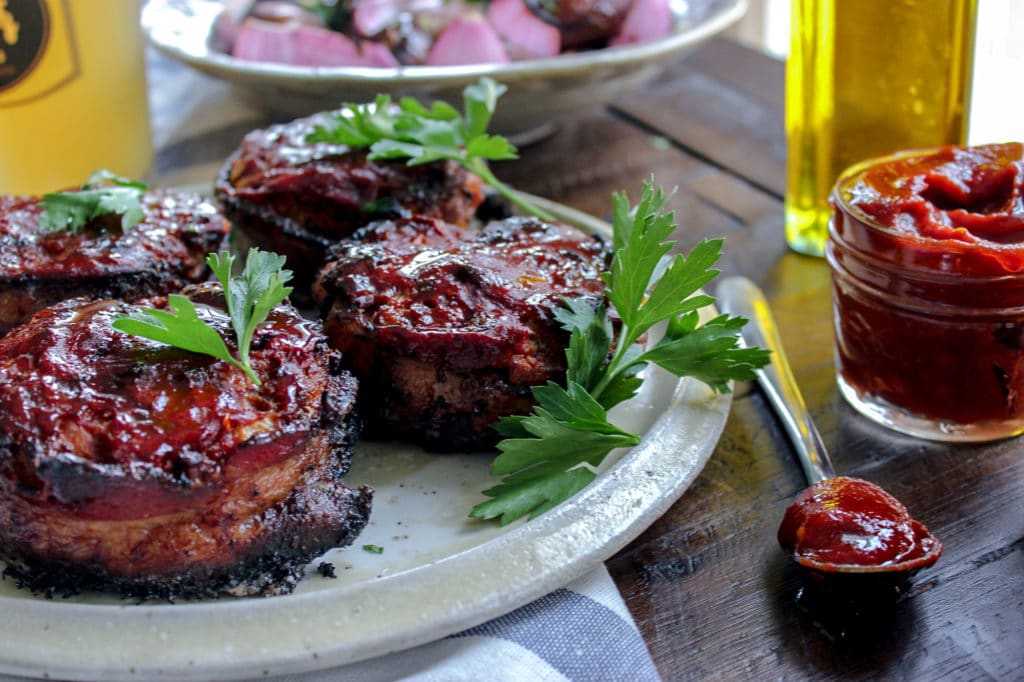 "School" Supplies:
Large Mixing Bowl
Your Hands
Tray/Plate/ Cookie Sheet (cover in foil)
Tongs
Grill (or oven…but grill please)
Grill Brush
Meat Thermometer
Toothpicks
"Class" Notes:
Making The Meatloaves:
Ok, let's talk meatloaf shape for a moment. A large meatloaf (made in a loaf pan or free-formed) takes quite a lot of time to make. Because we use almond flour in place of breadcrumbs to help bind our mixture together, we also have to take into account how dry this could become if a longer baking time is needed. I personally love to make mini loaves. I do this often when I make baked meatloaf and place the mixture in large muffin tins. I love it because it cuts the baking time down drastically, doesn't dry out the meat as much, and makes it perfect for portion sizing/meal prep! Because I opted to grill these loaves, I had to make these "free-form". I used my 3″x2″ cookie cutter to make these which really helped with uniformity and portion sizing.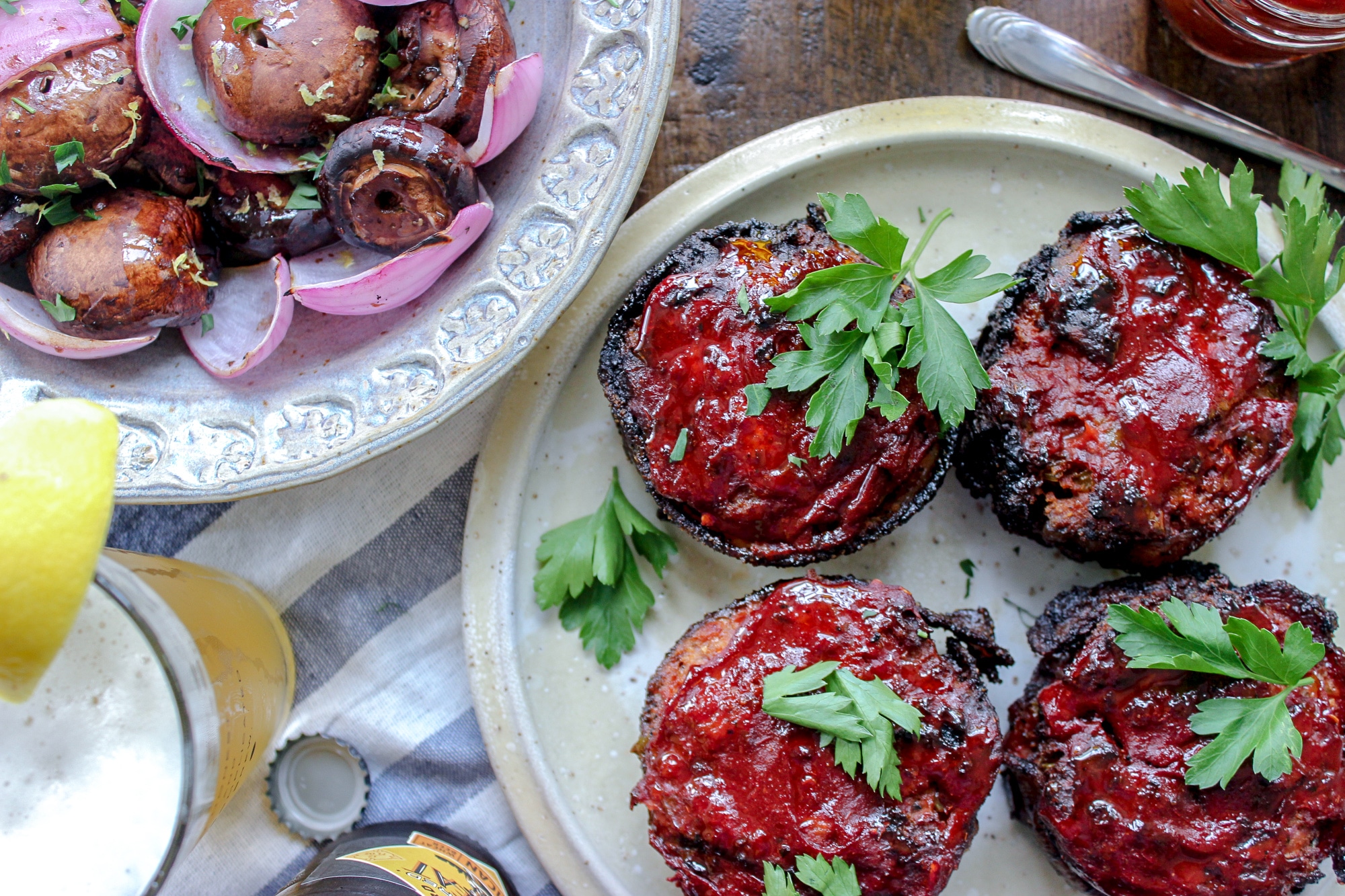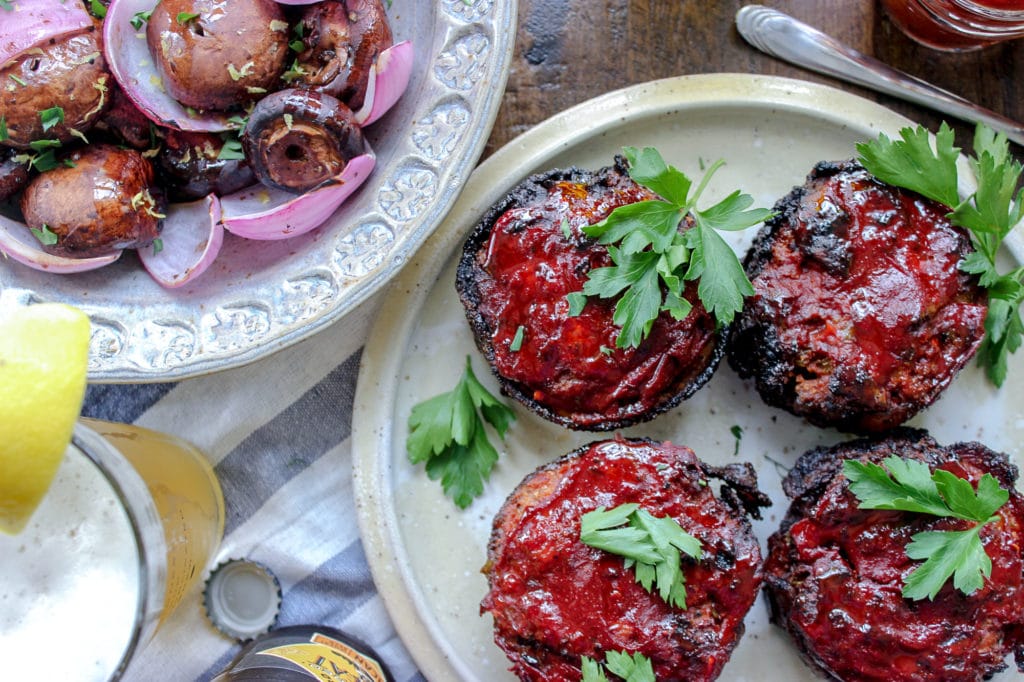 The meat mixture itself was 1 lb. of Ground Chuck I received in my Hen House CSA. I had some leftover ground pork that I needed to use and opted to add that in as well. Mix in some onion, green pepper, a little bit of almond flour, some egg, and a whole lot of seasoning. Since I moved to one of the largest BBQ cities in the country (I said ONE of…not the number one.. I am not yet an authority on this so please don't send me hate mail), I've enjoyed experimenting with different BBQ seasonings. Lately, I have been using Code 3 Spices (this is not sponsored I just love the product and this company). For this meatloaf I added a healthy amount of their hot and smoky Backdraft Rub. I will include similar spices below in the recipe so you can replicate this. Once your mixture is made, mixed well with your hands, make each mini loaf, and wrap a slice of bacon  around each one and secure with a few toothpicks.
Grilling VS. Baking:
If you plan on grilling like I did, make sure to preheat your grill to a lower temperature. This may vary depending on the type of grill you use. I would suggest staying within the 225-250 degree range.  You will want to start cooking with indirect heat first. This way the meat is cooked to the required 165 degrees without over cooking. Finish by searing each side over a higher direct heat and then brush with more Low Carb Smoky BBQ Sauce. If you plan on baking these, preheat your oven and line a pan with foil. Because you want the bacon to get crispy you may even want to bake on an elevated roasting pan so the fat can drip down and render. Bake until the meatloaves reach around 155 degrees F and then brush with the Low Carb Smoky BBQ Sauce as well. Finish off in the oven till it reaches 165 degrees. This will vary depending on how large your mini loaves are but should take approximately 30-45 minutes.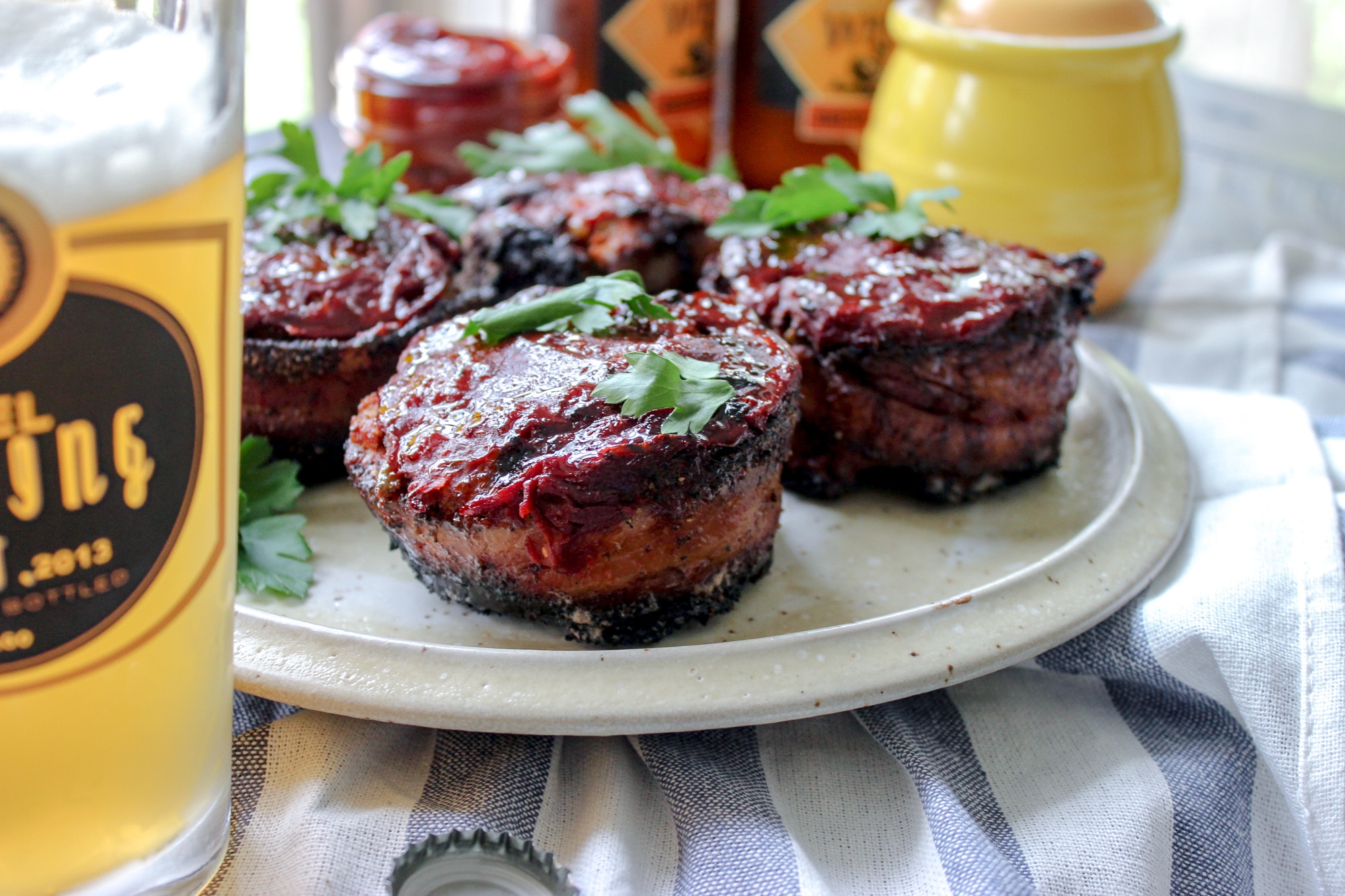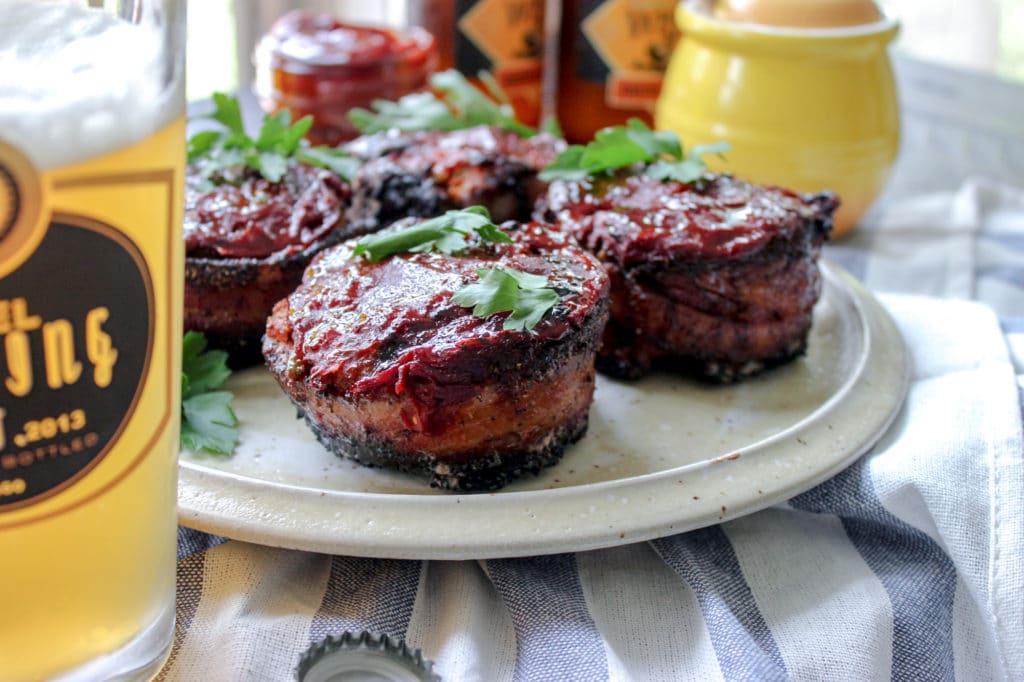 Serve with your favorite veggies and enjoy you flavor packed Bacon Wrapped BBQ Meatloaf!
If you're looking for more low  carb/keto BBQ ideas, check out these awesome Keto BBQ Chicken Drumsticks or these Low Carb BBQ Pulled Pork Tacos!
Bon Appeteach,
-L
Nutritional Information- Obtained using My Fitness Pal. Please always verify with your own ingredients as brands vary.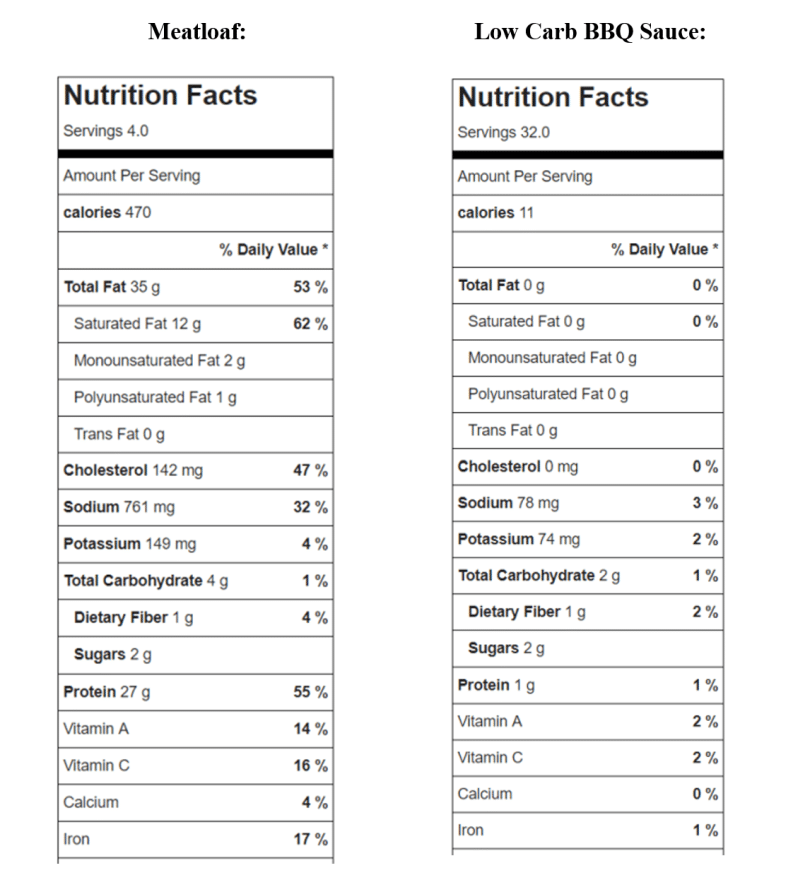 Ingredients
1 lb. Ground Chuck

1/2 lb Ground Pork

1/2 Green Pepper, diced small

1/2 Yellow Onion, diced small

1/4 cup Almond Flour

1 Egg

1 tsp. Liquid Smoke (optional if using a gas grill and you want that extra smokiness)

1 tbsp. Worcestershire sauce

1 tsp Sea Salt

1 tsp Fresh Ground Black Pepper

2 tsp. Paprika

1 tsp. Onion Powder

1 tsp. Garlic Powder

3 Tbsp. Low Carb BBQ Sauce (plus extra for brushing)

4 Slices of Bacon
Instructions
1
Preheat your grill to 225-250 degree F. If you are using the oven, preheat to 350 degrees.
2
In a large mixing bowl combine all of the ingredients and mix thoroughly.
3
To form the mini loaves, you can divide the meat however you want (I made 4 loaves). I used a 3" X 2" cookie cutter to form my loaves. You can easily do this by hand or use a small bowl or lid to help you!
4
After each loaf is formed and is solid. Wrap 1 slice of bacon around the edge. Trim off excess bacon (if it overlaps too much it won't get as crispy). Secure with a few toothpicks to hold in place.
5
Place each loaf on a baking sheet (or tray if grilling).
6
If Charcoal Grilling: Place on the grill on indirect heat and cook till the temperatures reach about 150 degrees F. At this point, increase the grill temperature to 350 degrees and move to direct heat and carefully sear. The loaves should reach a final temperature of 165 degrees F (you can usually pull this out around the 160 degree mark and let it rest for 5-10 minutes to reach the final temperature). Finish by brushing the tops and sides with a little more low carb bbq sauce. Grills vary so cooking time will vary as well.
7
If Baking: Bake for 30 minutes and check the temperature. When it reaches about 150 degrees F., brush the loaves with BBQ sauce and continue baking. It should reach a final temperature of 165 degrees F.